Liveblog
TOP NEWS
• U.S. unemployment rate seen near 20% as COVID slams jobs market again in May
The U.S. unemployment rate likely shot up to almost 20% in May, a new post World War Two record, with millions more losing their jobs, exposing the horrific human toll from the COVID-19 crisis.
• OPEC+ to meet Saturday on extending cuts, pushing for compliance
OPEC and its allies led by Russia will meet on Saturday to discuss extending record oil production cuts and to approve a new approach that aims to force laggards such as Iraq and Nigeria to comply better with the existing curbs.
• Pompeo calls Nasdaq's strict rules a model to guard against fraudulent Chinese companies
U.S. Secretary of State Mike Pompeo on Thursday warned American investors against fraudulent accounting practices at China-based companies and said the Nasdaq's recent decision to tighten listing rules for such players should be "a model" for all other exchanges around the world.
• Twitter disables Trump video tribute to Floyd over copyright complaint
Twitter has disabled U.S. President Donald Trump's campaign tribute video to George Floyd on its platform, citing a copyright complaint.
• Goldman Sachs executive's email making plea for racial equality goes viral at firm
An email by a Goldman Sachs employee about his experiences of racial injustice and criticizing managers at the Wall Street bank for not supporting junior bankers from diverse backgrounds went viral at the firm this week.


BEFORE THE BELL
Wall Street futures were in the green, with investors focusing on tentative signs of a post-coronavirus economic rebound ahead of another expected plunge in U.S. employment data. European shares rallied as a bumper stimulus from the European Central Bank fueled hopes of a faster economic recovery. In Asia, the Hong Kong stock market ended higher and Japan's Nikkei rose on improving investor sentiment. The dollar was up against its major rivals. Gold fell weighed down by gains in riskier assets. Oil prices rose after OPEC decided to move up discussions on whether to extend production cuts to Saturday, indicating that some laggard countries may have agreed to align themselves with the deal.


STOCKS TO WATCH
Results
• Broadcom Inc (AVGO). The company on Thursday forecast current-quarter revenue with a midpoint slightly below analysts' estimates, in part caused by a delay at a "large North American mobile phone" customer that analysts believe is Apple. The company forecast fiscal third-quarter revenue of about $5.75 billion, plus or minus $150 million. Broadcom reported better-than-expected growth in quarterly revenue, supported by higher demand for chips used in data centers, which are ramping up as more people opt to work from home in the face of the coronavirus crisis.
• Gap Inc (GPS). The company on Thursday reported a quarterly loss of nearly $1 billion as the apparel retailer was forced to close its stores due to the coronavirus outbreak. Gap, which operates nearly 2,800 stores in North America, said 55% of its company-operated stores in the region were now open and sales from online operations were booming. Net loss came in at $932 million, or $2.51 per share, for the three months ended May 2, which included a $484 million writedown on store and operating lease assets and a $235 million charge on excess inventory.
• Slack Technologies Inc (WORK). The company on Thursday posted slowing quarterly sales growth, disappointing investors who had expected a surge in demand for its workplace messaging app as companies rapidly adopt remote working tools and technology. Slack also withdrew its 2021 billing outlook citing uncertainty driven by the COVID-19 pandemic, and said it had seen sales from some large customers slow down in the worst-affected industries, such as travel, hospitality and ride-sharing. Slack forecast 2021 sales between $855 million and $870 million, representing a growth rate of 38% at the top end of the range.

In Other News
• AbbVie Inc (ABBV). The drugmaker said it would develop an antibody therapy to prevent and treat COVID-19 in partnership with three organizations including the Netherlands' Utrecht University. Biotech company Harbour BioMed and Erasmus Medical Center are the other partners and the collaboration will aim to develop an antibody that targets the conserved domain of the spike protein of the virus. The human antibody, 47D11, was discovered by Utrecht University, Erasmus Medical Center and Harbor BioMed.
• BP Plc (BP). The British oil major has agreed to discount the price of the North Sea assets it is selling to Premier Oil, Premier said. Under the new deal, Premier only has to pay $115 million out of the initial price of $625 million if oil prices, which have slumped around 40% this year and currently stand at around $40 a barrel, rise above $55 a barrel. The agreement also reduces Premier's liability for field abandonment to $240 million from $600 million. Under the deal, which is effective from January 2019, BP will retain the $300 million the North Sea fields generated throughout 2019, bringing the cash payment due to the British oil major down to around $210 million.
• General Motors Co (GM). Self-driving technology company Cruise, a unit of General Motors, is trying to poach engineers from struggling rival Zoox, according to an email sent to Zoox engineers by the founder of Cruise this week. "Cruise is willing to recognize the full value of the rewards you've earned at Zoox - something that is very unlikely to occur via an acquisition in this environment," said the email from Cruise founder Kyle Vogt sent in the past two days, according to a person who has seen the email. Reuters has not seen a copy of it. Cruise on Thursday confirmed the email was sent. "We're going after the best talent in the world, wherever they may be working and whatever else they might be working on," said Cruise Chief Communications Officer Kristine Boyden by email.
• Goldman Sachs Group Inc (GS). An email by a Goldman Sachs employee about his experiences of racial injustice and criticizing managers at the Wall Street bank for not supporting junior bankers from diverse backgrounds went viral at the firm this week. The email by Frederick Baba, a managing director at the bank who is black, coincides with other Wall Street executives and companies speaking out against racial inequality after the death of an African American man, George Floyd, during an arrest by a white police officer who held a knee on his neck in Minneapolis on May 25. Baba, who works in Goldman's electronic trading business, according to his LinkedIn, initially sent the email with the subject line "How it's going..." to a group of bankers he works with on June 2 after Floyd's death led to sometimes violent protests across the United States. But the letter ended up being so widely forwarded that it was seen by almost everyone at the bank - which employs around 38,000 people globally - including CEO David Solomon, according to a source familiar with the matter.
• KKR & Co Inc (KKR) & Immunotec Global Plc (OXFD). A consortium of private equity firms KKR and Ampersand Capital Partners has approached Oxford Immunotec Global, a medical diagnostics company that develops tests to identify tuberculosis, with a $400 million acquisition offer, people familiar with the matter said on Thursday. The offer is preliminary and was submitted to Oxford Immunotec in the last few days, the sources said. It comes after the company explored a potential sale to large healthcare peers over the course of the last year, but failed to agree on terms, the sources added. KKR and Ampersand Capital have proposed to acquire Oxford Immunotec for around $15 per share in cash, subject to due diligence, the sources said. There is no certainty that the offer will lead to a deal, the sources added.
• Nasdaq Inc (NDAQ). U.S. Secretary of State Mike Pompeo on Thursday warned American investors against fraudulent accounting practices at China-based companies and said the Nasdaq's recent decision to tighten listing rules for such players should be "a model" for all other exchanges around the world. His remarks on the issue, reported first by Reuters before being delivered via a statement, illustrate the Trump administration's desire to make it harder for some Chinese companies to trade on exchanges outside of China. "American investors should not be subjected to hidden and undue risks associated with companies that do not abide by the same rules as U.S. firms," Pompeo said in his statement. "Nasdaq's action should serve as a model for other exchanges in the United States, and around the world."
• NetEase Inc (NTES). The Chinese online gaming firm raised at least $2.7 billion in a Hong Kong secondary offering, two sources said, amid doubts that mainland firms can list in New York as Sino-U.S. tensions deepen. NetEase's deal, the second after Alibaba in 2019, is expected to be one of several large secondary deals in Hong Kong this year. Its shares were priced at $15.87 each, the sources with direct knowledge of the matter told Reuters. The company had planned to sell 171.48 million shares, according to an earlier term sheet, and has the option of selling another 25.72 million shares, under a so-called 'greenshoe' option.
• Novavax Inc (NVAX). The company said on Thursday the U.S. Department of Defense (DoD) will give the late-stage biotech company up to $60 million to fund the manufacturing of its experimental COVID-19 vaccine. The U.S.-based company said the deal includes the delivery of 10 million doses of its COVID-19 vaccine - NVX CoV2373 - to the DoD this year.
• Rio Tinto PLC (RIO). The company knew the cultural and historical significance of two caves in Western Australia years before it blew them up last month as part of an iron ore mine expansion, traditional owners said. However, Rio, which won state government approval to destroy the caves in 2013, has said it believed it had consent from the traditional owners of the caves, the Puutu Kunti Kurrama and Pinikura People (PKKP), because they had not explicitly asked that the site not be mined. "Our elders are deeply distressed about this," Burchell Hayes, a director of the PKKP Corporation said to the ABC. Rio apologised and said it would urgently review its plans for other sites in the area.
• Super Micro Computer Inc (SMCI). The data center server maker is looking to open a new site in the United States to assemble computers, possibly in Oregon, the East Coast or Midwest, Chief Executive Officer Charles Liang told Reuters on Thursday. Liang said in an interview that server assembly was currently almost evenly split between Supermicro facilities in Taiwan and company headquarters in San Jose, California, although the company maintains some operations in China to supply its Chinese customers. He said Supermicro was examining expansion in Asia - "in Taiwan or another country," without giving further details - and in the United States.
• Twitter Inc (TWTR). The company has disabled U.S. President Donald Trump's campaign tribute video to George Floyd on its platform, citing a copyright complaint. The clip, which is a collation of photos and videos of protest marches and instances of violence in the aftermath of Floyd's death, has Trump speaking in the background. Twitter said the video on the president's campaign account was affected by its copyright policy. "We respond to valid copyright complaints sent to us by a copyright owner or their authorized representatives," a Twitter representative said.
• Uber Technologies Inc (UBER). The company on Thursday launched a feature on its food delivery app Uber Eats that lets customers in the United States and Canada order from restaurants owned by black people and pay no delivery fees for those orders through 2020. Customers who open the Uber Eats app in major U.S. and Canadian cities will see a banner reading: "Support Black-owned restaurants," and are provided with a list of nearby restaurants. Delivery fees for those orders are being waived until the end of the year, Uber Chief Executive Dara Khosrowshahi said in a Thursday email to U.S. customers.


FOCUS
Ocean shipping shrinks as pandemic pummels retailers
The $1 trillion container shipping industry is in a slowdown. Literally. Some shipping lines, whose retail customers are being hammered by the coronavirus pandemic, are reducing sailing speeds and taking longer routes around Africa, avoiding Suez canal passage fees, according to the companies and ship-tracking specialists.


ANALYSTS' RECOMMENDATION
• Broadcom Inc (AVGO). Cowen and Company raises target price to $305 from $230, after the company posted slightly higher second-quarter results with revenue and EPS coming in above forecasts.
• eBay Inc (EBAY). Cowen and Company raises target price to $44 from $40, after the company raised its guidance for the second-quarter.
• Gap Inc (GPS). B. Riley FBR raises target price to $10 from $8, reflecting on the company's brand Athleta driving online sales growth.
• Navistar International Corp (NAV). Jefferies raises target price to $35 from $30, saying the company's second-quarter operating results were better than expected despite the shutdowns it faced during the quarter.
• Novavax Inc (NVAX). JPMorgan raises to neutral from underweight, reflecting on the potential of the company's COVID-19 vaccine program, NVX-CoV2373, which recently initiated phase 1 testing.


ECONOMIC EVENTS (All timings in U.S. Eastern Time)
0830 Non-farm payrolls for May: Expected -8,000,000; Prior -20,537,000
0830 Private payrolls for May: Expected -7,500,000; Prior -19,557,000
0830 Manufacturing payrolls for May: Expected -440,000; Prior -1,330,000
0830 Government payrolls for May: Prior -980,000
0830 Unemployment rate for May: Expected 19.7%; Prior 14.7%
0830 Average earnings mm for May: Expected 1.0%; Prior 4.7%
0830 Average earnings yy for May: Expected 8.5%; Prior 7.9%
0830 Average workweek hours for May: Expected 34.3 hrs; Prior 34.2 hrs
0830 Labor force participation for May: Prior 60.2%
0830 U6 underemployment for May: Prior 22.8%
1500 Consumer credit for April: Expected -$20.00 bln; Prior -$12.04 bln


COMPANIES REPORTING RESULTS
No major S&P 500 companies are scheduled to report.


CORPORATE EVENTS (All timings in U.S. Eastern Time)
0900 Hilton Worldwide Holdings Inc (HLT). Annual Shareholders Meeting
0900 Virtu Financial Inc (VIRT). Annual Shareholders Meeting
0900 Axsome Therapeutics Inc (AXSM). Annual Shareholders Meeting
0930 Athenex Inc (ATNX). Annual Shareholders Meeting
1000 Amerisafe Inc (AMSF). Annual Shareholders Meeting
1000 Plug Power Inc (PLUG). Annual Shareholders Meeting
1000 Akebia Therapeutics Inc (AKBA). Annual Shareholders Meeting
1000 Allogene Therapeutics Inc (ALLO). Annual Shareholders Meeting
1030 Matador Resources Co (MTDR). Annual Shareholders Meeting
1200 Veracyte Inc (VCYT). Annual Shareholders Meeting
1300 RingCentral Inc (RNG). Annual Shareholders Meeting
1400 Steven Madden Ltd (SHOO). Annual Shareholders Meeting
1700 Super Micro Computer Inc (SMCI). Annual Shareholders Meeting


EX-DIVIDENDS
Brown-Forman Corp (BFb). Amount $0.17
Capital City Bank Group Inc (CCBG). Amount $0.14
First American Financial Corp (FAF). Amount $0.44
Gladstone Investment Corp (GAIN). Amount $0.09
Insperity Inc (NSP). Amount $0.40
International Seaways Inc (INSW). Amount $0.06
Kansas City Southern (KSU). Amount $0.40
LyondellBasell Industries NV (LYB). Amount $1.05
Miller Industries Inc (MLR). Amount $0.18
Monro Inc (MNRO). Amount $0.22
Severn Bancorp Inc (SVBI). Amount $0.04
UniFirst Corp (UNF). Amount $0.25
Weingarten Realty Investors (WRI). Amount $0.18
Van­daag duik ik de wereld van trans­port in aan de hand van de Dow Jones Trans­porta­tion Aver­age en drie bedri­jven die in deze index zit­ten: Amer­i­can Air­lines, Delta Air­lines en Fedex. Bent u ook zo benieuwd hoe deze grafieken er bij liggen?Ik begin met de index, de Dow Jones Transportation…
Lees verder »
Goedemorgen
Hogere start vandaag via de futures, veel nieuws is er niet maar wel is het een feit dat de markt inzet op een knallend herstel na de zomer. Of dat ook zo zal worden betwijfel ik ten zeerste maar jullie kennen mijn standpunt daarin. Vanmiddag om 14:30 krijgen we in ieder geval de cijfers over de werkgelegenheid uit de VS, ik ben benieuwd hoe die zullen vallen en wat het met de markt gaat doen later vandaag.

Ik weet dat er veel zijn die net hetzelfde denken maar het komt allemaal niet tot zijn recht op de beurzen. Ik liet vanmorgen via de LIVEBLOG al enkele zaken zien die er toe doen en die er zeker niet goed uitzien. Het zal op een gegeven moment wel tot zijn recht komen maar hoe lang moeten we er nog op wachten? Ik zal in de loop van de dag kijken of we met de posities moeten blijven zitten. Wat ik wel zie is dat de markt met een GAP zit vandaag meteen rond de opening, die kan nog worden weg gewerkt in de loop van de dag. Ook ben ik benieuwd of de Nasdaq 100 boven de top van februari geraakt, gisteren lukte dat duidelijk nog niet ...
Wat betreft de handel, het ziet er niet goed uit, maar nogmaals, ik laat het in ieder geval zien, en ja ik zit helemaal verkeerd op dit moment. Het wordt de hoogste tijd om weer eens wat beter voor de dag te komen maar ik kan het helaas niet forceren. Wel zie ik de rest van dit jaar nog goed in en door de volatiliteit kan ik alles nog tot een goed einde brengen. Wat ik wel besef is dat ik niet zo lang meer in een positie moet blijven als die niet loopt. Je wordt eruit geduwd op een gegeven moment en dat is verre van leuk. Mogelijk ga ik nog een en ander veranderen in de loop van de dag als dat nodig is.
Lid worden en meedoen met de posities? Nu tot 1 augustus voor €39 ...
Schrijf u in via de link https://www.usmarkets.nl/tradershop
Tot straks ... Guy

Naast het grotendeels negeren van economische gegevens zien we dat de markt de fors dalende gemiddelde winst per aandeel over de S&P 500 compleet negeert. De verwachting is dat die 28% lager uitkomt ...
Gedurende de eerste vijf maanden van 2020 is de winst per aandeel-inschatting voor de S&P 500-bedrijven gedaald met 28% (is nu $128,03 en dat was $177, 82). Dit zijn de laagste EPS-inschattingen sinds de gegevens werden bijgehouden via FactSet en dat is sinds 1992.
De afgelopen vijf jaar was de gemiddelde daling van de WPA-inschatting gedurende de eerste vijf maanden van het jaar 1,3% en over de afgelopen 20 jaar was de gemiddelde daling gedurende de eerste vijf maanden van het jaar 2,4%. De huidige situatie weerspiegelt niet langer de vooruitzichten die echt op één lijn liggen met de reële economie.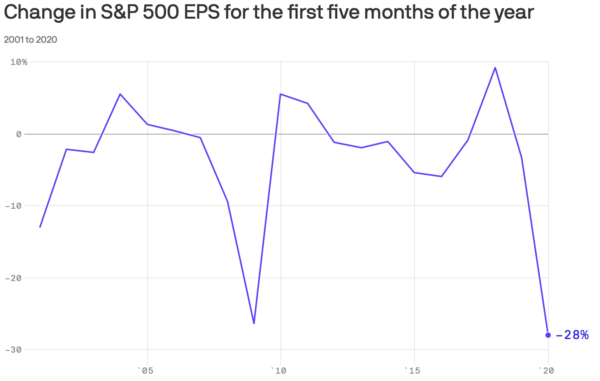 GLOBAL TOP NEWS
The U.S. unemployment rate likely shot up to almost 20% in May, a new post World War Two record, with millions more losing their jobs, exposing the horrific human toll from the COVID-19 crisis.

U.S. Secretary of State Mike Pompeo on Thursday warned American investors against fraudulent accounting practices at China-based companies and said the Nasdaq's recent decision to tighten listing rules for such players should be "a model" for all other exchanges around the world.

The European Central Bank approved a bigger-than-expected expansion of its stimulus package on Thursday to prop up an economy plunged by the coronavirus pandemic into its worst recession since World War Two.​


EUROPEAN COMPANY NEWS
AstraZeneca has doubled manufacturing capacity for its potential coronavirus vaccine to 2 billion doses in two deals involving Microsoft billionaire Bill Gates that guarantee early supply to lower income countries.

A U.S. appeals court has blocked Bayer from selling an agricultural weed killer in the United States, the latest setback for a business already fighting an expensive legal battle over another product.

The boss of British Airways said its parent company IAG was burning through $223 million a week and could not guarantee its survival, prompting him to urge unions to engage over 12,000 job cuts.


TODAY'S COMPANY ANNOUNCEMENTS
Corestate Capital Holding SA Annual Shareholders Meeting
Deutsche Wohnen SE Annual Shareholders Meeting
Dynagas LNG Partners LP Q1 2020 Earnings Call
Gamma Communications PLC Annual Shareholders Meeting
Garmin Ltd Annual Shareholders Meeting
Groupe Crit SA Annual Shareholders Meeting
Hapag Lloyd AG Annual Shareholders Meeting
Induction Healthcare Group PLC Shareholders Meeting
Les Docks des Petroles d Ambes SA Annual Shareholders Meeting
M P Evans Group PLC Annual Shareholders Meeting
Petro Welt Technologies AG FY2019 Earnings Call
Powersoft SpA Annual Shareholders Meeting
Rambler Metals and Mining PLC Annual Shareholders Meeting
Simona AG Annual Shareholders Meeting
Vogo SAS Annual Shareholders Meeting
Workspace Group PLC FY2020 Earnings Call


ECONOMIC EVENTS (All times GMT)
0600 (approx.) Germany Industrial Orders mm for April: Expected -19.7%; Prior -15.6%
0600 (approx.) Germany Manufacturing O/P Current Price SA for April: Prior -16.0%
0700 Spain Industrial Output Calendar Adjusted yy for April: Prior -12.2%
0700 (approx.) Switzerland Forex Reserves for May: Prior 7,99,861.00 mln CHF
0700 (approx.) Austria Wholesale Prices NSA mm for May: Prior -1.7%
0700 (approx.) Austria Wholesale Prices NSA yy for May: Prior -6.9%
0730 (approx.) United Kingdom Halifax House Prices mm for May: Prior -0.6%
0730 (approx.) United Kingdom Halifax House Prices yy for May: Prior 2.70%
0800 (approx.) Italy Retail Sales SA mm for April: Prior -20.50%
0800 (approx.) Italy Retail Sales NSA yy for April: Prior -18.40%

Actueel
Verwacht
Vorige
USA

USA:

Eerste Aanvragen Werkloosheidsvergoeding
14:30
1.877K
1.800K
2.126K
Actueel: 1.877K Verwacht: 1.800K Vorige: 2.126K
Loading..
Er is een fout opgetreden