Markt snapshot Wall Street vandaag
TOP NEWS
• Chevron posts $8.3 billion loss on write downs, job cuts
Chevron reported an $8.3 billion loss on asset writedowns from plummeting fuel prices, an forced exit from Venezuela and expenses tied to thousands of jobs cuts.
• Trump planning for U.S. rollout of coronavirus vaccine falling short, officials warn
As scientists and pharmaceutical companies work at breakneck speed to develop a vaccine for the novel coronavirus, public health officials and senior U.S. lawmakers are sounding alarms about the Trump administration's lack of planning for its nationwide distribution.​
• China-backed hackers 'targeted COVID-19 vaccine firm Moderna'
Chinese government-linked hackers targeted biotech company Moderna, a U.S.-based coronavirus vaccine research developer, this year in a bid to steal data, according to a U.S. security official tracking Chinese hacking.
• Coronavirus hits Caterpillar's quarterly earnings
Caterpillar reported lower second-quarter earnings as the recession sparked by the coronavirus pandemic made customers wary of big purchases, crimping equipment sales.​
• Australia to make Facebook, Google pay for news in world first
Australia will force U.S. tech giants Facebook and Google to pay Australian media outlets for news content in a landmark move to protect independent journalism that will be watched around the world.
​

BEFORE THE BELL
U.S. stock index futures were in the green as tech titans Apple, Amazon.com and Facebook managed to deliver impressive quarterly earnings despite the COVID-19 pandemic that has crushed the wider U.S. economy. European shares rose after bumper earnings from Wall Street's big tech names and Nokia eased investors' nerves. Asian shares turned lower amid the abysmal GDP data from the United States. The dollar index fell, while gold gained as investors sought refuge in the precious metal. Oil prices rose.


STOCKS TO WATCH
Results
• Alphabet Inc (GOOGL). Google's ad sales have recovered since plummeting in March during the coronavirus pandemic, parent Alphabet said on Thursday, easing concerns about its first quarterly sales slide in its 16 years as a public company. Alphabet shares were barely changed at $1,552, above their pre-pandemic high, after it said revenue fell 2% in the second quarter, less than analysts' estimate of a 4% decline. Overall second-quarter revenue was $38.3 billion, with the slowest growth since a 2.9% increase during the Great Recession in 2009. Total costs and expenses rose about 7% from a year ago to $31.9 billion in the second quarter, compared with a 12% jump a quarter ago. he company's profit was nearly $7 billion, or $10.13 per share, above analysts' average estimate of $5.6 billion, or $8.29 per share, for the quarter.
• Amazon.com Inc (AMZN). The world's largest online retailer on Thursday posted the biggest profit in its 26-year history as online sales and its lucrative business supporting third-party merchants surged during the coronavirus pandemic. The company said revenue jumped 40% from a year earlier to $88.9 billion. Amazon had forecast it might lose money in the just-ended second quarter because it expected to spend some $4 billion on protective equipment for staff and other expenses related to COVID-19. It did just that - and still earned $5.2 billion - double its net income from a year prior. Online store sales jumped 48% to $45.9 billion in the second quarter. Revenue from Amazon Web Services (AWS) rose nearly 29% to $10.81 billion. The company forecast net sales of $87 billion to $93 billion for the third quarter, ahead of analysts' expectations of $86.34 billion.
• Apple Inc (AAPL). The company on Thursday delivered blowout quarterly results, reporting revenue gains across every category and in every geography as consumers working and learning from home during the COVID-19 pandemic turned to its products and services. The company posted iPhone revenues of $26.42 billion, $4 billion above analyst expectations. Apple's fiscal third-quarter revenue and profits were $59.69 billion and $2.58 per share, compared with analyst expectations of $52.25 billion and $2.04 per share. Sales in its services segment rose 14.8% to $13.16 billion, compared with and analyst expectations of $13.18 billion. The company reported sales in its iPad and Mac segments of $6.58 billion and $7.08 billion, which beat expectations of $4.88 billion and $6.06 billion. Apple also announced a 4-for-1 stock split, saying it wanted to keep shares accessible to a broad range of investors.
• British American Tobacco PLC (BTI). The cigarette maker reported a stronger-than-expected first-half profit, as the company sold more higher-priced cigarettes and saw strong demand for vaping products in the United States, its biggest market. Newport and Natural American Spirit cigarettes were among the top performers in the United States, Chief Marketing Officer Kingsley Wheaton said, adding that revenue from e-cigarettes such as Vuse grew 75% in the first half. The company also revised its forecast for U.S. industry volumes to be down 2.5% this year, from down 4% earlier. Adjusted earnings per share came in at 157.8 pence in the first half with revenue at 12.27 billion pounds. Both were higher than analysts' forecasts for EPS of 154.5 pence and revenue of 12.20 billion.
• Caterpillar Inc (CAT). The heavy equipment maker reported lower second-quarter earnings as the recession sparked by the coronavirus pandemic made customers wary of big purchases, crimping equipment sales. In the second quarter, the company reported a profit of 84 cents per share, down 70.3% year on year. Analysts on average expected earnings of 68 cents per share. Revenue declined 31% year on year to $10 billion, with sales declining across all regions and in its three primary segments, construction, mining, and energy and transport.​
• Chevron Corp (CVX). The oil and gas producer reported an $8.3 billion loss on asset writedowns from plummeting fuel prices, an forced exit from Venezuela and expenses tied to thousands of jobs cuts. Chevron wrote down its oil and gas production properties by $5.6 billion. The loss also includes $1 billion to cover severance pay for up to 6,700 of its 45,000-person staff to leave their jobs in a global restructuring. "The economic impact of the response to COVID-19 significantly reduced demand for our products and lowered commodity prices," said Chief Executive Michael Wirth in a statement.​
• Electronic Arts Inc (EA). The videogame developer on Thursday raised its full-year forecast for adjusted revenue after beating quarterly estimates, encouraged by strong player engagement and increased videogame sales to stuck-at-home gamers. EA raised its full year adjusted revenue outlook to about $5.95 billion from about $5.55 billion, topping analysts' estimates of $5.61 billion. Videogame sales have largely benefited as people played more games while staying at home and bought virtual in-game content across platforms, pushing June sales up 26% to $1.2 billion, which is the highest June spend in over a decade. Adjusted revenue for the first quarter ended June 30, rose to $1.39 billion, beating analysts' estimate of $1.05 billion.
• Facebook Inc (FB). The world's biggest social network beat analysts' estimates for quarterly revenue on Thursday and forecast similar growth ahead, as businesses tapped its digital ads tools despite an unprecedented boycott and the economic upheaval of the coronavirus pandemic. The company posted revenue growth of 11%, its slowest ever but still far above analysts' expectations of 3%. Ad sales rose 10% to $18.3 billion in the second quarter as people under lockdown spent more time online and businesses rapidly pivoted to e-commerce. Monthly active users rose to 2.7 billion, ahead of estimates of 2.6 billion. Total costs and expenses increased 4% to $12.7 billion in the second quarter, compared with the $12.5 billion analysts had forecast. Net income came in at $5.2 billion, or $1.80 per share, in the three months ended June 30.
• Ford Motor Co (F). The automaker on Thursday said it expects a full-year loss but added it should have ample cash on hand throughout the rest of 2020, even if global demand falls further or the COVID-19 pandemic forces more shutdowns of vehicle assembly plants. Ford said it expects a pre-tax profit of between $500 million and $1.5 billion for the third quarter and a loss for the fourth quarter. Ford reported net income in the second quarter of $1.1 billion, or 28 cents a share, compared with a profit of $100 million, or 4 cents a share, a year earlier. Excluding items, Ford posted a second-quarter operating loss of $1.9 billion, or 35 cents a share. Analysts had expected a loss of $1.17 per share.
• Gilead Sciences Inc (GILD). The drugmaker on Thursday posted worse-than-expected quarterly results, but raised its 2020 sales forecast to include revenue from its antiviral drug remdesivir, one of the only treatments shown to help COVID-19 patients. Gilead said it expects total 2020 sales of $23 billion to $25 billion, up from its previous range of $21.8 billion to $22.2 billion. Gilead's second-quarter sales fell nearly 10% from a year earlier to $5.1 billion, short of the average analyst estimate of $5.3 billion. Adjusted earnings for the second quarter of $1.11 per share fell short of analysts' average estimate by 34 cents. Second-quarter sales of Gilead's HIV drugs fell 1% from a year earlier to $4 billion, while sales of drugs to cure hepatitis C fell 47% to $448 million.
• Mizuho Financial Group Inc (MFG). The Japanese lender said its net profit dropped 24.6% in the first quarter of its financial year as credit-related costs rose amid the coronavirus pandemic. The company reported April-June profit of 122.4 billion yen compared to 162.4 billion yen in the same period a year earlier. For the current financial year through March 2021, Mizuho reiterated a forecast for profit of 320 billion yen. That compared with the 355.13 billion yen average of 12 analyst estimates. Mizuho's net interest income was 215.1 billion yen for the first quarter, a 19.6% rise year-on-year.
• NatWest Group PLC (NWG). The British state-backed bank plunged into the red in the first half of the year after setting aside a fresh 2.1 billion pound provision against a potential surge in loan losses due to the COVID-19 pandemic. NatWest's quarterly provision came in above analyst expectations of 1.7 billion pounds, pushing the total taken over the half year to 2.9 billion pounds and dragging it to a 770 million pound pretax loss. The bank's core capital buffer went up to 17.2% compared to 16.6% at the end of March. The bank's pretax loss compared to a 2.7 billion pound profit the previous year.
• Nokia Oyj (NOK). The Finnish telecom network equipment maker reported an unexpected rise in its second-quarter underlying profit on lower revenues, as it reduced low-margin business before a new chief executive takes charge. Quarterly revenue fell 11% and the company reduced its market share outlook to underperform from previous guidance of performing in-line with its main markets. Nokia's quarterly revenue fell to 5.09 billion euros, missing the 5.28 billion euro consensus figure. The company upgraded its forecast for 2020 underlying earnings per share to between 0.20 and 0.30 euros from 0.18 to 0.28 euros.
• Petroleo Brasileiro SA Petrobras (PBR). The Brazilian state-run oil firm on Thursday posted a loss of 2.7 billion reais in the second quarter, hurt by tumbling oil prices despite record export volumes to China. In a securities filing, the firm said its cash generation, or EBITDA, was 24.99 billion reais in the April to June quarter. This was ahead of an analyst estimate of 20.9 billion reais. Exports hit a record in terms of volume in April, with more than 1 million barrels a day sold. The company said sales revenue fell more 44% compared to the second quarter of 2019, to 27.7 billion reais.
• Shake Shack Inc (SHAK). The company posted a bigger-than-expected quarterly loss on Thursday as the burger chain temporarily shut some restaurants and cut working hours due to coronavirus-led lockdowns and civil unrest that gripped several U.S. cities. The company's same-store sales fell about 49% in the second quarter ended June 24, compared with the average analyst estimate of a 43.8% decline. Excluding items, Shake Shack posted a loss of 45 cents per share, compared with estimates for a loss of 37 cents. It also said same-store sales fell 39% between June 24 and July 22.
• Takeda Pharmaceutical Co Ltd (TAK). The Japanese drugmaker raised its full-year profit forecast as it refocuses on its core prescription drug businesses following its $59 billion takeover of Shire last year. The company expects operating profit of 395 billion yen in the year to March 2021, it said in reporting quarterly earnings. Operating profit for the three months that ended in June more than tripled to 167.3 billion yen, helped by a decline in integration costs related to Shire, Takeda said. Sales slipped 5.6% to 801.9 billion yen, largely due to foreign exchange effects.
• Xilinx Inc (XLNX). The chipmaker forecast current-quarter revenue largely above Wall Street estimates on Wednesday, as rising sales of its chips to data centers are expected to outweigh the impact of a U.S. government ban on semiconductor sales to Chinese companies. The company said it expects second-quarter revenue of between $730 million and $780 million, compared with analysts' average estimate of $730.3 million. Xilinx's net revenue fell to $727 million from $850 million in the first quarter, still beating estimates of $725.6 million. Net income fell to $94 million, or 38 cents per share, from $241 million, or 94 cents per share, a year earlier. Excluding items, the company earned 65 cents per share, beating estimates of 56 cents.

In Other News
• Banco Bradesco SA (BBD). The Brazilian lender plans to have employees work from home an average of one week per month permanently in order to save on rent and sell some real estate, Chief Executive Octavio de Lazari Junior said in an interview. Bradesco estimates the new home office rotation will allow it to raise $115-155 million from the sale of real estate assets, while yielding annual savings of 100 million reais on rent. Bradesco will revamp roughly 700 of its more than 4,100 bank branches this year, focusing on business services rather than simple transactions such as bill payments and money transfers.
• Berkshire Hathaway Inc (BRKa) & Bank of America Corp (BAC). Berkshire said on Thursday it has bought another $522 million of stock in Bank of America, boosting its already large stake in the second-largest U.S. bank by assets. Berkshire bought about 21.2 million Bank of America shares from July 28 to 30, according to a regulatory filing. Following those purchases, Berkshire owned a total of 1.02 billion shares in Bank of America which roughly represents an 11.8% stake in the company. Berkshire has spent more than $1.7 billion on 71.5 million Bank of America shares since July 20, including the latest purchases, according to regulatory filings.
• Embraer SA (ERJ). The Brazilian planemaker said on Thursday it will implement a new staff buyout program, at the same time as the U.S. Export-Import Bank said it had approved a $97.2 million working capital loan guarantee for the company's U.S.-based business jet subsidiary. The federal export credit agency said the guarantee for the one-year, revolving working capital facility from Apple Bank for Savings would support an estimated 800 U.S. jobs, mainly at Embraer Executive Aircraft's factory in Melbourne, Florida. EXIM said the loan guarantee also would support supply chain jobs in Arizona, Connecticut, Georgia, Tennessee and Texas.
• Facebook Inc (FB) & Alphabet Inc (GOOGL). Australia will force the U.S. tech giants to pay Australian media outlets for news content in a landmark move to protect independent journalism that will be watched around the world. For every A$100 spent on online advertising in Australia, excluding classifieds, nearly a third goes to Google and Facebook, according to Treasurer Josh Frydenberg. "It's about a fair go for Australian news media businesses. It's about ensuring that we have increased competition, increased consumer protection, and a sustainable media landscape," Frydenberg told reporters in Melbourne. Separately, Bloomberg reported on Thursday that Facebook has completed a series of deals for the right to show music videos on its platform, raising the prospect of its competing more with Alphabet's video platform YouTube in the area.
• Moderna Inc (MRNA). Chinese government-linked hackers targeted the biotech company this year in a bid to steal data, according to a U.S. security official tracking Chinese hacking. China rejected the accusation that hackers linked to it had targeted Moderna. "Moderna remains highly vigilant to potential cybersecurity threats, maintaining an internal team, external support services and good working relationships with outside authorities to continuously assess threats and protect our valuable information," said company spokesman Ray Jordan, declining to provide further detail. The July 7 indictment alleges that the two Chinese hackers, identified as Li Xiaoyu and Dong Jiazhi, conducted a decade-long hacking spree that most recently included the targeting of COVID-19 medical research groups.
• Pfizer Inc (PFE) & BioNTech SE (BNTX). The companies have agreed to supply Japan with 120 million doses of their experimental coronavirus vaccine in the first half of 2021, they said. The companies did not disclose the financial details of the agreement, but said terms were based on the volume of doses and the timing of the delivery. BioNTech and Pfizer on Monday began a large, late-stage trial of their vaccine candidate to demonstrate its efficacy. Assuming clinical success of the vaccines, Pfizer and BioNtech said they are on track to seek regulatory review for the vaccine as early as October.
• Sanofi SA (SNY) & GlaxoSmithKline Plc (GSK). The U.S. government will pay $2.1 billion to Sanofi and GSK for COVID-19 vaccines to cover 50 million people and to underwrite the drug makers' testing and manufacturing, the companies said. The Sanofi-GSK deal is for 100 million doses, at two per person, and gives the government an option to purchase an additional 500 million doses at an unspecified price. Sanofi and GSK plan to start clinical trials for the vaccine in September. Sanofi executive Clement Lewin said the companies had not yet agreed with the government on a specific price for the additional doses. ​
• Twitter Inc (TWTR). The microblogging site, whose internal systems were breached about two weeks ago, said on Thursday the incident targeted a small number of employees through a phone "spear-phishing" attack. The company said the hackers targeted about 130 accounts, tweeted from 45, accessed inbox of 36, and were able to download Twitter data from seven. Attackers also targeted specific employees who had access to account support tools, Twitter said, adding that it restricted access to its internal tools and systems ever since the incident occurred.
• United Airlines Holdings Inc (UAL). The company said on Thursday it has decided to drop its contract with ExpressJet, and consolidate all of its outsourced flying on 50-seat planes with regional rival CommutAir. The decision could be a fatal blow to ExpressJet, which will begin to wind down its operations, according to a memo from Chief Executive Subodh Karnik to employees seen by Reuters. ExpressJet said it will now explore all options for the company's future in 2021, while it expects to continue normal operations through the rest of this year.


ANALYSIS
The U.S. election is getting ugly - and investors are getting nervous
Investors are increasingly preparing for the risk of a contested U.S. presidential election come the fall, worried that an ugly political situation will create volatility across markets.
​

ANALYSTS' RECOMMENDATION
• Alphabet Inc (GOOGL). Baird raises target price to $1,675 from $1,650, after the company reported better than expected second-quarter results, and viewing the company as possessing multiple levers of growth within online advertising, video, commerce and cloud.
• Amazon.Com Inc (AMZN). Canaccord Genuity raises target price to $3800 from $3300, following the company's record setting growth and profit in the second quarter.
• Apple Inc (AAPL). RBC raises target price to $445 from $390, citing the company's ability to expand its consumer base and drive recurring iPhone purchases through the 5G upgrade cycle.
• Gilead Sciences Inc (GILD). Piper Sandler cuts target price to $85 from $90, after the company reported second-quarter revenue below estimate.
• United Parcel Service Inc (UPS). JPMorgan raises target price to $132 from $110, reflecting on the company's strong second-quarter results and improved cost structure.


ECONOMIC EVENTS (All timings in U.S. Eastern Time)
0830 Personal income mm for Jun: Expected -0.5%; Prior -4.2%
0830 Personal consumption real mm for Jun: Prior 8.1%
0830 Consumption, adjusted mm for Jun: Expected 5.5%; Prior 8.2%
0830 Core PCE price index mm for Jun: Expected 0.2%; Prior 0.1%
0830 Core PCE price index yy for Jun: Expected 1.0%; Prior 1.0%
0830 Employment costs for Q2: Expected 0.6%; Prior 0.8%
0945 (approx.) Chicago PMI for Jul: Expected 43.9; Prior 36.6
1000 U Mich Sentiment Final for Jul: Expected 73.0; Prior 73.2​


COMPANIES REPORTING RESULTS
Abbvie Inc (ABBV). Expected Q2 earnings of $2.19 per share
CBRE Group Inc (CBRE). Expected Q2 earnings of 42 cents per share
Charter Communications Inc (CHTR). Expected Q2 earnings of $2.44 per share
Exxon Mobil Corp (XOM). Expected Q2 loss of 61 cents per share
Newell Brands Inc (NWL). Expected Q2 earnings of 18 cents per share
Public Service Enterprise Group Inc (PEG). Expected Q2 earnings of 60 cents per share


CORPORATE EVENTS (All timings in U.S. Eastern Time)
0800 Booz Allen Hamilton Holding Corp (BAH). Q1 earnings conference call
0800 Merck & Co Inc (MRK). Q2 earnings conference call
0800 Molina Healthcare Inc (MOH). Q2 earnings conference call
0830 Aon PLC (AON). Q2 earnings conference call
0830 Caterpillar Inc (CAT). Q2 earnings conference call
0830 CBRE Group Inc (CBRE). Q2 earnings conference call
0830 Charter Communications Inc (CHTR). Q2 earnings conference call
0830 Colgate-Palmolive Co (CL). Q2 earnings conference call
0830 Hill-Rom Holdings Inc (HRC). Q3 earnings conference call
0830 IDEXX Laboratories Inc (IDXX). Q2 earnings conference call
0830 L3harris Technologies Inc (LHX). Q2 earnings conference call
0830 Pinterest Inc (PINS). Q2 earnings conference call
0830 Under Armour Inc (UAA). Q2 earnings conference call
0830 VF Corp (VFC). Q1 earnings conference call
0830 XPO Logistics Inc (XPO). Q2 earnings conference call
0900 Abbvie Inc (ABBV). Q2 earnings conference call
0900 Aptargroup Inc (ATR). Q2 earnings conference call
0900 Eversource Energy (ES). Q2 earnings conference call
0900 Gaming and Leisure Properties Inc (GLPI). Q2 earnings conference call
0900 Hartford Financial Services Group Inc (HIG). Q2 earnings conference call
0900 ITT Inc (ITT). Q2 earnings conference call
0930 Cabot Oil & Gas Corp (COG). Q2 earnings conference call
0930 Exxon Mobil Corp (XOM). Q2 earnings conference call
1000 Berry Global Group Inc (BERY). Q3 earnings conference call
1000 Church & Dwight Co Inc (CHD). Q2 earnings conference call
1000 Cousins Properties Inc (CUZ). Q2 earnings conference call
1000 Dominion Energy Inc (D). Q2 earnings conference call
1000 Erie Indemnity Co (ERIE). Q2 earnings conference call
1000 Host Hotels & Resorts Inc (HST). Q2 earnings conference call
1000 Illinois Tool Works Inc (ITW). Q2 earnings conference call
1000 Snap-On Inc (SNA). Q2 earnings conference call
1000 Weyerhaeuser Co (WY). Q2 earnings conference call
1000 WP Carey Inc (WPC). Q2 earnings conference call
1100 Chevron Corp (CVX). Q2 earnings conference call
1100 LyondellBasell Industries NV (LYB). Q2 earnings conference call
1100 Newell Brands Inc (NWL). Q2 earnings conference call
1100 Public Service Enterprise Group Inc (PEG). Q2 earnings conference call
1100 Shell Midstream Partners LP (SHLX). Q2 earnings conference call
1200 Phillips 66 (PSX). Q2 earnings conference call
1400 Phillips 66 Partners LP (PSXP). Q2 earnings conference call


EXDIVIDENDS
AES Corp (AES). Amount $0.14
Aon PLC (AON). Amount $0.44
Blackstone Group Inc (BX). Amount $0.37
Caseys General Stores Inc (CASY). Amount $0.32
Citigroup Inc (C). Amount $0.51
Hasbro Inc (HAS). Amount $0.68
Kinder Morgan Inc (KMI). Amount $0.26
NRG Energy Inc (NRG). Amount $0.30
ONEOK Inc (OKE). Amount $0.93
Paychex Inc (PAYX). Amount $0.62
People's United Financial Inc (PBCT). Amount $0.18
Pinnacle West Capital Corp (PNW). Amount $0.78
Realty Income Corp (O). Amount $0.23
SVB Financial Group (SIVBP). Amount $0.32
Synchrony Financial (SYF). Amount $0.22​
Liveblog feed
De komende twee weken ga ik water­stof onder de loep nemen. Ik ga vier aan­de­len met u bespreken waar­van ik de week- en dag­grafiek bek­ijk. Deze spe­cial over water­stof heeft u te danken aan lez­er anil. Mocht u ook een ver­zoek voor een aan­deel en/​of een index hebben, laat het mij dan weten onder in…
Lees verder »
Naast de van­daag al gepub­liceerde spe­cial over water­stof pak ik ook nog twee Amerikaanse aan­de­len op en wel Nvidia en Net­flix. Van bei­den analy­seer ik de dag­grafiek. Ik trap af met Net­flix: Op deze dag­grafiek ziet u nog net een stuk­je van novem­ber 2019. Natu­urlijk staat ook de dal­ing veroorzaakt…
Lees verder »
Goedemorgen
Gisteren een sterke sessie over de gehele lijn, zowel Wall Street als Europa wisten hoger te sluiten. Europa had door de divergentie nog wat in te halen maar het was voor mij moeilijk om een positie op te nemen omdat Wall Street opnieuw richting nieuwe toppen opliep. De vraag is nu wat de volgende move van de markt zal worden? Mijn gedacht gaat nog altijd uit richting winstnemingen bij de grote tech aandelen, laat ik zeggen de bekende TOP-5 groep die voor een groot deel, zelfs een heel groot gedeelte de markt bepaald momenteel. Deze keer was het Apple (opnieuw) samen met Microsoft (bijna 6% hoger gisteren) die de kar trokken. Apple staat al op 435 dollar, Microsoft op 216,5 dollar, beiden meteen een nieuwe all time high en dat zijn juist de 2 grote tech aandelen, meteen de 2 grootste bedrijven in de VS die ook in de Dow zitten. Vandaar dat de Dow ook een sterke dag had en 236 punten hoger afsloot.
De andere 3, Facebook, Alphabet en Amazon moesten een stapje terug. Verder gebeurde er op zich niet eens zoveel, vlak tot wat hoger over de gehele breedte op Wall Street als ik naar de andere sectoren kijk.
Europa sloot ook hoger, de AEX won 12,5 punten, de DAX ging er met 333 punten op vooruit. Beide indices verloren eind vorige week nog en herpakken zich dus wat. Frankrijk won gisteren ook 2% ... De AEX kon vooral door ASML, Unilever en ING goed vooruit. De opstoot van 12,5 punten brengt de index wel weer tot boven de 555 punten waardoor we nu uit moeten kijken naar eerst de 560 en de 565 punten waar ik wat weerstand verwacht. Rond de 560 komen nu het 50- en het 200-MA uit, altijd een niveau en vooral als ze daar samen uitkomen, om in de gaten te houden. Vandaag kan een soort sleuteldag worden, na het herstel nog wat hoger om daarna mogelijk samen met Wall Street een stap terug te doen. Mogelijk nog wat groter en dieper dan eind vorige week. We gaan het zien en waar het kan zal ik wat doen voor de leden. Niet te snel, de markt blijft volatiel en moeilijk momenteel zodat we op moeten letten.
Wat gaan we doen de komende dagen?
Afgelopen vrijdag heb ik een positie opgenomen en later met een mooie winst kunnen sluiten, de leden waren er in ieder geval tevreden mee. De afgelopen 2 weken heb ik de teller goed kunnen ombuigen, jammer dat er 2 mindere signalen tussen zaten aan het begin van de maand juli maar ik heb in ieder geval alles recht kunnen trekken. Guy Trading staat zelfs in de plus de afgelopen maand, Systeem Trading en COMBI-Trading staan zo goed als vlak.
Dit jaar staan we met Guy Trading en Systeem Trading met een redelijke plus, en die wil ik uitbreiden de komende maanden, ik heb er in ieder geval veel zin en vertrouwen in ...
Laten we ons gaan richten op de komende 5 maanden waar ik dus veel van verwacht ... Een zeer goed moment om lid te worden, om mee te doen en om de signalen te ontvangen. Dat kan nu tot 1 OKTOBER (2 maanden) voor €39 ...
Inschrijven? Ga naar https://www.usmarkets.nl/tradershop
Resultaat 2020: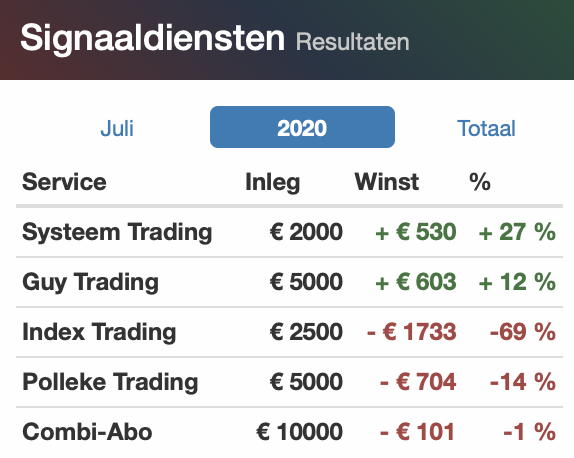 Resultaat totaal sinds 2013: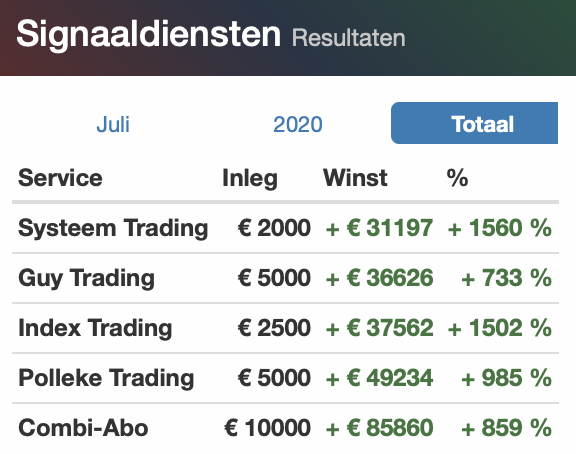 Guy Boscart
TECHS AND NASDAQ CONTINUE TO LEAD THE WAY... Big techology stocks are leading the market higher today again. Chart ...
Deze inhoud is alleen beschikbaar voor betalende leden.
Loading..
Er is een fout opgetreden