Markt snapshot Wall Street voorbeurs
TOP NEWS
• Global coronavirus deaths top half a million
The death toll from COVID-19 surpassed half a million people on Sunday, according to a Reuters tally, a grim milestone for the global pandemic that seems to be resurgent in some countries even as other regions are still grappling with the first wave.
• Shale pioneer Chesapeake Energy files for bankruptcy
Chesapeake Energy filed for Chapter 11 on Sunday, becoming the largest U.S. oil and gas producer to seek bankruptcy protection in recent years as it bowed to heavy debts and the impact of the coronavirus outbreak on energy markets.
• Boeing 737 MAX certification flight tests to begin on Monday -sources
Pilots and test crew members from the U.S. Federal Aviation Administration and Boeing are slated to begin a three-day certification test campaign for the 737 MAX on Monday, people familiar with the matter told Reuters.
• KKR, Apollo among suitors for National Australia Bank's wealth unit -sources
KKR and Apollo Global Management are among potential buyers which have conducted due diligence on National Australia Bank's wealth management unit, three sources familiar with the matter told Reuters.
• BP sells petchems arm for $5 billion in energy transition revamp
BP has agreed to sell its global petrochemicals business to billionaire Jim Ratcliffe's Ineos for $5 billion, pulling out of a sector widely seen as a key driver of oil demand growth in the coming decades.​


BEFORE THE BELL
Wall Street futures were little changed as the relentless spread of the coronavirus curbed optimism on the global economy. European shares struggled for direction and Japan's Nikkei sank. Gold prices rose on safe-haven bets, while the dollar fell against rival currencies. Oil prices rose. U.S. pending home sales data is due later in the day.​


STOCKS TO WATCH
Deals Of The Day
• BP Plc (BP). The company has agreed to sell its global petrochemicals business to billionaire Jim Ratcliffe's Ineos for $5 billion, pulling out of a sector widely seen as a key driver of oil demand growth in the coming decades. The surprise move means BP has hit its $15 billion asset sales target a year ahead of schedule as CEO Bernard Looney prepares the company for a shift to low-carbon energy. Looney acknowledged that the sale of the business, which employs 1,700 people and produced 9.7 million tonnes of petrochemicals last year, "will come as a surprise".​

In Other News
• Amazon.com Inc (AMZN). The Indian unit of the company has eliminated all single-use plastic in its packaging across fulfillment centers in the country, in line with its target to weed out the packaging material by June, the e-commerce giant said. Separately, Workers at six Amazon sites in Germany will go on strike in protest over safety after some staff at logistics centres tested positive for coronavirus, labour union Verdi said.
• American Airlines Group Inc (AAL). The company expects to have between 10% and 20% more workers than needed in July 2021, Chief Executive Doug Parker told employees at a town hall this week, and said that avoiding furloughs will be difficult. "It's going to be even harder than I thought," Parker said at an employee town hall on Wednesday, adding that "revenue is not coming back as fast as we'd like." "It really makes zero sense to go furlough a pilot in October if you're going to need that pilot again in July," Parker said, noting the costly training needed to bring a pilot back from a furlough.
• Andersons Inc (ANDE). CME Group, parent of the Chicago Board of Trade (CBOT), has ordered Andersons, an Ohio-based grain business, to pay a $2 million fine for violating futures trading rules in late 2017, the exchange said in a statement on Friday. The Andersons confirmed the settlement in a statement to Reuters and said it cooperated with the CME's investigation. "We do not believe we engaged in any wrongdoing," it said in the statement.
• Boeing Co (BA). Pilots and test crew members from the U.S. Federal Aviation Administration and Boeing are slated to begin a three-day certification test campaign for the 737 MAX, people familiar with the matter told Reuters. The FAA confirmed to U.S. lawmakers on Sunday that an agency board had completed a review of Boeing's safety system assessment for the 737 MAX "clearing the way for flight certification testing to begin. Flights with FAA test pilots could begin as early as Monday, evaluating Boeing's proposed changes to the automated flight control system on the 737 MAX." After a preflight briefing over several hours, the crew will board a 737 MAX 7 outfitted with test equipment at Boeing Field near Seattle, one of the people said.
• Chesapeake Energy Corp (CHK). The company filed for Chapter 11 on Sunday, becoming the largest U.S. oil and gas producer to seek bankruptcy protection in recent years as it bowed to heavy debts and the impact of the coronavirus outbreak on energy markets. The filing marks an end of an era for the Oklahoma City-based shale pioneer, and comes after months of negotiations with creditors. "Despite having removed over $20 billion of leverage and financial commitments, we believe this restructuring is necessary for the long-term success and value creation of the business," Lawler said in a statement announcing the filing.​
• Coty Inc (COTY). The company has agreed to buy a 20% stake in reality TV star Kim Kardashian West's makeup brand KKW for $200 mln, the Financial Times reported, citing people familiar with the matter. The deal values West's cosmetics company at $1 billion, slightly lower than the $1.2 billion valuation Coty put on West's half sister Kylie Jenner's business, the report said.
• Delta Air Lines (DAL). The company said late on Friday it will soon send warning notices to about 2,500 pilots regarding possible furloughs at the airline, as the industry takes a huge blow after the coronavirus pandemic slashed air travel demand. "In an effort to best prepare our pilots should furloughs be needed, Delta will send required notices to approximately 2,500 pilots," a Delta spokesperson said, adding that the so-called 'WARN' notices will be sent next week. Delta also reached a tentative agreement with the Air Line Pilots Association (ALPA) labor union on a pilot-specific voluntary early retirement option.
• KKR & Co Inc (KKR) & Apollo Global Management Inc (APO). The two companies are among potential buyers which have conducted due diligence on National Australia Bank's wealth management unit, three sources familiar with the matter told Reuters. The sale of the unit, called MLC, could fetch more than $688 million, said two of the sources, who declined to be identified as the negotiations are private. Suitors are expected to submit bids for MLC by Tuesday, one of the sources said. A second source said the timeline for the sale was fluid.
• Pfizer Inc (PFE). The company filed a lawsuit on Friday seeking to require the federal government to let it help Medicare beneficiaries afford two drugs to treat a rare and sometimes fatal heart condition, and which cost $225,000 a year. The drugmaker said the U.S. Department of Health and Human Services' Office of Inspector General is blocking it from offering financial aid to patients unable to afford copayments for its Vyndaqel and Vyndamax drugs, because it views such aid as an illegal kickback.
• Starbucks Corp (SBUX). The company will pause advertising on all social media platforms as it explores the best ways to help stop the spread of hate speech, the company said in a statement on Sunday. The company will "have discussions internally and with media partners and civil rights organizations to stop the spread of hate speech," the statement said. A CNBC report on Sunday added that this social media pause by Starbucks will not include YouTube.
• Under Armour (UAA). The athletic apparel maker said on Saturday it will discontinue its partnership with UCLA - a 15-year, $280 million accord announced in 2016 that was billed as the largest apparel deal in the history of American collegiate sports. The University of California, Los Angeles promised to fight the move. The company said that it made the decision to terminate the agreement with UCLA because "we have been paying for marketing benefits that we have not received for an extended time period." The agreement with UCLA allowed the company to terminate the deal in such an event and it is exercising its right, Under Armour added.
• Walmart Inc (WMT). A shooting at a Walmart distribution center in Red Bluff, California, killed at least two people and injured four others late on Saturday, officials said. Tehama County's assistant sheriff said the attacker circled the center's parking lot four times before crashing his vehicle into the building and opening fire with a semi-automatic rifle. The shooter killed an employee before police officers shot and killed the attacker.
• Walt Disney Co (DIS). Workers at California's Disneyland Resort protested from their cars on Saturday, arguing that the company has not agreed to adequate protections for employees when the destination reopens to the public amid a pandemic. The company had planned to welcome guests back to Disneyland and neighboring California Adventure starting July 17 but delayed the restart date indefinitely. On Saturday, about 200 cars formed a caravan outside the resort in the protest staged by the Coalition of Resort Labor Unions, a group of 11 unions that represent 17,000 Disneyland workers. The unions have called on the company to commit to providing onsite testing for COVID-19.​


ANALYSIS
A cash cliff spells trouble for U.S. unemployed, and everyone else
Judith Ramirez is bracing for July. That's when the hotel housekeeper and her electrician husband - who have both been out of work for three months - expect their combined unemployment benefits to drop by more than half, and their deferred $1,500 monthly mortgage payment on their Honolulu home to come due. It's a cash cliff millions of Americans face this summer as the emergency benefits -- which lifted U.S. consumer incomes by a record 10.8% in April -- expire.


ANALYSTS' RECOMMENDATION
• BCB Bancorp Inc (BCBP). Piper Sandler cuts target price to $9.50 from $11, noting the risk of a downturn in economic performance or real estate markets in the company's core operating footprint.
• Bristol-Myers Squibb Co (BMY). Cowen and Company cuts target price to $66 from $72, reflecting lower 2022-25 earnings per share estimates.
• Zogenix Inc (ZGNX). Mizuho cuts target price to $55 from $64, reflecting the lower-than-expected average list price of Fintepla.
• Zoominfo Technologies Inc (ZI). RBC initiates coverage with sector perform and target price of $50, believing the company offers the leading go-to-market intelligence database, as well as valuable surrounding data.


ECONOMIC EVENTS (All timings in U.S. Eastern Time)
1000 Pending home sales index for May: Prior 69.0
1000 Pending home sales change mm for May: Expected 19.7%; Prior -21.8%​
1030 (approx.) Dallas Fed Manufacturing Business Index for Jun: Prior -49.20


COMPANIES REPORTING RESULTS
Micron Technology Inc (MU). Expected Q3 earnings of 77 cents per share


CORPORATE EVENTS (All timings in U.S. Eastern Time)
0900 TransDigm Group Inc (TDG). Annual Shareholders Meeting
1000 Constellium SE (CSTM). Annual Shareholders Meeting
1100 Dell Technologies Inc (DELL). Annual Shareholders Meeting
1100 eBay Inc (EBAY). Annual Shareholders Meeting
1200 Eldorado Resorts Inc (ERI). Annual Shareholders Meeting
1630 Micron Technology Inc (MU). Q3 earnings conference call


EX-DIVIDENDS
Agilent Technologies Inc (A). Amount $0.18
AGNC Investment Corp (AGNC). Amount $0.12
Alexandria Real Estate Equities Inc (ARE). Amount $1.06
Amdocs Ltd (DOX). Amount $0.32
Ameris Bancorp (ABCB). Amount $0.15
Annaly Capital Management Inc (NLY). Amount $0.22
AvalonBay Communities Inc (AVB). Amount $1.59
B&G Foods Inc (BGS). Amount $0.47
BancFirst Corp (BANF). Amount $0.32
CoreSite Realty Corp (COR). Amount $1.22
Deere & Co (DE). Amount $0.76
Douglas Emmett Inc (DEI). Amount $0.28
Eastgroup Properties Inc (EGP). Amount $0.75
Fifth Third Bancorp (FITB). Amount $0.27
FMC Corp (FMC). Amount $0.44
Humana Inc (HUM). Amount $0.62
Illinois Tool Works Inc (ITW). Amount $1.07
Innovative Industrial Properties Inc (IIPR). Amount $1.06
Kennedy-Wilson Holdings Inc (KW). Amount $0.22
Kilroy Realty Corp (KRC). Amount $0.48
Lennox International Inc (LII). Amount $0.77
Mondelez International Inc (MDLZ). Amount $0.28
Monolithic Power Systems Inc (MPWR). Amount $0.50
National Fuel Gas Co (NFG). Amount $0.44
National Health Investors Inc (NHI). Amount $1.10
Nucor Corp (NUE). Amount $0.40
Owl Rock Capital Corp (ORCC). Amount $0.31
Paramount Group Inc (PGRE). Amount $0.10
Pioneer Natural Resources Co (PXD). Amount $0.55
Prospect Capital Corp (PSEC). Amount $0.06
Rexford Industrial Realty Inc (REXR). Amount $0.21
Safehold Inc (SAFE). Amount $0.16
Spirit Realty Capital Inc (SRC). Amount $0.62
STAG Industrial Inc (STAG). Amount $0.12
Steel Dynamics Inc (STLD). Amount $0.25
STORE Capital Corp (STOR). Amount $0.35
Stryker Corp (SYK). Amount $0.57
Sun Communities Inc (SUI). Amount $0.79
Terreno Realty Corp (TRNO). Amount $0.27
Thor Industries Inc (THO). Amount $0.40
Towne Bank (TOWN). Amount $0.18
Two Harbors Investment Corp (TWO). Amount $0.14
VEREIT Inc (VER). Amount $0.07
VICI Properties Inc (VICI). Amount $0.29
WP Carey Inc (WPC). Amount $1.04
Xerox Holdings Corp (XRX). Amount $0.25
Liveblog feed
De slotstanden op Wall Street kwamen vrijdag overwegend lager uit, de Dow Jones verloor 0,6% terwijl de SP 500 zo'n 0,3% moest inleveren. De Nasdaq die ook negatief begon vrijdag kon er nog wel net een plusje uitslepen want de index won 0,1%. Na de nieuwe recordstanden van donderdag kwamen er dus over het algemeen wat winstnemingen. Alleen de BIG-Tech had daar nog geen zin in en daardoor kon vooral de Nasdaq een uitzondering maken ...
Er zijn op zich redenen genoeg om ervan uit te gaan dat de beurzen toe zijn aan een grotere correctie en dan zeker bij bepaalde sectoren die in een BUBBEL zitten. Ik weet ook wel dat er veel nieuwe beleggers zullen zijn die wat ik schrijf en vaak herhaal allemaal niet aan de orde is maar toch, denk voor je wat doet even heel goed na en leer vooral ook van wat er zich in de geschiedenis afspeelde. En laten we meteen ook terug gaan naar fases, niet eens lang geleden, dat beurzen in no-time 30 tot 40% kunnen verliezen.
Vergeet vooral ook niet dat het sinds 2000 al 3 keer is voor gekomen, in 2000, in 2008 en recent nog in 2020. Probleem is dat velen pas na de dip van maart 2020 zijn begonnen met de beurs en het gewend zijn geraakt dat het snel gaat en je er veel mee kunt verdienen. Dat is ook zo maar de keerzijde van de medaille moet men nog ontdekken, er kennis mee maken en dat komt er sneller aan dan velen denken. Noem mij maar negatief, dat mag, maar hou er ook rekening mee dat ik dit soort fases al heb meegemaakt, tot 4 keer toe zelfs want ook in 1987 was ik al met de markt bezig.
Vanmorgen zag ik al dat 25% van de kapitaal waarde van de gehele S&P 500 naar 6 bedrijven gaat, dat zijn Apple, Facebook, Alphabet, Amazon, Microsoft en sinds kort ook Tesla (zit net in deze index). U leest het goed, 25% marktwaarde van de 500 grootste bedrijven in de VS gaat naar 6 bedrijven. De rest wordt over 475 bedrijven verdeeld. Toch wel vreemd en niet goed te begrijpen. Binnen de Nasdaq 100 (de 100 grootste technologie bedrijven) nemen deze 6 bedrijven zelfs 42% voor hun rekening, u leest het goed, bijna de helft !!
Let op, er zijn meer signalen te zien waardoor de markt een correctie door kan maken nu. De bubbel conditie die ik hierboven heb uitgelegd kennen we nu maar we zijn ook 3 tot 4 fases door gegaan waar beleggers zich aan vast hebben kunnen houden sinds begin november. De eerste was dat Trump weg moest en Biden kwam, beleggers waren er tevreden mee. Later kwam daar nog de definitieve keuze bij en de afgelopen week de inwijding van de nieuwe president. Dat is nu achter de rug, de proeverij is geweest, nu moet het hoofdmenu er komen en dat wordt een moeilijker blok in zijn geheel. Met andere woorden, dat gedoe rondom de president wisseling ligt achter ons, nu moeten er potten gebroken worden.
Een ander feit is COVID-19, de markt won vele EXTRA procenten door dat er een vaccin kwam, tot 3 en zelfs 5 als we de Rus en de Chinees erbij pakken. Maar dat loopt totaal niet naar wens, er zijn te weinig vaccins aanwezig ofwel beschikbaar om het snel voor elkaar te krijgen. Vanmorgen las ik dat Pfizer al niet kan voldoen aan wat ze hadden aangegeven en dat het AstraZeneca vaccin tot 50 tot 60% van wat werd toegezegd niet te leveren is dit kwartaal. Productie problemen of vragen de mutaties om een nieuwe samenstelling van het vaccin? Of werkt het niet meer naar behoren? Dat weten wij natuurlijk niet maar dat er iets aan de hand lijkt is duidelijk op die manier. Vaccins, mutaties, langer in een lockdown sinds deze week en onzekerheden. Alles bij elkaar zeker iets om niet te negeren, om voor op te letten en iets wat de beurzen ook parten kan spelen de komende periode.
En er zijn nog wel wat meer redenen te bedenken dat het allemaal wat te snel is gegaan en dat de markten zwaar overspannen worden aan deze niveau's. We gaan wel zien waartoe het zal leiden, wel opletten dus want ik zeg dat niet zonder reden en probeer velen te waarschuwen dat markten niet ongestraft opmerkelijk duurder worden. Eens zal de zwaartekracht haar werk doen, velen zweven ergens tussen de wolken momenteel en dan moet je echt op je goede zijn, opletten dus ...
Uiteraard roepen veel analisten nu dat alles goed is momenteel, dat de bedrijven op volle toeren draaien desondanks de pandemie en dat het allemaal wel in orde zal komen omdat er vaccins zijn. Wel dat zeiden deze analisten ook in 1987, 2000 en vooral ook in 2008, wat er daarna gebeurde weten we wel ... Een analist zegt meestal als alles meevalt en hoog staat KOPEN maar als we een grote correctie doormaken en heel laag staan dan zegt het merendeel VERKOPEN. Of dat nu weer zo zal gaan weet ik niet, maar ik heb uit het verleden best veel mogen leren en wat ik nu zie overtreft op alle vlakken 1987, 2000, 2008 en begin 2020 !!!

Voor het weekoverzicht met grafieken zie verder in deze update, eerst even over de nieuwe aanbieding die loopt tot 1 APRIL, als u mee wilt met een correctie van de markt, wordt nu dus lid want er gaan zich kansen voordoen dit kwartaal ...
Maak nu gebruik van de NIEUWE proef aanbieding:
Mis in ieder geval de start van 2021 niet want er komen hoe dan ook hele mooie kansen ... Via deze aanbieding ... €39 tot 1 APRIL 2021 ... Polleke €49 tot 1 APRIL 2021 !!!
Systeem Trading (€39 tot 1 APRIL)
Index Trading (€39 tot 1 APRIL)
Polleke Trading (€49 tot 1 APRIL)
Aandelen portefeuille (€30 tot 1 APRIL)
COMBI TRADING (€79 tot 1 APRIL)

Europa wisselende week achter de rug:
De indices hier in Europa hebben een wisselend verloop achter de rug, de AEX sluit bekeken over de gehele week en vooral door het aandeel ASML 9 punten hoger (+1,35%). De DAX sluit de week ook wat hoger af maar dan minder sterk dan de AEX, de DAX won uiteindelijk 86 punten (+0,63%). Aan de andere kant verloor de Franse CAC 40 dan weer 52 punten (-0,95%) zodat er hier in Europa wel meer verschil zat in de markt dan wat we op Wall Street zien. Vooral de door technologie gedragen indices deden het de afgelopen week veel beter, de AEX die zwaar door ASML wordt gedragen viel daardoor meteen op tussen de rest in Europa.
Marktoverzicht Wall Street:
Op weekbasis was er over het algemeen winst op Wall Street, dat ziet u via de tabel hieronder waar de Trackers op de indices onder elkaar staan. Wel verloor de Dow Jones Transport index op weekbasis zo'n 0,65%. De meeste andere indices sluiten ook de 3e week van dit nieuwe jaar positief af ... Vooral de technologie ofwel beide Nasdaq indices deden het met een plus van 4% goed.

WIG blijft bij de Dow Jones, Nasdaq 100 en de S&P 500
RISING WIG Dow Jones

RISING WIG S&P 500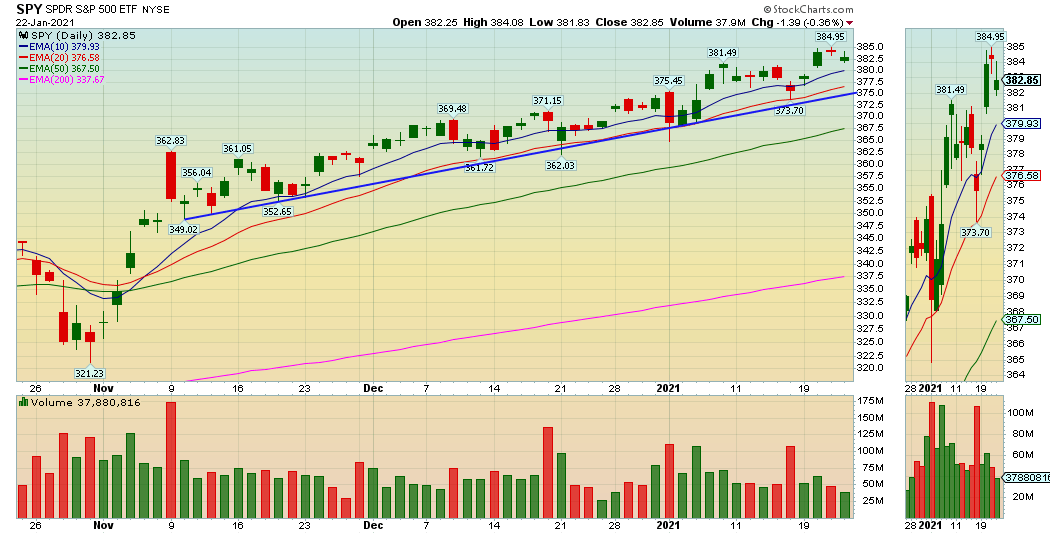 RISING WIG Nasdaq 100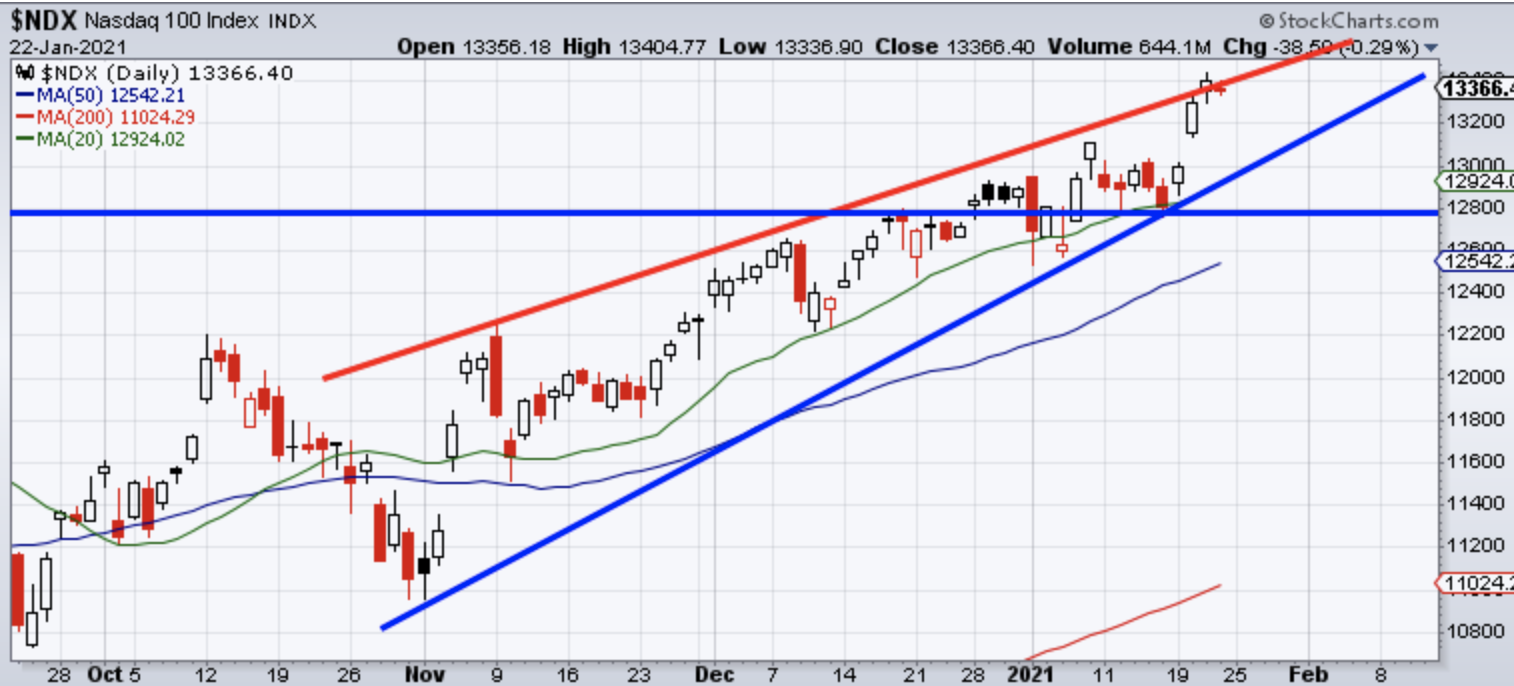 U kunt mij en dus @USMarkets uiteraard ook volgen via onze Twitter account, ga naar ...https://twitter.com/USMarkets waar ik tussentijds wat charts over de markt en sentiment plaats, ook opvallende beursfeiten komen er vaak langs !
Euro, olie en goud:
De euro zien we nu rond de 1.217 dollar, de prijs van een vat Brent olie komt uit op 55,1 dollar terwijl een troy ounce goud nu op 1855 dollar staat. De Bitcoin herpakt zich na enkele dolle dagen, nu moet je 31.800 dollar neertellen voor 1 Bitcoin ...
Inter Market overzicht vrijdag op slotbasis ...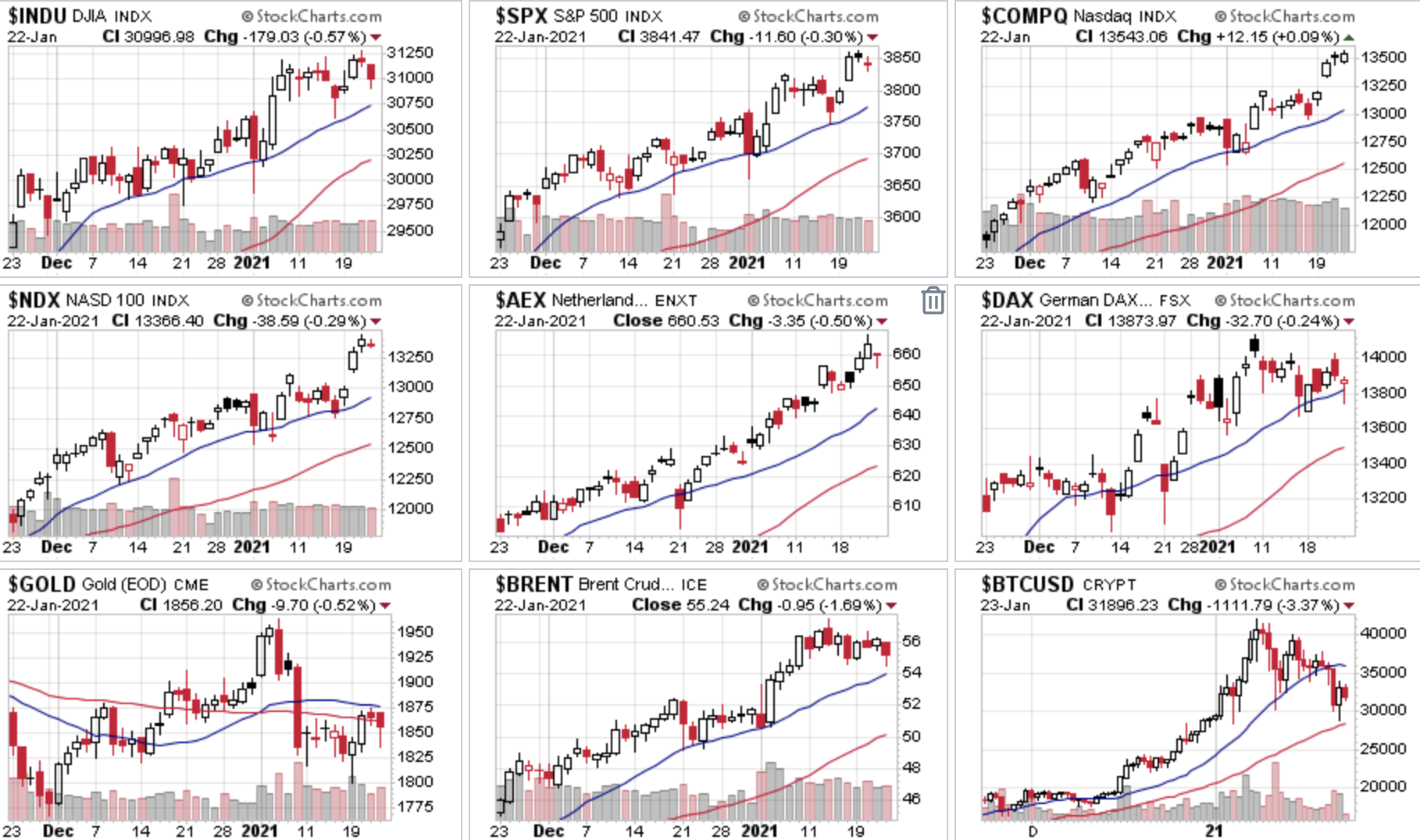 Strategische posities opgenomen:
Zodra u lid wordt ontvangt u de signalen en kunt u meteen de lopende posities inzien via onze Tradershop op de website. Ik probeer in ieder geval zo goed als dat kan om met de markt mee te gaan, wel is het zo dat de markt volatiel blijft en die volatiliteit kan zelfs nog wat gaan toenemen de komende periode.
Wat ik moet doen is in ieder geval blijven schakelen tussen long en short. Deze maand loopt wat wisselend, op zich met nog meer dan genoeg kansen uiteraard en we zitten nu nog met wat posities in de markt ... Doe nu mee met de nieuwe proef aanbieding die loopt tot 1 APRIL en dat met een mooie korting !!

Maak nu gebruik van de NIEUWE proef aanbieding:
Mis in ieder geval de start van 2021 niet want er komen hoe dan ook hele mooie kansen ... Via deze aanbieding ... €39 tot 1 APRIL 2021 ... Polleke €49 tot 1 APRIL 2021 !!!
Systeem Trading (€39 tot 1 APRIL)
Index Trading (€39 tot 1 APRIL)
Polleke Trading (€49 tot 1 APRIL)
Aandelen portefeuille (€30 tot 1 APRIL)
COMBI TRADING (€79 tot 1 APRIL)

Met vriendelijke groet,
Guy Boscart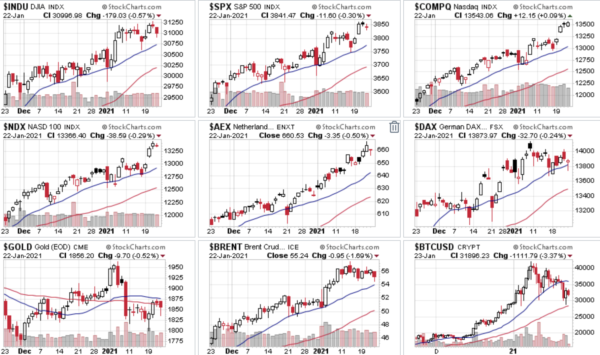 Het belooft weer een zon­nige dag te wor­den en het kwik zal de 30 waarschi­jn­lijk wel weer aan­tikken, tijd voor een analyse. Welke grafieken ga ik van­daag met u bek­ijken? Ik behan­del de DAX, Gala­pa­gos Adyen en op ver­zoek van lez­er­essen Petra en Hele­na Alfen. Lat­en we maar direct beginnen.Daar beide…
Lees verder »
Actueel
Verwacht
Vorige
USA

USA:

Ruwe Olievoorraden
17:00
4,351M
-1,167M
-3,247M
Actueel: 4,351M Verwacht: -1,167M Vorige: -3,247M
Actueel
Verwacht
Vorige
USA

USA:

Bestaande Huizenverkopen (Dec)
16:00
6,76M
6,55M
6,71M
Actueel: 6,76M Verwacht: 6,55M Vorige: 6,71M
Loading..
Er is een fout opgetreden