Liveblog Archief dinsdag 30 november 2021
7 liveblog items op dinsdag 30 november 2021.
Actueel
Verwacht
Vorige
USA

USA:

CB Consumentenvertrouwen (Nov)
16:00
109,5
111,0
111,6
Actueel: 109,5 Verwacht: 111,0 Vorige: 111,6
Er zijn weer aardig wat ver­zoeken bin­nengekomen. Zoveel zelfs dat ik ze niet in één col­umn kan behan­de­len. Ik heb er vijf voor van­daag gere­serveerd en voeg er zelf de AEX aan toe. De overige, en eventueel nieuwe ver­zoeken, komen dan in de col­umn van don­derdag aan bod.Nvidia op ver­zoek van lezer…
Lees verder »
TOP NEWS
• Omicron, found in Europe 11 days ago, jolts markets on vaccine fears
The chief executive of drugmaker Moderna set off fresh alarm bells in financial markets with a warning that existing COVID-19 vaccines would be less effective against the new Omicron variant than they have been against Delta.

• Regeneron says COVID-19 drug could be less effective against Omicron variant
Regeneron Pharmaceuticals' COVID-19 antibody cocktail, and similar drugs, could be less effective against the Omicron coronavirus variant, the company said.

• Powell, Yellen head to Congress as inflation, variant risks rise
U.S. lawmakers are expected to grill the heads of the Federal Reserve and Treasury Department over stubbornly high inflation and the possible impact of the new Omicron COVID-19 variant on what both officials view as a strong economy.

• UK competition regulator tells Facebook owner Meta to sell GIF maker Giphy
Britain's competition regulator has told Facebook owner Meta Platforms to sell animated images platform Giphy after finding that the acquisition could harm social media users and UK advertisers, dealing a blow to the U.S.-based tech giant.

• U.S. labor board official orders Amazon to redo union vote at Alabama warehouse
A regional director for the U.S. National Labor Relations Board on Monday called for a rerun of a union election at an Amazon.com Inc facility in Alabama, setting the stage for another high-profile organizing battle at the world's largest online retailer.


BEFORE THE BELL
Wall Street futures were in the red, in line with global shares, after the CEO of Moderna warned that COVID-19 vaccines are unlikely to be as effective against the new Omicron variant. The dollar slid against its rivals, while gold prices climbed as investors sought safe havens. Oil prices tumbled nearly 3% on worries about crude demand. Salesforce.com and NetApp are among the companies scheduled to report results after the closing bell.


STOCKS TO WATCH

Deals Of The Day
• Adit EdTech Acquisition Corp: Bitcoin miner Griid Infrastructure said it would go public by merging with blank-check firm Adit EdTech Acquisition Corp in a deal valuing the combined company at about $3.3 billion, including debt. Ohio-based Griid, the latest bitcoin mining startup to take the blank-check route, will receive $246 million in cash from Adit EdTech's trust account after the deal closes. Griid Infrastructure will list on the New York Stock Exchange under the new ticker symbol "GRDI".

In Other News
• Alphabet Inc: A group of former Google employees sued the Alphabet unit on Monday alleging that it breached their employment contracts by not honoring its famous motto "don't be evil." In the lawsuit filed in California state court in Santa Clara county, former Google employees Rebecca Rivers, Sophie Waldman and Paul Duke alleged that they were fired two years ago for fulfilling their contractual obligation to speak up if they saw Google violating its "don't be evil" pledge. The company has said before that the employees violated data security policies.Google has promoted "don't be evil" as a core value for over 20 years, including when it went public in 2004. Separately, Orsted said it has secured a 12-year power purchase agreement with Google, which aims to power all its data centres and offices using solely carbon-free electricity by 2030.

• Amazon.com Inc: A regional director for the U.S. National Labor Relations Board on Monday called for a rerun of a union election at an Amazon facility in Alabama, setting the stage for another high-profile organizing battle at the world's largest online retailer. "Today's decision confirms what we were saying all along – that Amazon's intimidation and interference prevented workers from having a fair say in whether they wanted a union in their workplace," Stuart Appelbaum, president of the Retail, Wholesale and Department Store Union (RWDSU), said in a statement. Amazon spokesperson Kelly Nantel said in a statement that the company's employees overwhelmingly voted against joining the RWDSU this year. "It's disappointing that the NLRB has now decided that those votes shouldn't count."

• Gap Inc: The company has settled federal charges that it routinely discriminated against employees who were not U.S. citizens because of their immigration status, the Department of Justice said on Monday. The accord requires the San Francisco-based clothing retailer to pay a $73,263 civil fine, provide back wages to two employees who lost work because of its practices, and upgrade its employee training worldwide. It ends a 3-1/2-year-old probe into Gap, which did not admit wrongdoing and said its actions did not violate a 1986 federal law against immigration-related employment discrimination.The Justice Department said Gap's reliance on an electronic program used for employment eligibility contributed to the discriminatory conduct. In a statement, Gap said it no longer uses that program, and "we believe we are in compliance with all federal requirements."

• Goldman Sachs Group Inc: The firm on Monday introduced a slew of benefits for its employees, as it attempts to ease the strain on its workers and woo talent. The bank is increasing its retirement fund, matching contributions for U.S. employees to 6% of total compensation, a jump of 2%, according to a person familiar with the matter. Goldman will also contribute 8% of total compensation for employees making $125,000 a year or less, the person said, adding the bank was eliminating the one-year waiting period before matching employee contributions for new recruits. "We're focused on delivering energy optimization, resilience, and mental health programs that support our people in caring for themselves and their families," Bentley de Beyer, the bank's global head of human capital management, said in an e-mailed statement in response to Reuters' request for comment.

• KKR & Co Inc: The U.S. fund's proposal to buy Telecom Italia includes a letter of commitment by JPMorgan to support the 45 billion euros financing needed for the deal, Italian daily Il Messaggero reported. JPMorgan said in the letter it was ready to lift its commitment above 45 billion euros if necessary, the newspaper added. JPMorgan and KKR both declined to comment. Two sources familiar with the matter confirmed JPMorgan's role in arranging the financing for the bid. Sources had previously said JPMorgan was advising KKR together with Citi and Morgan Stanley. Il Messaggero said 34 billion euros in the financing package would be used to refinance TIM's debt under a "change of control" clause, with an additional 11 billion euros representing a cash confirmation required by market regulators to cover the offer's equity value.

• Lululemon Athletica Inc & Peloton Interactive Inc: Lululemon Athletica on Monday followed through on its threat to sue Peloton over the "copycat products" in the exercise bike company's new clothing line. The Canadian athletic apparel maker sued Peloton in Los Angeles federal court, seeking triple damages for its rival's alleged "willful" infringement of six design patents. Lululemon filed its lawsuit five days after Peloton brought its own case in Manhattan federal court, seeking a declaration that Lululemon's claims had no merit. Peloton and its lawyer did not immediately respond to requests for comment. Peloton "intended to closely copy Lululemon's proprietary designs and pass off its goods as Lululemon's high quality products to misappropriate the immense goodwill that Lululemon has spent enormous time, effort, and expense to cultivate," Lululemon said in its complaint.

• Meta Platforms Inc: Britain's competition regulator said it has directed the Facebook owner to sell animated images platform Giphy after finding that the deal could harm social media users and UK advertisers. The Competition and Markers Authority (CMA) said the decision was in line with provisional findings that Facebook's acquisition of Giphy would reduce competition between social media platforms and in the display advertising market. "The tie-up between Facebook and Giphy has already removed a potential challenger in the display advertising market ...By requiring Facebook to sell Giphy, we are protecting millions of social media users and promoting competition and innovation in digital advertising," said Stuart McIntosh, chair of the independent investigation for the CMA.

• Moderna Inc: The chief executive of the drugmaker set off fresh alarm bells in financial markets with a warning that existing COVID-19 vaccines would be less effective against the Omicron variant than they have been against the Delta variant. "There is no world, I think, where (the effectiveness) is the same level... we had with Delta," Moderna CEO Bancel told the Financial Times in an interview. "I think it's going to be a material drop. I just don't know how much because we need to wait for the data. But all the scientists I've talked to... are like 'this is not going to be good'," Bancel said. Bancel had earlier said on CNBC that there should be more clarity on the efficacy of COVID-19 vaccines against Omicron in about two weeks, and that it could take months to begin shipping a vaccine that work against the new variant.

• Regeneron Pharmaceuticals Inc: The drugmaker's COVID-19 antibody cocktail, and similar drugs, could be less effective against the Omicron coronavirus variant, the company said. It said analysis shows the individual mutations present in the Omicron variant indicate "that there may be reduced neutralization activity of both vaccine-induced and monoclonal antibody conveyed immunity". Further analyses are ongoing, the company said, adding that there was no direct data testing Omicron's resistance to immunity gained from vaccines and monoclonal antibodies.

• RR Donnelley & Sons Co: Chatham Asset Management on Monday raised its offer for the firm to $10.25 per share, hours after the printing company reaffirmed that it was sticking to a merger with investment firm Atlas Holdings. Chatham, which owns a 14.9% stake in RR Donnelley making it the largest shareholder, earlier this month had offered to acquire the remaining stock in the company for $9.10 per share. RR Donnelley agreed to be taken private by Atlas for $8.52 per share in cash earlier this month, valuing the company at about $2.1 billion.

• Tesla Inc: The company's Chief Elon Musk on Monday pointed to the challenges stemming from supply chain problems on Cybertruck's production, even though the company has so far avoided a major hit from the crisis that has plagued the global auto industry. "Oh man, this year has been such a supply chain nightmare & it's not over!" Musk said in a tweet on Monday, in response to a Twitter users' request on a Cybertruck update. "I will provide an updated product roadmap on next earnings call," he added. At a shareholder meeting in October, Musk said Cybertruck production will begin next year and reach volume production in 2023.

• UnitedHealth Group Inc: The company on Monday forecast profit for 2022 below Wall Street estimates, as it grapples with a surge in insurance claims due to the COVID-19 pandemic. The U.S. health insurer said it was expecting to post an adjusted profit of $21.10 to $21.60 per share in 2022. Analysts on average were estimating a profit of $21.65 per share. UnitedHealth, however, raised the lower end of its 2021 adjusted earnings forecast by 10 cents. It had previously forecast a range of $18.65 per share to $18.90 per share.

• Walmart Inc & Amazon.com Inc: The U.S. Federal Trade Commission said Monday it is investigating whether supply chain disruptions are hurting consumers with higher prices, and has ordered Walmart, Amazon and other major food suppliers to give detailed information about the situation. The goals of the study will be to determine if supply chain problems have led to particular bottlenecks, anti-competitive practices or higher prices, the agency said in a statement. The National Grocers Association has also expressed concern that large retailers have been able to use their heft to compel sellers to keep supplies flowing, putting smaller competitors at a disadvantage.

• Westpac Banking Corp: The firm said it will likely be fined A$113 million for alleged compliance failures across its business over many years, including charging financial advice fees to thousands of dead customers. Australia's No.3 lender admitted to six civil penalty proceedings filed by the country's securities regulator, including allegations against its banking, superannuation, wealth management and now divested general insurance units. "The issues raised in these matters should not have occurred, and our processes, systems and monitoring should have been better," Westpac CEO Peter King said in a statement. ASIC and Westpac will together propose the A$113 million penalty to the federal court, and the lender will remediate about A$80 million to customers, the ASIC said.


ANALYSIS
Ready to pounce: Investors prepare for swings, opportunities as Omicron variant spreads
The latest COVID-19 virus variant has sparked a wild ride in markets. Investors say the volatility probably isn't over yet, as they look for selective opportunities to pounce on while protecting their portfolios as the year-end nears. The emergence of the Omicron variant saw the S&P 500 notch its worst one-day percentage loss in nine months on Friday - only to rebound on Monday as hopes grew that the variant might be milder than first feared. Some investors saw opportunity in those swings.


ANALYSTS' RECOMMENDATION
• Falcon Minerals Corp: Wells Fargo cuts rating to equal weight from overweight based on narrowing of the valuation gap versus peers and a comparatively worse outlook for line of sight wells versus peers.

• PG&E Corp: JPMorgan raises target price to $14 from $13 reflecting a narrower discount versus peers given the calm 2021 fire season.

• Twitter Inc: Atlantic Equities cuts target price to $55 from $70 to reflect the guidance provided by the company with its third-quarter earnings that FY22 is likely to be another investment year.

• Zoom Video Communications Inc: Daiwa Capital Markets raises rating to underperform from sell as the company's top-line benefits from COVID driven subscriptions which continue to bolster near-term results.


ECONOMIC EVENTS (All timings in U.S. Eastern Time)
0900 (approx.) Monthly home price mm for Sept: Prior 1.0%
0900 (approx.) Monthly home price yy for Sept: Prior 18.5%
0900 (approx.) Monthly Home Price Index for Sept: Prior 351.7
0900 Caseshiller 20 mm SA for Sept: Expected 1.2%; Prior 1.2%
0900 Caseshiller 20 mm NSA for Sept: Prior 0.9%
0900 Caseshiller 20 yy for Sept: Expected 19.3%; Prior 19.7%
0945 (approx.) Chicago PMI for Nov: Expected 67.0; Prior 68.4
1000 (approx.) Consumer Confidence for Nov: Expected 110.9; Prior 113.8
1030 (approx.) Texas Service Sector Outlook for Nov: Prior 20.7
1030 (approx.) Dallas Fed Services Revenues for Nov: Prior 19.6


COMPANIES REPORTING RESULTS
Hewlett Packard Enterprise Co: Expected Q4 earnings of 48 cents per share
NetApp Inc: Expected Q2 earnings of $1.21 per share
Salesforce.Com Inc: Expected Q3 earnings of 92 cents per share


CORPORATE EVENTS (All timings in U.S. Eastern Time)
0900 Stonex Group Inc: Q4 earnings conference call
1000 Informatica Inc: Q3 earnings conference call
1100 Meredith Corp: Shareholders Meeting
1130 Microsoft Corp: Annual Shareholders Meeting
1300 Golub Capital BDC Inc: Q4 earnings conference call
1330 Cimpress PLC: Annual Shareholders Meeting
1630 Ambarella Inc: Q3 earnings conference call
1630 Globalfoundries Inc: Q3 earnings conference call
1630 Hewlett Packard Enterprise Co: Q4 earnings conference call
1630 Zscaler Inc: Q1 earnings conference call
1700 Allbirds Inc: Q3 earnings conference call
1700 Box Inc: Q3 earnings conference call
1700 Salesforce.Com Inc: Q3 earnings conference call
1730 NetApp Inc: Q2 earnings conference call


EX-DIVIDENDS
Advanced Drainage Systems Inc: Amount $0.11
Ashland Global Holdings Inc: Amount $0.30
Associated Banc-Corp: Amount $0.20
Atrion Corp: Amount $1.95
Avery Dennison Corp: Amount $0.68
Avnet Inc: Amount $0.24
Ball Corp: Amount $0.20
Boise Cascade Co: Amount $0.12
Borgwarner Inc: Amount $0.17
Bruker Corp: Amount $0.04
California Resources Corp: Amount $0.17
Carter's Inc: Amount $0.60
CDK Global Inc: Amount $0.15
Century Communities Inc: Amount $0.15
Clearway Energy Inc: Amount $0.34
Coca-Cola Co: Amount $0.42
Cowen Inc: Amount $0.10
eBay Inc: Amount $0.18
Ebix Inc: Amount $0.07
Element Solutions Inc: Amount $0.08
EnPro Industries Inc: Amount $0.27
Expeditors International of Washington Inc: Amount $0.58
First Financial Bancorp: Amount $0.23
Fulton Financial Corp: Amount $0.08
GCM Grosvenor Inc: Amount $0.10
Group 1 Automotive Inc: Amount $0.35
Hartford Financial Services Group Inc: Amount $0.38
Interpublic Group of Companies Inc: Amount $0.27
iStar Inc: Amount $0.12
Juniper Networks Inc: Amount $0.20
Kellogg Co: Amount $0.58
Lockheed Martin Corp: Amount $2.80
ManpowerGroup Inc: Amount $1.26
Martin Marietta Materials Inc: Amount $0.61
Mcdonald's Corp: Amount $1.38
Mckesson Corp: Amount $0.47
MGE Energy Inc: Amount $0.38
NBT Bancorp Inc: Amount $0.28
Nelnet Inc: Amount $0.24
Old Dominion Freight Line Inc: Amount $0.20
Pactiv Evergreen Inc: Amount $0.10
Polaris Inc: Amount $0.63
Premier Inc: Amount $0.20
Principal Financial Group Inc: Amount $0.64
Progress Software Corp: Amount $0.17
Realty Income Corp: Amount $0.24
Safety Insurance Group Inc: Amount $0.90
Schlumberger NV: Amount $0.12
Silgan Holdings Inc: Amount $0.14
Sinclair Broadcast Group Inc: Amount $0.20
SS&C Technologies Holdings Inc: Amount $0.20
Stanley Black & Decker Inc: Amount $0.79
Stifel Financial Corp: Amount $0.15
Tradeweb Markets Inc: Amount $0.08
Trustmark Corp: Amount $0.23
Tyson Foods Inc: Amount $0.46
Ufp Industries Inc: Amount $0.20
Universal Health Services Inc: Amount $0.20
Vertiv Holdings Co: Amount $0.01
Virtu Financial Inc: Amount $0.24
Watts Water Technologies Inc: Amount $0.26
Wendys Co: Amount $0.12
Actueel
Verwacht
Vorige
EUROPA

EUROPA:

CPI (Jaarlijks) (Nov)
11:00
4,9%
4,5%
4,1%
Actueel: 4,9% Verwacht: 4,5% Vorige: 4,1%
Actueel
Verwacht
Vorige
DEU

DEU:

Duitse Werkloosheidswijziging (Nov)
09:55
-34K
-25K
-39K
Actueel: -34K Verwacht: -25K Vorige: -39K
Goedemorgen,
Vanmorgen lagere futures door de onzekerheden rondom de nieuwe Omikron variant, dat beheerst nu de markten. Gisteren kwam er wel een herstel op de daling van vrijdag maar richting het slot werd het herstel beperkt voor wat betreft Europa. Op Wall Street bleven de indices wel redelijk hoog, vooral de tech indices deden het heel goed met een forse opleving. De SOX index sprong eruit met ruim 4% winst.
Update dinsdag 30 november:
Vanmorgen lagere futures over de gehele breedte van de markt door opnieuw vragen rondom de Omikron variant, het blijft de markten parten spelen deze onzekerheid. We zien wel meteen weer dat de traditionele sectoren er meer last van hebben dan de tech sectoren die amper verlies laten zien via de Nasdaq 100 future. Wel opletten voor het vervolg vandaag want de kans is heel groot dat de bodems van afgelopen vrijdag eraan moeten geloven, zeker bij de AEX en de DAX ofwel Europa waar er meer lockdowns komen en waar COVID-19 weer toeslaat.

Veel kan ik niet doen nu, november sluit ik af en ik ben al heel tevreden dat we ook deze maand met winst kunnen afsluiten ook al is het beperkt. In deze markt met deze volatiliteit was de mogelijkheid er om meer winst te maken maar net zo goed om op een groot verlies te staan. Ik ben aan de leden verplicht om vooral voorzichtig te blijven, de markten bewegen fors op en neer, de ene dag omhoog de andere fors omlaag.
We moeten het aan ons voorbij laten gaan en enkel iets proberen op een herkenbaar punt om daarna slechts 1 of 2 dagen en wie weet zelfs op dezelfde dag de positie weer te sluiten en dat maakt het moeilijk nu. Meer dan 2 a 3 dagen in deze markt blijven zitten kan ons er snel met verlies uitdrukken ook al zijn de posities klein. Dat doe ik niet voor mezelf en zeker al niet voor de leden. Het is beter om te wachten tot het nieuws wat duidelijker wordt en dat er wat rust terugkomt om via een langere periode in de markt te kunnen blijven zitten.
Volgens de indicaties voorbeurs ziet het er naar uit dat de AEX en de DAX meteen hun laagste stand van vrijdag onder druk gaan zetten. Om hier long of short te gaan lijkt me te risicovol dus wacht ik liever nog rustig af. Wel kunt u alvast lid worden om op een beter momentum mee te doen met de posities die ik kies.
Schrijf u nu nog snel in via de mooie aanbieding tot 1 FEBRUARI voor €35. Ga meteen naar onze Tradershop via de link https://www.usmarkets.nl/tradershop
Marktoverzicht:
Wall Street laat herstel zien, het waren vooral de tech sectoren die het goed deden met de Nasdaq, de Nasdaq 100 en vooral de SOX index die met 4% herstel kwam. De S&P 500 deed het met 1,3% winst ook goed maandag. De Dow Jones kon niet echt mee met de rest en bleef hangen met een winst van 0,7%. Toch weer de nodige divergentie, de tech aandelen presteren dus beter dan de traditionele sectoren die meer last hebben van de nieuwe Omikron variant. Vanmorgen staan de futures in ieder geval weer behoorlijk wat lager door de onrust die er ontstaat.
Europa herpakt zich ook maar minimaal, de DAX slechts 0,15% en de AEX won 0,7%. We kunnen snel een hertest van de bodem van vrijdag verwachten en er zelfs onder duiken.

Dow Jones:
De Dow Jones kreeg afgelopen vrijdag een harde klap omlaag en kwam zo meteen onder de steunzone 36.600-36.630 punten terecht wat geen goed teken is. De index zocht meteen de 34.750 punten op waar we nu de volgende steun zien uitkomen. De vraag is nu hoe de index zich verder zal gedragen deze week, onder de 34.750 punten ligt de weg meteen open richting de 34.100 en de 33.750 punten. Opletten vanaf nu want het ziet er niet goed uit.
Weerstand nu eerst rond de 35.275 punten, later de 35.500 en de 35.630 punten als weerstand.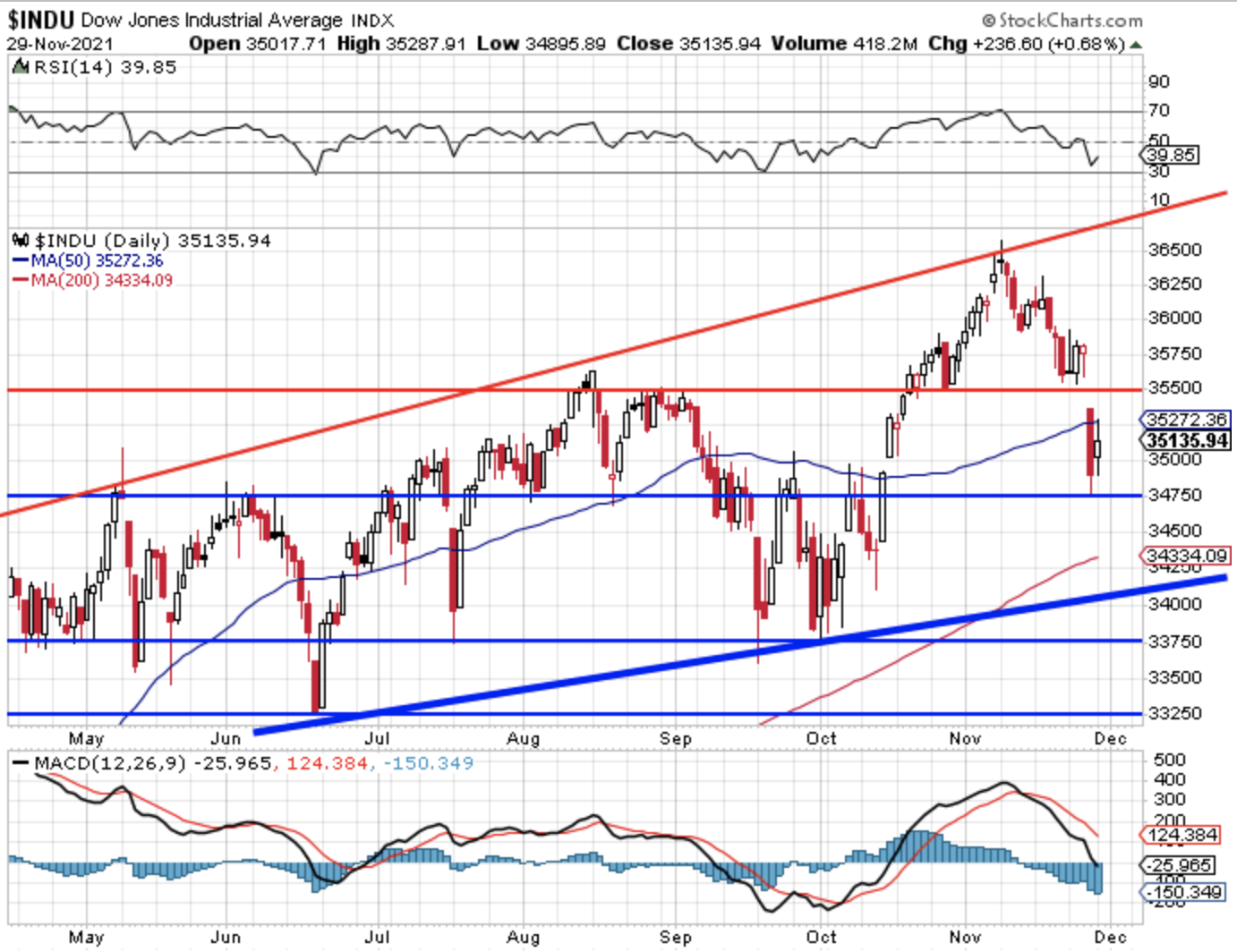 AEX index:
De AEX blijft nog een eind onder de 800-802 punten steun die we nu als een belangrijke weerstand kunnen zien. De volgende belangrijke steun rond de 780-782 punten werd snel opgezocht afgelopen vrijdag. Het herstel van maandag was er wel maar beperkt, te beperkt volgens mij zodat de index de daling snel weer kan oppakken om de bodem rond de 780 punten weer op te zoeken en eventueel te doorbreken.
Steun zien we nu eerst die 780-781 punten, later steun rond de 770 punten en rond de 750 punten. Het 200-daags gemiddelde zien we nu rond de 745 punten als belangrijke steun.
Weerstand nu eerst de 792-795 punten, later de 800-802 punten als weerstand (oude top). Eerst maar deze niveaus in de gaten houden.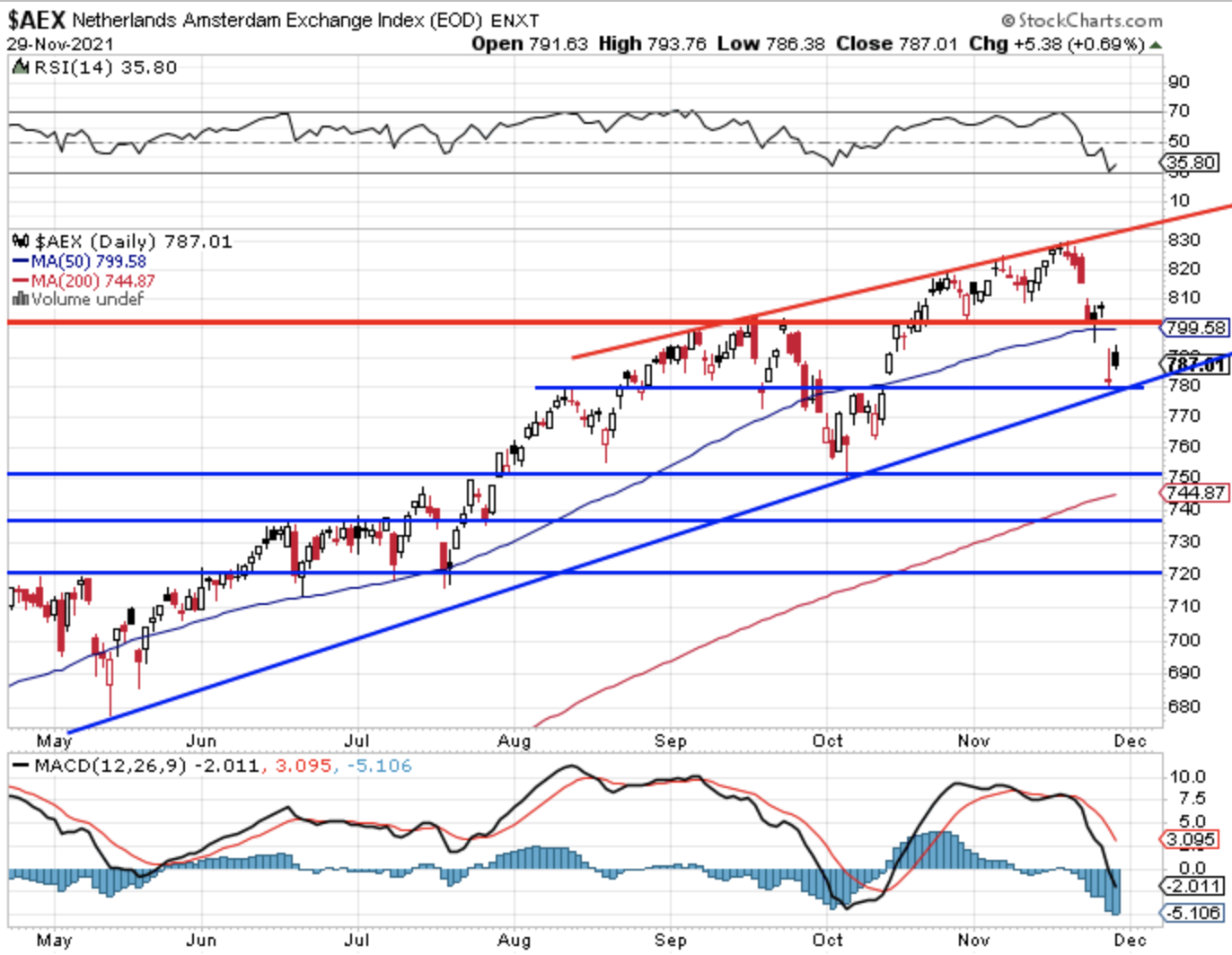 DAX index:
De DAX sloot eind vorige week meteen onder enkele belangrijke steunpunten, eerst de 16.000-16.025 punten, later onder de 15.810 punten en vrijdag meteen al onder de 15.500 en de 15.300 punten. De DAX sluit nu al voor de 2e opeenvolgende sessie onder het 200-daags gemiddelde wat uiteraard een slecht teken is. De volgende steunzone zien we nu rond de 15.000-15.050 punten, later rond de 14.800 punten steun. Onder de 15.000 punten ziet het er in ieder geval zeer slecht uit voor de DAX trouwens.
Weerstand nu eerst rond het 200-daags gemiddelde dat rond de 15.390 punten uitkomt, later de 15.500 en de bekende 15.810 punten. Het is te hopen dat de DAX snel weer de positieve flow weet terug te vinden.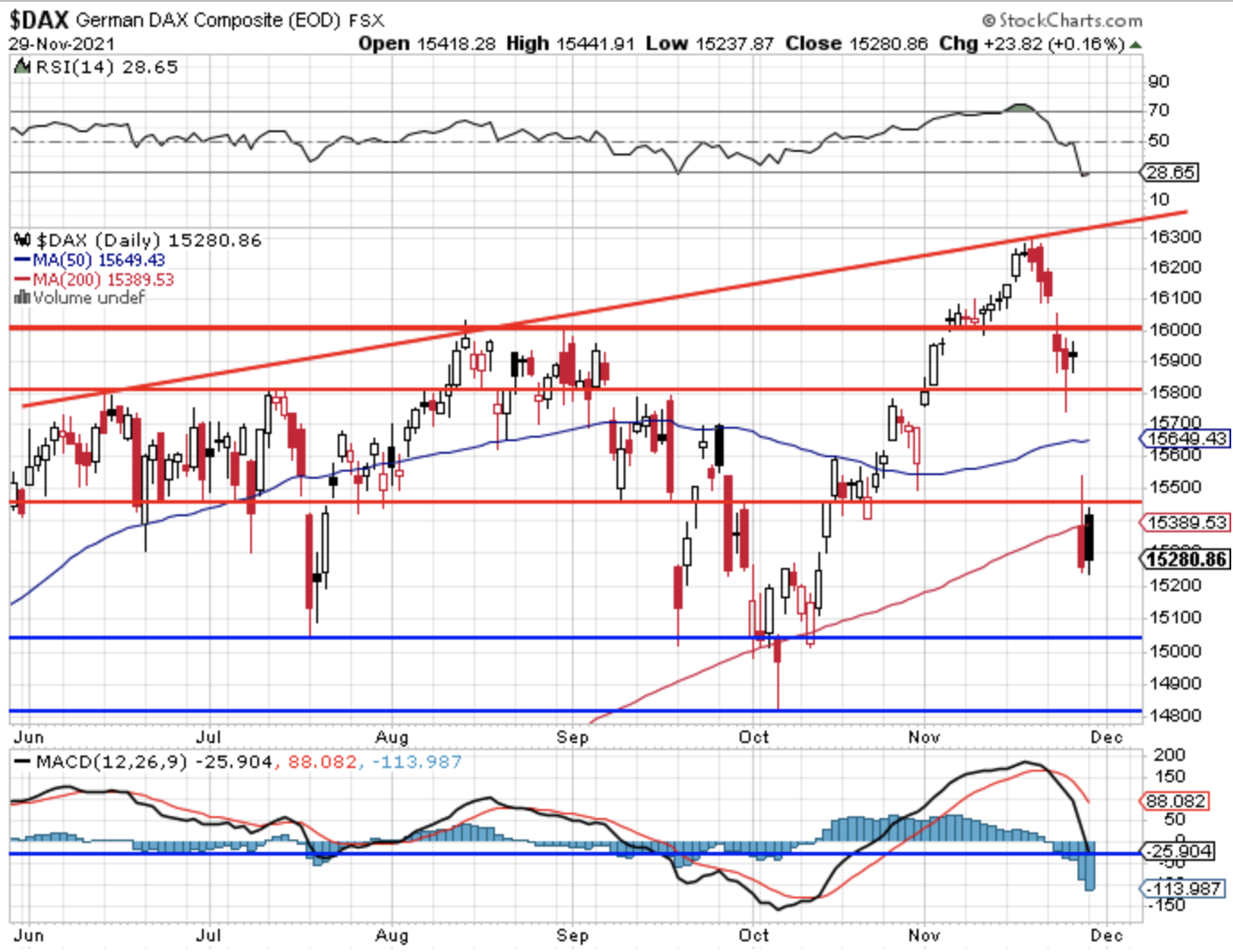 Nasdaq Composite:
De Nasdaq herpakt zich stevig en wint bijna 300 punten, de steunzone vangt de index voorlopig goed op is te zien op de grafiek. De index mag wel niet onder de 15.375 punten zakken want dan breekt de index deze belangrijke steunzone waardoor de weg open ligt richting de 15.240 en de 14.950 punten. De volatiliteit blijft de markt parten spelen dus snelle oplevingen of een stevige dalingen kunnen elkaar snel aflossen.
Weerstand nu eerst de 15.850 punten, met later de 16.000 punten als richtpunt.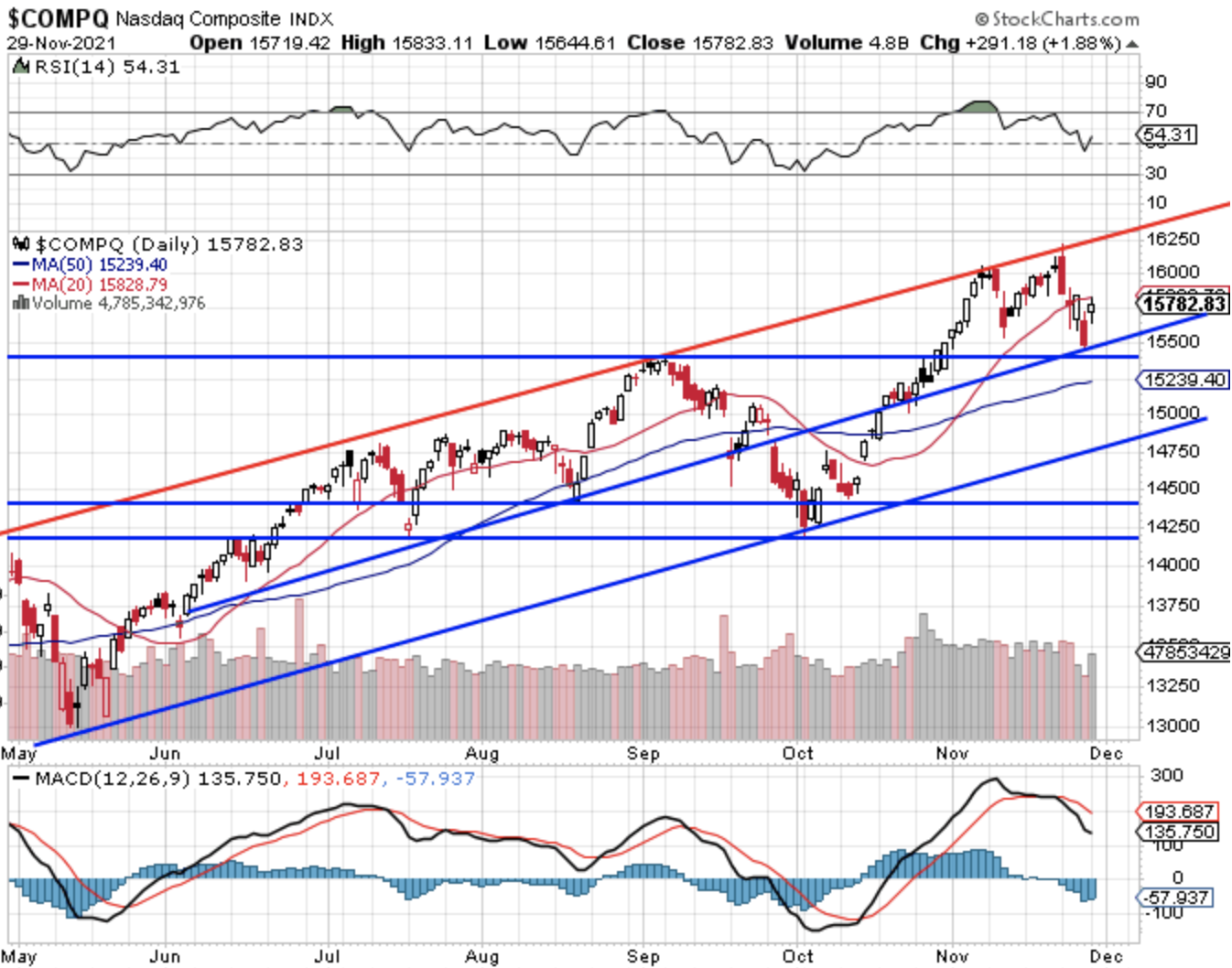 Overzicht resultaat november en dit jaar (2021):
De maand november zit erop en ook deze maand sluiten we af met winst, beperkt weliswaar maar met de extreme volatiliteit is dat meer dan goed. In zo'n maand kun je veel winnen maar ook veel verliezen. We hebben het rustig aangepakt en in ieder geval geen risico genomen voor de leden. De komende maand maar eens zien wat we kunnen doen, de laatste maand van het jaar. Ik denk dat we alles goed onder controle hebben momenteel, we blijven rustig en houden de risico's beperkt.
Het handelen verloopt al het gehele jaar goed want via de overzichten hieronder ziet u dat we er wat betreft 2021 mooi voorstaan. We hebben nog enkele weken te gaan dit jaar en er komen zeker nog genoeg kansen zoals ik de markt nu inschat. Ik zoek in ieder geval voorzichtig naar nieuwe mogelijkheden.

Om mee te doen kan dat nu via het proefabonnement tot 1 FEBRUARI voor €35. Schrijf u nu in via de nieuwe aanbieding en ga meteen naar onze tradershop via de link https://www.usmarkets.nl/trade...
Overzicht resultaten maand november en dit jaar (2021)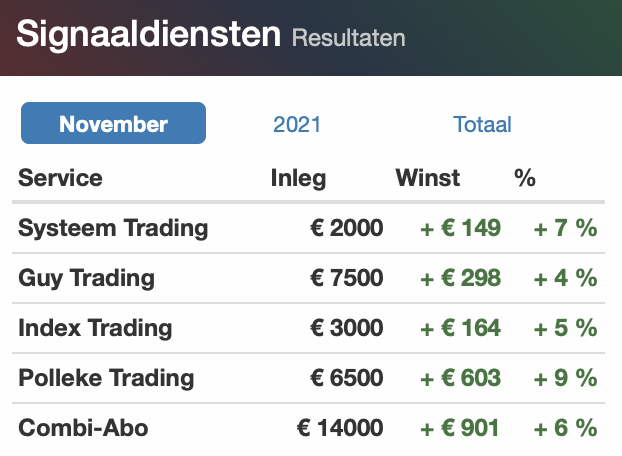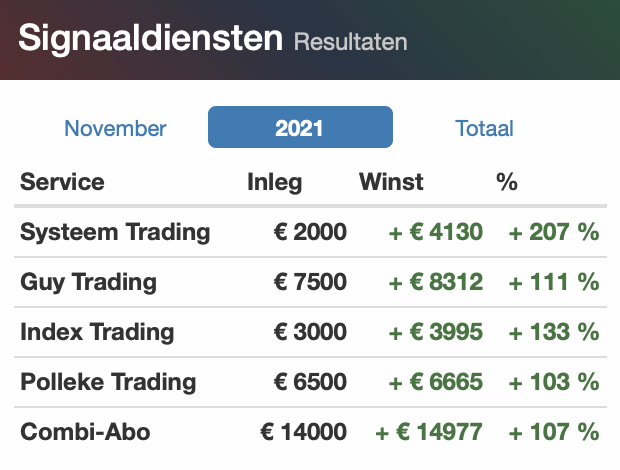 Met vriendelijke groet,
Guy Boscart