Liveblog Archief maandag 12 april 2021
6 liveblog items op maandag 12 april 2021.
Even naar die dek­selse Nas­daq 100 kijken van­daag, na een ste­vige cor­rec­tie dan toch weer een ral­ly die tot exact de top­zone kon aan­houden zon­der achterom te kijken maar wat wordt het ver­volg? De lat ligt hoog en enkele aan­de­len uit die TOP‑8 kre­gen het even warm aan de bovenkant. Denk aan Tes­la en…
Lees verder »
TOP NEWS
• White House seeks bipartisan infrastructure push; Republicans wary
President Joe Biden could find himself under pressure to prove his much-touted interest in working with Republicans in Congress, as lawmakers return from their spring break to grapple with his $2.3 trillion proposal to improve U.S. infrastructure.

• Alibaba shrugs off $2.75 billion antitrust fine
Alibaba does not expect any material impact from the antitrust crackdown in China that will push it to overhaul how it deals with merchants, its CEO said, after regulators fined the e-commerce giant $2.75 billion for abusing market dominance.

• Shares in SK Innovation surge after settlement with rival brightens U.S. prospects
Shares in South Korean auto battery maker SK Innovation soared after it buried the hatchet with LG Energy Solution, freeing up both firms to expand in the United States, where electric cars have become a Biden administration priority.

• White House to zero in on chip shortage in meeting with company officials
Senior White House officials will meet with top executives from nearly 20 major companies to discuss a global semiconductor shortage that has roiled the automotive industry and technology firms.

• Berkshire Hathaway gives activist okay to phone it in on May 1
Berkshire Hathaway reversed course on Friday and told an activist group it could present a shareholder proposal remotely for the company's May 1 annual meeting, in line with renewed guidance from the U.S. securities regulator.


BEFORE THE BELL
Wall Street futures were in red, as investors awaited earnings as well as inflation and retail sales data. European stocks eased from all-time highs ahead of the earnings season. Japan's Nikkei ended lower, dragged down by lower-than expected earnings outlook by Yaskawa Electric. The dollar fell, with pullback in Treasury yields. Oil traded higher, as investors remained optimistic about a rebound in the U.S. economy. Gold prices edged lower. Federal budget data for March is scheduled for release, later in the day.


STOCKS TO WATCH
Deals Of The Day
• Luminex Corp: Shares in DiaSorin jumped after the Italian diagnostics group said it was buying U.S. rival Luminex in a $1.8 billion all-cash deal that strengthens its molecular business. Under the terms of the agreement unveiled on Sunday night, shareholders will receive $37 in cash for each Luminex share, not far from Friday's closing price of $32.95. DiaSorin said that represented a premium of 23% when calculated versus the unaffected closing price on Feb. 24, a day before rumours emerged about a potential sale.

In Other News
• Alibaba Group Holding Ltd: The company does not expect any material impact from the antitrust crackdown in China that will push it to overhaul how it deals with merchants, its CEO said, after regulators fined the e-commerce giant $2.75 billion for abusing market dominance. As part of "comprehensive rectifications" sought by regulators, Alibaba will make it easier for merchants to do business with it, Chief Executive Daniel Zhang told an online conference for media and analysts. Separately, Ant Group, the fintech affiliate of Alibaba, will restructure as a financial holding company, China's central bank said.

• Amazon.com Inc: A federal judge on Friday ruled against Amazon as the company defends against New York Attorney General Letitia James' lawsuit claiming it prioritized profit over worker safety during the COVID-19 pandemic at two New York City warehouses. U.S. District Judge Jed Rakoff in Manhattan granted James' request to return her lawsuit to a New York state court, and rejected Amazon's bid to move it to Brooklyn federal court, where the online retailer had sued James to stop her from suing.

• Apple Inc: A senior Apple executive has agreed to testify before the U.S. Senate on competition issues related to mobile app stores, days after panel leaders criticized the company for refusing to appear. The company said in a letter sent to senators, seen by Reuters, that Chief Compliance Officer Kyle Andeer will be available to testify at an April 21 hearing held by part of the Senate Judiciary Committee.

• AstraZeneca PLC: Data from a late-stage study to test if AstraZeneca's diabetes drug Farxiga could treat patients hospitalised with COVID-19 and at risk of developing serious complications fell short of its main goals, the drugmaker said. The Farxiga data did not achieve statistical significance in cutting the risk of the disease worsening and death in such patients, the drugmaker said. Separately, Australia has abandoned a goal to vaccinate nearly all of its 26 million population by the end of 2021 following advice that people under the age of 50 take Pfizer's COVID-19 vaccine rather than AstraZeneca's shot.

• Berkshire Hathaway Inc: The company reversed course and told an activist group it could present a shareholder proposal remotely for the company's May 1 annual meeting, in line with renewed guidance from the U.S. securities regulator. As You Sow welcomed the decision. The organization is "unwilling to risk other people's health, so we are relieved that the company changed course," President Danielle Fugere told Reuters.

• Boeing Co: A union representing about 220 Boeing workers said that members will vote on Sunday whether to authorize a strike after contract negotiations "have taken a turn for the worse." Teamsters Local 174, which represents workers in transportation, warehousing, and logistics (TWL) and facilities and asset management in the Puget Sound area of Washington State, said in a statement Boeing's management "is devoted to destroying all benefits and wages our members have earned."

• Credit Suisse Group AG: The head of Switzerland's financial regulator FINMA questioned Credit Suisse over risks in its dealings with now-insolvent finance firm Greensill Capital "months" before the bank was forced to close $10 billion of funds linked to Greensill, Swiss newspaper SonntagsZeitung reported on Sunday. Alongside formal discussions on a technical level between the bank and FINMA, the watchdog's head Mark Branson personally discussed the risks with outgoing Credit Suisse Chairman Urs Rohner and Chief Executive Thomas Gottstein during a meeting on an unspecified date, the newspaper reported, citing information it had obtained.

• Eli Lilly and Co: The company said it had terminated a supply agreement with the U.S. government for its COVID-19 antibody drug and would now focus on selling it in combination with another therapy. Lilly and the U.S. government have agreed to modify the purchase agreement for the drug, bamlanivimab, and focus on its supply with etesevimab, the company said.

• General Motors Co: The company's majority owned Cruise self-driving car subsidiary said it plans to begin deploying its robotaxis in Dubai beginning in 2023, in a deal that signals the company is more confident about launching its first commercial service in San Francisco before then. Separately, General Motors will cancel some truck production shifts this weekend at two U.S. auto plants because of the ongoing semiconductor shortage, the company said on Friday.

• HSBC Holdings PLC: HSBC and Huawei' Chief Financial Officer Meng Wanzhou have reached an agreement in a dispute about the publication of documents relating to U.S. fraud allegations against her, their lawyers told a Hong Kong court. The judge, Linda Chan, made court orders along the lines of the agreement, she said. The orders were, however, not immediately available.

• Ingersoll Rand Inc: The pumps and compressors manufacturer is nearing a deal to sell its golf cart business to private equity firm Platinum Equity for around $1.7 billion, people familiar with the matter said on Sunday. A deal could be announced as early as Monday, the sources said, requesting anonymity ahead of any official announcement.

• Johnson & Johnson: The company began delivering its COVID-19 single-dose vaccine to EU countries, a European Union lawmaker said. Separately, Institutional Shareholder Services (ISS) has joined Glass Lewis in recommending investors reject a proposed pay package of nearly $30 million for Johnson & Johnson Chief Executive Officer Alex Gorsky.

• Microsoft Corp & Nuance Communications Inc: Microsoft is in advanced talks to buy Nuance Communications at about $16 billion, according to a source familiar with the matter. The price being discussed could value Nuance at about $56 a share, the source said, adding that an agreement could be announced as soon as Monday.

• Moderna Inc: Spanish pharmaceuticals company Rovi announced that it will start making the active ingredients for Moderna's COVID-19 vaccine. Rovi will have capacity to supply the active agents for up to 100 million vaccine doses a year at its plant in Granada via a new production line. This would be the first European drug ingredients production site for Moderna outside of Switzerland, where Lonza has one large commercial production line now manufacturing drug substances and another two commercial lines nearing completion.

• Nam Tai Property Inc: Two proxy advisory firms said shareholders of Nam Tai should vote for several directors nominated by IsZo Capital to join the China-based real estate company's six-member board. Institutional Shareholders Services (ISS) recommended shareholders elect three of IsZo's six nominees while Glass, Lewis and Co. recommended they elect two of IsZo's nominees.

• Novavax Inc: South Korea said it plans to begin local production of Novavax's COVID-19 vaccine as early as June, while five domestic companies aim to start late stage clinical trials of their own shots in the second half of this year. Health Minister Kwon Deok-cheol said that SK Bioscience will be able to begin manufacturing Novavax COVID-19 vaccines as early as June and could supply as many as 20 million doses by the end of third quarter.

• Pfizer Inc: The coronavirus variant discovered in South Africa may evade the protection provided by Pfizer/BioNTech's COVID-19 vaccine to some extent, a real-world data study in Israel found, though its prevalence in the country is very low and the research has not been peer reviewed. The study, released on Saturday, compared almost 400 people who had tested positive for COVID-19, 14 days or more after they received one or two doses of the vaccine, against the same number of unvaccinated patients with the disease.

• Regeneron Pharmaceuticals Inc: Regeneron will seek U.S. approval for its COVID-19 antibody cocktail as a preventative treatment after a trial showed it helped reduce the risk of symptomatic infections in households where someone else is ill, the U.S. drugmaker said. REGEN-COV, as the combination shot of casirivimab and imdevimab is called, reduced the overall risk of progressing to symptomatic COVID-19 by 31%, and by 76% after the third day. The trial also demonstrated that it shortened symptom duration and markedly lowered viral levels, Regeneron said.


ANALYSIS
A tale of two tapers: This time is different for a Fed focused on jobs
Eight years ago this month Jerome Powell, still in his rookie year as a Federal Reserve governor, surveyed the U.S. job market and declared it was good enough for the central bank to reduce the support for the economy it had rolled out to fight the 2007 to 2009 financial crisis. The unemployment rate had just hit a post-crisis low of roughly 7.5%. But for Blacks it remained a catastrophic 13%, a fact not raised by Powell or any other policymaker during their meeting.


ANALYSTS' RECOMMENDATION
• American Express Co: Jefferies raises target price to $145 from $125, reflecting robust credit performance.

• Gamestop Corp: Ascendiant Capital Markets cuts rating to sell from hold, as the company's full year outlook looked hazy despite strong new consoles launches, while Reddit trading surge is likely to fade as digital threats increases.

• Radius Global Infrastructure Inc: Jefferies initiates coverage with buy rating, saying that the company offers large and stable cash flow along with significant operating and financial leverage.


ECONOMIC EVENTS (All timings in U.S. Eastern Time)
1400 Federal budget for March: Prior -$311.00 bln


COMPANIES REPORTING RESULTS
No major S&P 500 companies are scheduled to report for the day.


CORPORATE EVENTS (All timings in U.S. Eastern Time)
0800 Canaan Inc: Q4 earnings conference call
1100 Global Net Lease Inc: Annual Shareholders Meeting
1130 Otter Tail Corp: Annual Shareholders Meeting
1615 Simulations Plus Inc: Q2 earnings conference call
1630 Goodyear Tire & Rubber Co: Annual Shareholders Meeting


EX-DIVIDENDS
American Tower Corp: Amount $1.24
Glacier Bancorp Inc: Amount $0.31
MSC Industrial Direct Co Inc: Amount $0.75
Goedemorgen
Let wel, de titel van deze update kan voor sommigen een spiegel voorhouden, het is zeker NIET de bedoeling dat ik u als lezer wil beledigen of op een of andere manier wil twijfelen aan uw goede bedoelingen maar ik kan het ook absoluut niet verzwijgen dat er iets behoorlijk mis is met het verloop van de markten ... Lees de update in ieder geval wel, er staat belangrijke informatie bij ... Neem het als een waarschuwing van wat ik ervaar en merk, ik weet ook wel dat ik nu even niet de meest populaire persoon ben om te volgen maar ik weet ook wel dat mijn tijd er snel weer aankomt en dat veel mensen mij dan snel opnieuw gaan opzoeken en volgen. Ik zou zeggen, haak nu alvast aan want het momentum is goed denk ik. En dat kan nu dus via een hele mooie aanbieding voor nieuwe leden ...
Vanmorgen wat lagere futures op alle indices, Azië over het algemeen lager, ook de rente zakt vanmorgen terwijl de olie rond de 62,6 dollar uitkomt. Toch even de markt in de gaten houden deze week want er komen cijfers en voor men het vergeet moet men zich echt realiseren dat de markten extreem hoog gewaardeerd staan. De grote vraag is wie er op deze stand nog durft in te stappen? En dat men nog instapt is duidelijk want anders komen er geen nieuwe records.
Dat er een nieuwe en mogelijk nog grotere crash zit aan te komen twijfel ik niet aan, het luie geld moet eruit en dat zal zoals dat altijd het geval is gewoon gebeuren, op een blauwe maandag zullen er velen zijn die zich rot schrikken maar goed het is zoals het is. Waarschuwingen (ook door mij) ten overvloed maar wie een index met een PE waarde van 42 nog koopt moet zelf maar weten wat die doet maar als je weet dat de gemiddelde PE waarde tussen de 20 en 22 uit dient te komen bekeken over meer dan 80 jaar dan stel u zelf maar de vraag. Voor Piet Particulier en Jan de Speculant kan het niet op en ik vraag me dan ook af of ze ooit al een keer onderzoek hebben gedaan naar de huidige PE waardes waar we nu mee te maken hebben.
Er zijn verhalen uit het verleden genoeg, ook uit de jaren '20 en de jaren '80, in de jaren '20 was er het bekende verhaal van een super rijke bankier die zijn schoenen liet poetsen op straat ergens in New York toen plots de schoenen poetser zei welke aandelen die moest kopen, hij belde meteen zijn assistent en zei 'ALLES VERKOPEN' ... Een week later verloor Wall Street op 1 dag 25%, in enkele maanden tijd zelfs 90%. Of het verhaal in de jaren '80 toen een bankier in een taxi zat in New York toen de taxi chauffeur hem enkele volgens hem hele goeie aandelen aanprees. Ook toen hetzelfde, de bankier belde meteen zijn assistent en zei 'ALLES VERKOPEN' en ja hoor, in oktober 1987 verloor Wall Street 20% op 1 dag ... Als ik nu naar de volumes kijk, en naar het verloop van de markten en om me heen hoor en lees wie er plots vooral met de beurs bezig zijn dan hou ik me vast aan die 2 anekdotes want dan gaat het meestal helemaal verkeerd aflopen. We noemen dat lui geld, mensen en vooral nieuwe mensen die denken snel geld te kunnen verdienen op de beurs, of met Bitcoins enz...
Hoe het zal aflopen kan ik me wel inbeelden maar ik kan er helaas geen datum opzetten, het enige wat ik kan doen is mijn ervaring laten spreken en waarschuwen maar of dat nuttig is vraag ik me af. Je moet iemand die dronken is ook niet zeggen stop maar met drinken, wees gerust dat gaat niet lukken. Wie in een roes zit krijg je er niet uit, kijk zelf maar eens om je heen, je zult het ook wel hebben meegemaakt. Maar goed, daarmee de week beginnen is weer zoiets van die gast is altijd negatief ... aan de andere kant is het voor sommigen ook goed om even een spiegel voor te houden. Doe ermee wat je wilt, maar ik vrees dat er bij Jan de Speculant en Piet Particulier net zoals toen der tijd tranen gaan vloeien. Een denk aan de schoenenpoetser, de taxichauffeur maar ook aan de camping rally eind jaren '90 toen het ook helemaal mis ging. Toen ging het op het strand niet over de mooie vrouwen die voorbij kwamen maar over hoeveel aandelen men had gekocht en hoe goed ze het wel niet deden. De AEX geraakte toen in het jaar 2000 tot 703 punten, het duurde tot vorige week (20 jaar later) om daar weer te geraken.
De markt momenteel:
De DAX en de AEX kennen een moeilijk verloop de afgelopen dagen, het lijkt erop dat er zich weerstand vormt rond de huidige niveaus en dat er een correctie op de loer ligt. Dat zal denk ik ook op Wall Street gebeuren want de S&P 500 staat nu al op 4129 punten en dat lijkt me wat teveel van het goede. De Dow Jones staat al op een zucht van de 34.000 punten op slotbasis. Het is zelfs zo dat sinds vrijdag de gemiddelde PE ratio van de S&P 500 op 42,02 uitkomt, meer dan 42 keer de winst per aandeel gemiddeld bekeken over 500 aandelen die de index bevat. Het is nogal wat en zo goed als het DUBBELE van wat normaal zou moeten zijn (20-22 keer de winst).
Vanaf volgende week komen er kwartaalcijfers binnen met zoals altijd als eerste de banken waaronder JP Morgan, Goldman Sachs, Citigroup en Morgan Stanley (de zakenbanken). Het kan al voor een indicatie zorgen, is de winst voldoende voor de torenhoge waarderingen? Of komen beleggers tot bezinning dat de markt nu wel extreem duur is? Ik denk, en verwacht, dat de kwartaalcijfers het een en ander kunnen laten merken en dat er wel hele goeie cijfers moeten komen over Q1 om de waarderingen te verantwoorden. Alleen in dat geval kan dat extreem hoge cijfer van 42 naar omlaag.
Er komen dus kansen maar ik blijf rustig en doe nog niet teveel of neem geen groot risico met de posities. Er lopen al 2 kleine posities short op indices in Europa, ik wacht al een paar dagen om er een bij te pakken op Wall Street en mogelijk ga ik naar nog eentje erbij zodat we volgende week kunnen uitbreiden naar 3 of 4 posities. We hebben echt niet zoveel nodig om dan naar winst te draaien en die even te laten oplopen. Volgende week dus een hele mooie kans om wat te doen zoals ik er nu tegenaan kijk. Zorg dat u mee bent en de signalen ontvangt, ook de 2 posities die nu lopen kunt u zeker nog aankopen ...

Resultaat dit jaar 2021 verloopt naar wens:
De eerste 3 maanden dit jaar werden positief afgerond en met december erbij komen we nu uit op 4 maanden na elkaar dat er winst werd behaald via de signalen. Dat moest voorzichtig gebeuren want ik hou in het achterhoofd rekening met het scenario wat ik net aangaf, over een aanstaande grote correctie over de gehele markt. Niettemin blijf ik rustig verder opbouwen en er komen deze week wel 1 of 2 posities erbij maar niet te snel. Voor deze maand zie ik in ieder geval nog genoeg mogelijkheden om op te handelen.
Deze manier van werken wil ik hoe dan ook proberen aan te houden, de markt krijg ik steeds beter onder controle en ik probeer met kleine posities zo als goed mogelijk te werken voor de leden. Onderaan deze update ziet u nog een overzicht met hoe de maand maart werd afgerond en hoe we er dit jaar voor staan wat betreft het resultaat via de signalen die we naar onze leden versturen.
Verder ziet u nog de aanbieding tot 1 Juni om mee te doen met onze signalen. Denk eraan dat als ik het momentum kan pakken voor als het moment daar is van wat ik aangaf we een hele grote vis kunnen vangen. Tussendoor blijf ik kalm en rustig met kleine posities werken !!
LET OP !! De komende dagen kunt u zich eenmalig tegen een zeer leuke aanbieding inschrijven voor een van onze abonnementen tot 1 JUNI voor €25 ... Bij Polleke Trading is dat dan €35 tot 1 JUNI en voor COMBI TRADING nu €50 ... Via de site en dan de Tradershop kunt u als lid de lopende posities met alle details altijd inzien via https://www.usmarkets.nl/tradershop
Technische conditie Wall Street:
Wat betreft Wall Street nog steeds geen verandering ten opzichte van de afgelopen dagen, we zien dat de Dow Jones, de S&P 500, de Dow Transport en nu ook de Nasdaq 100 index een nieuw record weten neer te zetten vrijdag. Bij de SOX index lukt het nu even niet meer om nog nieuwe toppen neer te zetten.
Technisch blijft Wall Street met al dat geweld omhoog nog altijd op zoek naar nieuwe toppen tot er een definitieve top komt te staan, vanaf dat moment moeten we echt gaan opletten. Pas als de indices daarna 2 tot 3% inleveren moeten we ons zorgen beginnen te maken voor het vervolg op de korte termijn.
De Dow Jones, de S&P 500, de Transport, de Nasdaq en de Nasdaq 100 blijven in ieder geval ruim boven hun 20-MA en 50-MA (MA = daags gemiddelde) en staan nu al een hele lange periode boven hun 200-MA.

Technische conditie AEX en DAX:
AEX index:
Bij de AEX weinig verandering op dit moment, we zien zowel op de korte als op de langere termijn een uitbraak sinds vorige week maar er veranderde weinig in de loop van de korte week. De uitbraak was meteen krachtig en ging zelfs even door tot de zone 715-718 punten waar we nu weerstand kunnen verwachten. Bij een verder positief verloop verwacht ik de index nu richting de 715-718 punten en later tot rond de 725 punten.
Aan de andere kant kan er ook snel een terugtest van de 702-703 punten zone komen. Onder die oude top ofwel onder de 702 punten mogelijkheden tot de oude weerstand tussen de 688-690 punten waar de top van begin dit jaar uitkomt. Pas onder die 688 ziet het er slecht uit, in ieder geval een belangrijk niveau om in de gaten te houden de komende weken mocht de markt draaien. Let nu dus op de 718, de 725, de 735 en zelfs de 765 punten als weerstand. Steun nu de 702, de 690 en de 675 punten.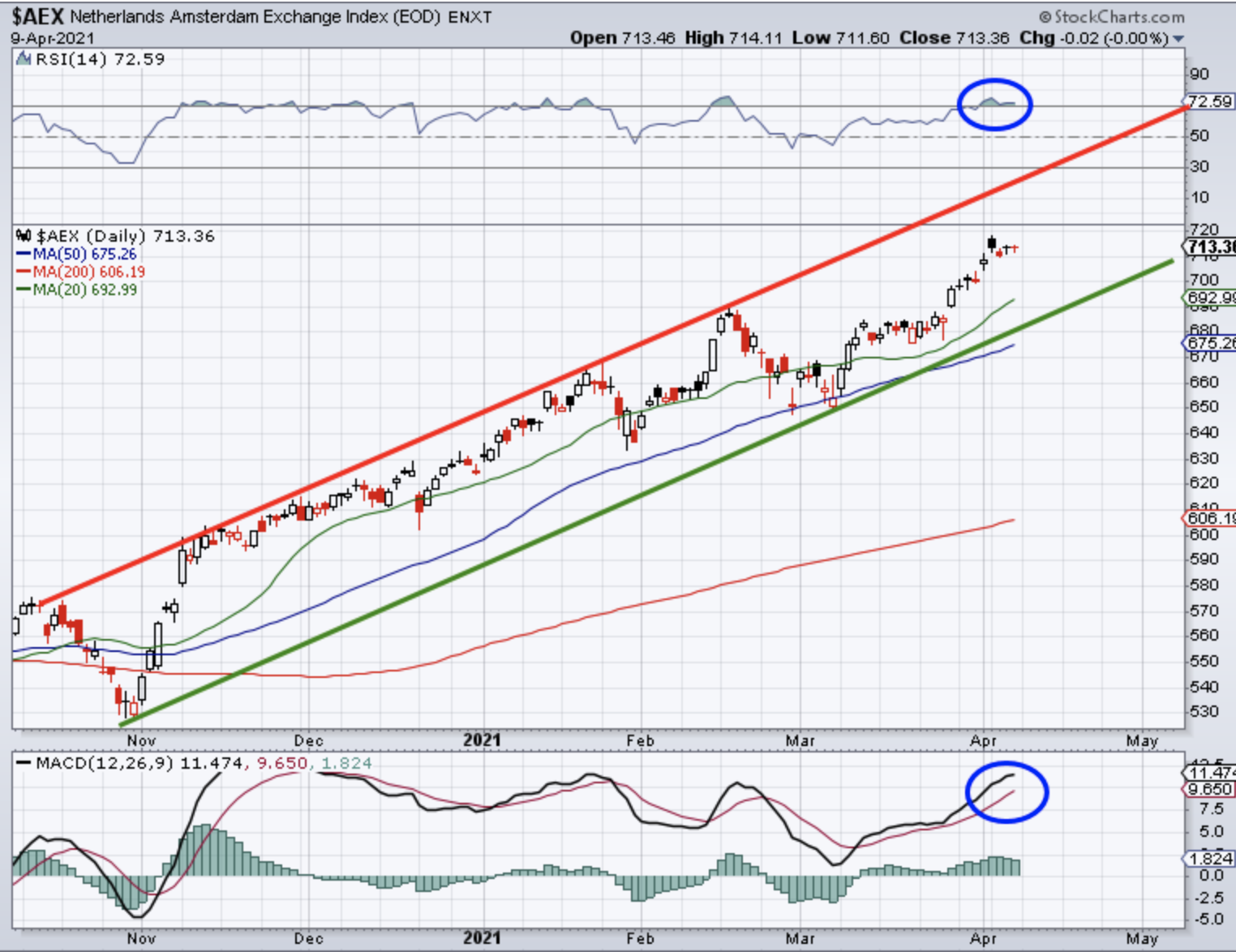 DAX index:
De DAX doet het ook nog altijd goed en blijft op slotbasis dicht ofwel rondom het record hangen nu. We zien weerstand door de lijn over de toppen vanaf november, de uptrend bij de DAX blijft nog steeds intact zoals u op de grafiek hieronder kunt zien. De volgende richtpunten omhoog zijn nu eerst de 15.300 en de 15.450 punten bij een verder positief verloop. Aan de andere kant zijn vrijwel alle indices, dus ook de DAX, rijp voor een grotere correctie. Steun nu rond het 20-MA rond de 14.810 punten uitkomt, later de 14.450 punten (recente bodems) en de 14.340 punten waar we het 50-MA nu zien uitkomen als steun.
Er is zoals u merkt meer dan genoeg ruimte omlaag voor wat betreft de DAX voor dat de index in de problemen komt. Even een terugval lijkt me nu logisch, daarna kan er mogelijk nog een nieuwe stijging op gang komen met weer nieuwe records.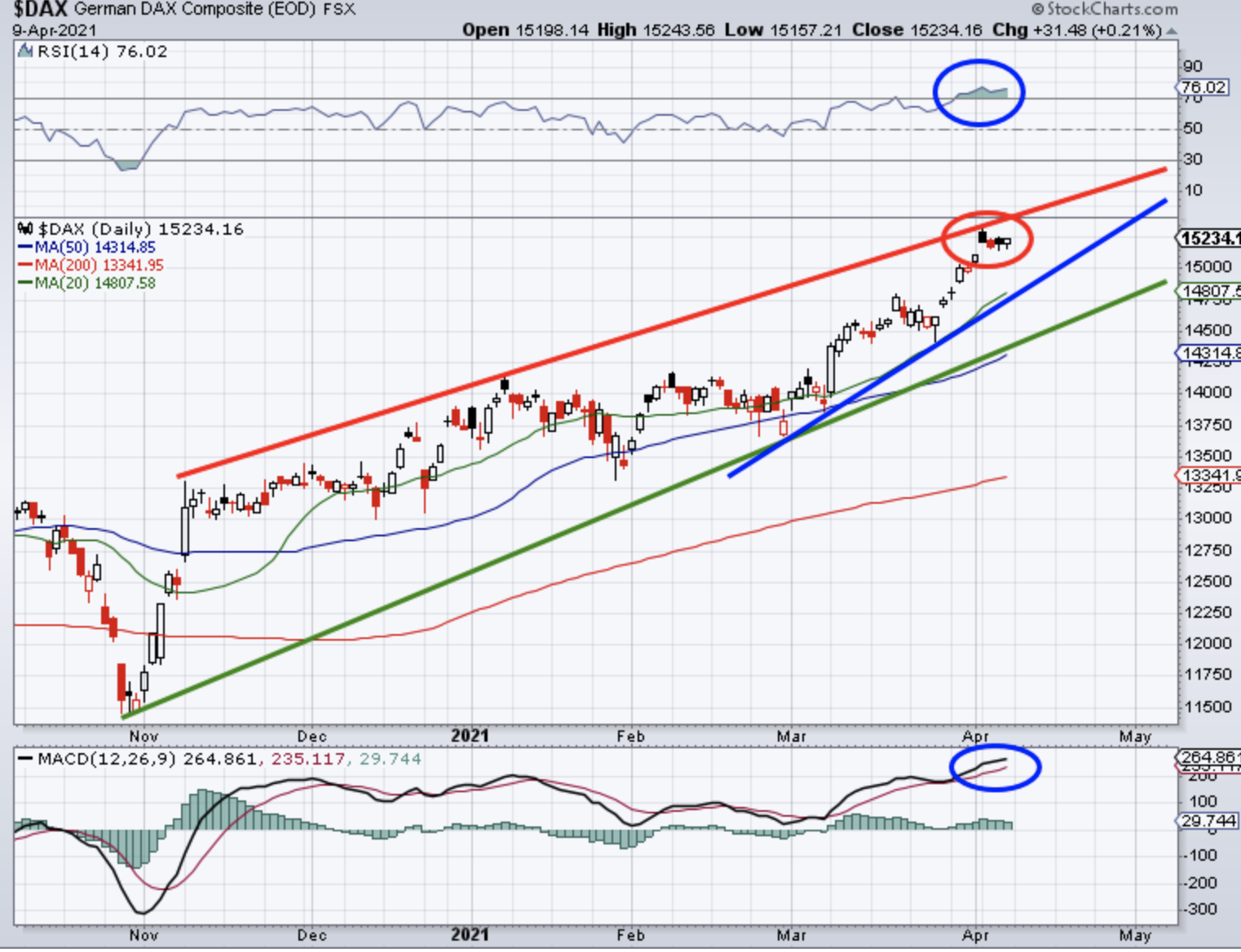 Euro, olie en goud:
De euro zien we nu rond de 1.189 dollar, de prijs van een vat Brent olie komt uit op 62,7 dollar terwijl een troy ounce goud nu op 1740 dollar staat.

De LIVEBLOG en Twitter:
Via de LIVEBLOG en tussendoor ook via mijn Twitter account laat ik gedurende de dag ook wat grafiekjes met korte uitleg voorbij komen over de markt. Op Twitter kunt u mij volgen via @USMarkets dan kunt u deze snelle informatie die ik deel uiteraard ook inzien .... https://twitter.com/USMarkets , ook opvallende beursfeiten komen er vaak langs !

Inter Market overzicht op slotbasis ...

LET OP !! De komende dagen kunt u zich eenmalig tegen een zeer leuke aanbieding inschrijven voor een van onze abonnementen tot 1 JUNI voor €25 ... Bij Polleke Trading is dat dan €35 tot 1 JUNI en voor COMBI TRADING nu €50 ... Via de site en dan de Tradershop kunt u als lid de lopende posities met alle details altijd inzien via https://www.usmarkets.nl/tradershop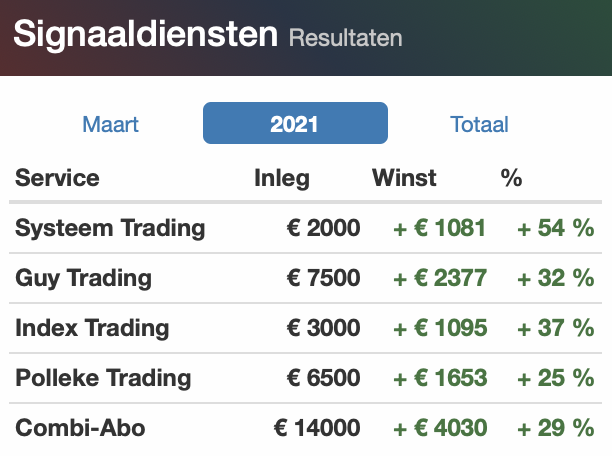 Met vriendelijke groet,
Guy Boscart
Nas­daq De Nas­daq 100 bli­jft een volatiele index. Na een mooie UPTREND zagen we halver­wege feb­ru­ari een cor­rec­tie van zo'n 12%. Dit alles vond bin­nen een kleine 13 han­dels­da­gen plaats. Er werd ste­un gevon­den op een oude weer­stand rond de 12.200 pun­ten. U kunt zien dat dit een oude…
Lees verder »
MARKET VIEW
Asian shares faltered as investors wait to see if U.S. earnings can justify sky-high valuations, while bond markets could be tested by what should be very strong readings for U.S. inflation and retail sales this week.

Oil rose amid hopes that fuel demand is picking up in the United States as the summer driving season approaches and the rollout of COVID-19 vaccinations there accelerates, though increasing case numbers in other countries are set to cap gains.

GLOBAL TOP NEWS
China's Alibaba does not expect any material impact from changes to its exclusivity arrangements with merchants, CEO Daniel Zhang said, after regulators fined the e-commerce giant a record $2.75 billion for abusing its market dominance.

Microsoft is in advanced talks to buy artificial intelligence and speech technology company Nuance Communications at about $16 billion, according to a source familiar with the matter.

The U.S. economy is at an "inflection point" with expectations that growth and hiring will pick up speed in the months ahead, but also risks if a hasty reopening leads to a continued increase in coronavirus cases, Federal Reserve Chair Jerome Powell said.

EUROPEAN COMPANY NEWS
AstraZeneca had a positive meeting with the European Commission last week, the Anglo-Swedish company said after an Italian newspaper said the group had not replied to an EU letter of complaint over COVID-19 vaccines within a 20-day deadline.

The head of Switzerland's financial regulator FINMA questioned Credit Suisse over risks in its dealings with now-insolvent finance firm Greensill Capital "months" before the bank was forced to close $10 billion of funds linked to Greensill, Swiss newspaper SonntagsZeitung reported on Sunday.

Italian diagnostics group DiaSorin said on Sunday it will acquire U.S. based Luminex for $1.8 billion in an all-cash deal that will strengthen DiaSorin's molecular diagnostics technology.


TODAY'S COMPANY ANNOUNCEMENTS
Acciona SA Shareholders Meeting
Afriag Global PLC Shareholders Meeting
Baron Oil PLC Shareholders Meeting
EDP Renovaveis SA Annual Shareholders Meeting
Kesko Oyj Annual Shareholders Meeting


ECONOMIC EVENTS (All times GMT)
0900 Euro Zone Retail Sales mm for Feb: Expected 1.5%; Prior -5.9%
0900 (approx.) Euro Zone Retail Sales yy for Feb: Expected -5.4%; Prior -6.4%
2301 United Kingdom BRC Retail Sales yy for Mar: Prior 9.5%