Liveblog Archief dinsdag 13 april 2021
6 liveblog items op dinsdag 13 april 2021.
Actueel
Verwacht
Vorige
USA

USA:

Kern CPI (Maandelijks) (Mar)
14:30
0,3%
0,2%
0,1%
Actueel: 0,3% Verwacht: 0,2% Vorige: 0,1%
TOP NEWS
• Grab agrees world's biggest SPAC merger, valued at nearly $40 billion
Southeast Asia's biggest ride-hailing and food delivery firm Grab Holdings agreed a merger with U.S.-based Altimeter Growth Corp in a deal that values Grab at an initial proforma equity value of about $39.6 billion and will lead to a public listing.

• U.S. to call for pause on Johnson & Johnson's COVID-19 vaccine - NYT
U.S. federal health agencies will call for an immediate pause in use of Johnson & Johnson's single-dose COVID-19 vaccine after six U.S. recipients developed a rare disorder involving blood clots, the New York Times reported, citing officials briefed on the decision.

• Novavax says supply shortages delaying full-speed production of its COVID-19 vaccine
Novavax has pushed back the timeline for hitting its production target of 150 million COVID-19 vaccine doses per month until the third quarter due to supply shortages including bags used to grow cells, a company spokeswoman told Reuters.

• Hey Siri, when is Apple's next event? April 20
Siri, Apple's virtual assistant, might have spilled the beans by telling users that the iPhone maker is going to host a special event on April 20.

• Learn from Alibaba penalty, China warns internet firms
China's market regulator, fresh from fining e-commerce giant Alibaba $2.75 billion, said it warned nearly three dozen internet companies to stop using any banned practices such as forcing vendors to use their platform exclusively.


BEFORE THE BELL
The S&P 500 and the Dow futures ticked higher, in line with European stocks, as investors awaited U.S. inflation data, scheduled for release later in the day. Japan's Nikkei closed up, following impressive earnings of glass product companies and department store operators. The dollar rose, while gold prices slipped. Oil rose on robust China data while shrugging off Middle East tensions.


STOCKS TO WATCH
Deals Of The Day
• Altimeter Growth Corp: Grab Holdings agreed a merger with U.S.-based Altimeter Growth Corp in a deal that values Grab at an initial proforma equity value of about $39.6 billion and will lead to a public listing. Singapore-based Grab's agreement with a special purpose acquisition company backed by Altimeter Capital includes a more than $4 billion private investment in public equity by investors including BlackRock, Fidelity International, Janus Henderson Investors and Temasek Holdings.

• Ozon Holdings PLC: Russian online retailer Ozon has signed an agreement to expand its financial services operations with the acquisition of Oney Bank in a cash deal of around $10 million, the company said late on Monday. It said it was acquiring 100% of Oney's charter capital from Sovcombank, Russia's third biggest private bank and among the country's top 10 by assets.

In Other News
• Apple Inc: Siri, Apple's virtual assistant, might have spilled the beans by telling users that the iPhone maker is going to host a special event on April 20. Siri, who is proficient at stone walling curious Apple fans quizzing it about new products and upcoming events by re-directing them to the company's website, prematurely seemed to have revealed the plan to hold an event next Tuesday.

• AstraZeneca PLC: U.S. infectious disease official Anthony Fauci said AstraZeneca's COVID-19 vaccine had good efficacy, but safety concerns needed to be straightened out and it might not be needed for Americans because of supplies of other shots. "I think that the AstraZeneca vaccine from a standpoint of efficacy is a good vaccine, and if the safety issue gets straightened out in the European Union ... the efficacy of that vaccine is really quite good," he told BBC radio.

• BlackRock Inc: Singapore state investor Temasek Holdings and BlackRock said they have launched a partnership to invest in firms with products and technologies that will reduce carbon emissions. BlackRock and Temasek are committing a combined $600 million in initial capital to invest in multiple funds launched by the partnership, called 'Decarbonization Partners', which has a fundraising target of $1 billion for its first fund and will also raise third-party capital, the companies said in a joint statement.

• Blackstone Group Inc: Australian casino operator Crown Resorts said private equity giant Blackstone modified the conditions of a proposed $6 billion buyout, saying the target must not lose further state licences before the deal is approved. The modified conditions safeguard Blackstone against an adverse recommendation like the cancellation or suspension of its WA or Victorian licences by either inquiry before the deal is approved by courts, Crown said in a statement.

• Continental Resources Inc: The company said the Texas winter storm in February impacted its first-quarter production by about 6,000 barrels of oil equivalent per day. Continental expects oil production to average about 152,000 barrels of oil per day (bopd) and natural gas production to average about 935 million cubic feet per day (mmcfpd). The company also said production for second quarter is expected to be between 160,000 bopd and 165,000 bopd and natural gas production between 920 mmcfpd and 940 mmcfpd.

• Credit Suisse Group AG: Credit Suisse has made further progress in winding down funds connected with Greensill Capital and is able to distribute another $1.7 billion to investors, the bank said. This takes the total distribution so far to $4.8 billion, the bank said, following an earlier payout of $3.1 billion. Separately, Credit Suisse has cut bonuses for its staff by hundreds of millions of dollars after it lost $4.7 billion from the collapse of hedge fund Archegos Capital, the Financial Times reported on Monday. Additionally, Proxy advisor Glass Lewis has recommended shareholders oppose re-electing Andreas Gottshling to Credit Suisse's board of directors, saying as chair of the board's risk committee he should bear ultimate accountability for recent troubles related to Greensill and Archegos at the bank.

• DiamondBack Energy Inc: The company on Monday raised its full-year production outlook as the shale oil and gas producer accounted for its acquisition of rival QEP Resources and benefited from a recovery in crude prices. Diamondback said it expects 2021 net oil production of 360,000 to 370,000 barrels of oil equivalent per day (boed), compared with its earlier estimate of 308,000 to 325,000 boed.

• Gilead Sciences Inc: Gilead said on Monday it had decided to stop a late-stage trial of its intravenous treatment, Veklury, in high-risk non-hospitalized patients with COVID-19. The company said it no longer believes that developing a multiple day injection that requires administration in a healthcare setting addresses an unmet need for non-hospitalized patients.

• Goldman Sachs Group Inc: The firm said it would open a new office in the English city of Birmingham, expanding its office footprint in Britain at a time when many rivals are reducing space due to the pandemic. The bank said the first staff would begin working in the new office in the third quarter of this year, with headcount growing to several hundred over time.

• Novavax Inc: The company has pushed back the timeline for hitting its production target of 150 million COVID-19 vaccine doses per month until the third quarter due to supply shortages including bags used to grow cells, a company spokeswoman told Reuters. "We said during our earnings call that we expect all capacity being online by around mid-year. We're continuing to refine that timing as we get closer, which now leads us to think we're online/at full capacity by Q3," Novavax communications director Amy Speak said by email on Monday. "There are some supply shortages that come and go that have contributed to the revision in timing," she added. "These have included things like the bioreactor bags and filters."


FOCUS
Biden's chip dreams face reality check of supply chain complexity
To understand President Joe Biden's challenge in taming a semiconductor shortage bedeviling automakers and other industries, consider a chip supplied by a U.S. firm for Hyundai Motor's new electric vehicle, the IONIQ 5.


ANALYSTS' RECOMMENDATION
• Assetmark Financial Holdings Inc: JPMorgan raises target price to $29 from $27, due to better markets, higher sales and organic growth.

• Supernus Pharmaceuticals Inc: Jefferies raises rating to buy from hold, following the approval of Qelbreel, a nonstimulant treatment for ADHD along with a possibility of a new product cycle.


ECONOMIC EVENTS (All timings in U.S. Eastern Time)
0830 (approx.) Core CPI mm, SA for Mar: Expected 0.2%; Prior 0.1%
0830 (approx.) Core CPI yy, NSA for Mar: Expected 1.5%; Prior 1.3%
0830 (approx.) CPI Index, NSA for Mar: Expected 264.690; Prior 263.014
0830 (approx.) Core CPI Index, SA for Mar: Prior 270.30
0830 (approx.) CPI mm, SA for Mar: Expected 0.5%; Prior 0.4%
0830 (approx.) CPI yy, NSA for Mar: Expected 2.5%; Prior 1.7%
0830 (approx.) Real weekly earnings mm for Mar: Prior -1.0%
0830 (approx.) CPI mm NSA for Mar: Prior 0.550%
0830 (approx.) CPI Index SA for Mar: Prior 263.160
0830 (approx.) CPI Wage Earner for Mar: Prior 256.843
1100 (approx.) Cleveland fed CPI for Mar: Prior 0.2%


COMPANIES REPORTING RESULTS
Fastenal Co: Expected Q1 earnings of 36 cents per share


CORPORATE EVENTS (All timings in U.S. Eastern Time)
0900 A. O. Smith Corp: Annual Shareholders Meeting
0900 Bank of New York Mellon Corp: Annual Shareholders Meeting
0900 Iqvia Holdings Inc: Annual Shareholders Meeting
1000 Fastenal Co: Q1 earnings conference call
1100 Cubic Corp: Annual Shareholders Meeting
1130 Fifth Third Bancorp: Annual Shareholders Meeting
1530 Change Healthcare Inc: Shareholders Meeting
1700 HP Inc: Annual Shareholders Meeting


EX-DIVIDENDS
Guess? Inc: Amount $0.11
InterDigital Inc: Amount $0.35
Kadant Inc: Amount $0.25
Life Storage Inc: Amount $0.74
Winnebago Industries Inc: Amount $0.12
Actueel
Verwacht
Vorige
DEU

DEU:

Duitse ZEW Economisch Sentiment (Apr)
11:00
70,7
79,0
76,6
Actueel: 70,7 Verwacht: 79,0 Vorige: 76,6
Goedemorgen
Vanmorgen wat lagere futures op alle indices maar de verschillen zijn niet echt groot ten opzichte van de slotstanden van gisteren. Toch even de situatie in de gaten blijven houden deze week want de eerste kwartaalcijfers komen eraan waarvan vandaag al een paar banken. Voor men het vergeet moet men zich realiseren dat de markten extreem hoog gewaardeerd staan. De grote vraag is wie er rond deze standen nog durft in te stappen? Vooral nieuwe beleggers moeten zich dat realiseren want velen denken dat de bomen tot in de hemel groeien. Hetzelfde moeten we wat betreft de cryptomunten denken, wat is er toch aan de hand daar? Een Bitcoin kost al $61.000 vanmorgen, 10 jaar geleden nog geen $5 dollar ... Denk er het uwe van maar ooit hebben we dit soort dingen compleet verkeerd zien aflopen ...
De markt momenteel:
De DAX en de AEX kennen een wat moeilijker verloop de afgelopen dagen, het lijkt erop dat er zich een wat zwaardere weerstand vormt rondom de topzone zodat er mogelijk een correctie op de loer ligt. Dat zal denk ik ook op Wall Street gebeuren want de S&P 500 staat nu al op 4129 punten en dat lijkt me wat teveel van het goede. De Dow Jones staat al op een zucht van de 34.000 punten op slotbasis. Het is zelfs zo dat sinds vrijdag de gemiddelde PE ratio van de S&P 500 op 42,03 uitkomt, meer dan 42 keer de winst per aandeel gemiddeld bekeken over 500 aandelen die de index bevat. Het is nogal wat en zo goed als het DUBBELE van wat normaal zou moeten zijn (20-22 keer de winst).
Vanaf deze week komen er kwartaalcijfers binnen met zoals altijd als eerste de banken waaronder JP Morgan, Goldman Sachs, Citigroup en Morgan Stanley (de zakenbanken). Het kan al voor een indicatie zorgen, is de winst voldoende voor de torenhoge waarderingen? Of komen beleggers tot bezinning dat de markt nu wel extreem duur is? Ik denk, en verwacht, dat de kwartaalcijfers het een en ander kunnen laten merken en dat er wel hele goeie cijfers moeten komen over Q1 om de waarderingen te verantwoorden. Alleen in dat geval kan dat extreem hoge cijfer van 42 naar omlaag.

Resultaat dit jaar 2021 verloopt naar wens:
De eerste 3 maanden dit jaar werden positief afgerond en met december erbij komen we nu uit op 4 maanden na elkaar dat er winst werd behaald via de signalen. Dat moest voorzichtig gebeuren want ik hou in het achterhoofd rekening met het scenario wat ik net aangaf, over een aanstaande grote correctie over de gehele markt. Niettemin blijf ik rustig verder opbouwen wat betreft de posities.
Deze manier van werken wil ik hoe dan ook proberen aan te houden, het handelen onder de huidige omstandigheden krijg ik steeds beter onder controle en ik probeer met kleine posities zo als goed mogelijk te werken voor de leden. Onderaan deze update ziet u nog een overzicht met hoe de maand maart werd afgerond en hoe we er dit jaar voor staan wat betreft het resultaat via de signalen die we naar onze leden versturen.
Verder ziet u nog de aanbieding tot 1 Juni om mee te doen met onze signalen. Denk eraan dat als ik het momentum kan pakken voor als het moment daar is van wat ik aangaf we een hele grote vis kunnen vangen. Tussendoor blijf ik kalm en rustig met kleine posities werken !!
LET OP !! De komende dagen kunt u zich eenmalig tegen een zeer leuke aanbieding inschrijven voor een van onze abonnementen tot 1 JUNI voor €25 ... Bij Polleke Trading is dat dan €35 tot 1 JUNI en voor COMBI TRADING nu €50 ... Via de site en dan de Tradershop kunt u als lid de lopende posities met alle details altijd inzien via https://www.usmarkets.nl/tradershop
Technische conditie Wall Street:
Wat betreft Wall Street nog steeds weinig verandering ten opzichte van de afgelopen dagen, we zien wel dat de S&P 500 er nog een record uit kon slepen als was dat maar zeer minimaal. De Dow Jones en de Nasdaq laten wel iets liggen maar veel is het nog niet. De Dow Transport en de SOX index leveren beiden weer in na de geforceerde stijging van afgelopen vrijdag. Ook op Wall Street zie ik twijfels rondom de topzone en dan vooral bij de Transport en de SOX index, de komende dagen zal een en ander wel duidelijker worden.
Technisch blijft Wall Street met al dat geweld omhoog er nog altijd sterk uitzien tot er een definitieve top komt te staan, pas vanaf dat moment moeten we echt gaan opletten. Pas als de indices daarna pakweg 2 tot 3% inleveren moeten we ons zorgen beginnen te maken voor het vervolg op de korte termijn.
De Dow Jones, de S&P 500, de Transport, de Nasdaq en de Nasdaq 100 blijven in ieder geval ruim boven hun 20-MA en 50-MA (MA = daags gemiddelde) en staan nu al een hele lange periode boven hun 200-MA. Hieronder ziet u de chart van de Nasdaq 100 index waar we de dubbele top duidelijk zien nu. Let ook op het volume dat wegvalt, ook iets om in de gaten te houden want dat is bij alle indices het geval.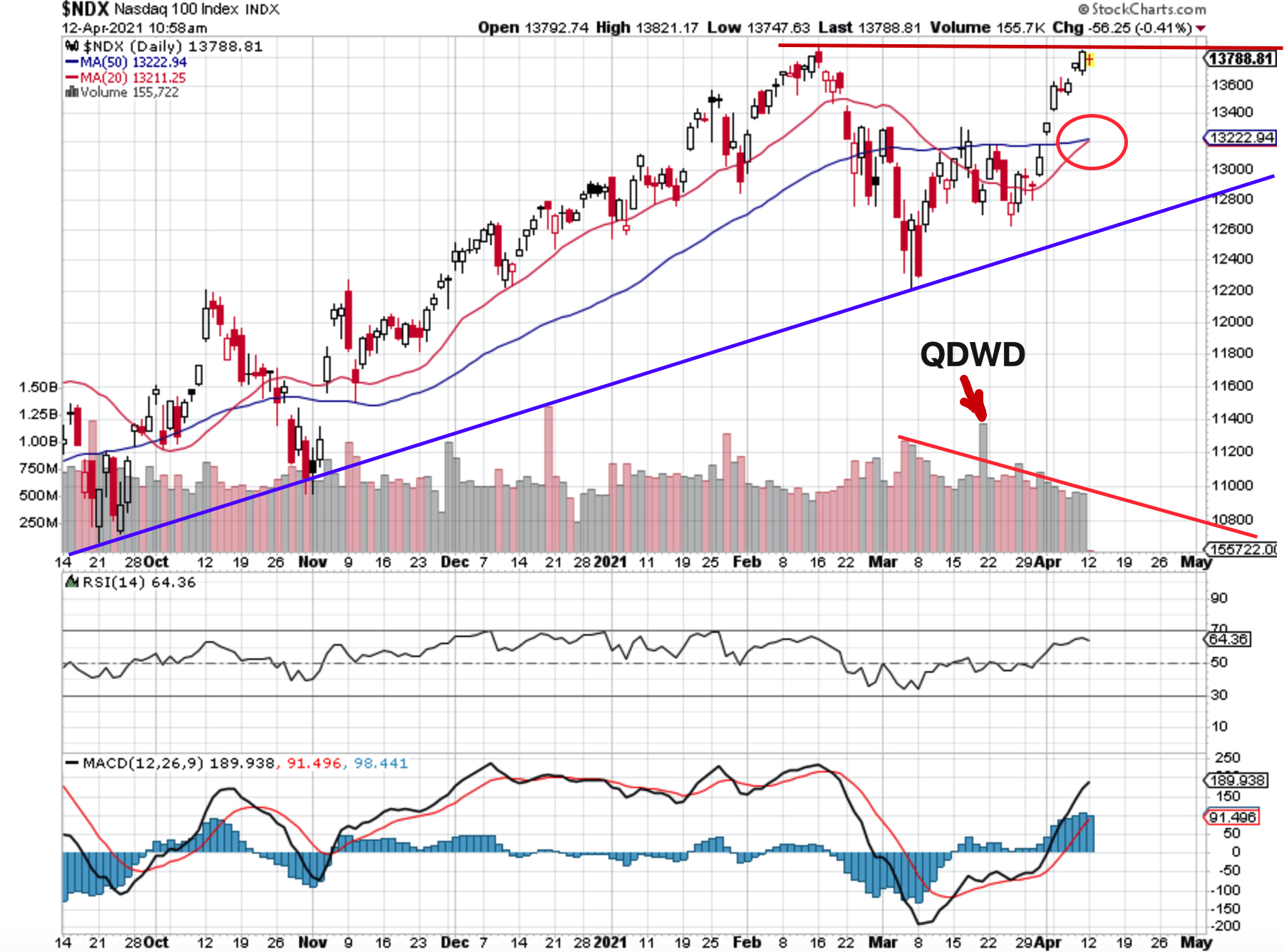 Technische conditie AEX en DAX:
AEX index:
Bij de AEX even een stap terug maandag en dat vooral door een stevige terugval bij het aandeel ASML dat zwaar meeweegt. De index komt nu uit rond de 707 punten en dat is al zo'n 10 punten onder de top die vorige week werd neergezet. Weerstand voor de AEX index nu eerst de 710-712 met daarna de 715 en de 718 punten. Verder de 725 en de 735 punten maar dat ligt nu weer een stuk verder weg na de terugval van gisteren.
Steun blijft de oude top rond de 702-703 punten maar een beter beeld krijg ik rond de laatste top van de index die we rond de 688-690 punten zien uitkomen. We kijken vooral naar de ontwikkelingen op Wall Street waar de eerste kwartaalcijfers vanaf vandaag binnen beginnen te stromen en hoe de markten daarop zullen reageren. Toch maar eerst deze steunpunten als richtpunt aanhouden dus.
DAX index:
De DAX doet het op zich nog altijd goed maar we zien wel een reeks toppen die op hetzelfde niveau uitkomen. Man zegt wel eens "Flat Top Predict Market Drop" maar dat zien we nog wel. Het lijkt er in ieder geval wel op dat de DAX niet meer de kracht kan ontwikkelen om nog nieuwe records neer te zetten.
De volgende richtpunten omhoog blijven eerst de 15.300 en de 15.450 punten bij een doorbraak van de weerstand. Vrijwel alle indices, dus ook de DAX, zijn rijp voor een grotere correctie. Steun zien we nu rond het 20-MA rond de 14.830 punten uitkomt, later de 14.500 punten (recente bodems) en de 14.350 punten waar we het 50-MA nu zien uitkomen als steun.
Er is zoals u merkt meer dan genoeg ruimte omlaag voor wat betreft de DAX voor dat de index in de problemen komt.

Gevaar ligt op de loer:
Dat er een nieuwe en mogelijk nog grotere crash zit aan te komen twijfel ik niet aan, het luie geld moet eruit en dat zal zoals dat altijd het geval is gewoon gebeuren, op een blauwe maandag zullen er velen zijn die zich rot schrikken maar goed het is zoals het is. Waarschuwingen (ook door mij) ten overvloed maar wie een index met een PE waarde van 42 nog koopt moet zelf maar weten wat die doet maar als je weet dat de gemiddelde PE waarde tussen de 20 en 22 uit dient te komen bekeken over meer dan 80 jaar dan stel u zelf maar de vraag. Voor Piet Particulier en Jan de Speculant kan het niet op en ik vraag me dan ook af of ze ooit al een keer onderzoek hebben gedaan naar de huidige PE waardes waar we nu mee te maken hebben.
Er zijn verhalen uit het verleden genoeg, ook uit de jaren '20 en de jaren '80, in de jaren '20 was er het bekende verhaal van een super rijke bankier die zijn schoenen liet poetsen op straat ergens in New York toen plots de schoenen poetser zei welke aandelen die moest kopen, hij belde meteen zijn assistent en zei 'ALLES VERKOPEN' ... Een week later verloor Wall Street op 1 dag 25%, in enkele maanden tijd zelfs 90%. Of het verhaal in de jaren '80 toen een bankier in een taxi zat in New York toen de taxi chauffeur hem enkele volgens hem hele goeie aandelen aanprees. Ook toen hetzelfde, de bankier belde meteen zijn assistent en zei 'ALLES VERKOPEN' en ja hoor, in oktober 1987 verloor Wall Street 20% op 1 dag ... Als ik nu naar de volumes kijk, en naar het verloop van de markten en om me heen hoor en lees wie er plots vooral met de beurs bezig zijn dan hou ik me vast aan die 2 anekdotes want dan gaat het meestal helemaal verkeerd aflopen. We noemen dat lui geld, mensen en vooral nieuwe mensen die denken snel geld te kunnen verdienen op de beurs, of met Bitcoins enz...
Hoe het zal aflopen kan ik me wel inbeelden maar ik kan er helaas geen datum opzetten, het enige wat ik kan doen is mijn ervaring laten spreken en waarschuwen maar of dat nuttig is vraag ik me af. Je moet iemand die dronken is ook niet zeggen stop maar met drinken, wees gerust dat gaat niet lukken. Wie in een roes zit krijg je er niet uit, kijk zelf maar eens om je heen, je zult het ook wel hebben meegemaakt. Maar goed, daarmee de week beginnen is weer zoiets van die gast is altijd negatief ... aan de andere kant is het voor sommigen ook goed om even een spiegel voor te houden. Doe ermee wat je wilt, maar ik vrees dat er bij Jan de Speculant en Piet Particulier net zoals toen der tijd tranen gaan vloeien. Een denk aan de schoenenpoetser, de taxichauffeur maar ook aan de camping rally eind jaren '90 toen het ook helemaal mis ging. Toen ging het op het strand niet over de mooie vrouwen die voorbij kwamen maar over hoeveel aandelen men had gekocht en hoe goed ze het wel niet deden. De AEX geraakte toen in het jaar 2000 tot 703 punten, het duurde tot vorige week (20 jaar later) om daar weer te geraken.
Euro, olie en goud:
De euro zien we nu rond de 1.189 dollar, de prijs van een vat Brent olie komt uit op 63,5 dollar terwijl een troy ounce goud nu op 1726 dollar staat.

De LIVEBLOG en Twitter:
Via de LIVEBLOG en tussendoor ook via mijn Twitter account laat ik gedurende de dag ook wat grafiekjes met korte uitleg voorbij komen over de markt. Op Twitter kunt u mij volgen via @USMarkets dan kunt u deze snelle informatie die ik deel uiteraard ook inzien .... https://twitter.com/USMarkets , ook opvallende beursfeiten komen er vaak langs !

Inter Market overzicht op slotbasis ...

LET OP !! De komende dagen kunt u zich eenmalig tegen een zeer leuke aanbieding inschrijven voor een van onze abonnementen tot 1 JUNI voor €25 ... Bij Polleke Trading is dat dan €35 tot 1 JUNI en voor COMBI TRADING nu €50 ... Via de site en dan de Tradershop kunt u als lid de lopende posities met alle details altijd inzien via https://www.usmarkets.nl/tradershop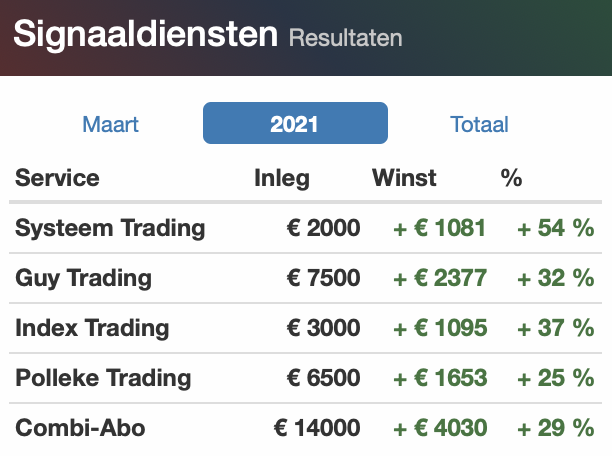 Met vriendelijke groet,
Guy Boscart
KPN, Just Eat Take­away, ING, IMCD en Heineken, dat zijn ze van­daag. De derde col­umn van in totaal vijf met daarin alle 25 aan­de­len uit de AEX. Ik stel voor dat we van start gaan.We hebben al 10 aan­de­len uit de AEX gezien en van­daag zijn de vol­gende vijf aan de beurt. Ik begin met KPN. Ik heb de…
Lees verder »
MARKET VIEW
Financial spreadbetters expect London's FTSE to open 10 points higher at 6,899, Frankfurt's DAX to open 40 points higher at 15,255 and Paris' CAC to open 15 points higher at 6,177.

Asia share markets were cautious after U.S. markets weakened as investors anticipated the start of corporate earnings seasons and the release of key inflation data to indicate how the global recovery from the pandemic will emerge.

Oil prices climbed as data from China showed the world's second largest oil consumer's import growth surging and on tensions in the Middle East after the Yemen-based Houthi movement said it fired missiles on Saudi oil sites.

GLOBAL TOP NEWS
China's exports grew at a robust pace in March in yet another boost to the nation's economic recovery as global demand picks up amid progress in worldwide COVID-19 vaccination, while import growth surged to the highest in four years.

President Joe Biden sought to demonstrate his much-touted interest in working with Republicans in Congress on Monday, with a bipartisan White House meeting as lawmakers prepared to grapple with his $2.3 trillion proposal to improve U.S. infrastructure.

Microsoft said it would buy artificial intelligence and speech technology firm Nuance Communications for about $16 billion, as it expands cloud solutions for healthcare customers.

EUROPEAN COMPANY NEWS
Britain's government has opened an independent investigation into failed finance company Greensill Capital after lobbying by former Prime Minister David Cameron raised questions over its access to ministers.

Airbus on Monday announced the biggest shake-up in its top ranks since Chief Executive Guillaume Faury took the helm two years ago, sparked by the departure of two key executives.

Australia's Cleanaway Waste Management said it would buy certain Sydney-based assets of Suez after the French firm agreed to be acquired by local rival Veolia.

TODAY'S COMPANY ANNOUNCEMENTS
Almawave SpA Annual Shareholders Meeting
AMAG Austria Metall AG Annual Shareholders Meeting
Amhult 2 AB Annual Shareholders Meeting
ASTARTA Holding NV FY 2020 Earnings Call
Avidly Plc Annual Shareholders Meeting
Biofrontera AG FY 2020 Earnings Call
Dios Fastigheter AB Annual Shareholders Meeting
Dustin Group AB Q2 2021 Earnings Call
Genmab A/S Annual Shareholders Meeting
Glaston Oyj Abp Annual Shareholders Meeting
Iss A/S Annual Shareholders Meeting
Jtc PLC FY 2020 Earnings Call
Neodecortech SpA Annual Shareholders Meeting
OC Oerlikon Corporation AG Pfaeffikon Annual Shareholders Meeting
Orexo AB Annual Shareholders Meeting
Raisio Oyj Annual Shareholders Meeting
Sanoma Oyj Annual Shareholders Meeting
Swedish Match AB Annual Shareholders Meeting
TCM Group A/S Annual Shareholders Meeting
Tecan Group AG Annual Shareholders Meeting

ECONOMIC EVENTS (All times GMT)
0600 (approx.) Germany Wholesale Price Index mm for Mar: Prior 1.4%
0600 (approx.) Germany Wholesale Price Index yy for Mar: Prior 2.3%
0600 (approx.) United Kingdom GDP Estimate 3m/3m for Feb: Expected -1.9%; Prior -1.7%
0600 (approx.) United Kingdom GDP Estimate mm for Feb: Expected 0.6%; Prior -2.9%
0600 (approx.) United Kingdom GDP Estimate yy for Feb: Expected -8.3%; Prior -9.2%
0800 Italy Industrial Output mm SA for Feb: Expected 0.7%; Prior 1.0%
0800 Italy Industrial Output yy WDA for Feb: Expected -2.3%; Prior -2.4%
0830 (approx.) United Kingdom Industrial Output mm for Feb: Expected 0.5%; Prior -1.5%
0830 (approx.) United Kingdom Industrial Output yy for Feb: Expected -4.5%; Prior -4.9%
0830 (approx.) United Kingdom Manufacturing Output mm for Feb: Expected 0.5%; Prior -2.3%
0830 (approx.) United Kingdom Manufacturing Output yy for Feb: Expected -5.1%; Prior -5.2%
0830 (approx.) United Kingdom Construction Output mm for Feb: Expected 0.6%; Prior 0.9%
0830 (approx.) United Kingdom Construction Output yy for Feb: Expected -1.9%; Prior -3.0%
0830 (approx.) United Kingdom Goods Trade Balance for Feb: Expected -10.400 bln GBP; Prior -9.826 bln GBP
0830 (approx.) United Kingdom Goods Trade Balance Non-EU for Feb: Expected -4.050 bln GBP; Prior -1.756 bln GBP
0900 Germany ZEW Economic Sentiment for Apr: Expected 79.0; Prior 76.6
0900 Germany ZEW Current Conditions for Apr: Expected -53.0; Prior -61.0
1000 (approx.) Portugal CPI mm for Mar: Prior 1.4%
1000 (approx.) Portugal CPI yy for Mar: Prior 0.5%