Liveblog Archief woensdag 12 januari 2022
4 liveblog items op woensdag 12 januari 2022.
Actueel
Verwacht
Vorige
USA

USA:

Ruwe Olievoorraden
16:30
-4,553M
-1,904M
-2,144M
Actueel: -4,553M Verwacht: -1,904M Vorige: -2,144M
Actueel
Verwacht
Vorige
USA

USA:

Kern CPI (Maandelijks) (Dec)
14:30
0,6%
0,5%
0,5%
Actueel: 0,6% Verwacht: 0,5% Vorige: 0,5%
TOP NEWS
• Morgan Stanley to award bonus rises of over 20% on Thursday to top performers -sources
Morgan Stanley will raise its annual bonus for top-performing staff by more than 20%, people with direct knowledge of the matter said, with a dealmaking boom set to usher in bumper payouts by banks this year.

• California DMV reviewing approach to regulating Tesla's public self-driving test - report
California is reevaluating Tesla's Full Self-Driving (FSD) test program, to determine if the electric-car maker's software should fall under its motor vehicle department's autonomous vehicle regulations, the Los Angeles Times reported on Tuesday.

• U.S. Medicare plans to cover Biogen Alzheimer's drug only for trial patients
The U.S. government Medicare program on Tuesday said it plans to cover Alzheimer's treatments including Biogen's Aduhelm but will require patients to be enrolled in a clinical trial, limiting access to the treatment more than many expected.

• Citi to exit Mexican consumer business as part of strategy revamp
Citigroup will exit its Citibanamex consumer banking business in Mexico, the bank said on Tuesday ending its 20-year retail presence in the country that was the last of its overseas consumer businesses.

• U.S. oil producers ramp up fracking in sign of stronger output gains
As oil prices have surged past $80 a barrel, U.S oil and gas producers are paving the way for faster production by expanding new well completions in the Permian Basin of west Texas and New Mexico, the country's top shale oil field, according to research data.


BEFORE THE BELL
U.S. stock futures rose, in line with world stocks, taking cues from overnight gains on Wall Street after U.S. Federal Reserve Chair Jerome Powell sounded less hawkish than expected in a Congressional testimony. The dollar was little changed ahead of U.S. inflation data due for release later in the day, while gold prices retreated. Oil jumped on tight supply and easing concerns about the potential hit to demand from the Omicron coronavirus.


STOCKS TO WATCH
• Alphabet Inc: Google has offered to remove News Showcase content from general search results in a bid to end a competition investigation into the selection of news in the product, Germany's Federal Cartel Office said. The Cartel Office will now consult with affected news publishers to assess whether Google's proposal would be effective. The Cartel Office had announced in June that it was investigating Google's Showcase product under its new powers to regulate internet companies.

• Biogen Inc: The U.S. government Medicare program on Tuesday said it plans to cover Alzheimer's treatments including Biogen's Aduhelm but will require patients to be enrolled in a clinical trial, limiting access to the treatment more than many expected. The decision from the U.S. Centers for Medicare and Medicaid Services (CMS), the health agency that runs Medicare, could change as it seeks comment from companies and patients. A final decision is due on April 11. Patient advocacy group UsAgainstAlzheimer's chairman George Vradenburg said he was angry Medicare placed conditions on the use of the drugs that were more limiting than the regulator, the Food and Drug Administration, put on Aduhelm, and that the Medicare decision applied to any amyloid drug.

• Block Inc: Afterpay said its $29 billion buyout by payments firm Block, previously known as Square Inc, has received approval from the Bank of Spain, making the deal fully unconditional. With this approval, the companies can now implement the deal, which would be Block's biggest to date and the largest buyout ever of an Australian firm. Afterpay said the deal is likely to close on Feb. 1. Its shareholders had in December overwhelmingly voted in support of the deal - 99.79% of the proxy votes were cast in favor. Block investors had approved the deal in early November.

• Citigroup Inc: The company will exit its Citibanamex consumer banking business in Mexico, the bank said, ending its 20-year retail presence in the country that was the last of its overseas consumer businesses. Citigroup will retain its institutional client business in Mexico, as it has in other overseas markets. It will focus its consumer banking business on a targeted U.S. retail presence, global wealth management, and payments and lending, it said.

• Constellation Brands Inc: A new brewery to be built in the Mexican state of Veracruz, announced after a dispute over water stymied plans for a plant on the northern border, could spark $2.6 billion in investment, a government official said. The plant in the Gulf coast state is part of a previously announced $5 billion to $5.5 billion investment in Mexico through 2026 by the U.S. maker of beer, wine and spirits. Constellation Brands plans to initially invest $1.3 billion in the brewery, Enrique Nachon, Veracruz's economic and port development minister, said in an interview late on Monday.

• CVS Health Corp & Walgreens Boots Alliance Inc: The company have cut paid sick leave for workers who test positive for COVID-19, aligning their policies to a change in U.S. health guidance, the companies said. A spokesperson for CVS said that the company is providing five days of paid leave for eligible full- and part-time workers, except where state or city paid leave laws provide for more. The company also added that paid leave is available only to employees who are vaccinated, approved for a reasonable accommodation, or otherwise covered by local laws. Walgreens said that it is providing COVID-19 paid leave benefits for five days to workers and after Feb. 23 will continue to provide the same benefit for five days to those who are fully vaccinated and test positive for COVID-19. Separately, Walgreens has begun a strategic review of its U.K.-based Boots business, Chief Executive Officer Rosalind Brewer said on Tuesday, as the second largest U.S. pharmacy chain tries to renew its focus on U.S. healthcare.

• Equinor ASA: The Norwegian energy major said it had cut the resource estimates for its Mariner oilfield in the British North Sea, triggering an impairment charge of around $1.8 billion. Total recoverable reserves from the field, which is operated by Equinor with a 65.1% stake, is now estimated to be about 180 million barrels of oil equivalent, sharply down from 275 million barrels seen earlier, it said. The impairment will be booked in Equinor's earnings report for the final quarter of 2021, which is due on Feb. 9, it added.

• Exxon Mobil Corp: The company on Tuesday launched the sale of shale gas properties stretching across 27,000 acres in the Appalachian basin of Ohio, the company confirmed, part of an ongoing divestiture of U.S. assets. The top U.S. oil producer is marketing 61 wells that last year produced around 81 million cubic feet per day equivalent (mmcfd) of natural gas, according to a marketing document viewed by Reuters. The sale includes another 274 wells operated by other companies. A sale could value the assets at around $200 million based on current natural gas prices and existing production from the wells, a person familiar with the matter said.

• Lockheed Martin Corp: The U.S. Federal Trade Commission, which assesses mergers to ensure they comply with antitrust law, has put off a vote on Lockheed Martin's purchase of Aerojet Rocketdyne for as much as two weeks, two people briefed on the matter said. The vote had initially been scheduled for midweek, one of the people said, adding that the extension would allow the FTC more time to evaluate terms for the merger.

• Morgan Stanley: The company will raise its annual bonus for top-performing staff by more than 20%, people with direct knowledge of the matter said, with a dealmaking boom set to usher in bumper payouts by banks this year. Bankers in equity underwriting and M&A advisory businesses are expected to receive some of the highest increases at the Wall Street firm due to the strong performances of those divisions over the past year, said two of the sources. Staff at Morgan Stanley will be informed of their bonus payouts on Thursday, kicking off the busy and much-awaited annual bonus season, and then receive the cash in early February, the two sources said.

• Momentive Global Inc & Zendesk Inc: The company's investor Janus Henderson Investors said it did not see a strategic advantage to the software firm's proposed acquisition of Momentive, joining activist investor Jana Partners in opposing the deal. "We are gravely concerned about the strategic, tactical, and financial rationale of this proposed deal," Janus Henderson Investors said in a proxy statement. "We think the company should instead renew its focus on executing on the (Zendesk) standalone business."

• Tesla Inc: California is reevaluating Tesla's Full Self-Driving (FSD) test program, to determine if the electric-car maker's software should fall under its motor vehicle department's autonomous vehicle regulations, the Los Angeles Times reported on Tuesday. FSD is an advanced driver assistance system that handles some driving tasks, but Tesla says it does not make vehicles completely autonomous. The features "require a fully attentive driver", according to the company.

• Wells Fargo & Co: The company said on Tuesday that it will stop charging customers fees for bouncing checks and will waive fees for customers using its overdraft protection services by March 30, as it becomes the latest bank to announce changes to overdraft policies amid growing regulatory scrutiny. Wells Fargo will also give customers who overdraw their accounts 24 hours to bring the balance above $0 before charging them a $35 fee, and it will begin giving customers who receive direct deposits access to those funds up to two days in advance.


ANALYSIS
A people's Fed? It's starting to at least look that way
Seven years ago white men made up the majority of directors on the boards of all but one of the 12 U.S. Federal Reserve banks. This year, white men are for the first time in the minority at every one.


ANALYSTS' RECOMMENDATION
• Albertsons Companies Inc: JPMorgan raises target price to $38 from $35 after the company posted better-than-expected sales and earnings for the third quarter.

• Beauty Health Co: Cowen and Company cuts target price to $27 from $32, factoring COVID uncertainties in APAC and higher supply chain and shipping costs.

• Biogen Inc: Piper Sandler cuts rating to neutral from overweight, given the poor performance of Aduhelm's launch.

• Intel Corp: Jefferies raises target price to $51 from $49, viewing David Zinsner's addition as an incremental positive for the company, and expect him to initially focus on high cost structure.


ECONOMIC EVENTS (All timings in U.S. Eastern Time)
0830 (approx.) Core CPI mm SA for Dec: Expected 0.5%; Prior 0.5%
0830 (approx.) Core CPI yy NSA for Dec: Expected 5.4%; Prior 4.9%
0830 (approx.) Core CPI Index SA for Dec: Prior 283.2
0830 (approx.) CPI mm SA for Dec: Expected 0.4%; Prior 0.8%
0830 (approx.) CPI Index SA for Dec: Prior 278.880
0830 (approx.) CPI mm NSA for Dec: Prior 0.49%
0830 (approx.) CPI yy NSA for Dec: Expected 7.0%; Prior 6.8%
0830 (approx.) CPI Index NSA for Dec: Expected 278.738; Prior 277.948
0830 (approx.) Real weekly earnings mm for Dec: Prior -0.2%
0830 (approx.) CPI wage earner for Dec: Prior 273.042
1100 (approx.) Cleveland Fed CPI for Dec: Prior 0.5%
1100 Refinitiv Ipsos Pcsi for Jan: Prior 56.53
1400 Federal budget for Dec: Expected -$25.00 bln; Prior -$191 bln


COMPANIES REPORTING RESULTS
No major S&P 500 companies are scheduled to report for the day.


CORPORATE EVENTS (All timings in U.S. Eastern Time)
1100 Commercial Metals Co: Annual Shareholders Meeting
1700 E2open Parent Holdings Inc: Q3 earnings conference call
1700 KB Home: Q4 earnings conference call


EX-DIVIDENDS
Compass Diversified Holdings: Amount $0.25
Global Net Lease Inc: Amount $0.40
Goedemorgen,
Weer een sessie met de nodige beweging, zeker op Wall Street hebben we opnieuw de nodige volatiliteit moeten doorstaan want na een slechte start wisten alle indices positief af te sluiten. Het waren vooral weer de tech aandelen die eruit sprongen, vanaf de bodem van maandag staat de Nasdaq al zo'n 630 punten hoger ofwel 4,3%. Ook de andere indices herpakken zich sterk na de daling van maandag, de Dow Jones wint 183 punten, de S&P 500 sluit 43 punten hoger. Verder zien we dat Europa ook een sterk herstel laat zien, de AEX wint 9 punten terwijl de DAX 173 punten winst boekt. Vandaag komen er in de VS cijfers over de inflatie, maar eens zien wat die teweeg gaan brengen. Verder blijven de markten volatiel, na het herstel kan er zo weer uit het niets een daling op gang komen van enkele procenten. We worden het gewend op deze manier en moeten ons aanpassen aan de markt.
Update woensdag 12 januari:
In een hoorzitting dinsdag schetste de voorzitter van de FED, Jerome Powell, een beeld van een zachte landing voor de economie nu de centrale bank overgaat tot het afschaffen van de stimuleringsmaatregelen en snel zal beginnen met het verhogen van de rentetarieven. Op zich horen we een minder agressieve toon van de FED maar dat wil nog niet zeggen dat alles plots totaal anders wordt, eerst maar even zien hoe de cijfers over de inflatie zullen zijn. De FED zal niet anders kunnen dan wat agressiever worden als die weer hoger zijn dan werd verwacht.
Vooral de technologie aandelen sluiten dinsdag hoger, de stijging begon maandag al vanaf de diepe bodem die de Nasdaq toen neerzette. Het lijkt op een zeldzame draai in de markt als we het bekijken vanaf de bodems die maandag werden neergezet. Vooral de twijfels rondom de rente in de VS spelen nu een grote rol, maandag dacht men plots dat er mogelijk 4 verhogingen komen dit jaar na men uitging van 3. Beleggers werden dinsdag weer wat gerust gesteld na dat de FED voorzitter Powell daar niet specifiek over sprak en die 4e verhoging werd plots weer even vergeten. Wel zal de rente omhoog gaan dit jaar en nog steeds minimaal 3 keer. Verder is het afwachten wat de cijfers zullen doen, vandaag komen de inflatiecijfers naar buiten in de VS (CPI) en het is nu afwachten hoe die eruit gaan zien.
Een hogere opening krijgen we zo te zien vanmorgen, de futures staan hoger zowel in de VS als in Europa maar er valt nog weinig over te zeggen voorbeurs. Laten we eerst maar de eerste 2 uur afwachten en dan zien we wel waar we staan. Na de middag komen de inflatiecijfers in de VS, dat kan de markt ook een richting op sturen en niet rustig verwacht ik. We zitten in wat kleine posities, we wachten af tot later op de dag om te zien wat we moeten doen, of juist niet moeten doen.

De signaaldiensten:
We blijven vooral voorzichtig en werken met kleine posities door dat de volatiliteit op de markten nog altijd behoorlijk is. We proberen waar het kan wat met posities, niet te groot en ook niet met teveel posities gelijktijdig. We moeten voorzichtig blijven en altijd rekening houden met een counter beweging op een onverwacht moment. Dinsdag heb ik wat kleine posities opgenomen, u kunt nog mee door lid te worden via de aanbieding die u hieronder ziet.
Meedoen met onze signalen kan nu via de aanbieding die loopt tot 1 maart 2022. Schrijf u nu snel in tot 1 MAART voor €35. Ga meteen naar onze Tradershop en kies uw abonnement via de link https://www.usmarkets.nl/tradershop
Marktoverzicht:
Wall Street blijft alle kanten op bewegen, vooral de Nasdaq en de SOX blijven enorm volatiel en bewegen procenten in beide richtingen. Dinsdag een plus van 1,4% terwijl de SOX 1,8% hoger geraakt. Verder ook plussen bij de Dow Jones en de S&P 500. In Europa zien we herstel bij de AEX en de DAX, beide indices maken een groot deel van het verlies van maandag weer goed. Bij alle indices nog altijd blijven opletten voor het vervolg de komende sessies, het sentiment kan zo weer omslaan.

Dow Jones:
De Dow Jones herpakt zich verder na eerst onder de 36.000 punten te vallen na het begin. De index tikt de 35.750 punten steun even aan maar via een rally later op de dag sluit de index af op 36.252 punten ofwel zo'n 500 punten boven de bodem van de sessie. Weerstand zien we nu rond die 36.250 punten, later rond de 36.600 en de topzone rond de 36.950 punten weerstand. We zitten niet ver onder de top wat betreft de Dow Jones, in feite haalbaar binnen enkele sessies maar het moet wel nog gebeuren.
Steun nu eerst de 36.000 punten, later de 35.750 en de 35.500 punten als steun. Onder die 35.500 punten ziet het er slecht uit wat betreft de Dow Jones, ook met dat scenario moeten we rekening houden. De index staat nu ergens midden in de zone waar we zowel de top als de belangrijke steun zien uitkomen.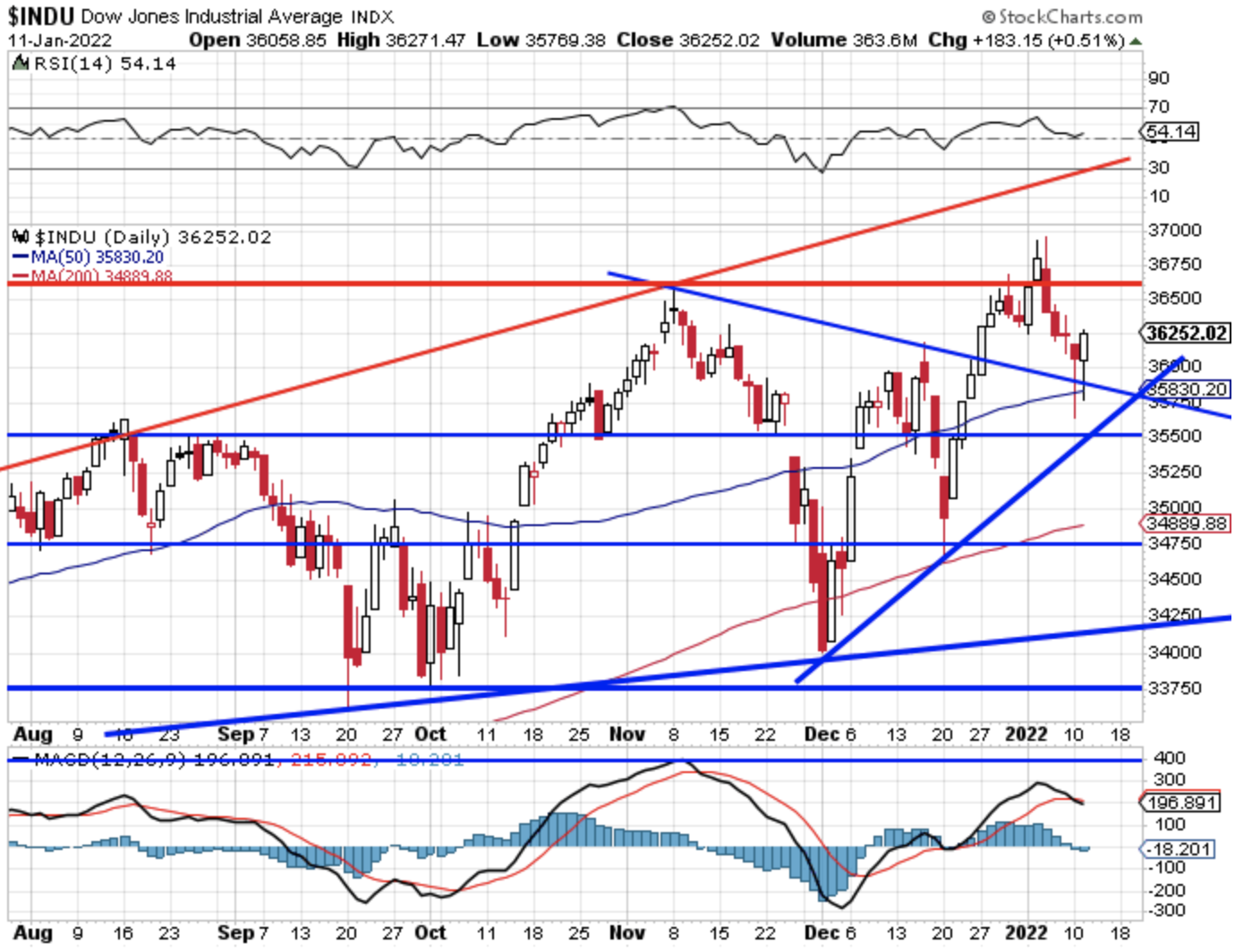 AEX index:
De AEX herpakt zich maar de index blijft wel nog in de gevarenzone, het slot op 782 punten waar de weerstand uitkomt is dan wel sterk maar de grote vraag is nu wat de markt zal gaan doen rondom dit niveau. Bij een doorbraak weerstand rond de 785 en de 790-792 punten, later de bekende 800-802 punten als zware hindernis. Eerst maar eens bekijken hoe de index omgaat met deze richtpunten omhoog want de kans is groot dat de AEX ook vandaag wat hoger zal starten.
Steun nu de 775 punten, later de 770 en de 755 punten als steun. De AEX kan zoals u merkt maar beter niet onder de 770 punten sluiten. Wel moeten we er rekening mee houden want als de markt na het herstel opnieuw draait dan staan we heel snel weer enkele procenten lager.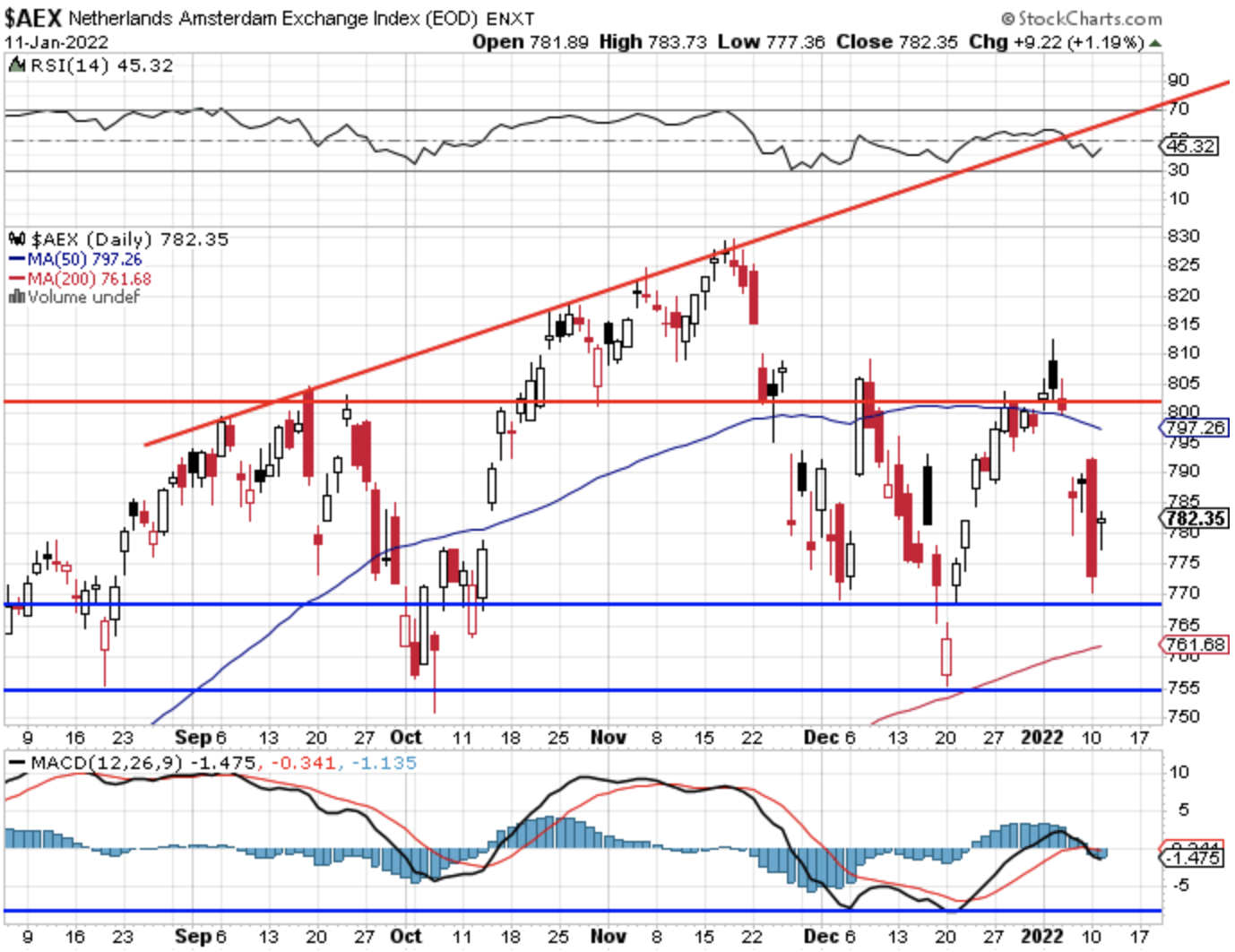 DAX index:
De DAX geraakt weer tot boven de 15.810 punten, de bekende lijn die we al een geruime tijd volgen als steun-weerstand. Vandaag ziet het er naar uit dat de index de 16.000 punten weer kan opzoeken waar de volgende weerstand wacht. De DAX blijft redelijk sterk liggen momenteel, we hebben vorige week nog een record gezien net onder de 16.300 punten, dat record ligt niet al te ver vanaf de huidige stand en is snel haalbaar bij enkele sterke sessies. Niet dat het allemaal vanzelf zal gaan maar in deze markt weet je nooit.
Weerstand nu eerst die 16.000-16.050 punten zone, later al snel de topzone net onder de 16.300 punten. Steun nu weer de 15.810 punten met daaronder de 15.650 en de belangrijke 15.500 punten. Ook naar beneden toe kan het snel gaan eens de markt weer een snelle draai laat zien. Alle scenario's blijven in deze fase mogelijk, zowel omhoog als omlaag.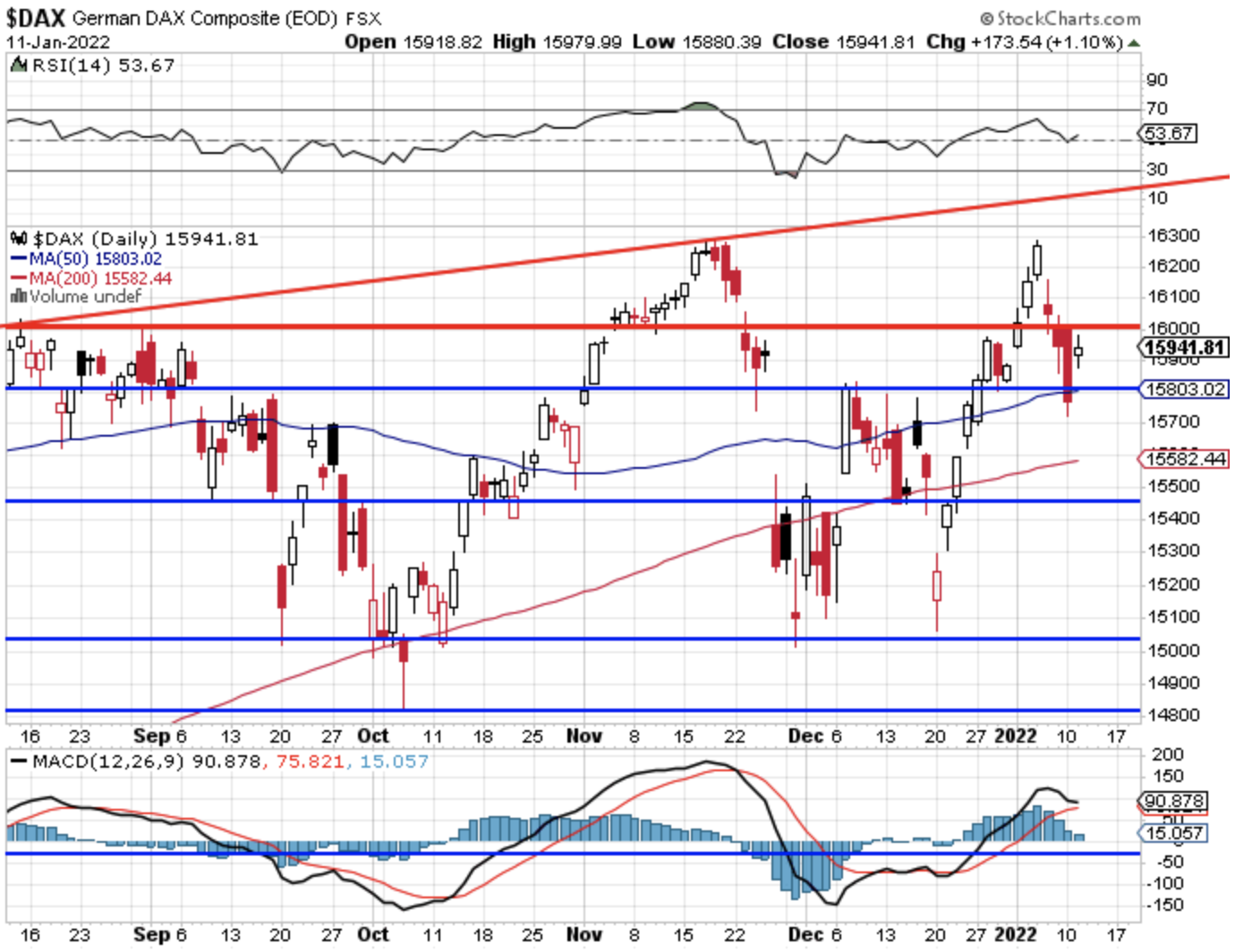 Nasdaq Composite:
De Nasdaq herpakt zich snel en sluit de sessie dinsdag af rond de hoogste stand. Weerstand verwacht ik nu rond de 15.200 punten waar we enkele toppen van eind vorige week zien uitkomen. Boven die 15.200 punten weerstand rond de 15.400 en de 15.580 punten waar het 50-daags gemiddelde nu uitkomt.
Steun nu eerst de 15.000 punten, later de 14.840 en de 14.600 punten als steun. Het kan snel gaan en zeker bij de nodige volatiliteit want de Nasdaq beweegt in beide richtingen snel tussen de 400 en 500 punten. Dat hebben we de afgelopen dagen kunnen merken.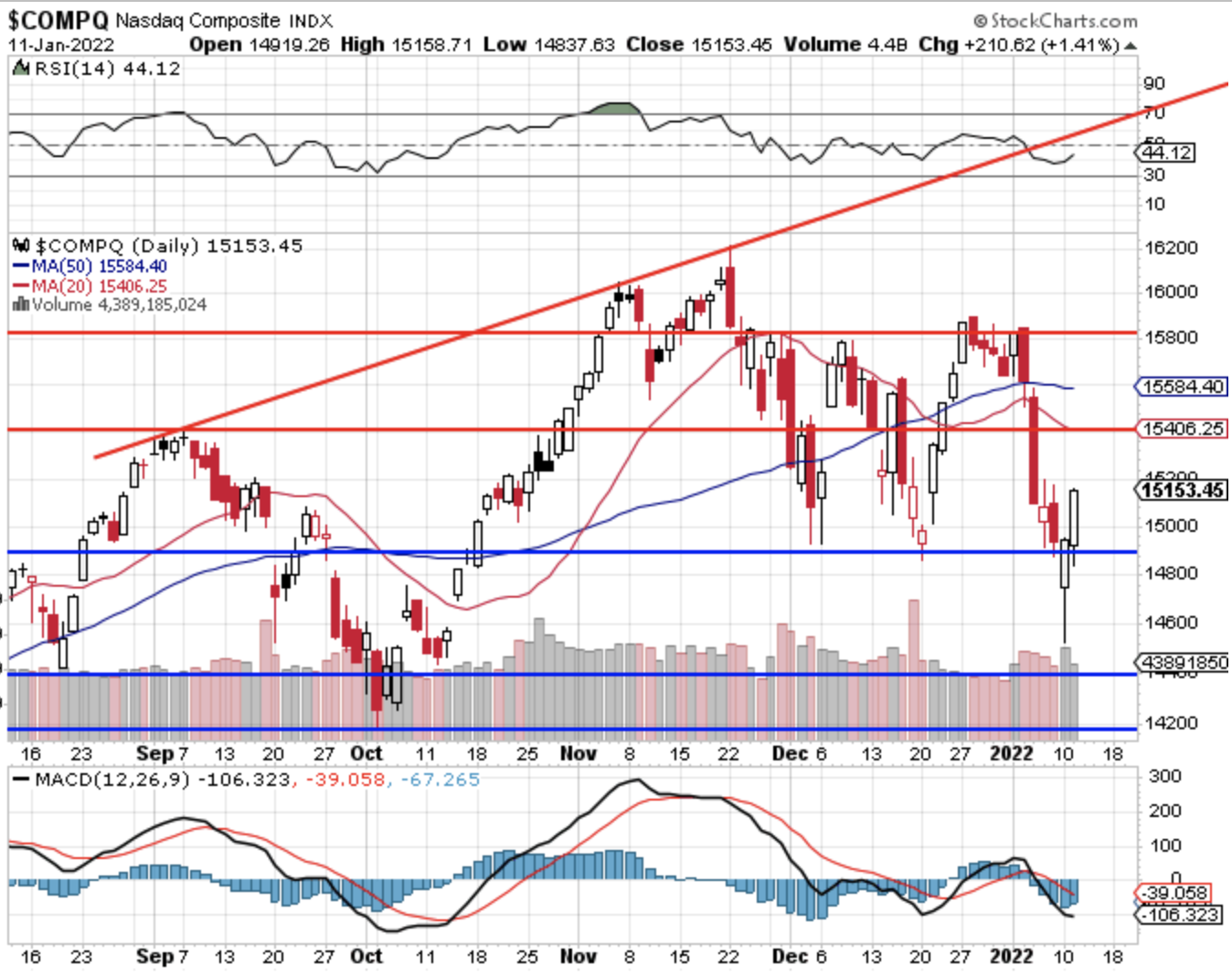 Overzicht resultaat dit jaar (2021):
De eerste winst voor dit jaar is binnen, de afgelopen week heb ik met wat kleine posities 2 keer kunnen instappen en alle posities werden met winst gesloten waardoor we het jaar voorlopig goed opstarten met al een mooie winst. Op naar de volgende mogelijkheden en die er komen. Wordt op tijd lid van een signaaldienst naar uw keuze, dan ontvangt u meteen de signalen en doet u mee.
Meedoen met onze signalen kan nu via de aanbieding die loopt tot 1 maart 2022. Schrijf u nu snel in tot 1 MAART voor €35. Ga meteen naar onze Tradershop en kies uw abonnement via de link https://www.usmarkets.nl/tradershop
Overzicht resultaten dit jaar (2022)
Met vriendelijke groet,
Guy Boscart