Dow blijft sterk, AEX en DAX komen terug van hoge dagtoppen
De markt blijft in beweging, als ik naar hoog en laag kijk vandaag dan zit daar weer zo'n 4-5% tussen, zeker bij de AEX en de DAX, op Wall Street is dat ook zo maar daar zie ik wel wat divergentie nu, de Nasdaq kan het niet bij benen maar aan de andere kant verloor de Dow tijdens de grote move omlaag ook veel meer dan de Nasdaq. Een aandeel dat opvalt is Boeing, toen het aandeel op $90 stond moest niemand er nog wat van weten, nu staat Boeing inmiddels op $169, wat een wilde markt en er is in feite amper wat anders dan pakweg een week geleden, laat staan afgelopen maandag ...
En of die $1500 per Amerikaan zal helpen? Ik weet het niet, iedereen zit bang af te wachten hoe het verder zal gaan allemaal, de mensen gaan denk ik niet zoals Trump het zou willen die cheque meteen uit gaan geven, nee ze gaan 3 keer nadenken wat er met dat geld zal gebeuren ...
Enfin, de markt is nu even wat aan het twijfelen, veel aandelen hebben in 2 dagen tijd tot 25-30% herstel laten zien, Boeing zelfs 70% (tja) en dat hoort erbij als we in zo'n markt als deze zitten ...
Inmiddels heb ik vandaag wat kunnen doen, voor Trading wat posities en bij de aandelen portefeuille wat winst genomen op de 3 posities die open stonden, ik kon het niet laten liggen want mijn gedachte is dat we nog altijd een poot omlaag gaan krijgen ... Meedoen kan, €39 voor Trading en €30 voor de aandelen portefeuille tot 1 JUNI ...
Ga naar https://www.usmarkets.nl/tradershop/leden
Tot straks uiteraard ... Gr Guy ...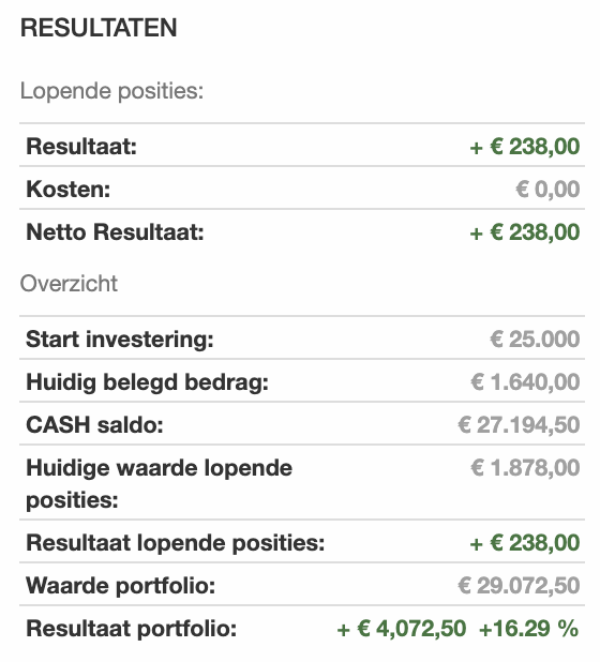 Liveblog feed
RISING DOLLAR PUSHES PRECIOUS METALS LOWER... With global stocks on the defensive over the last week, some money has flowed...
Deze inhoud is alleen beschikbaar voor betalende leden.
Summary
On the surface, it would seem there are few similarities between today and the late 1990s.
Digging deeper, we find more similarities than dissimilarities.
It should serve a warning sign.
Looking for a helping hand in the market? Members of Reading The Markets get exclusive ideas and guidance to navigate any climate. Get started today »
The similarities between the present Nasdaq 100 and that of the late 1990s and early 2000s are closer than most people would give them credit for. We may not have high valuations on the Nasdaq 100 as we did in the late 1990s. But we do have pockets of stocks that have valuations that make the late 1990s look tame.
Even from a technical perspective, the late 1990s and today resemble each other very closely. When overlaying the technical charts, we find that the correlation and the similarities are breathtaking and could be sending a message for what lies ahead.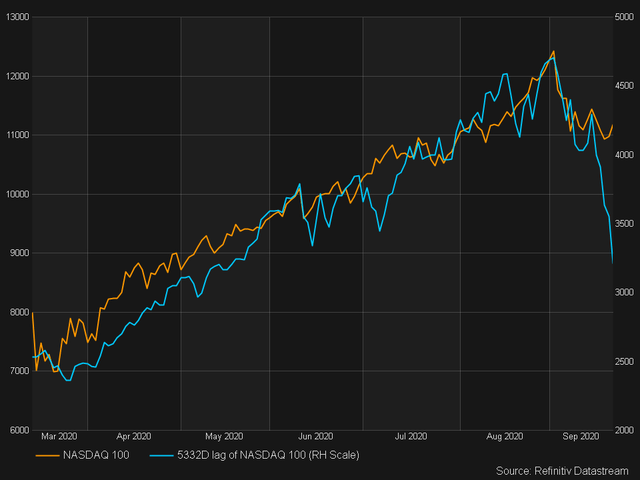 Startling Similarities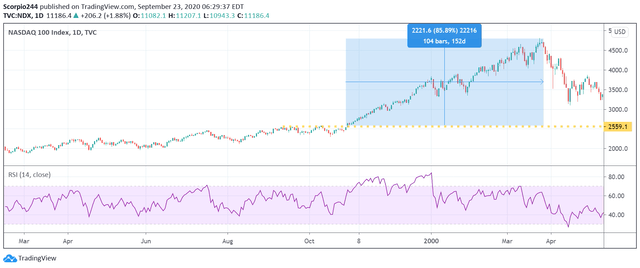 From its March 2020 lows until its recent September peak, the Nasdaq 100 has risen about 83%. This massive advance took place over roughly 160 days. More startling is when we overlay a chart of the Nasdaq 100 with the Nasdaq 100 from 1999. We find that they are very similar in terms of the move higher and the duration from trough to peak. The Nasdaq 100 broke out in November of 1999. It rose by about 84% over 150 days, nearly identical in the duration and the advance higher.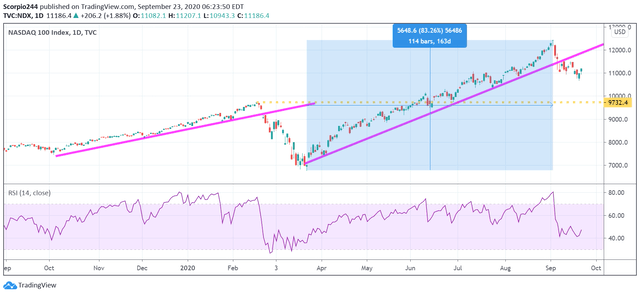 Exuberance
In the late 1990s, we saw the Nasdaq 100 PE ratio rise to around 80 times earnings. Today, that PE ratio is half at 40. However, even at 40, that multiple is at a historically high level. The highest that multiple has been since the year 2002.
While the valuation today on the Nasdaq 100 does not equal that of the late 1990s, we do have companies with PE multiples that resemble that of some of the big stocks of the late 1990s. Two such stocks are Cisco (NASDAQ:CSCO)and Qualcomm (NASDAQ:QCOM), which saw their one-year forward PE ratios rise to around 100 times estimates in 1999 and 2000. However, today, companies like Zoom (NASDAQ:ZM), DocuSign (NASDAQ:DOCU), and Shopify (NYSE:SHOP) make the 1999 versions of Cisco and Qualcomm look cheap. For example, Zoom, DocuSign, and Shopify all trade with PE multiples that are more than 100 times forward earnings estimates. While these companies indeed hold promise, just like Cisco and Qualcomm did back then, what we learned from the late 1990s is that it can take years, sometimes decades, for stocks to realize their bubble-like prices, if ever at all.
While, on the surface, it would appear that the similarities between the late 1990s and today don't exist, when we dig a little bit deeper, we find many similarities exist, both from a technical and a fundamental perspective. This should serve as a warning sign to investors today to be cautious when looking at some of these big overvalued technology stocks.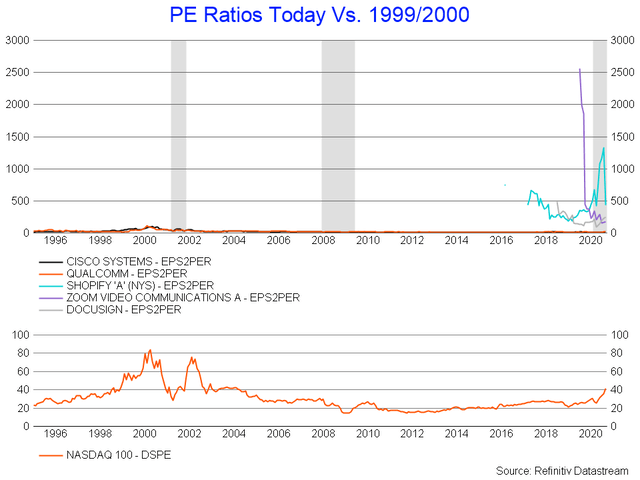 Hindsight
Having lived through, experienced, and invested during the late 1990s, it was only in retrospect that I could realize we were living in the middle of a bubble at the time. Back then, the economy was strong. The prospects for the future were bright, with price targets for the high-flying stocks consistently moving up. It was only in hindsight that we later realized just how overvalued many of these companies became, and how unrealistic some of those expectations actually had been.
It doesn't sound all that dissimilar from what some of the narratives we are hearing about today.
👍
😮
LetsTry en vacan17 en 1 andere.
Summary
There were a lot of interesting announcements during Tesla's battery day.
In spite of those, the stock reacted badly.
This article explores the possible reasons for such a reaction.
Looking for a portfolio of ideas like this one? Members of Idea Generator get exclusive access to our model portfolio. Get started today »
Yesterday Tesla (TSLA) had many interesting things to say during its battery day. These included:
A new, larger battery format (4680 vs. the previous 2170);
Associated manufacturing and capex efficiencies from the new battery format;
Improved cathode and anode materials;
Improved manufacturing efficiencies for the resulting vehicles, based on using the battery as a structural element, to which the front and back subframes would be tied to.
These new things are all supposed to start arriving in 2022, and to enable things like a $25,000 EV through the cost efficiencies they provide (three years out). The new battery format also seems to be set for usage in the Cybertruck, Semi and new Coupé, thus potentially delaying all those projects. A delay in the Cybertruck can be seen as relevant.
There was a level of ingenious propaganda in some of the presentation slides, so it's hard to know how much fruit the remaining promises will bear. After all, the new battery format (4680) was promoted as delivering five times more energy and six times more power, but that's exactly what one would expect, since the new battery format has 5.5x greater volume than the 2170 battery it will replace.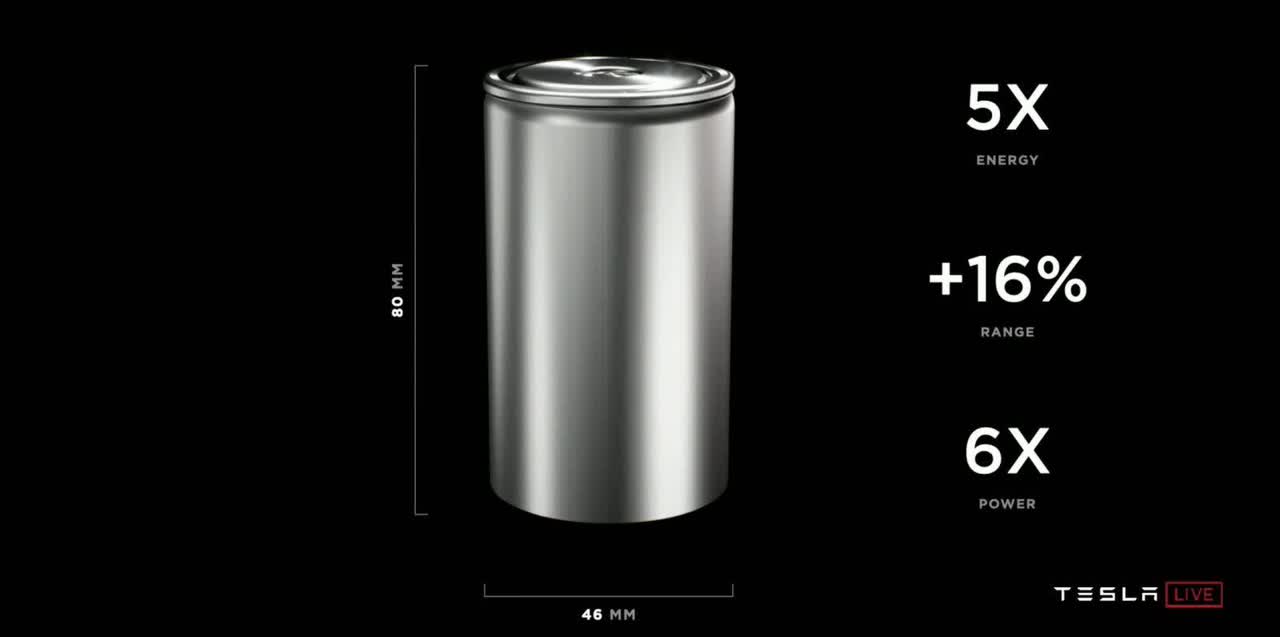 Likewise, the usage of the battery as a structural component seems like a bright development. However, batteries are prone to failure, so it remains to be seen how the battery can both be detached from the front and back subassemblies, and still retain good torsion characteristics. It would seem that bolting (instead of welding and gluing) these structural components would result in potentially reduced torsional stiffness.
These are all engineering doubts. For sure Tesla is working on all associated engineering problems, as are Tesla's competitors. Tesla is commended for always taking a systems approach to its vehicles, seeking to optimize them from the ground up.
Given the above developments, which could on average be construed as positive, then why did Tesla's stock start sliding after the presentations? After all, these promises look a lot more deliverable (in 2022) than things like FSD (Full Self-Driving), which Tesla started selling four years ago, yet has no prospects of delivering anywhere in the foreseeable future (FSD without human monitoring).
A possible explanation is that, as I stated above, the Cybertruck seems delayed. It was originally a late 2021 product. Now, with the use of the new batteries, it seems like a 2022 product.
Another explanation would simply be a "buy the rumor, sell the news" reaction. The battery day was anticipated over and over again. With no immediate impact on fundamentals, it's possible that the traders which anticipated the event are now selling into it.
Finally, there's what's probably a better explanation. With the battery day event coming up, an internal Tesla email leaked (again). In that email, Musk rallies his troops for end of quarter deliveries. This rally is because a new deliveries record might be possible for the quarter.
So why is this seemingly good news (a record) not all that great? The problem is simple. The previous delivery rally happened in Q4 2019 and consisted of 112,000 deliveries. Meeting or beating that by a small margin would, however, could still easily fall short of the current market consensus for 121,000 deliveries.
Indeed, current Tesla consensus revenue expectations for Q3 2020 are for $8.2 billion in revenues. In Q4 2019, Tesla had $7.4 billion in revenues. We can thus see that simply coming close to the old record falls significantly short from current expectations.
Conclusion
There were many exciting announcements during Tesla's battery day. Some of the announcements might even be very positive if they really bear fruit and all possible problems are solved.
However, at the same time Tesla seems to have guided down expectations for Q3 2020. Thus, between that, possible relevant product delays (Cybertruck) and a sell-the-news reaction, it's not surprising that Tesla is down.
Idea Generator is my subscription service. It's based on a unique philosophy (predicting the predictable) and seeks opportunities wherever they might be found, by taking into account both valuation (deeply undervalued situations) and a favorable thesis.
Idea Generator has beaten the S&P 500 by around 5% since inception (in May 2015). There is a no-risk, free, 14-day trial available for those wanting to check out the service.
TOP NEWS
• J&J kicks off final study of single-shot COVID-19 vaccine in 60,000 volunteers
Johnson & Johnson kicked off a final 60,000-person trial of a single-shot COVID-19 vaccine that potentially would simplify distribution of millions of doses compared with leading rivals using two doses.
• Huawei chairman urges U.S. to reconsider 'attack' on global supply chain
Chinese telecom giant Huawei Technologies said its supply chain was under attack from the United States and called on Washington to reconsider its trade restrictions which were hurting suppliers globally.
• Advertisers agree deal with social media on steps to curb harmful content
Facebook, YouTube and Twitter have agreed with big advertisers on first steps to curb harmful content online, following boycotts of social media platforms that advertisers had accused of tolerating hate speech.
• JPMorgan to move $230 billion assets to Germany ahead of Brexit - Bloomberg News
JPMorgan is moving about 200 billion euros from the UK to Germany as a result of Britain's exit from the European Union, Bloomberg News reported, citing people familiar with the matter.
• Euro zone economic recovery in danger as services slide
Euro zone business growth ground to a halt this month, throwing the economic recovery into question, as fresh restrictions to quell a resurgence in coronavirus infections slammed the services industry into reverse, a survey showed.​


BEFORE THE BELLU.S. stock index futures rose ahead of data that would throw light on the pace of an economic recovery, while Nike was set for a record open after a stunning quarterly earnings report. A jump in Adidas following an upbeat forecast from U.S. rival Nike and better-than-expected euro zone manufacturing data supported European stocks. China stocks ended higher, underpinned by gains in tech-heavy start-up board ChiNext and healthcare shares, while, Japanese shares eased, after the country's long weekend, weighed down by fears about rising coronavirus infections and a delay in U.S. fiscal stimulus. The dollar was little changed against a basket of six major currencies. Oil edged up after a report said U.S. fuel inventories fell and gold prices slid. Manufacturing and services PMI, and home prices are scheduled on the economic calendar.

STOCKS TO WATCH
IPO
• GoodRx Holdings Inc (GDRX). The U.S. online prescription drug platform priced its initial public offering (IPO) at $33 per share, above its target range to sell $1.14 billion in stock. It is the latest $1 billion-plus U.S. IPO in recent days to price above its targeted range after data warehouse company Snowflake and Unity Software, underscoring investor appetite for new stocks which promise rapid revenue growth. The company, founded in 2011 by Doug Hirsch and Trevor Bezdek, had planned to sell 34.6 million shares in its IPO at a target range of $24 to $28 per share. GoodRx sold 23.4 million shares on offer under the IPO to raise $772.9 million, with a further 11.19 million shares sold by existing investors, it said in a press release. The IPO values GoodRx at $12.7 billion, higher than the $2.8 billion tag in the company's last private fundraising round in 2018.

Moves
• Pilgrim's Pride Corp (PPC). The company said Chief Financial Officer Fabio Sandri would take the role of chief executive officer, replacing Jayson Penn who is exiting the chicken processing company. Penn, who was indicted earlier this year on charges of seeking to set a fixed price for chickens with other industry executives, began a paid leave of absence in June. Pilgrim's Pride's board of directors in June appointed Sandri as interim president and CEO of the company, which is mostly owned by Brazilian meat packer JBS.

Results
• Aurora Cannabis Inc (ACB). The Canadian pot producer on Tuesday forecast first-quarter revenue below analysts' estimates. The company reiterated its expectation to post an adjusted profit for the first time in the second quarter, as it attempts to turn its fortunes around. Aurora forecast first-quarter cannabis net revenue to be between C$60 million and C$64 million, below estimates of C$79.62 million. The company also posted fourth-quarter revenue of C$72.11 million, compared with analysts' estimates of C$72.08 million.
• Nike Inc (NKE). The company's online sales of Air Maxes and other shoes in North America drove quarterly profit and revenue ahead of Wall Street estimates and led the world's largest athletic shoe maker to forecast better-than-expected sales for the year. The brand's digital sales surged 82% in the first quarter, with at least double-digit rises recorded in all regions. In the prior quarter, Nike reported a 75% increase in online sales - nearly a third of total revenue, a goal Nike had previously set for 2023. Nike said it expected fiscal full-year revenue to rise between high single digits and low double digits versus last year, saying second-half sales would be "up significantly," even though first-half growth would be flat. Analysts forecast a fiscal 2021 sales rise of 5.9%. Earnings before interest and taxes rose 18% in North America, Nike's biggest market, with footwear sales up 11% to nearly $3 billion. Net income rose to $1.52 billion, or 95 cents per share, from $1.37 billion, or 86 cents per share, a year earlier. Meanwhile, the company's shares were set to open at a record high after the world's largest sports shoemaker posted stellar quarterly results, driven by online sales.

Deals Of The Day
• KKR & Co Inc (KKR). The private equity firm will invest $755 million in the retail unit of Reliance Industries, the Indian conglomerate said, bringing the total funding in Reliance Retail to $1.78 billion within a month. Reliance Industries, controlled by Asia's richest man Mukesh Ambani, is lining up investors in its retail unit after the conglomerate raised just over $20 billion this year from global investors, including Facebook, by selling stakes in its Jio Platforms digital business. KKR's investment for a 1.28% stake in Reliance Retail values the company at 4.21 trillion rupees, Reliance said in a statement.

In Other News
• 3M Co (MMM). The industrial conglomerate is working with advisers on the sale of its food safety business, Bloomberg News reported on Tuesday, citing people with knowledge of the matter. The unit, which makes products for pathogen testing and allergen detection, could fetch about $3.5 billion, the report said. 3M said it does not comment on rumors or speculation.
• Alphabet Inc (GOOGL). Australia has asked Google to remove photographs of the top of the sacred Indigenous site, Uluru, a tool that allowed users to appear to walk on its summit. Australia in 2019 closed Uluru, formerly known as Ayers Rock, after a decades-long campaign by indigenous communities to protect it. Parks Australia, which is responsible for the national park where Uluru is located, said Google images contains photographs of the sacred site, which effectively defies the ban. Meanwhile, U.S. President Donald Trump will meet with state attorneys general about removing a liability shield protecting social media companies while the Justice Department holds a call with state officials to discuss the investigation into Google.
• Alphabet Inc (GOOGL), Facebook Inc (FB) & Twitter Inc (TWTR). Facebook, YouTube and Twitter have agreed with big advertisers on first steps to curb harmful content online, following boycotts of social media platforms that advertisers had accused of tolerating hate speech. The agreement comes three months after Facebook was hit by a boycott from major advertisers in the wake of anti-racism demonstrations that followed the death of George Floyd, an American Black man, in police custody. Under the deal, announced by the World Federation of Advertisers, common definitions would be adopted for forms of harmful content such as hate speech and bullying, and platforms would adopt harmonised reporting standards.
• Amazon.com Inc (AMZN). The world's biggest online retailer announced the launch of a climate-friendly program to help customers shop for sustainable products, as part of its commitment to be net carbon neutral by 2040. Customers will now see more than 25,000 products ranging from grocery, household, fashion, beauty and personal electronics with a 'Climate Pledge Friendly' label, Amazon said in a statement.
• Borr Drilling Ltd (BORR). The oil rig operator has agreed with lenders to postpone the deadline for repayment of some of its debt, and aims to raise capital through equity as it seeks to overcome a demand slump, the company said late Tuesday. Borr, which is dual listed in Oslo and New York, reached a deal with banks as well as lender Hayfin Capital Management to push debt repayments of $595 million into 2023 from 2022 and to ease a minimum liquidity requirement, it said.
• Chevron Corp (CVX). The U.S. oil giant has asked employees globally to delete Tencent Holdings' WeChat from their work phones, following the Trump administration's executive order to ban the social media app, Bloomberg News reported. Chevron, in a staff email, identified WeChat as a "non-compliant application" and asked those with the app on their work handsets to delete it before Sept. 27 or face disconnection from the company's network, according to the Bloomberg report.
• Citigroup Inc (C). The bank has closed its market making business in retail options that serves retail broker-dealers, the Financial Times reported, citing three people with knowledge of the decision. The bank closed the business at the start of last month, the FT said, adding that Citi maintained its market making operations for institutional investors and high-net-worth customers.
• Cubic Corp (CUB). Hedge fund Elliott Management and buyout firm Veritas Capital have made a joint bid for the company following weeks of private talks with the defense and transportation technology firm, people familiar with the matter said on Tuesday. The offer is at a premium to Cubic's closing share price on Tuesday of $54.73, said the sources, who asked to remain anonymous because the matter is private. The exact value of the offer could not be learned. Cubic currently has a market value of $1.7 billion.
• Gores Holdings IV Inc (GHIV). United Wholesale Mortgage said it is planning to go public by merging with special purpose acquisition company (SPAC) Gores Holdings IV in a deal that will value the wholesale mortgage lender at $16.1 billion. Under the agreement, United Wholesale will retain about 94% ownership of the combined company and will get about $425 million in cash held in Gores's trust account along with $500 million from a private placement. Once the deal is completed, the combined company will be listed on Nasdaq and named UWM Corp, the Michigan-based company said, adding that the deal would make UWM the largest SPAC transaction so far.
• Johnson & Johnson (JNJ). The company kicked off a final 60,000-person trial of a single-shot COVID-19 vaccine that potentially would simplify distribution of millions of doses compared with leading rivals using two doses. The company expects results of the Phase III trial by year end or early next year, Dr. Paul Stoffels, J&J's chief scientific officer, said in a joint press conference with officials from the National Institutes of Health and the Trump administration. Separately, shares in Danish biotech firm Genmab fell as much as 14% after it said it was locked in a legal battle with its partner Johnson & Johnson over royalty payments for its key cancer drug.
• JPMorgan Chase & Co (JPM). The bank is moving about 200 billion euros from the UK to Germany as a result of Britain's exit from the European Union, Bloomberg News reported, citing people familiar with the matter. The lender plans to finish the migration of assets to its Frankfurt-based subsidiary by the end of 2020, the report said.
• Shopify Inc (SHOP). The company said on Tuesday data of customers who shopped at fewer than 200 merchants listed on the company's e-commerce platform was likely exposed after two employees tried to steal transaction records. The data exposed includes email, name, and address, as well as order details, but does not involve complete payment card numbers or financial information, the Canadian company said. Shopify said it immediately terminated the access of the individuals, who were part of its support team, to its network and was working with the Federal Bureau of Investigation and other international agencies in the investigation.
• Tesla Inc (TSLA). Panasonic is studying options for new electric car battery production with partner Tesla after the U.S. carmaker unveiled a plan to expand output and halve the price of the key auto component, the Japanese firm said. "We are considering a variety of options, but nothing has been determined at this time," a Panasonic spokeswoman said after Tesla Chief Executive Elon Musk outlined his plans in the closely watched "Battery Day" presentation. "We value our relationship with Tesla and look forward to enhancing our partnership." Meanwhile, shares of Asian battery suppliers fell after Tesla outlined a plan to halve the cost of its electric vehicle batteries and bring more production of the key auto component in-house.


Thomson Reuters/INSEAD Asian Business Sentiment Survey 2020-Q3
Business sentiment among Asian firms rebounded in the third quarter as easing coronavirus restrictions lifted sales but lingering uncertainty over the pandemic thwarted a return to business-as-usual, a Thomson Reuters/INSEAD survey showed. To read more, click here


COLUMN
If only. Is above-target inflation wishful thinking? :Mike Dolan
ew doubt the willingness of central banks to tolerate periods of above-target inflation in future, as per the U.S. Federal Reserve's new strategy of averaging its inflation goal over time -- but markets are questioning if they can even get there. As investors take fright at fresh restrictions to halt another wave of COVID-19 infections, the prospect of 2%-plus inflation in any of the major economies seems remote -- let alone a long period above that target during which central banks will turn a blind eye.


ANALYSTS' RECOMMENDATION
• AutoZone Inc (AZO). RBC raises target price to $1,329 from $1,323, citing impressive comps in the company's DIY segment.
• Bed Bath & Beyond Inc (BBBY). Raymond James raises price target to $16 from $12, ahead of the company's Q2 earnings, to reflect better sales trends.
• Mondelez International Inc (MDLZ). Piper Sandler raises target price to $66 from $60, expecting strong organic growth to continue.​
• Nike Inc (NKE). Telsey Advisory Group raises target price to $155 from $135 citing the company's Q1 results exceeded expectations with both better sales and profitability.
• ZoomInfo Technologies Inc (ZI). Wells Fargo raises rating to overweight, saying the company's comprehensive data engine offers significant value in the current market environment.


ECONOMIC EVENTS (All timings in U.S. Eastern Time)
0900 (approx.) Monthly home price mm for July: Prior 0.9%
0900 (approx.) Monthly home price yy for July: Prior 5.7%
0900 (approx.) Monthly Home Price Index for July: Prior 289.9
0945 Markit Composite Flash PMI for Sep: Prior 54.6
0945 Markit Manufacturing PMI Flash for Sep: Expected 53.1; Prior 53.1
0945 Markit Services PMI Flash for Sep: Expected 54.7; Prior 55.0


COMPANIES REPORTING RESULTS
Cintas (CTAS). Expected Q1 earnings of $2.13 cents per share


CORPORATE EVENTS (All timings in U.S. Eastern Time)
0830 General Mills Inc (GIS). Q1 earnings conference call
0830 Steelcase Inc (SCS). Q2 earnings conference call
1000 Cintas Corp (CTAS). Q1 earnings conference call
1000 Darden Restaurants Inc (DRI). Annual Shareholders Meeting
1100 Korn Ferry (KFY). Annual Shareholders Meeting
1200 Conagra Brands Inc (CAG). Annual Shareholders Meeting
1400 Worthington Industries Inc (WOR). Q1 earnings conference call
1500 Worthington Industries Inc (WOR). Annual Shareholders Meeting


EXDIVIDENDS
Getty Realty Corp (GTY). Amount $0.37
International Flavors & Fragrances Inc (IFF). Amount $0.77
Luminex Corp (LMNX). Amount $0.09
Philip Morris International Inc (PM). Amount $1.20
Loading..
Er is een fout opgetreden