Liveblog Archief dinsdag 7 juli 2020
6 liveblog items op dinsdag 7 juli 2020.
Actueel
Verwacht
Vorige
USA

USA:

JOLTs Vacatures (May)
16:00
5,397M
4,850M
4,996M
Actueel: 5,397M Verwacht: 4,850M Vorige: 4,996M
TOP NEWS
• Moderna spars with U.S. scientists over COVID-19 vaccine trials
As the United States accelerates the search for a coronavirus vaccine, tensions have erupted between government scientists and Moderna, one of the leading developers, Reuters has learned.
• U.S. government awards Novavax $1.6 billion for coronavirus vaccine
The U.S. government has awarded Novavax $1.6 billion to cover testing, commercialization and manufacturing of a potential coronavirus vaccine in the United States, with the aim of delivering 100 million doses by January 2021.
• U.S. home solar installer Sunrun to buy Vivint Solar for about $1.46 billion
Sunrun said on Monday it will buy Blackstone-backed peer Vivint Solar for about $1.46 billion in an all-stock deal, as the top U.S. residential solar installers look to solidify their market position.
• Pompeo says U.S. looking at banning Chinese social media apps, including TikTok
Secretary of State Mike Pompeo said on Monday that the United States is "certainly looking at" banning Chinese social media apps, including TikTok, suggesting it shared information with the Chinese government, a charge it denied.
• EU sees deeper recession, less steep rebound for euro zone
The euro zone economy will drop deeper into recession this year and rebound less steeply in 2021 than previously thought, the European Commission forecast, with France, Italy and Spain struggling the most due to the COVID-19 pandemic.


BEFORE THE BELL
Wall Street futures slipped as surging U.S. coronavirus cases dimmed investor enthusiasm for an economic rebound. European shares fell on forecasts for a deeper-than-feared recession in the euro zone and Japan's Nikkei ended down on a record slump in household spending. The dollar rose on fears of a virus resurgence, while gold prices were lower. Oil fell as U.S. virus spike stoked demand worries. Job Openings and Labor Turnover Survey data for May is scheduled for release later in the day.


STOCKS TO WATCH
Deals Of The Day
• Sunrun Inc (RUN) & Vivint Solar Inc (VSLR). Sunrun said on Monday it will buy Blackstone-backed peer Vivint Solar for about $1.46 billion in an all-stock deal, as the top U.S. residential solar installers look to solidify their market position. The deal will also help Sunrun compete better with Tesla's SolarCity in a residential solar market, which, according to the companies, has reached only 3% penetration in the United States. Vivint Solar shareholders will receive 0.55 of Sunrun common stock for each share held, representing a premium of 10.4% to Vivint's Monday close. The deal, unanimously approved by the companies' boards, is valued at $3.2 billion including debt.

In Other News
• Amazon.com Inc (AMZN), Apple Inc (AAPL), Alphabet Inc(GOOGL) & Facebook Inc (FB). The chief executives of the companies will appear before a U.S. House of Representatives panel on July 27, the committee said in a statement on Monday. Amazon's Jeff Bezos, Facebook's Mark Zuckerberg, Google's Sundar Pichai and Apple's Tim Cook will appear before the House Judiciary Antitrust Subcommittee as part of its probe into the companies, the statement said. They will be allowed to appear virtually.
• Becton Dickinson and Co (BDX). The U.S. Food and Drug Administration alerted clinical laboratories and healthcare providers on Monday about false positive results from one of Becton Dickinson and Co's COVID-19 molecular diagnostic tests. The test, designed to detect viral nucleic acid from the virus that causes COVID-19, is in use in nearly every state across the U.S. at hundreds of laboratories. In one study, the manufacturer found about 3% of the results were false positives, according to the FDA.
• Deutsche Bank AG (DB). The company's chief executive said it was premature to say how the lender might aid the banking unit of collapsed payments service provider Wirecard. Deutsche Bank CEO Christian Sewing said it was "too early to judge" how the bank may step in. "We all now need transparency and that's the first task to be done," Sewing said at a webcast event organised by Bloomberg News. Sewing said that for Deutsche, with its focus on transaction banking, it was "almost an obligation" to look at the Wirecard's bank for opportunities or to stabilise it.​
• Deutsche Bank AG (DB) & Alphabet Inc (GOOGL). Deutsche Bank said it has agreed a strategic, multi-year partnership with Google to give the German lender access to cloud services and drive innovation in technology-based financial products for clients. The deal is part of a $14.70 billion technology investment Deutsche has planned up to 2022 as it restructures to recover from years of losses. Google and Deutsche have now signed a letter of intent and plan to sign a multi-year contract within the next few months, the bank said.
• General Motors Co (GM) & Fiat Chrysler Automobiles NV(FCAU). A U.S. appeals court on Monday denied General Motors' petition to remove a lower court judge from its racketeering lawsuit against Fiat Chrysler but said the companies' heads need not meet to settle the issue. The Sixth U.S. Circuit Court of Appeals said U.S. District Judge Paul Borman abused his discretion by requiring GM CEO Mary Barra and FCA's head, Mike Manley, to meet face-to-face for reasons unrelated to the case, and without taking into account the risks of travel during the COVID-19 pandemic. The district judge's order for the parties to report back to the court in only eight days was also unwarranted, the appeals court said. Borman in June ordered Barra and Manley to meet by July 1, and later amended his order to allow other officials in their place.
• Moderna Inc (MRNA). As the United States accelerates the search for a coronavirus vaccine, tensions have erupted between government scientists and Moderna, one of the leading developers, Reuters has learned. The company - which has never produced an approved vaccine or run a large trial - has squabbled with government scientists over the process, delayed delivering trial protocols and resisted experts' advice on how to run the study, according to three sources familiar with the vaccine project. The sources said those tensions, which have not been previously reported, have contributed to a delay of more than two weeks in launching the trial of the Moderna's vaccine candidate, now expected in late July.​
• Nokia Oyj (NOK). The company became the first major telecom equipment maker to commit to adding open interfaces in its products that will allow mobile operators to build networks that are not tied to a vendor. The new technology, dubbed Open Radio Access Network (Open RAN), aims to reduce reliance on any one vendor by making every part of a telecom network interoperable and allowing operators to choose different suppliers for different components. As part of the implementation plan, Nokia plans to deploy Open RAN interfaces in its baseband and radio units, a spokesman said. An initial set of Open RAN functionalities will become available this year, while the full suite of interfaces is expected to be available in 2021, the company said.
• Novavax Inc (NVAX). The U.S. government has awarded the company $1.6 billion to cover testing, commercialization and manufacturing of a potential coronavirus vaccine in the United States, with the aim of delivering 100 million doses by January 2021. The award is the biggest yet from "Operation Warp Speed", the White House program aimed at accelerating access to vaccines and treatments to fight the coronavirus that causes COVID-19.
• Occidental Petroleum Corp (OXY). The state of Wyoming will bid on a package of land and minerals in Wyoming and Colorado owned by troubled Occidental Petroleum, public officials agreed on Monday. The company has been struggling with debt taken on in last year's $38 billion acquisition of Anadarko Petroleum, an ill-timed bet on rising shale oil prices ahead of a market crash. Wyoming's State Loan and Investment Board held a public hearing on Monday before voting unanimously to bid on the properties.
• Royal Caribbean Group (RCL) & Norwegian Cruise Line Holdings Ltd (NCLH). Cruise industry rivals are teaming up in an effort to sail again. On Monday, Royal Caribbean and Norwegian Cruise Line announced a joint task force to help develop safety standards for restarting their businesses during the coronavirus pandemic. The "Healthy Sail Panel," co-chaired by former Utah Governor Mike Leavitt and former U.S. Food and Drug Administration Commissioner Scott Gottlieb, is advising the companies on restart plans they will submit to the U.S. Centers for Disease Control and Prevention and other regulators at the end of August. The panel plans to share its findings with the entire cruise industry and regulators.


GRAPHIC
Companies seen slashing capex 12% this year, deeper than in 2009 -data
Big and mid-cap firms globally are expected to slash capital spending by an average 12% this year as they reel from the fallout of lockdowns and other measures imposed to rein in the coronavirus pandemic, analysts' estimates show.


ANALYSTS' RECOMMENDATION
• Acadia Pharmaceuticals Inc (ACAD). Stifel raises target price to $71 from $41, mainly on increased dementia-related psychosis sales, saying the safety argument for prescribing pimavanserin in this population is very strong, perhaps more so than in Parkinson's.
• Activision Blizzard Inc (ATVI). Piper Sandler raises target price to $86 from $79, after increasing revenue estimates for 2021, driven by strong execution of initiatives already in market, including Call of Duty Warzone and mobile, potential for a Diablo Immortal launch, modest King growth and Overwatch 2.
• Dominion Energy Inc (D). Mizuho cuts target price to $68 from $85, following the company's agreement to sell its gas transmission and storage business, a guidance and dividend cut and the cancellation of Atlantic Coast Pipeline.
• Noble Energy Inc (NBL). JPMorgan raises target price to $13 from $11, reflecting the significant improvement in corporate breakevens between 2020 and 2021 coincident with the startup of the Leviathan project and the attractive valuations under sustaining FCF framework.
• Uber Technologies Inc (UBER). JMP Securities raises target price to $42 from $37, after Uber announced its intention to acquire the fourth-largest food delivery service, Postmates, that it believes will add to UberEats scale, particularly in the Southwest, and be accretive as the market continues to consolidate.


ECONOMIC EVENTS (All timings in U.S. Eastern Time)
1000 JOLTS job openings for May: Expected 4.850 mln; Prior 5.046 mln


COMPANIES REPORTING RESULTS
Paychex Inc (PAYX). Expected Q4 earnings of 60 cents per share


CORPORATE EVENTS (All timings in U.S. Eastern Time)
0930 Paychex Inc (PAYX). Q4 earnings conference call
1700 Levi Strauss & Co (LEVI). Q2 earnings conference call


EX-DIVIDENDS
InterDigital Wireless Inc (IDCC). Amount $0.35
Quest Diagnostics Inc (DGX). Amount $0.56
Roper Technologies Inc (ROP). Amount $0.51
Steelcase Inc (SCS). Amount $0.10
Op de analyse van afgelopen zondag over BAM en Boskalis kwa­men de nodi­ge reac­ties, onder andere om eens naar Arcelor Mit­tal, Unilever, KBC en Berk­shire Hathaway‑B te kijken. Graag vol­doe ik aan alle ver­zoeken, maar daar heb ik helaas niet vol­doende ruimte voor in een enkele col­umn. Ik moest een…
Lees verder »
Goedemorgen
Als ik naar de Nasdaq kijk en dan vooral naar die hoogvliegers dan denk ik waar is men toch mee bezig? Amazon, Apple, Microsoft (in mindere mate) en Netflix om er een paar te noemen maar als we naar Tesla kijken dan valt de mond helemaal open of ik moet echt de weg kwijt zijn geraakt enkele weken geleden en begrijp ik NIKS meer van deze markt en zijn waarderingen. Logisch, het is nu zo en we gaan dat in 20-30 jaar niet meer meemaken vrees ik. Maar goed, tijden veranderen dus de tijd dat zoiets duurt zal ook wel ander worden. Je kunt wat betreft 2020 al een periode van pakweg 10 jaar vullen als je wilt.
Goed, gelukkig blijven de meer traditionele bedrijven, aandelen het nog redelijk normaal doen, wel wat uitschieters hier en daar maar meestal in de buurt waar ze horen te staan als ze al duur zijn. Daarom bereiken de Dow, de S&P 500 op Wall Street nog geen nieuwe records al zit Apple in de Dow index en zitten alle hoogvliegers in de S&P 500. Toch nog wat evenwicht bij die grote indices. Ook in Europa staan we nog onder de top van februari maar wel al heel ver boven de bodem van maart. Binnen de AEX hebben we ook zo'n hoogvlieger via ASML, het aandeel maakt ook nieuwe records en nu al rond de €343 dollar. We gaan zien hoe dat gaat aflopen, het voelt zeker niet goed deze ontwikkeling, te duur en vooral te snel te duur ... Stelt u eens voor dat deze waardering wordt voorzien in 2021 en de doelstellingen worden niet gehaald, dit soort aandelen kunnen dan in no-time halveren of zelfs meer dan dat ...
Het valt op, en het gaat door en de vraag is natuurlijk of we er een keer mee klaar zijn want anders gaan de Apples, de Amazon's en de Tesla's nog een keer verdubbelen, en dan? De markt drijft op headlines, op nieuws, op hoop en op uitspraken van een doorgedreven gek die de baas is in de VS en maar wat roept. Als u niet begrijpt wat ik ermee bedoel, en wel in Trump gelooft dan stel ik voor om zijn Twitter lijn even te volgen, alles wat er over hem wordt gezegd, wat er aan informatie komt over het virus is FAKE maar hij maakt iedereen die het niet met hem eens is uit voor rotte vis. Een kat in het nauw dus maar die nog steeds gehoord wordt. Velen zullen het niet kunnen bedenken maar Trump en Kayne West zijn partners in crime, ze kennen elkaar goed weten we uit het verleden. Hij gebruikt hem nu om donkere kiezers weg te halen bij zijn aan de winnende hand lijkende rivaal Biden. Snapt u het nog? ... We gaan het zien ...
Verder probeer ik mijn mannetje te staan wat betreft het handelen, als we maar de grote beweging mee weten te pakken komt alles weer in orde. We zitten nog met posities, kleine posities wel te verstaan ... Meedoen kan door lid te worden, dan kunt u mee met mijn momentum om straks te scoren. Nu tot 1 SEPTEMBER voor €39 ...
Ga naar https://www.usmarkets.nl/tradershop

Tot straks ... Guy
👍
Henkm en frankw en 3 anderen.
Tesla's aandeel:
TSLA schoot de ruimte in met opnieuw een recordstijging van 163 dollar ofwel 13,5% tot 1.371,5 dollar. Het aandeel steeg de afgelopen 5 dagen met maar liefst 43% met de laatste 4 dagen een nieuw record ofwel hoogste stand ooit.
Wat er gisteren kwam is weer eens een duidelijk teken dat de overwaardering waar ik het al een tijdje over heb EXTREEM moet zijn want analist Ryan Brinkman van JPMorgan verhoogde zijn koersdoel voor Tesla met ruim 7% tot LET WEL !!! 295 dollar en dat koersdoel ligt maar liefst 78,5% onder de huidige koers van het bedrijf ... Het is wel zo dat het koersdoel van Brinkman het laagste blijft van de 32 door FactSet ondervraagde analisten.
Maar toch, om het even aan te geven dat we met een markt zitten die wel heel vreemd blijft ... Waar zijn ze toch mee bezig??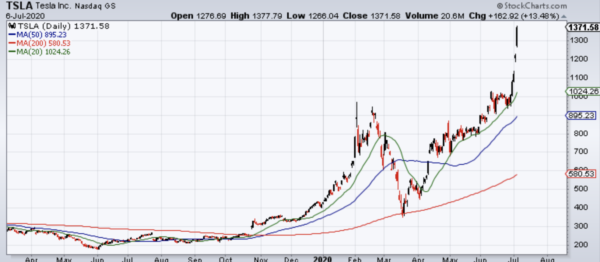 GLOBAL TOP NEWS
A high-profile pandemic aid program protected about 51.1 million American jobs, the Trump administration said on Monday, as it revealed how $521.4 billion in taxpayer cash was injected into small businesses but also into the pockets of the rich and famous.

The U.S. Chamber of Commerce and over 40 trade associations on Monday urged top American and Chineseofficials to redouble efforts to implement a Phase 1 trade agreement signed by the world's two largest economies in January despite pandemic-related strains.

Japan's household spending fell at the fastest pace on record in May as consumers heeded authorities' calls to stay home to contain the coronavirus pandemic, pushing the world's third-largest economy deeper into decline.


EUROPEAN COMPANY NEWS
German prosecutors said on Monday they had arrested the head of a Dubai-based subsidiary of Wirecard, widening the circle of suspects in a multi-billion-dollar fraud investigation into the collapse of the payments company.

Heidelbergcement on Monday said a review of its assets in the second quarter had forced it to book a 3.4 billion euros impairment due to Brexit and the impact of the coronavirus pandemic on its business.

Cerberus, a major shareholder in Commerzbank, said on Monday that the German bank must find a chairman before there is a formal search for a chief executive.


TODAY'S COMPANY ANNOUNCEMENTS
Andritz AG Annual Shareholders Meeting
Assura PLC Annual Shareholders Meeting
Bang & Olufsen A/S Q4 2020 Earnings Call
bet-at-home.com AG Annual Shareholders Meeting
Catena AB Q2 2020 Earnings Call
Delticom AG Annual Shareholders Meeting
Elringklinger AG Annual Shareholders Meeting
EnviTec Biogas AG Annual Shareholders Meeting
Funkwerk AG Annual Shareholders Meeting
GCP Asset Backed Income Fund Ltd Annual Shareholders Meeting
Industrivarden AB Q2 2020 Earnings Release
Methanor SCA Annual Shareholders Meeting
Micro Focus International PLC HY 2020 Earnings Release
Photo-Me International PLC FY 2020 Earnings Release
RM PLC HY 2020 Earnings Call
Takkt AG Annual Shareholders Meeting
Thor Mining PLC Shareholders Meeting
Whitbread PLC Annual Shareholders Meeting


ECONOMIC EVENTS (All times GMT)
0600 (approx.) Germany Industrial Output mm for May: Expected 10.0%; Prior -17.9%
0600 (approx.) Germany Industrial Production yy SA for May: Prior -25.29%
0645 France Current Account for May: Prior -5.4 bln EUR
0645 (approx.) France Current Account - Balance NSA for May: Prior -4.68 bln EUR
0645 (approx.) France Reserve Assets Total for Jun: Prior 217,404 mln EUR
0645 France Trade Balance SA for May: Prior -5.02 bln EUR
0645 France Imports for May: Prior 28.71 bln EUR
0645 France Exports for May: Prior 23.690 bln EUR
0700 (approx.) Switzerland Forex Reserves for Jun: Prior 816,333.00 mln CHF
0700 (approx.) Austria Wholesale Prices NSA mm for Jun: Prior -0.7%
0700 (approx.) Austria Wholesale Prices NSA yy for Jun: Prior -7.9%
0730 (approx.) United Kingdom Halifax House Prices mm for Jun: Expected -0.9%; Prior -0.2%
0730 (approx.) United Kingdom Halifax House Prices yy for Jun: Prior 2.60%
0730 (approx.) Sweden New Orders Manufacturing yy for May: Prior -20.7%
0730 (approx.) Sweden Private Production yy for May: Prior -9.0%
0730 (approx.) Sweden Private Production mm for May: Prior -6.5%
0730 (approx.) Sweden Industrial Production Val yy for May: Prior -16.6%
0730 (approx.) Sweden Industrial Production Val mm for May: Prior -15.9%
0730 (approx.) Sweden Services Production yy for May: Prior -8.2%
0730 (approx.) Sweden Construction Sector Production yy for May: Prior -1.5%
0730 (approx.) Sweden Construction Sector Production mm for May: Prior 0.6%
0800 (approx.) Italy Retail Sales SA mm for May: Prior -10.50%
0800 (approx.) Italy Retail Sales NSA yy for May: Prior -26.30%
0830 (approx.) United Kingdom Labour Productivity for Q1: Prior 0.3%