Liveblog Archief maandag 14 september 2020
4 liveblog items op maandag 14 september 2020.
TOP NEWS
• ByteDance picks Oracle as partner to try to save TikTok U.S. - sources
Oracle beat Microsoft in the battle for the U.S. arm of TikTok with a deal structured as a partnership rather than an outright sale to try to navigate geopolitical tensions between Beijing and Washington, people familiar with the matter said.
• Nvidia to buy chip designer Arm for $40 billion as SoftBank exits
Nvidia will buy UK-based chip designer Arm from Japan's SoftBank for as much as $40 billion, the companies said, in a deal set to reshape the global semiconductor sector.
• Gilead to buy cancer drugmaker Immunomedics for $21 billion
Gilead Sciences will acquire biotech company Immunomedics for $21 billion, a move that will strengthen its cancer portfolio by gaining access to a promising drug, the two companies said in a joint statement on Sunday.
• Trump signs new, expanded executive order to lower U.S. drug prices
President Donald Trump signed a new executive order on Sunday aimed at lowering drug prices in the United States by linking them to those of other nations and expanding the scope of a July action.
• Google sets unprecedented goal to tap only renewable power by 2030
Alphabet's Google aims to power its data centers and offices solely with renewable energy by 2030, its chief executive told Reuters, becoming the biggest company in the world to commit to ditching coal and natural gas power.


BEFORE THE BELL
U.S. stock futures rose as signs of progress in COVID-19 vaccine development and a flurry of global M&A activity started the week on a bright note. Most European equity markets were lower, as the healthcare sector underperformed after U.S. President Donald Trump signed an executive order to lower drug prices in the United States. Japan's Nikkei ended higher after Chief Cabinet Secretary Yoshihide Suga won a landslide victory in a ruling party leadership election, paving the way for him to succeed Prime Minister Shinzo Abe. Gold prices rose helped by a weaker dollar and expectations that the U.S. Federal Reserve will reiterate its dovish monetary policy stance this week. Oil slipped amid concerns about a stalled global economic recovery and falling fuel demand.


STOCKS TO WATCH
Deals Of The Day
• Gilead Sciences Inc (GILD) & Immunomedics Inc (IMMU). Gilead Sciences will acquire biopharmaceutical company Immunomedics for $21 billion, a move that will strengthen its cancer portfolio by gaining access to a promising drug, the two companies said in a joint statement on Sunday. The deal provides Gilead access to Immunomedics' breast cancer treatment drug, Trodelvy, which was granted an accelerated FDA approval in April. Gilead said it would issue a tender offer to buy all the outstanding shares of Immunomedics for $88 per share, representing a premium of about 108% over their last closing price of $42.25 on Sept 11. Immunomedics is also on track to file for regulatory approval for Trodelvy in Europe in the first half of 2021, according to the statement.
• Nvidia Corp (NVDA). The company will buy UK-based chip designer Arm from Japan's SoftBank Group for as much as $40 billion, the companies said, in a deal set to reshape the global semiconductor landscape. The head of Nvidia ,Jensen Huang, vowed to step up investment in Britain and increase jobs there as part of its purchase of the chip designer, following complaints from an Arm co-founder that the deal would destroy the company.

In Other News
• Alibaba Group Holding Ltd (BABA). The company is in talks to invest $3 billion into Southeast Asia's biggest ride-hailing firm Grab Holdings Inc, Bloomberg News reported, citing people familiar with the matter. The company, which has an estimated valuation of $14 billion and counts SoftBank Group Corp as one of its backers, expanded into financial services, food delivery and mobile payments over the last few years, even before the COVID-19 pandemic hurt its mainstay ride-hailing business.
• Alphabet Inc (GOOGL). Google aims to power its data centers and offices solely with renewable energy by 2030, its chief executive told Reuters, becoming the biggest company in the world to commit to ditching coal and natural gas power. The "stretch goal," as CEO Sundar Pichai described it, will force Google to move beyond the tech industry norm of offseting carbon emissions from electricity use and require technological and political breakthroughs to achieve.
• Amazon.com Inc (AMZN). The company said it is recruiting 100,000 more workers - the fourth hiring spree it has announced for the United States this year - to keep pace with e-commerce demand that jumped during the pandemic. The world's biggest online retailer said the positions are for full and part-time work in its home country and Canada, and these will include roles at 100 new warehouse and operations sites it is opening this month.
• Banco Santander SA (SAN). Spain's Santander and Italian banker Andrea Orcel are headed for a trial over the bank's withdrawal of an offer to make him boss after lawyers for both parties told a preliminary hearing that they did not want an out-of-court deal. The preliminary hearing is focusing on technicalities such as what procedural evidence and which witnesses would be accepted as part of the case and could potentially set the date of a formal trial, judicial sources had told Reuters.
• Boeing Co (BA). Two senior Boeing executives who oversaw the development of the 737 MAX defended the company's decisions on a key cockpit system later tied to two fatal crashes, according to testimony before congressional investigators seen by Reuters. Michael Teal, then 737 MAX chief product engineer, and Keith Leverkuhn, who was vice president and general manager of the 737 MAX program, were questioned separately by investigators for the U.S. House Transportation and Infrastructure Committee in May. Meanwhile, The U.S. Senate Commerce Committee will vote on Wednesday to require the Federal Aviation Administration (FAA) to quickly disclose risk assessments after fatal air crashes in a bid to significantly tighten industry oversight. Separately, a training review for the grounded Boeing 737 MAX will begin on Monday in London, the U.S. Federal Aviation Administration (FAA) said, in a key milestone for the plane's eventual return to service.
• Carlyle Group (CG). The private equity firm is looking to invest up to $2 billion in Indian conglomerate Reliance Industries' retail business, financial daily Mint reported, citing people aware of the development. The deal, if finalized, would be Carlyle's biggest investment in an Indian company and would be its first in the country's retail sector, the paper reported.
• Dish Network (DISH) & Nokia Oyj (NOK). The U.S. satellite TV provider racing to build a 5G network in the United States by 2023, has turned to Finland's Nokia to supply 5G core software. Dish is building its network ground up and has so far chosen non-traditional telecoms vendors and a new technology called Open Radio Access Network (RAN) that uses software to run network functions on the cloud, reducing the use of physical equipment. Dish, which is sitting on an unused wireless spectrum portfolio worth $20 billion, is working with Fujitsu, Nvidia , Altiostar and Mavenir to supply various parts of the network.
• Dow Inc (DOW). The company agreed to divest some of its U.S. Gulf Coast marine and terminal operations to a joint venture owned by Royal Vopak and BlackRock's Global Energy & Power Infrastructure Fund for $620 million. The deal with Vopak Industrial Infrastructure Americas includes marine and storage terminal operations and assets at Dow's sites in Plaquemine and St. Charles, Louisiana, and Freeport, Texas, the company said. Dow expects the deal to close in the fourth quarter, following regulatory approvals from the United States and the European Union.
• Facebook Inc (FB). The company has started removing false claims that the deadly wildfires in Oregon were started by various left-wing and right-wing groups, a spokesman for the social media company said on Saturday, after the rumors left state officials inundated with queries for information. Separately, a panel of local lawmakers in New Delhi have summoned Facebook's top executive in India to answer allegations that it did not properly apply hate speech rules and policies, which had contributed to riots that rocked the city in February.
• Johnson & Johnson's Inc (JNJ). The company's Janssen unit will begin mid-stage trials of its COVID-19 vaccine in Spain on Monday, the programme's lead investigator said. Alberto Borobia said 190 people would take part in the country's trials, which will take place in three hospitals and be concluded by Sept. 22.
• McDonald's Corp (MCD). The global fast food giant plans to expand in Russia's far east in December, opening restaurants in cities such as Khabarovsk and Vladivostok for the first time, the company said. McDonald's did not specify how many new restaurants would open in the region, but said the first phase would create around 300 jobs.
• Merck & Co Inc (MRK). The U.S. drugmaker has begun recruiting participants to its early-stage COVID-19 vaccine study, according to the government database clinicaltrials.gov. The phase 1/2 trial, which is based in Belgium, aims to recruit 260 healthy participants to test the experimental vaccine V591, which it gained access to as part of its May deal for Austrian vaccine maker Themis Bioscience.
• Newmont Corp (NEM). The world's top gold miners are retrenching after COVID-19 related shutdowns despite record prices for the yellow metal, with cost-conscious executives prioritizing investor returns over production growth. Seven out of 10 of the global gold miners, including Newmont, the world's biggest gold miner, Canada's Barrick and South Africa's Gold Fields, have cut planned output for the year by 7%, citing coronavirus-related shutdowns, regulatory filings show.
• Oracle Inc (ORCL) & Microsoft Corp (MSFT). Oracle beat Microsoft in the battle for the U.S. arm of TikTok with a deal structured as a partnership rather than an outright sale to try to navigate geopolitical tensions between Beijing and Washington, people familiar with the matter said. People familiar with the matter told Reuters that ByteDance abandoned the sale of TikTok in the United States and decided to pursue a partnership with Oracle in hopes of avoiding a U.S. ban while appeasing the Chinese government. Meanwhile, Microsoft will on Tuesday launch its Xbox cloud gaming service priced at $1 for new users' first month, in a major drive to attract casual gamers with the promise of cutting ties to the living room and as competition with Sony heats up. Subscribers to Xbox Game Pass Ultimate, priced at $14.99 monthly, will be able to play more than 150 games via the cloud on Xbox consoles, Android devices and PCs.
• Pfizer Inc (PFE) & BioNTech (BNTX). Pfizer and BioNTech on Saturday proposed to the U.S Food and Drug Administration (FDA) to expand their Phase 3 pivotal COVID-19 vaccine trial to about 44,000 participants while increasing the diversity of the trial population. The initial target figure for the trial was up to 30,000 participants, which the companies said they expect to reach by next week.
• Phillips 66 (PSX) & Chevron Corp (CVX). Offshore platforms and one refinery along the U.S. Gulf Coast shut down on Sunday as they prepared for a second hurricane strike in less than a month. Phillips 66 began shutting its Alliance, Louisiana, refinery as Tropical Storm Sally was forecast to pass just west of the plant, 24 miles (38 km) south of New Orleans. Chevron Corp shut the Blind Faith and Petronius platforms and evacuated the workers, it said on Sunday.
• Scientific Games Corp (SGMS). U.S. investor Ronald Perelman is expected to sell his near 40% stake in gambling products company Scientific Games Corp to Australia's Caledonia Investments, the Financial Times reported on Sunday, citing people familiar with the matter. Scientific Games, which had a market capitalization of about $1.8 billion as of Friday close, will be valued at about $2 billion post the deal, according to the report.
• Tiffany & Co (TIF). French Finance Minister Bruno Le Maire said Foreign Minister Jean-Yves Le Drian was within his rights to intervene in LVMH's plans to back out of a takeover of U.S. jeweller Tiffany. "Mr Le Drian took the decision which appeared to him to be the right one," Le Maire told France 2 television, adding that Le Drian was working to protect French interests in his intervention. Both Tiffany and LVMH have started legal action over the state of the deal.
• Town Sports International Inc (CLUB). The owner of New York Sports Clubs, filed for Chapter 11 bankruptcy after the coronavirus pandemic forced its gyms to close and caused revenue to dry up. The company's assets and liabilities were in the range of $500 million to $1 billion, according to a court filing in the U.S. Bankruptcy Court in Delaware.
• Walt Disney Co (DIS). Walt Disney live-action remake of "Mulan" pulled in $23.2 million over the weekend at box offices in China, a slow start for the big-budget epic about a Chinese folk hero in its most important theatrical market. The film has run into controversy for being partly filmed in the Xinjiang region, where China's clampdown on ethnic Uighurs and other Muslims has been criticized by some governments, including the United States, and human rights groups. Separately, Christopher Nolan's "Tenet" crossed the $200 million mark globally, even as U.S. cinemas struggle to draw audiences during the pandemic. Meanwhile, since "Tenet" premiered, Warner Bros., the studio behind the film, has parceled out carefully selected breadcrumbs of data to reporters and rival studios. Traditionally, studios share box office information on a daily basis. That's not the case with "Tenet."

Moves
• Citigroup Inc (C). The company said on Friday it had hired a Bank of America executive to run compliance for its Institutional Clients Group (ICG). Jennifer Taylor will start as chief compliance officer for the ICG in December and will be based in the UK, according to a memo signed by Chief Compliance Officer Mary McNiff and ICG Chief Executive Officer Paco Ybarra.
• Bank of America Corp (BAC). Bank of America China has hired Wenjie Zhang as managing director and president, according to a memo seen by Reuters. Zhang will be based in Shanghai and will be appointed as branch manager of Bank of America Shanghai, subject to regulatory approval, the memo said.


ANALYSIS
Tesla investors should be watching for M&A for S&P inclusion
Tesla investors were disappointed after the company was snubbed in the S&P 500's latest round of inclusions, but the electric automaker's entry could still happen at any time and a merger by others in the benchmark index might help.


ANALYSTS' RECOMMENDATION
• Gilead Sciences Inc (GILD): Piper Sandler raises target price to $95 from $83, saying the acquisition of Immunomedics provides Gilead with the potential to become a solid tumor powerhouse.
• Inhibrx Inc (INBX). Jefferies initiates coverage with buy rating and target price of $30, seeing a large pipeline of Phase I/II immuno-oncology antibodies and lots of efficacy data reading out over the next 6-12 months.
• Lennar Corp (LEN). Barclays raises target price to $84 from $70, on the view that underlying housing trends are much improved.


ECONOMIC EVENTS
No economic indicators are scheduled for release.


COMPANIES REPORTING RESULTS
Lennar Corp (LEN). Expected Q3 earnings of $1.55 per share


CORPORATE EVENTS (All timings in U.S. Eastern Time)
1730 Patterson Companies Inc (PDCO). Annual Shareholders Meeting


EX-DIVIDENDS
Altria Group Inc (MO). Amount $0.86
American Homes 4 Rent (AMH). Amount $0.05
Amphenol Corp (APH). Amount $0.25
Ares Capital Corp (ARCC). Amount $0.40
Atrion Corp (ATRI). Amount $1.75
Bancorpsouth Bank (BXS). Amount $0.18
Best Buy Co Inc (BBY). Amount $0.55
Broadridge Financial Solutions Inc (BR). Amount $0.57
Chesapeake Utilities Corp (CPK). Amount $0.44
Coca-Cola Co (KO). Amount $0.41
Comerica Inc (CMA). Amount $0.68
Community Bank System Inc (CBU). Amount $0.42
Conmed Corp (CNMD). Amount $0.20
Crown Castle International Corp (CCI). Amount $1.20
CSG Systems International Inc (CSGS). Amount $0.23
Domino's Pizza Inc (DPZ). Amount $0.78
Eastman Chemical Co (EMN). Amount $0.66
Ecolab Inc (ECL). Amount $0.47
Extra Space Storage Inc (EXR). Amount $0.90
FBL Financial Group Inc (FFG). Amount $0.50
Franchise Group Inc (FRG). Amount $0.25
GATX Corp (GATX). Amount $0.48
Gilead Sciences Inc (GILD). Amount $0.68
Graphic Packaging Holding Co (GPK). Amount $0.07
Hamilton Lane Inc (HLNE). Amount $0.31
Hess Corp (HES). Amount $0.25
Huntsman Corp (HUN). Amount $0.16
Iron Mountain Inc (IRM). Amount $0.61
Kaman Corp (KAMN). Amount $0.20
KBR Inc (KBR). Amount $0.10
Leggett & Platt Inc (LEG). Amount $0.40
Leidos Holdings Inc (LDOS). Amount $0.34
Maxar Technologies Inc (MAXR). Amount $0.01
Merck & Co Inc (MRK). Amount $0.61
Mercury General Corp (MCY). Amount $0.63
Motorola Solutions Inc (MSI). Amount $0.64
NewMarket Corp (NEU). Amount $1.90
NorthWestern Corp (NWE). Amount $0.60
Occidental Petroleum Corp (OXY). Amount $0.01
Ovintiv Inc (OVV). Amount $0.09
Owens & Minor Inc (OMI). Amount $0.00
Packaging Corp of America (PKG). Amount $0.79
PotlatchDeltic Corp (PCH). Amount $0.40
Prosperity Bancshares Inc (PB). Amount $0.46
PS Business Parks Inc (PSB). Amount $1.05
Royalty Pharma PLC (RPRX). Amount $0.15
Service Corporation International (SCI). Amount $0.19
Simmons First National Corp (SFNC). Amount $0.17
Sixth Street Specialty Lending Inc (TSLX). Amount $0.41
Sonic Automotive Inc (SAH). Amount $0.10
Stewart Information Services Corp (STC). Amount $0.30
T. Rowe Price Group Inc (TROW). Amount $0.90
Thermo Fisher Scientific Inc (TMO). Amount $0.22
UGI Corp (UGI). Amount $0.33
United Community Banks Inc (UCBI). Amount $0.18
Valley National Bancorp (VLY). Amount $0.11
Verisk Analytics Inc (VRSK). Amount $0.27
ViacomCBS Inc (VIAC). Amount $0.24
W. R. Berkley Corp (WRB). Amount $0.12
Worthington Industries Inc (WOR). Amount $0.25
Wyndham Destinations Inc (WYND). Amount $0.30
Wyndham Hotels & Resorts Inc (WH). Amount $0.08
Xcel Energy Inc (XEL). Amount $0.43
Goedemorgen
Een stevige plus zien we via de futures vanmorgen, ook Europa zal hoger starten maar de Tech aandelen trekken zich op via de Nasdaq futures die zo'n 180 punten hoger staat vanmorgen. Nu is het afwachten of die weer volop gekocht worden na de opening van Wall Street vanmiddag. Vorige week hebben we dat ook een aantal keren gezien maar de druk op deze sector kwam steeds weer terug later op de avond. Zo te zien zal de AEX een punt of 4 hoger openen, de DAX rond de 120 punten. Azië sluit vanmorgen ook wat hoger, niet overdreven veel maar wel plussen na de eerste sessie van de week.
De reden van het optimisme lijkt te komen door enkele samensmeltingen van bedrijven, zo wil Gilead het bedrijf Immunomedics overnemen en biedt daarvoor 88 dollar per aandeel wat fors boven de slotkoers van ligt van afgelopen vrijdag. Ook zag ik dat TikTok niet naar Microsoft maar naar Oracle gaat, ook weer een feitje dat positief kan overkomen vandaag voor wat betreft de Tech-reuzen al moet ik dat nog zien. Microsoft zullen ze er in ieder geval niet zo blij van worden, ook Walmart krijgt TikTok dus niet. Merger monday vandaag dus, dat noemt men zo omdat er vaak deals worden gesloten in het weekend en deze keer kwamen er een paar naar buiten. Komt wel vaker voor in een fase waar de markt aan het zoeken is. Nogmaals, het zijn optimistische momenten maar ze moeten nog worden overgenomen later op de dag als de markten open gaan op Wall Street ...
Verder ziet het er technisch nog altijd niet goed uit, Europa ligt er wel wat beter bij dan Wall Street maar hier zijn we ook niet zo hoog uitgekomen uiteraard en zeker niet zoals bij de Nasdaq. De DAX kwam wel even dicht bij de top van februari die rond de 13.825 wacht, de AEX bij lange na nog niet want die top wacht rond de 631 punten ... Het scheelt nogal wat tussen de verschillende indices, zeker wat betreft de AEX maar ook de Dow Jones kon de top van februari nog niet bereiken. Andere indices zoals beide Nasdaq's en de SP 500 deden dat wel ...
Wat kunnen we doen wat betreft nieuwe posities:
Zoals ik al aangaf in de vorige update werden er wat kleine posities opgenomen gisteren, de lopen dus nog en ik zal zien tot waar ik die kan aanhouden. De leden weten de details en wachten dus op een signaal om te sluiten. Men kan eventueel nog mee door lid te worden, er loopt dus een aanbieding voos €39 tot 1 NOVEMBER ...
Lid worden kan via de aanbieding die loopt tot 1 NOVEMBER, lid worden kan nu voor €39, een proefabonnement. Om u in te schrijven ga naar https://www.usmarkets.nl/tradershop en dan staat u meteen op de lijst.
Verder zijn we de maand goed begonnen, na een moeilijke fase komen we deze maand goed op gang. Zie hieronder de tabel met het resultaat van de gesloten posities .... Systeem Trading staat nu al op €866 winst en we gaan voor meer want september duurt nog even ...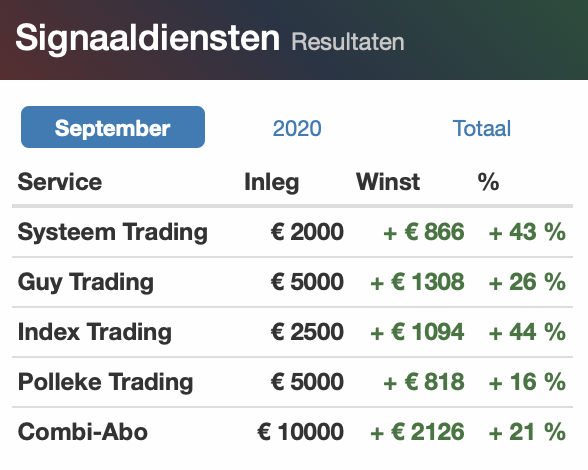 Tot later ... Guy

Van­daag pakken we nog een paar inter­es­sante aan­de­len uit de AEX erbij. Met een retail vast­goedbedri­jf, verzek­er­aar en een biotech bedri­jf zijn de sec­toren mooi gespreid. De bedri­jven welke wij van­daag bek­ijken verte­gen­wo­ordi­gen ongeveer 5% van de AEX.Unibail Uni­bail is de afgelopen…
Lees verder »
GLOBAL TOP NEWS
ByteDance abandoned the sale of TikTok in the United States on Sunday in pursuit of a partnership with Oracle that it hopes will spare it a U.S. ban while appeasing China's government, people familiar with the matter told Reuters.

Nvidia will buy UK-based chip designer Arm from Japan's SoftBank Group for as much as $40 billion, the companies said, in a deal set to reshape the global semiconductor landscape.

Former prime ministers Tony Blair and John Major said on Sunday Britain must drop a "shocking" plan to pass legislation that breaks its divorce treaty with the European Union, in a breach of international law.​


EUROPEAN COMPANY NEWS
Swistzerland's state-backed regional banks' privileges should be scrapped so they pay the same taxes as private banks, Credit Suisse Chief Executive Thomas Gottstein has said.

Lufthansa's Swiss unit could cut up to 15% of its 9,500 jobs if it cannot agree salary cuts with staff as it seeks to meet strict savings targets in the wake of the coronavirus crisis, Swiss weekly Sonntagszeitung said on Sunday.

Britain's leading business group has called on the government to implement green measures to help the economy recover from the coronavirus pandemic, and bring forward policies to enable to country to meet its climate targets.


TODAY'S COMPANY ANNOUNCEMENT
Abcam PLC FY 2020 Earnings Call
Andersen & Martini Holding A/S Shareholders Meeting
Arcadis NV Shareholders Meeting
bet-at-home.com AG HY 2020 Earnings Report
Bilby PLC Annual Shareholders Meeting
Costain Group PLC HY 2020 Earnings Call
Immedia Group PLC Shareholders Meeting
Lexibook Linguistic Electronic System SA Annual Shareholders Meeting
Oeneo SA Annual Shareholders Meeting
Panoply Holdings PLC Annual Shareholders Meeting
Seche Environnement SA HY 2020 Earnings Release
Silence Therapeutics PLC HY 2020 Earnings Call
ECONOMIC EVENTS (All times GMT)1700 (approx.)
Sweden Reg Unemployment Rate for Aug: Prior 9.2%2100
Euro Zone Industrial Production mm for July: Expected 4.0%; Prior 9.1% 2100
Euro Zone Industrial Production yy for July: Expected -8.2%; Prior -12.3%