Liveblog Archief dinsdag 15 september 2020
8 liveblog items op dinsdag 15 september 2020.
S&P 500 GROWTH ISHARES HOLD 50-DAY LINE... A lot has been written about the relationship between growth and value shares...
Deze inhoud is alleen beschikbaar voor betalende leden.
Afgelopen zater­dag maak­te ik een uit­ge­brei­de analyse van de AEX. Deze manier van analy­seren sprak lez­er Mis­ter bluesky waarschi­jn­lijk aan, want in zijn reac­tie ver­zocht hij Arcelor Mit­tal op dezelfde manier te analy­seren. Zo ziet u dat ik alti­jd met uw ver­zoeken reken­ing probeer te houden en dus…
Lees verder »
TOP NEWS
• Google faces grilling on ad business before U.S. Senate antitrust panel
Alphabet's Google will be questioned about its ad business in a hearing, with a particular focus expected on whether it misused its dominance in online advertising to drive profits.
• Fiat Chrysler shares boosted by PSA merger deal revision
Shares in Fiat Chrysler (FCA) rose sharply in Milan after the car maker and French partner PSA revised the terms of their merger deal, with FCA's shareholders getting a smaller cash payout but a stake in another business.
• China's industrial engine gathers speed, consumers open wallets in boost to recovery
China's industrial output accelerated the most in eight months in August, while retail sales grew for the first time this year, suggesting the economic recovery is gathering pace as demand starts to improve more broadly from the coronavirus crisis.
• China coronavirus vaccine may be ready for public in November – official
Coronavirus vaccines being developed in China may be ready for use by the general public as early as November, an official with the Chinese Center for Disease Control and Prevention (CDC) said.
• U.S. crypto, fintech firms to benefit from slimmed down regulatory process
Money transmitters like Western Union, PayPal, and cryptocurrency firms will be able to more easily expand across the United States, after 48 state regulators agreed to a single set of supervisory rules that should reduce their compliance costs.​


BEFORE THE BELL
Futures for Wall Street's major indexes rose, ahead of the U.S. Federal Reserve's two-day meeting, as upbeat data from China revived optimism around an economic rebound. European shares also advanced. Japanese shares closed lower as a stronger yen pressured exporters, while shares in China ended higher. Gold rose, propelled by a softer dollar. Oil prices gained. Industrial output and manufacturing production numbers are due on the economic calendar. Later in the day, Apple is expected to unveil updates to several key products, including the Apple Watch and iPad.


STOCKS TO WATCH
Results
• Lennar Corp (LEN). The U.S. homebuilder topped Wall Street estimates for quarterly profit and revenue as record-low mortgage rates boosted demand from buyers. Lennar said orders rose 16.4% to 15,564 homes in the third quarter. The company sold 13,842 homes in the period, up from 13,522 homes a year earlier, while the average price of homes sold rose to $396,000 from $394,000. Net earnings attributable to the company rose to $666.4 million, or $2.12 per share, in the three months ended Aug. 31, from $513.4 million, or $1.59 per share, a year earlier. That was underpinned by a jump in gross margin on home sales, which rose to 23.1%, from 20.4% a year earlier. Revenue rose marginally to $5.87 billion. Analysts on average had expected Lennar to earn $1.55 per share on revenue of $5.48 billion.​

In Other News
• Alphabet Inc (GOOGL). Google will be questioned about its ad business in a hearing, with a particular focus expected on whether it misused its dominance in online advertising to drive profits. Senator Mike Lee, a Republican and chair of the U.S. Senate Judiciary Committee's antitrust panel, is likely to also press Google on allegations that it is opaque in pricing advertising services, as its critics complain. Separately, Google said it aims to power its data centers and offices using solely carbon-free electricity by 2030, its chief executive told Reuters, building on its previous goal of matching its energy use with 100% renewable energy.
• Berkshire Hathaway Inc (BRKa). BNSF, the railroad unit of Warren Buffett's Berkshire Hathaway, on Monday named Kathryn Farmer as its new chief executive officer, making her the first female CEO of a major U.S. railroad. She will succeed Carl Ice, who is retiring after 42 years at the company, on Jan. 1, 2021.
• BioNTech SE (BNTX). The German biotech firm said it had secured almost $450 million in government funding to speed up work on its COVID-19 vaccine candidate and expand its production capacity in Germany. BioNTech said it had been awarded 375 million euros in funding, after applying under a scheme announced in July by Research Minister Anja Karliczek. It will use the money, which is subject to it reaching certain clinical milestones, to finance part of its COVID-19 vaccine development programme, which it calls BNT162.
• Facebook Inc (FB). The company launched a climate science information center to elevate credible sources on climate change, as critics question its role in the spread of misinformation on the issue. Facebook said the project is modeled on its COVID-19 Information Center, and launched a similar feature last month on voting in preparation for U.S. elections in November.
• Fiat Chrysler Automobiles NV (FCAU). Shares in the Milan-listed company rose sharply in early trade, after the group and Peugeot maker PSA revised the terms of their planned merger. The companies, set to merge into the world's fourth largest carmaker, Stellantis, said late on Monday they wanted to conserve cash and stepped up promised levels of cost cutting.
• L Brands Inc (LB). The company said on Monday British clothing retailer Next Plc would acquire a majority stake in its Victoria's Secret UK business under a newly formed joint venture. L Brands said the joint venture will acquire the majority of the assets of the Victoria's Secret U.K. business and operate all its stores in the country and Ireland. Next will own 51% of the partnership, while Victoria's Secret will own the rest.
• Netflix Inc (NFLX). An Indian court's decision to stall the release of a Netflix series on four Indian tycoons facing fraud allegations "freezes free speech" and hurts the company financially, the U.S. streaming giant has argued in a court filing seen by Reuters. "Bad Boy Billionaires" is a documentary series about liquor tycoon Vijay Mallya, Sahara group's Subrata Roy, Indian IT executive Ramalinga Raju and jeweller Nirav Modi. Netflix put the show on hold this month on order of a state court where Sahara alleged violation of Roy's privacy rights.
• Nikola Corp (NKLA). Nikola and CNH Industrial said on Monday they are working to build prototypes of the EV maker's Tre semi-truck, days after a scathing report from short-seller Hindenburg alleged Nikola of 'fraud'. Meanwhile, the U.S. Securities and Exchange Commission (SEC) is probing Nikola to assess the merits of Hindenburg's allegations that the EV maker misled investors about its business prospects, Bloomberg News reported.
• Uber Technologies Inc (UBER). The taxi app will battle in court to win back its licence to operate in London after the city's transport regulator removed it over safety concerns. Transport for London (TfL) refused in 2019 to grant the Silicon Valley-based company a new licence due to what it called a "pattern of failures" on safety and security, including on driver identification.
• Walmart Inc (WMT). The wealthy in America are expected to splurge online for gifts and home decorations this holiday season, even as the COVID-19 pandemic erodes sales growth to the slowest in at least a decade, according to a forecast from Deloitte. U.S. retail sales are expected to inch up 1% to 1.5% to as much as $1.15 trillion between November and January, led by a 25% to 35% rise in e-commerce sales, the consultancy firm said. Meanwhile, Walmart's Flipkart said it would create 70,000 new jobs and employ many more as delivery partners and in other roles as it prepares for a surge in online shopping during the busy Indian festive season.​


INSIGHT
How ByteDance's CEO balked at selling TikTok's U.S. business
ByteDance founder and CEO Yiming Zhang's decision to drop his pursuit of a sale of TikTok's U.S. operations to Microsoft in favor of a partnership with Oracle was the culmination of pressure from the Beijing-based firm's investors as it searched for a deal to appease the United States and China, according to people familiar with the deliberations.​


ANALYSTS' RECOMMENDATION
• Alphabet Inc (GOOGL). KeyBanc initiates coverage with overweight rating, saying advertising can support the company's annual revenue growth; and cloud success is becoming more evident.
• Immunomedics Inc (IMMU). Jefferies cuts rating to hold from buy, as shares appreciated after the announcement that Gilead Sciences will acquire the company.
• Kroger Co (KR). Credit Suisse raises target price to $36 from $35, citing the company's record Q2 results and enormous guidance increase for 2020.
• NVIDIA Corp (NVDA). Piper Sandler raises target price to $575 from $540, after the company announced it is acquiring the Arm IP business from Softbank for $40 billion.
• VF Corp (VFC). BTIG raises rating to buy from neutral, factoring the company's well positioned brands in Vans and The North Face and a significant uptick in web traffic.


ECONOMIC EVENTS (All timings in U.S. Eastern Time)
0830 NY Fed Manufacturing for Sep: Expected 6.0; Prior 3.70
0830 Import prices mm for Aug: Expected 0.5%; Prior 0.7%
0830 Export prices mm for Aug: Expected 0.4%; Prior 0.8%
0830 (approx.) Import prices yy for Aug: Prior -3.3%
0915 Industrial production mm for Aug: Expected 1.0%; Prior 3.0%
0915 Capacity utilization SA for Aug: Expected 71.4%; Prior 70.6%
0915 Manufacturing output mm for Aug: Expected 1.2%; Prior 3.4%
0915 (approx.) Industrial production yy for Aug: Prior -8.18%


COMPANIES REPORTING RESULTS
FedEx Corp (FDX). Expected Q1 earnings of $2.69 per share
Adobe Inc (ADBE). Expected Q3 earnings of $2.41 per share


CORPORATE EVENTS (All timings in U.S. Eastern Time)
0800 Endava PLC (DAVA). Q4 earnings conference call
0800 ePlus inc (PLUS). Annual Shareholders Meeting
1100 Cracker Barrel Old Country Store Inc (CBRL). Q4 earnings conference call
1100 Lennar Corp (LEN). Q3 earnings conference call
1300 Lions Gate Entertainment Corp (LGFa). Annual Shareholders Meeting
1700 Adobe Inc (ADBE). Q3 earnings conference call
1730 FedEx Corp (FDX). Q1 earnings conference call


EXDIVIDENDS
Ares Management Corp (ARES). Amount $0.40
Cincinnati Financial Corp (CINF). Amount $0.60
Fidelity National Financial Inc (FNF). Amount $0.33
First Financial Bankshares Inc (FFIN). Amount $0.13
FS KKR Capital Corp (FSK). Amount $0.60
Hillenbrand Inc (HI). Amount $0.21
Horace Mann Educators Corp (HMN). Amount $0.30
Intercontinental Exchange Inc (ICE). Amount $0.30
Marten Transport Ltd (MRTN). Amount $0.04
New Mountain Finance Corp (NMFC). Amount $0.30
News Corp (NWS). Amount $0.10
Qurate Retail Inc (QRTEA). Amount $1.50
Rayonier Inc (RYN). Amount $0.27
Renasant Corp (RNST). Amount $0.22
Telephone and Data Systems Inc (TDS). Amount $0.17
Universal Display Corp (OLED). Amount $0.15
Vistra Corp (VST). Amount $0.13
Western Union Co (WU). Amount $0.22
Winnebago Industries Inc (WGO). Amount $0.12
Actueel
Verwacht
Vorige
DEU

DEU:

Duitse ZEW Economisch Sentiment (Sep)
11:00
77,4
69,8
71,5
Actueel: 77,4 Verwacht: 69,8 Vorige: 71,5
Goedemorgen
Wall Street kende door een M&A dag (Merger and Acquisitions) een sterk verloop, vooral bij de Nasdaq zien we een stevig herstel na de slechte week waar de correctie meer en meer vorm kreeg. De stijging hield stand tot het slot, weinig druk omlaag gezien in de loop van de dag, toen Wall Street open ging om 15:30 kwam er zelfs nog een stevige plus bij. Dat in tegenstelling tot Europa waar we hier eerst wel hoger openden maar waar alle winst werd ingeleverd om vlak tot iets lager te sluiten. De AEX kon er nog net een plusje uitpersen (0,4 punt) maar de DAX sloot 9 punten lager. Weer divergentie tussen de regio's, Wall Street dus in een herstel beweging maar we zien wel dat de Dow Jones nog ruim 1200 punten onder de top van deze maand staat, de Nasdaq staat zelfs nog 1100 punten onder de top van deze maand (12.440).
Het is nu afwachten hoe de markt zich verder zal gedragen, wat duidelijk is nu dat de correctie nog altijd gaande is en dat de opleving van gisteren een opleving tijdens de daling kan zijn. Dat zal de komende 2-3 sessies moeten blijken want de correctie van 5% op de Dow en 10% op de Nasdaq gaf al het signaal dat het wel eens over zou kunnen zijn met de te hoog gewaardeerde aandelen en dus vooral die TOP-8 groep. Trouwens vielen Tesla met een stijging van 12.5% en Nvidia met bijna 6% winst nogal op, Tesla komt van een diepe terugval weer wat terug terwijl Nvidia een overname van Arm Holdings voor 40 miljard, zoals ik al aangaf een echte Merger Monday gisteren met ook andere overnames en fusies in het vooruitzicht.
We gaan de komende sessies zien hoe de markt zal verlopen, Wall Street kan dan wel een sterke dag achter de rug hebben maar technisch bekeken ziet het er allemaal wat minder sterk uit. De Dow hangt tussen het 20- en 50-daags gemiddelde nu, de Nasdaq zien we rond het 50-daags gemiddelde waar de index nu mee in gevecht is. De SP 500 zien we wat opveren vanaf de 50-daags.
Kijken we technisch naar de AEX index dan valt het op dat de index maar niet losgeraakt van de zware weerstand door zowel het 20-, 50- en 200-daags gemiddelde, de index zal daarvoor boven de 562-565 punten moeten zien te geraken en dan voor een langere periode. Momenteel ligt de AEX er nog steeds zwakjes bij. Wat dat betreft ligt de DAX er beter bij, de DAX staat dan wel net boven die MA's, net als de AEX maar dan aan de andere kant van de lijnen. Alles ligt dicht bij elkaar want onder de 13.000 punten ziet het er voor wat betreft de DAX ook snel minder goed uit. Ik denk dat de markten nog een duik omlaag gaan nemen later deze week, we gaan het zien en we zitten in ieder geval al goed gepositioneerd wat betreft de posities die open staan ... Wel nog wat geduld houden nu ...
Wat kunnen we doen wat betreft nieuwe posities:
Zoals ik al aangaf in de vorige update werden er wat kleine posities opgenomen gisteren, de lopen dus nog en ik zal zien tot waar ik die kan aanhouden. De leden weten de details en wachten dus op een signaal om te sluiten. Men kan eventueel nog mee door lid te worden, er loopt dus een aanbieding voos €39 tot 1 NOVEMBER ...
Lid worden kan via de aanbieding die loopt tot 1 NOVEMBER, lid worden kan nu voor €39, een proefabonnement. Om u in te schrijven ga naar https://www.usmarkets.nl/tradershop en dan staat u meteen op de lijst.
Verder zijn we de maand goed begonnen, na een moeilijke fase komen we deze maand goed op gang. Zie hieronder de tabel met het resultaat van de gesloten posities .... Systeem Trading staat nu al op €866 winst en we gaan voor meer want september duurt nog even ...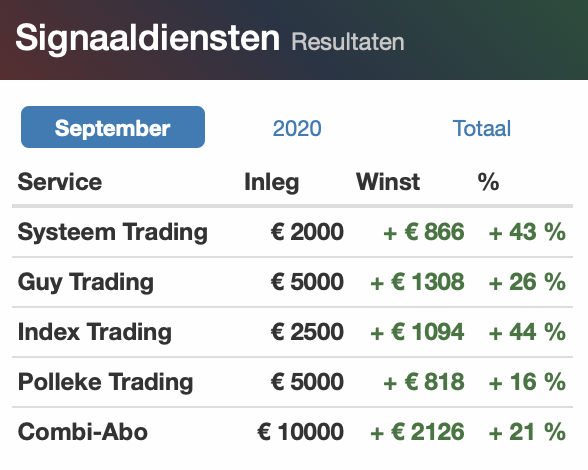 Tot later ... Guy

Beste beleggers,
De markt laat nog altijd wat divergentie zien waardoor Europa vrijdag wat hoger eindigde terwijl Wall Street via de techreuzen nog steeds in een moeilijke fase zit. De weging van die tech giganten is en blijft zwaar op alle grote indexen maar dan vooral bij de Nasdaq en de Nasdaq 100, en bij de SP 500 index. We krijgen te maken met extra volatiliteit en dan voor het eerst sinds lange tijd ook in de negatieve richting, correcties bleven eerst uit, nu zien we die elkaar wel snel opvolgen. Hoe dan ook, het handelen wordt erdoor beter, zo weten we meer hoe we de markt kunnen aanpakken wat ik ook doe, de start van deze maand (september) werd al met wat posities goed opgepakt, er lopen weer wat nieuwe posities die het tot nu toe goed doen ...
Door de volatiliteit die nu weer op gang komt kunnen we redelijk snel en goed handelen met kleine posities. Bij de aandelen portefeuille ga ik waar het kan wat aandelen of Turbo's op aandelen opnemen want daar lopen er na vorige. week vrijdag ook geen posities meer. Bij Guy Trading kan ik ook met wat bekende aandelen werken en waar het kan ook met de olie, het goud en de euro. Kansen genoeg dus de komende tijd en ik wil de maand september goed aanpakken wat betreft de posities, de mogelijkheden die er komen en dat zowal LONG als SHORT want aan beide kanten voorzie ik de nodige kansen ... Deze maand staan we al met een winst van €866 bij Systeem Trading, Guy Trading haalt al €1308 deze maand. Ik doe er alles aan om via nog wat posities het resultaat proberen hoger te krijgen, in ieder geval ziet september er al prima uit tot nu toe ...
Probeer nu US Markets Trading voor €39 tot 1 NOVEMBER, dat is bijna 2 maanden dat u de signalen die worden verstuurd naar de leden kunt opvolgen, ook de updates en vooral de coaching wat betreft de markten krijgt u dan. Als u zich vandaag nog inschrijft dan kunt u meteen de laatste updates bekijken en inloggen op de ledenbox ( Beursbox en FORUM ) op de site.
Ga naar https://www.usmarkets.nl/tradershop
En schrijf u meteen in via deze nieuwe aanbieding ...
Met vriendelijke groet,
US Markets Trading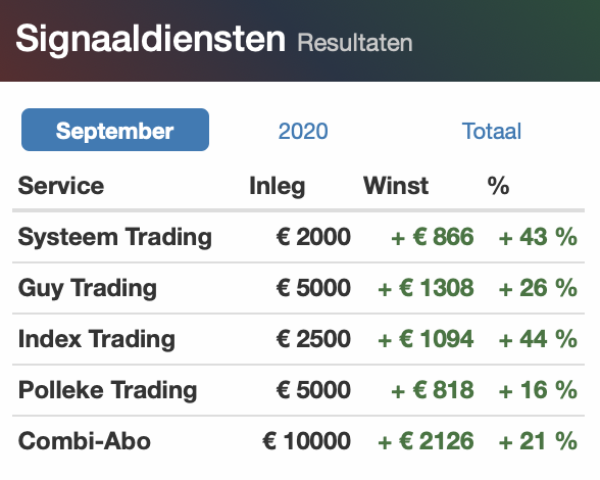 GLOBAL TOP NEWS
British Prime Minister Boris Johnson lashed out at the European Union on Monday as he won initial approval for a plan to breach the Brexit treaty, saying the move was needed because the bloc had refused to take a "revolver off the table" in trade talks.

China's industrial output accelerated the most in eight months in August, while retail sales grew for the first time this year, suggesting the economic recovery is gathering pace as demand starts to improve more broadly from the coronavirus crisis.

Joe Biden branded President Donald Trump a "climate arsonist" on Monday for refusing to acknowledge global warming's role in deadly wildfires sweeping the western United States, while Trump blamed lax forestry and declared, "I don't think science knows."

EUROPEAN COMPANY NEWS
AstraZeneca's COVID-19 vaccine trial remains on hold in the United States pending a U.S. investigation into a serious side effect in Britain even as other trials of the vaccine resume, sources familiar with the details told Reuters.

Daimler will pay $2.2 billion violating U.S. clean air laws and to resolve claims from 250,000 U.S. vehicle owners, court documents show.

Investors managing trillions in assets and more than 120 business leaders called on the European Union to commit to cut emissions by at least 55% by 2030, saying anything less would fail to unlock the private financing needed.​


TODAY'S COMPANY ANNOUNCEMENTS
Cohort PLC Annual Shareholders Meeting
D2l Groupe SA Annual Shareholders Meeting
Dietswell SA Annual Shareholders Meeting
Downing One VCT PLC Annual Shareholders Meeting
FirstGroup PLC Annual Shareholders Meeting
Halfords Group PLC Annual Shareholders Meeting
Helvetia Holding AG HY 2020 Earnings Call
Jtc PLC HY 2020 Earnings Call
Marshalls PLC HY 2020 Earnings Release
Myovant Sciences Ltd Annual Shareholders Meeting
Poxel SA HY 2020 Earnings Call
Salvatore Ferragamo SpA Q2 2020 Earnings Call
Seche Environnement SA HY 2020 Earnings Call
SME Credit Realisation Fund Ltd Annual Shareholders Meeting
Vectura Group PLC HY 2020 Earnings Call


ECONOMIC EVENTS (All times GMT)0600 (approx.)
United Kingdom Claimant Count Unemployment Change for Aug: Expected 100,000; Prior 94,4000600 (approx.)
United Kingdom ILO Unemployment Rate for Jul: Expected 4.1%; Prior 3.9%0600 (approx.)
United Kingdom Employment Change for Jul: Expected -125,000; Prior -220,0000600 (approx.)
United Kingdom Avg Wk Earnings 3M yy for Jul: Expected -1.3%; Prior -1.2%0600 (approx.)
United Kingdom Avg Earnings (Ex-Bonus) for Jul: Expected -0.2%; Prior -0.2%0630
Switzerland Producer/Import Price mm for Aug: Prior 0.1%0630
Switzerland Producer/Import Price yy for Aug: Prior -3.3%0645
France CPI (EU Norm) Final mm for Aug: Expected -0.1%; Prior -0.1%0645
France CPI (EU Norm) Final yy for Aug: Expected 0.2%; Prior 0.2%0645
France Inflation Ex-Tobacco mm for Aug: Prior 0.4%0645 (approx.)
France Inflation Ex-Tobacco Idx for Aug: Prior 104.440645 (approx.)
France CPI yy NSA for Aug: Prior 0.2%0645 (approx.)
France CPI mm NSA for Aug: Prior -0.1%0645 (approx.)
France CPI NSA for Aug: Prior 105.190730
Sweden Unemployment Rate for Aug: Prior 8.9%0730
Sweden Unemployment Rate SA for Aug: Expected 9.2%; Prior 9.2%0730
Sweden Total Employment for Aug: Prior 5.150 mln0800 (approx.)
Italy CPI Excl Tobacco for Aug: Prior 102.30800 (approx.)
Italy CPI Excl Tobacco mm for Aug: Prior -0.4%0800 (approx.)
Italy Consumer Prices Final mm for Aug: Expected 0.3%; Prior 0.3%0800 (approx.)
Italy Consumer Prices Final yy for Aug: Expected -0.5%; Prior -0.5%0800 (approx.)
Italy CPI (EU Norm) Final mm for Aug: Expected -1.3%; Prior -1.3%0800 (approx.)
Italy CPI (EU Norm) Final yy for Aug: Expected -0.5%; Prior -0.5%0900
Germany ZEW Economic Sentiment for Sep: Expected 69.8; Prior 71.50900
Germany ZEW Current Conditions for Sep: Expected -72.0; Prior -81.30900
Euro Zone Labour Costs yy for Q2: Prior 3.4%0900
Euro Zone Wages In Euro Zone for Q2: Prior 3.4%0900 (approx.)
Euro Zone ZEW Survey Expectations for Sep: Prior 64.01000 (approx.)
Euro Zone Reserve Assets Total for Aug: Prior 922.98 bln EUR