Liveblog Archief maandag 22 februari 2021
5 liveblog items op maandag 22 februari 2021.
TOP NEWS
• Boeing recommends airlines suspend use of some 777s after United incident
Boeing urged airlines to suspend the use of 777 jets with the same type of engine that shed debris over Denver at the weekend after U.S. regulators announced extra inspections and Japan suspended their use while considering further action.

• OPEC, U.S. oil firms expect subdued shale rebound even as crude prices rise
OPEC and U.S. oil companies see a limited rebound in shale oil supply this year as top U.S. producers freeze output despite rising prices, a decision that would help OPEC and its allies.

• Biden to revise small business loans to reach smaller, minority firms, says official
U.S. President Joe Biden will launch changes on Monday to the main U.S. coronavirus aid program for small businesses to try to reach smaller, minority-owned firms and sole proprietors left behind in previous rounds of aid.

• Australia says no further Facebook, Google amendments as final vote nears
Australia will not alter legislation that would make Facebook and Alphabet's Google pay news outlets for content, a senior lawmaker said , as Canberra neared a final vote on whether to pass the bill into law.

• Texas utilities can't stick customers with huge bills after storm -Abbott
Texas utility regulators will temporarily ban power companies from billing customers or disconnecting them for non-payment, after the deadly winter storm that caused widespread blackouts, Governor Greg Abbott said.


BEFORE THE BELL
U.S. stock index futures slipped, mirroring global equities, as investors were cautious over higher treasury yields and prospects of rising inflation due to vaccine-led global economic recovery. Japanese shares jumped, snapping a three-day losing streak, as hopes of recovery lifted cheap cyclical stocks. The dollar inched down, while gold prices gained. Oil prices rose as concerns remained over the return of storm-hit U.S. crude output.


STOCKS TO WATCH
Results
• AngloGold Ashanti Ltd: The company joined gold mining peers in boosting payouts to shareholders after reporting a leap in annual earnings thanks to surging gold prices. The Johannesburg-listed miner declared a full-year dividend of 7.05 rand per share, more than five times the 2019 dividend when translated into U.S. cents. AngloGold Ashanti reported headline earnings for the full-year 2020 were 238 U.S. cents per share, more than double the 91 U.S. cents per share reported in 2019. All-in sustaining costs increased 6.1%, from $998 per ounce to $1059 per ounce, AngloGold said, with most of that increase due to the pandemic. AngloGold would be interested in acquiring the remaining 30% of Australia's Tropicana from its joint venture partner IGO "at the right value," Christine Ramon said. "We're keeping a watching brief on that," she said, adding that AngloGold has a pre-emptive right to the stake which IGO has been reviewing since September.

• Sasol Ltd: The South African petrochemical firm said it has decided not to pursue a rights issue of up to $2 billion after significant progress in its turnaround strategy. "A decision was made not to pursue a rights issue given the current macro-economic outlook, and the significant progress made on our response plan initiatives," the company said. The company said it was able to repay around 28 billion rand of debt in the six months ended December 2020, despite low crude oil prices, softer chemical prices, plant downtime and the COVID-19 crisis impacting cash flow. Sasol also reported half-year core headline earnings per share (HEPS), which takes into account its black empowerment transaction and losses from the ramp-up phase of its U.S LCCP Base Chemicals business, down 15% at 7.86 rand, compared with 9.25 rand a year earlier. While adjusted EBITDA fell 6% to 18.608 billion rand, weighed down by a 23% decrease in the rand-per-barrel oil price during the period.

In Other News
• Algonquin Power & Utilities Corp: The company said that some of its wind farms in Texas were hit by the deep freeze that has engulfed parts of the United States, causing power outages in the biggest energy-producing state. Algonquin said it expects the potential hit from the deep freeze on the company's adjusted core earnings for this year to be between $45 million and $55 million, or about 5% to 6% of 2019's earnings. The company said it has declared force majeure on contracts and is assessing other potential mitigating options

• Alphabet Inc: The company's Google fired staff scientist Margaret Mitchell, they both said, a move that fanned company divisions on academic freedom and diversity that were on display since its December dismissal of AI ethics researcher Timnit Gebru. Google said in a statement Mitchell violated the company's code of conduct and security policies by moving electronic files outside the company. Mitchell, who announced her firing on Twitter, did not respond to a request for comment. Gebru said Google fired her after she questioned an order not to publish a study saying AI that mimics language could hurt marginalized populations. Mitchell, a co-author of the paper, publicly criticized the company for firing Gebru and undermining the credibility of her work. The company said Mitchell's firing followed disciplinary recommendations by investigators and a review committee. Separately, Google will evaluate the performance of its vice presidents and above on team diversity and inclusion starting this year, the company said in one of several responses to concerns about its treatment of a Black scientist.

• Alphabet Inc & Facebook Inc: Australia will not alter legislation that would make Facebook and Alphabet's Google pay news outlets for content, a senior lawmaker said, as Canberra neared a final vote on whether to pass the bill into law. Australia and the tech giants have been in a stand-off over the legislation widely seen as setting a global precedent. Talks between Australia and Facebook over the weekend yielded no breakthrough. "The bill as it stands ... meets the right balance," Simon Birmingham, Australia's Minister for Finance, told Australian Broadcasting Corp Radio. The bill in its present form ensures "Australian-generated news content by Australian-generated news organisations can and should be paid for and done so in a fair and legitimate way". The laws would give the government the right to appoint an arbitrator to set content licencing fees if private negotiations fail. A Facebook representative declined to comment on the legislation, which passed the lower house last week and has majority support in the Senate.

• Alibaba Group Holding Ltd: China's bank regulator on Saturday tightened requirements on the internet loan business of commercial banks, amid heightened scrutiny of online lending by internet giants such as Ant Group Co, the finance arm of Alibaba Group. Commercial banks must jointly contribute funds to issue internet loans with a partner, and the proportion of capital from the partner in a loan should not be less than 30%, the China Banking and Insurance Regulatory Commission said in a notice. The balance of internet loans issued by a bank with one partner, including its related parties, must not exceed 25% of the bank's net tier-one capital, it said. In addition, the balance of internet loans issued jointly by commercial banks and cooperative institutions may not exceed 50% of the bank's total balance, the guidelines state.

• Amazon.com Inc: India's Supreme Court barred a final ruling by a tribunal reviewing Future Group's $3.4 billion sale of retail assets until the top court hears objections from aggrieved partner Amazon.com, three sources said. Amazon appealed to the Supreme Court this month against Future Group's sale to market leader Reliance Industries, accusing its partner of violating contracts by agreeing to the sale. Three people familiar with the proceedings said the Supreme Court ordered that while the tribunal can continue to review the deal and oversee the approval process, it could not pass a final order while the court hears Amazon's concerns. Amazon declined to comment, while Future Group and Reliance did not immediately respond to a request for comment.

• AT&T Inc, Comcast Corp, Microsoft Corp & Walmart Inc: Ten U.S. corporations slashed donations to candidates seeking federal office by more than 90% in January, after pledging to cut off giving to the Republicans who supported former President Donald Trump's attempt to overturn his election defeat. None of the political action committees of 10 major companies reviewed by Reuters, including Microsoft, Walmart, AT&T and Comcast, donated to any of the 147 congressional Republicans who voted to support Trump's claims just hours after his supporters launched a deadly assault on the U.S. Capitol. Disclosures to the Federal Election Commission ahead of a Saturday filing deadline showed the group of corporate PACs affiliated with those 10 companies made $13,000 in new donations to candidates in January. The reports were the first by the PACs to detail contributions made since the Jan. 6 Capitol attack.

• Baidu Inc: The Chinese search engine giant and automaker Geely hired Mobike co-founder and former chief technology officer Xia Yiping as chief executive of their new electric vehicle venture, Baidu said. "Xia has extensive management experience in the field of smart cars and mobility services," Baidu said. "We welcome Xia Yiping to join Baidu's auto company and look forward to his contribution to Baidu and the automobile industry." Xia served as Mobike's chief technology officer until the company was acquired by food delivery giant Meituan in 2018. Prior to Mobike, he worked at Ford Motor and Fiat Chrysler.

• BlackRock Inc: The company will beef up its process to investigate workers' concerns and expand training after former employees shared accounts on social media of racial and sexual harassment. Manish Mehta, BlackRock's global head of human resources, outlined the changes in a note sent firmwide on Thursday and shared by a company spokesman on Friday. Mehta wrote that "While we strive for a culture of respect and belonging, some of our people have experienced the firm in a way that is not inclusive. Whether the behaviors that cause this are intended or not, they are not acceptable and impact our colleagues and culture." In a statement sent by a spokesman BlackRock said it reviewed the claims byformer BlackRock analyst Essma Bengabsia "but did not find she had been the subject of discrimination or harassment."

• Boeing Co, Raytheon Technologies Corp & Unites Airlines Holdings Inc: Boeing urged airlines to suspend the use of 777 jets with the same type of engine that shed debris over Denver at the weekend after U.S. regulators announced extra inspections and Japan suspended their use while considering further action. The moves involving Pratt & Whitney PW4000 engines came after a United Airlines 777's right engine failed on Saturday, scattering its protective outer casing over a residential area. United said the next day it would voluntarily and temporarily remove its 24 active planes, hours before Boeing's announcement. Boeing said 69 of the 777 planes with PW4000 engines were in service and 59 were stored, at a time when airlines have grounded planes due to a plunge in demand associated with the COVID-19 pandemic. The manufacturer recommended airlines suspend operating them until U.S. regulators identified the appropriate inspection protocol. Pratt & Whitney, owned by Raytheon, said it was coordinating with operators and regulators to support a revised inspection interval for the engines. Separately, an incident involving a Boeing 747-400 cargo plane that dropped engine parts after a mid-air explosion and fire over the southern Netherlands on Saturday is under investigation, the Dutch Safety Board said.

• Citigroup Inc: The bank is considering divesting some international consumer units, Bloomberg Law reported, citing people familiar with the matter. "As our incoming CEO Jane Fraser said in January, we are undertaking a dispassionate and thorough review of our strategy," a Citigroup spokesperson told Reuters. "Many different options are being considered and we will take the right amount of time before making any decisions." The move, part of Fraser's attempt to simplify the bank, can see units in South Korea, Thailand, the Philippines and Australia being divested, the Bloomberg report said. However, no decision has been made, according to the report.

• Chesapeake Energy Corp & Pioneer Natural Resources Co: OPEC and U.S. oil companies see a limited rebound in shale oil supply this year as top U.S. producers freeze output despite rising prices, a decision that would help OPEC and its allies. OPEC this month cut its 2021 forecast for U.S. tight crude, another term for shale, and expects production to decline by 140,000 barrels per day to 7.16 million bpd. The U.S. government expects shale output in March to fall about 78,000 bpd to 7.5 million bpd. "In this new era, (shale) requires a different mindset," Doug Lawler, chief executive of shale pioneer Chesapeake Energy, said in an interview. "It requires more discipline and responsibility with respect to generating cash for our stakeholders and shareholders." The chief executive of shale producer Pioneer Natural Resources, Scott Sheffield, said he expects small companies to increase output but in the aggregate U.S. output will remain flat to 1% higher even at $60 per barrel.

• Chevron Corp: Singapore's Pavilion Energy Trading & Supply said it signed a six-year sale and purchase agreement with company for about 0.5 million tonnes per year of LNG supplies from 2023. Pavilion Energy, owned by Singapore state-owned investment company Temasek Holdings, struck the deal with Chevron's Singapore branch. Each cargo supplied to Singapore under the agreement will be accompanied by a statement of its greenhouse gas emissions (GHG) measured from wellhead to discharge port, Pavilion Energy said in a statement.

• Ebix Inc: The software supplier said RSM US had resigned as the company's registered public accounting firm, sending shares down in extended trade. RSM told Ebix's audit committee chairman it was resigning as a result of being unable to obtain sufficient evidence to evaluate the business purpose of "significant unusual transactions" in the fourth quarter of 2020, according to a regulatory filing. The auditor informed Ebix that there was a disagreement with respect to the classification of $30 million and flagged unusual transactions concerning Ebix's gift card business in India. Internal control over financial reporting was not effective as of Dec. 31, 2020 due to the identification of a material weakness, RSM said in its resignation letter on Feb. 15. "The Company intends to move as quickly as possible to replace RSM and to complete its 2020 financial audit," Ebix added.

• Exxon Mobil Corp & Valero Energy Corp: The largest U.S. oil refiners released tons of air pollutants into the skies over Texas this past week, according to figures provided to the state, as refineries and petrochemical plants in the region scrambled to shut production during frigid weather. An arctic air mass that spread into an area unused to such low temperatures killed at least two dozen people in Texas and knocked out power to more than 4 million at its peak. It also hit natural gas and electric generation, cutting supplies needed to run the plants along the U.S. Gulf Coast. Valero Energy said in a filing with the TCEQ that it released 78,000 pounds over 24 hours beginning last Monday from its Port Arthur, Texas, refinery, citing the frigid cold and interruptions in utility services. Exxon Mobil said its Baytown Olefins Plant emitted nearly a ton of benzene and 68,000 tons of carbon monoxide, citing in its disclosure the halting of "multiple process units and safe utilization of the flare system." Meanwhile, Valero Energy began restarting the East Plant of its 290,000 barrel-per-day (bpd) Corpus Christi, Texas, oil refinery on Sunday, according to a notice filed with the Texas Commission on Environmental Quality (TCEQ).

• HSBC Holdings PLC: The bank is set to withdraw from U.S. retail banking, a source familiar with the matter told Reuters, as Europe's biggest bank seeks to dispose of a business that has long underperformed. The exit from the U.S. consumer business will form part of the lender's strategy update due on Tuesday, as Chief Executive Noel Quinn seeks to cut costs, boost fee income and continue the lender's shift towards Asia. The sale or closure of its around 150 remaining branches in the United States would mark the end of HSBC's struggle to turn around a business which has struggled to make inroads against incumbent domestic rivals. Ahead of the strategy update Quinn reshuffled several of his senior lieutenants. HSBC appointed Nuno Matos as chief executive of its wealth and personal banking business, while chief compliance officer Colin Bell became head of HSBC's European business. Michael Roberts was appointed CEO for the United States and Americas, while Stephen Moss will move to Dubai as head of the Middle East, North Africa and Turkey business, the bank said.

• Kohl's Corp: A group of activist investors with about 9.5% stake in the company is attempting to take control of the department store chain's board, The Wall Street Journal reported on Sunday. Investors including Macellum Advisors, Ancora Holdings, Legion Partners Asset Management, and 4010 Capital had earlier this year nominated nine people to its now-12-person board, the newspaper said, citing people familiar with the matter. These activist investors are calling on Kohl's to take a range of actions, including adding directors with retail experience who can work with Michelle Gass, the company's CEO. They are also asking Kohl's to consider a sale-leaseback of some of its more than $7 billion in noncore real estate, the Journal said, citing people familiar with the matter and a letter viewed by the outlet, which the group plans to send to shareholders. A Kohl's representative told Reuters that the company's board and management team have been engaged in discussions with the investor group since early December and "remain open to hearing new ideas."

• Lockheed Martin Corp: Saudi Arabian Military Industries (SAMI) has signed an agreement to set up a joint venture with U.S. firm Lockheed Martin to enhance the kingdom's defence and manufacturing capabilities, the state-owned Saudi company said on Sunday. SAMI, which is owned by the Saudi state's Public Investment Fund (PIF), will own 51% of the venture. "The new agreement will develop localised capabilities by transferring technology and knowledge, and by training a Saudi workforce in manufacturing products for, and providing services to, the Saudi armed forces," the statement said. Saudi is one of the world's largest buyers of foreign arms.

• M&T Bank Corp & People's United Financial Inc: M&T Bank is nearing an agreement to merge with People's United Financial, with the two companies discussing an all-stock deal that could be finalized as soon as this week, the Wall Street Journal reported, citing people familiar with the matter. The banks will have more than $200 billion in assets combined, according to the report. People's United has a market value of about $6.6 billion, while M&T's is over $19 billion. The combined company is likely to be led by M&T Chief Executive René Jones and maintain a significant corporate presence in Bridgeport, the newspaper said.

• Orange SA: The chief executive of the company' Spain division has called on the Spanish government to cut the price of 5G frequencies that are to be auctioned in March, El Pais newspaper reported on Sunday. Jean-François Fallacher, head of the French telecoms firm in Spain, said if the government reduced the current asking price of $1.42 billion for 5G frequencies it could encourage investment in the sector. "Recently, the Secretary of State for Telecommunications, Roberto Sánchez, suggested (the government) may review that price," he told El Pais newspaper. He added: "We have always said that this auction should not have an objective that could compromise the investments necessary for the 5G deployment." Fallacher said the telecoms sector was "excessively taxed" in Spain, citing a report by Ernst & Young which said the country levied one of highest number of taxes on operators in Europe.

• Petroleo Brasileiro SA: Brazilian President Jair Bolsonaro moved to replace the head of state-run oil company Petrobras, naming a retired army general with no oil and gas experience as CEO after weeks of clashes with the current chief executive over fuel price hikes. In a late Friday statement from the Mines and Energy Ministry, first shared on Bolsonaro's Facebook page, the government said it had decided to appoint former Defense Minister Joaquim Silva e Luna to run Petroleo Brasileiro SA, as the firm is known formally. The company's senior management is considering resigning en masse to protest the CEO's replacement, three people close to the executives told Reuters on Friday evening. Petrobras said in a statement that it had received notice from the Mines and Energy Ministry about the proposed CEO change, adding that the ministry had requested an extraordinary shareholders' meeting.

• Principal Financial Group Inc: Activist investor Elliott Management has taken a stake in the company and plans to push for changes at the life Insurance company, Bloomberg reported late on Sunday, citing sources. The New York-based hedge fund is nearing a deal that will grant it seats on Principal Financial's board and plans to launch a strategic review of the insurer's portfolio that could include a sale of part of the business, the report said. The companies did not immediately respond to requests for comment on the news.

• Starboard Value Acquisition Corp: Private equity-backed data center provider Cyxtera Technologies said it has agreed to go public through a merger with a blank-check firm backed by shareholder activist Starboard Value, in a deal valuing the combined entity at $3.4 billion. As part of the deal with Starboard Value Acquisition, Cyxtera will receive $654 million, including $250 million from private investors such as Fidelity Management & Research Company and clients of Starboard. Cyxtera will be listed on the Nasdaq under the new ticker symbol "CYXT" after the merger.

• TC PipeLines LP: The company's largest independent unitholder, Energy Income Partners, said it plans to vote against the $1.68 billion merger with Keystone pipeline owner TC Energy, saying the deal undervalues the company's assets. Energy Income Partners has more than 10% stake, which makes it the largest 'non-affiliated' unitholder. It said the deal is "inadequate" and "significantly undervalues" TCP's organic growth opportunities. Calgary-based TC Energy owns about 24% stake in TC PipeLines through the Master Limited Partnership's (MLP) general partner. The deal, which is expected to close late in the current quarter, will require approval by unitholders at a special meeting set by TC PipeLines for Feb. 26.


ANALYSIS
Fed's Powell set table for Biden economy, but will he stay for dessert?
Over the past year Federal Reserve Chair Jerome Powell has engineered the largest economic rescue in U.S. history, thrown a controversial lifeline to companies hard hit by the coronavirus pandemic and steered a sweeping labor-friendly revamp of monetary policy that any presidential administration would welcome.


ANALYSTS' RECOMMENDATION
• Aptargroup Inc: Jefferies raises target price to $135 from $128, stating that the company's productivity initiatives and new product launches will trigger a rebound in growth.

• CVR Energy Inc: JPMorgan raises target price to $27 from $17, citing the company's higher EBITDA forecast as its forays into renewable diesel to drive growth.

• Deere & Co: Credit Suisse raises target price to $403 from $343, following the company's better-than-expected first-quarter results and a strong order book.

• Ecolab Inc: Jefferies raises target price to $220 from $200, saying the company higher margin forecast following its ongoing restructuring activities.


ECONOMIC EVENTS (All timings in U.S. Eastern Time)
0830 (approx.) National Activity Index for Jan: Prior 0.52
1000 (approx.) Leading index change mm for Jan : Expected 0.4%; Prior 0.3%
1030 (approx.) Dallas Fed Manufacturing Business Index for Feb: Prior 7.00


COMPANIES REPORTING RESULTS
Cadence Design Systems Inc: Expected Q4 earnings of 74 cents per share
Diamondback Energy Inc: Expected Q4 earnings of 81 cents per share
Extra Space Storage Inc: Expected Q4 earnings of 90 cents per share
Ingersoll Rand Inc: Expected Q4 earnings of 45 cents per share
Marathon Oil Corp: Expected Q4 loss of 20 cents per share
Occidental Petroleum Corp: Expected Q4 loss of 59 cents per share
ONEOK Inc: Expected Q4 earnings of 73 cents per share
Realty Income Corp: Expected Q4 earnings of 34 cents per share
Republic Services Inc: Expected Q4 earnings of 82 cents per share
Royal Caribbean Cruises Ltd: Expected Q4 loss of $5.20 per share
SBA Communications Corp: Expected Q4 earnings of 52 cents per share
Williams Companies Inc: Expected Q4 earnings of 31 cents per share


CORPORATE EVENTS (All timings in U.S. Eastern Time)
0800 Discovery Inc: Q4 earnings conference call
0800 Viatris Inc: Q1 earnings conference call
0830 KBR Inc: Q4 earnings conference call
1000 Royal Caribbean Cruises Ltd: Q4 earnings conference call
1200 DISH Network Corp: Q4 earnings conference call
1630 Air Lease Corp: Q4 earnings conference call
1630 Five9 Inc: Q4 earnings conference call
1630 Freshpet Inc: Q4 earnings conference call
1630 Palo Alto Networks Inc: Q2 earnings conference call
1630 ZoomInfo Technologies Inc: Q4 earnings conference call
1700 Bigcommerce Holdings Inc.: Q4 earnings conference call
1700 Cadence Design Systems Inc: Q4 earnings conference call
1700 Republic Services Inc: Q4 earnings conference call
1700 SBA Communications Corp: Q4 earnings conference call
1700 Trex Company Inc: Q4 earnings conference call
2000 Agora Inc: FY earnings conference call


EX-DIVIDENDS
Brunswick Corp: Amount $0.27
Johnson & Johnson: Amount $1.01
Snap-On Inc: Amount $1.23
Actueel
Verwacht
Vorige
DEU

DEU:

Duitse Ifo Bedrijfsklimaat Index (Feb)
10:00
92,4
90,5
90,1
Actueel: 92,4 Verwacht: 90,5 Vorige: 90,1
Bar­rick Gold Een van de groot­ste goud­pro­du­cen­ten van goud, Bar­rick Gold, kwam augus­tus vorig jaar in het nieuws. De wel­bek­ende War­ren Buf­fet nam dit bedri­jf op in de port­fo­lio. Dat zelfs hij het niet alti­jd bij het rechte eind heeft blijkt. Enkele dagen gele­den kwam er naar buiten dat de positie…
Lees verder »
Goedemorgen
Europa laat voorbeurs wat verkoopdruk zien ten opzichte van de slotstanden van afgelopen vrijdag. De DAX kan een punt of 60 lager openen, de AEX 5 punten gezien de indicaties. De futures op Wall Street leveren vanmorgen ook wat in, de SP future staat 22 punten lager terwijl de Nasdaq 100 future 120 punten lager staat. Verder zien we de Dow future 130 punten lager staat terwijl de Brent olie 1% hoger de week start. De euro zien we rond de 1.211 dollar aan de week begint.

Wat er momenteel speelt is de duidelijk oplopende rentes in de VS en dat samen met de nog steeds tegenvallende werkloosheidscijfers. Ook deze week zullen deze feiten weer meespelen maar hou er rekening mee dat de markt nog altijd binnen een range beweegt zonder dat er een uitbraak komt.

Vrijdag kregen we nog een verdeeld beeld van de markt met Europa omhoog terwijl de indices op Wall Street later op de avond wat moesten inleveren. Het lijkt erop dat het vooral de koopjesjagers waren die de markten in Europa vrijdag hoger wisten te zetten, op Wall Street was dat niet het geval. Gedurende de dag stond Wall Street eerst nog wat hoger maar de verkoopdruk kwam later in de avond weer op gang waardoor er op slotbasis toch nog een aantal indices met verlies sluiten.
Vrijdag won de AEX 5,7 punten, de DAX won 106 punten. De Franse CAC 40 won 45 punten, zoals u merkt in Europa een mooie hersteldag na de verliezen van donderdag. Op Wall Street zien we een vreemd verloop want de Nasdaq Composite won 9 punten terwijl de Nasdaq 100 juist 57 punten moest inleveren.
Inflatie VS stevig omhoog:
De vraag is of de inflatie een bedreiging kan gaan vormen voor het verdere verloop van de aandelenmarkten? Het antwoord daarop is ja want de FED zal hierop moeten reageren met een renteverhoging. Die stappen in de rente zien we in feite al op de obligatiemarkt, de rente stijgt best snel merk ik en dat was de afgelopen week de reden waardoor alles wat onder druk kwam te staan en dan meteen ook de grote bedrijven binnen de techsector laten het dan meteen een beetje afweten.
Dat de inflatieverwachtingen de afgelopen weken dramatisch zijn gestegen ziet u hieronder via de grafiek. De obligatiemarkt voorziet momenteel dat het gemiddeld inflatiepercentage de komende 10 jaar hoger uitkomt dan dat bekeken over de 5 jaar. Vorig jaar rond deze tijd bedroeg de verwachte 10-jaars inflatie slechts 0,50% maar gedurende de afgelopen week liep het al op tot 2,24% wat een behoorlijk hoog niveau is.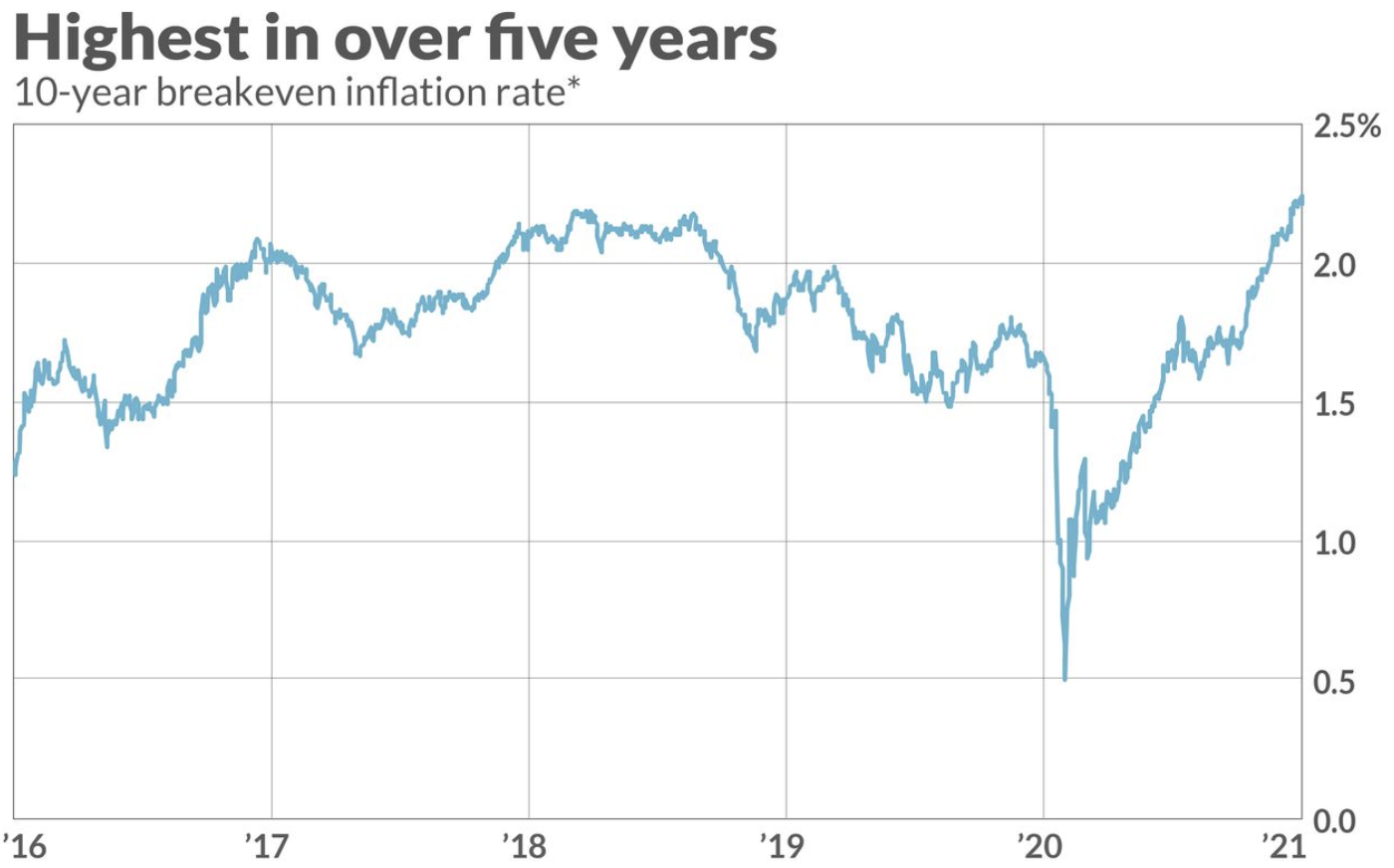 De indices blijven in de WIG hangen:
Over het geheel bekeken een minder sterke week op de beurs maar alle indices blijven nog binnen de bekende WIG en dan blijven de correcties en oplevingen binnen de bekende range. De afgelopen week heb ik daar dan ook op kunnen inspelen met wat posities en dat blijf ik doen, waar het kan onderin LONG en bovenaan SHORT. Daarom heb ik een redelijke winst kunnen behalen op de posities vorige week, een keer met een short positie en een keer met een long positie.
Waardering, technische conditie markt:
Ik blijf vooral kijken naar hoe de markt er momenteel voorstaat en hoe die fundamenteel in elkaar zit. Ook technisch zie ik overal moeilijkheden ontstaan. Normaal gezien komt er een draai net als de vorige keren dat de indices bovenaan in de WIG stonden en we zien dat deze draai nu bezig is. De meer voor de hand liggende vraag waar we nu mee zitten is of die steun het ook deze keer kan houden? Ik kijk vooral naar wat de Nasdaq of vooral die TOP-8 gaat doen de komende periode, dat zal enorm belangrijk zijn voor het verdere verloop.
De daling die nu bezig is zal waarschijnlijk een terugval van minimaal 2 tot 3% teweeg brengen maar als de markt vooral onder leiding van de tech sector verder doorzakt groeit de kans op een 8 tot 12% correctie. Het gevaar zal zich pas uiten zodra iedereen door dezelfde deur naar buiten wil ofwel zodra er onrust komt. We gaan dat denk ik snel genoeg merken, zakt de markt (nog) niet door dan is de kans redelijk groot dat we nog een keer de bovenkant van de WIG gaan opzoeken en dan krijgen weer iets hogere toppen en dus records ...
De afgelopen week enkele posities goed kunnen sluiten:
Deze maand verloopt naar wens, voor de 3e maand op rij is er winst maar de markt blijft moeilijk en uitdagend zodat ik voorzichtig moet blijven. We mogen ook niet teveel willen, je moet de markt rustig benaderen en kalm blijven. Nu lopen er dus geen posities meer, ik zal naar nieuwe mogelijkheden zoeken en die komen er snel weer aan merk ik. Meedoen kan door lid te worden via de nieuwe aanbieding tot 1 MEI !!! en dat voor €39 ...

De LIVEBLOG en. Twitter:
Via de LIVEBLOG en tussendoor ook via mijn Twitter account laat ik gedurende de dag ook wat grafiekjes met korte uitleg voorbij komen over de markt. Op Twitter kunt u mij volgen via @USMarkets dan kunt u deze snelle informatie die ik deel uiteraard ook inzien .... https://twitter.com/USMarkets , ook opvallende beursfeiten komen er vaak langs !
Euro, olie en goud:
De euro zien we nu rond de 1.211 dollar, de prijs van een vat Brent olie komt uit op 62,8 dollar terwijl een troy ounce goud nu op 1790 dollar staat.

Inter Market overzicht op slotbasis ...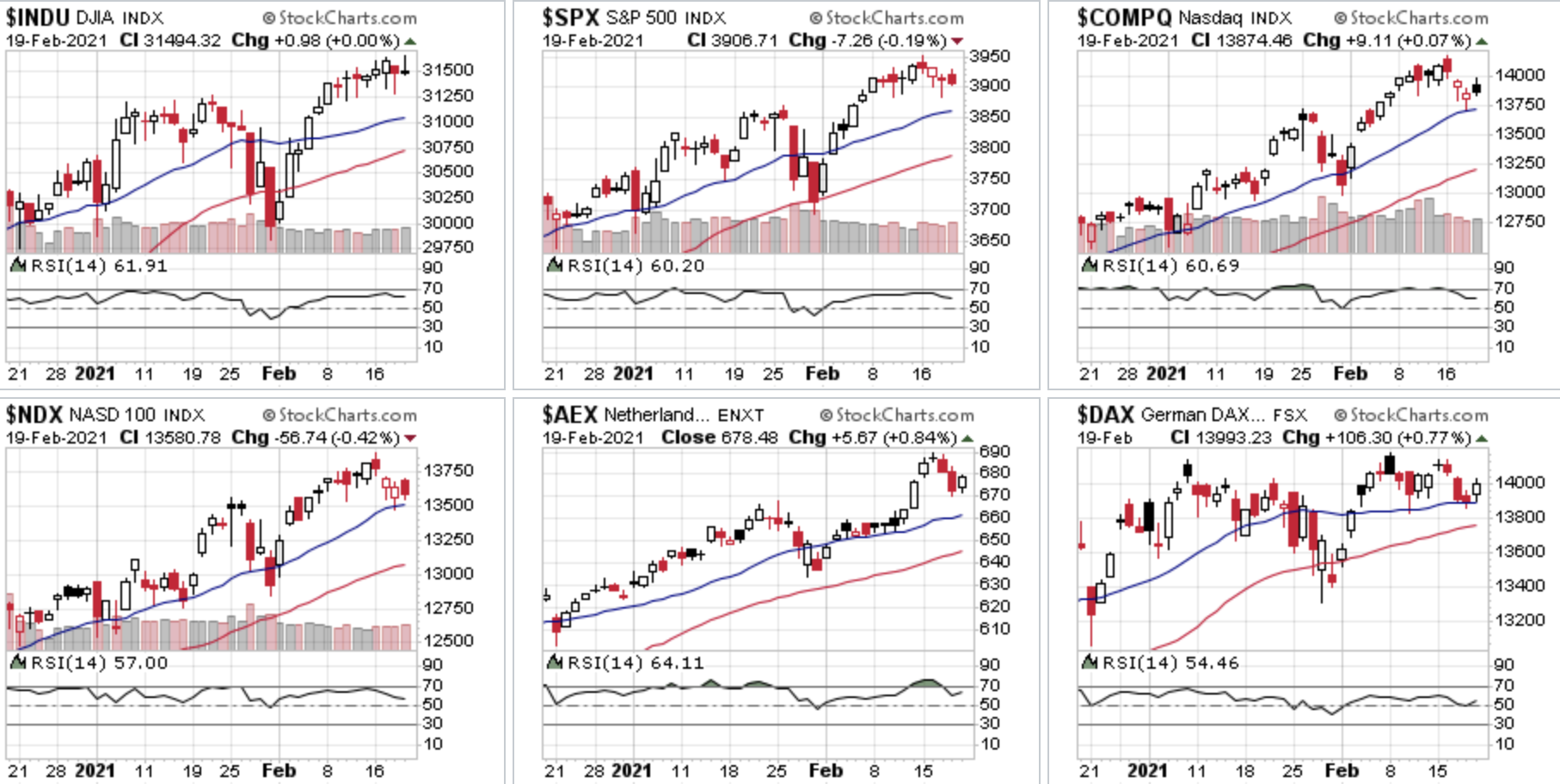 Wordt nu lid tot 1 MEI voor €39 (nieuwe aanbieding):
Blijven schakelen tussen long en short blijft daarbij belangrijk de komende weken. Ook deze maand komen er nog genoeg kansen. Doe nu in ieder geval mee met de proef aanbieding voor nieuwe leden, die loopt tot 1 MEI en dat met een mooie korting !! ... €39 tot 1 MEI 2021 ... en voor Polleke €49 tot 1 MEI 2021 !!!
Schrijf u in voor Systeem Trading (€39 tot 1 MEI)
Schrijf u in voor Index Trading (€39 tot 1 MEI)
Schrijf u in voor Guy Trading (€39 tot 1 MEI)
Schrijf u in voor Polleke Trading (€49 tot 1 MEI)
Schrijf u in voor de Aandelen portefeuille (€30 tot 1 MEI)
Schrijf u in voor COMBI TRADING (€79 tot 1 MEI)

Hieronder het resultaat tot nu toe dit jaar (2021) ...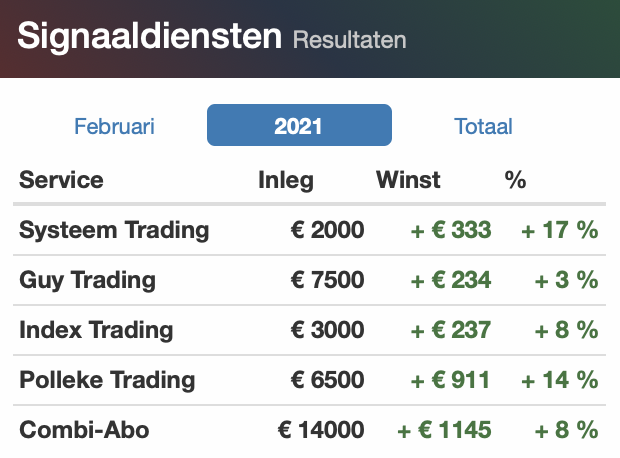 Met vriendelijke groet,
Guy Boscart
GLOBAL TOP NEWS
British Prime Minister Boris Johnson will plot a path out of COVID-19 lockdown in an effort to gradually reopen the battered $3 trillion economy, aided by one of the fastest vaccine rollouts in the world.

Boeing said it recommended suspending the use of 777 jets with the same type of engine that shed debris over Denver at the weekend after U.S. regulators announced extra inspections and Japan suspended their use while considering further action.

The U.N. nuclear watchdog said on Sunday it had struck a deal with Iran to cushion the blow of steps Tehran plans to take this week that include ending snap inspections, with both sides agreeing to keep "necessary" monitoring for up to three months.


EUROPEAN COMPANY NEWS
Electric hypercar maker Rimac Automobili and Volkswagen's supercar brand Bugatti are a good technological fit, Porsche's CEO told German weekly Automobilwoche, fuelling hopes that a deal between the two could happen soon.

Cairn Energy said it had discussed multiple proposals with Indian government officials in recent days in an attempt to find a "swift solution" to a long drawn-out tax dispute with the South Asian nation.

The chief executive of Orange Spain has called on the Spanish government to cut the price of 5G frequencies that are to be auctioned in March, El Pais newspaper reported on Sunday.


TODAY'S COMPANY ANNOUNCEMENTS
Almirall SA FY 2020 Earnings Call
Antares Vision SpA Shareholders Meeting
B&S Group SA FY 2020 Earnings Call
Banca Carige SpA Cassa di Risparmio di Genova e Imperia Shareholders Meeting
Contango Holdings PLC Annual Shareholders Meeting
Dechra Pharmaceuticals PLC HY 2021 Earnings Call
Faurecia SE FY 2020 Earnings Call
Galp Energia SGPS SA Q4 2020 Earnings Call
GasLog Ltd and GasLog Partners LP Q4 2020 Earnings Call
Recordati Industria Chimica e Farmaceutica SpA Q4 2020 Earnings Call
Sabien Technology Group PLC Shareholders Meeting
Transocean Ltd Q4 2020 Earnings Release


ECONOMIC EVENTS (All times GMT)
0800 (approx.) Switzerland M3 for Jan : Prior 1,141,566 mln
0900 (approx.) Germany Ifo Business Climate New for Feb: Expected 90.5; Prior 90.1
0900 (approx.) Germany Ifo Current Conditions New for Feb: Expected 89.0; Prior 89.2
0900 (approx.) Germany Ifo Expectations New for Feb: Expected 91.8; Prior 91.1
1400 (approx.) Belgium Leading Indicator for Feb: Prior -7.5