Liveblog Archief vrijdag 30 juli 2021
4 liveblog items op vrijdag 30 juli 2021.
TOP NEWS
• Fed's Powell bets economy will navigate new coronavirus surge
Federal Reserve Chair Jerome Powell's belief that the U.S. economy has "learned to handle" the coronavirus and won't be swamped in a fresh wave of infections or by rising inflation may get tested in coming weeks as schools reopen, supply chains remain clogged, and federal unemployment benefits wane.

• Chevron tops profit estimates, joins share buyback stampede
Chevron reported its highest profit in six quarters and joined an oil industry stampede to reward investors with share buybacks, as rebounding crude oil prices carried earnings and cash flow to pre-pandemic levels.

• Caterpillar adjusted profit rises as economic growth drives demand
Caterpillar reported a rise in second-quarter adjusted profit, as a recovery in global economic activity from pandemic lows fueled demand for its heavy machinery and construction equipment.

• U.S. regulator freezes Chinese company IPOs over risk disclosures -sources
The U.S. Securities and Exchange Commission has stopped processing registrations of U.S. initial public offerings (IPOs) and other sales of securities by Chinese companies while it crafts new guidance for disclosing to investors the risk of a new regulatory crackdown by Beijing, according to people familiar with the matter.

• Restaurant Brands revenue beats estimates on Burger King sales boost
Burger King parent Restaurant Brands beat estimates for quarterly revenue, as more customers ate out after COVID-19 restrictions in Canada and the United States were eased.


BEFORE THE BELL
Wall Street futures fell, while investors turned to a key inflation report for cues on the pace of a domestic economic recovery. European stocks dropped from record highs as concerns about the fast-spreading Delta variant and regulatory actions in China outweighed optimism around quarterly earnings season and an economic recovery. Japan's Nikkei closed at its lowest since the start of the year. The dollar was little changed as dovish remarks by the U.S. Federal Reserve together with underwhelming economic data took the steam out of a month-long rally. Gold prices slipped. Oil prices were in the red.


STOCKS TO WATCH

Results
• Amazon.com Inc: The company on Thursday said sales growth would slow in the next few quarters as customers venture more outside the home, a tepid start to CEO Andy Jassy's reign after 27 years with Jeff Bezos at the retailer's helm. Spending growth by Prime members, Amazon.com's most valuable customers, has eased as well, the company said. Revenue was $113 billion for the second quarter, shy of analysts' average estimate of $115 billion, according to IBES data from Refinitiv. Profit rose 48% to $7.8 billion, the second-largest Amazon ever announced. Amazon expects this lower growth to continue for the next few quarters, Brian Olsavsky, Amazon's chief financial officer, told reporters. Olsavsky said he expects wage pressure to stay for the near future, as industry reopenings, government payments and back-to-school impact individuals' willingness to work.

• Banco Bilbao Vizcaya Argentaria SA: Spain's BBVA posted a 10% rise in second-quarter net profit on lower provisions as the global economy recovers from the pandemic while rival Caixabank booked a loss due to restructuring charges. BBVA reported a net profit of 701 million euros in the quarter. Analysts polled by Reuters had expected the bank to book a net profit of 361 million euros. "While we are still in a period with some uncertainty, I'm optimistic activity and risk indicators will continue to benefit from the economic improvement in virtually all of our markets," BBVA's Chief Executive Officer Onur Genc said in a video posted on the bank's website.

• Caterpillar Inc: The company reported a rise in second-quarter adjusted profit, as a recovery in global economic activity from pandemic lows fueled demand for its heavy machinery and construction equipment. The company, an industrial bellwether and proxy for global economic activity, has been benefiting from higher infrastructure spending around the globe, particularly in China. Adjusted profit for the three months ended June 30 rose to $2.60 per share, from $1.27 per share, a year earlier. Revenue rose to $12.89 billion from $9.997 billion.

• Chevron Corp: The oil company reported its highest profit in six quarters and joined an oil industry stampede to reward investors with share buybacks, as rebounding crude oil prices carried earnings and cash flow to pre-pandemic levels. Share buybacks will resume this quarter at an annual rate of between $2 billion and $3 billion, said Chief Executive Michael Wirth in a statement, about half the annual rate it had planned. The company suspended purchases early last year as the pandemic cut oil demand. It reported an adjusted profit of $3.27 billion, or $1.71 per share, compared with a loss of $2.92 billion, or $1.56 per share, the same quarter a year ago. Year-ago results included writedowns. Earnings topped Wall Street estimates of a $1.50 a profit, according to Zacks consensus of eight analysts.

• Gilead Sciences Inc: The drugmaker on Thursday posted a higher-than-expected second-quarter profit, helped by strong demand for its COVID-19 antiviral treatment, Veklury, but sales of its flagship HIV drugs lagged as the pandemic continued to limit visits to doctors. Sales of HIV medicines, which have stalled during the coronavirus pandemic, fell 2% to $3.9 billion. For full-year 2021, Gilead narrowed its forecast for adjusted earnings per share to $6.90 to $7.25 from its prior projection of $6.75 to $7.45. The company said it now expects product sales for the year of $24.4 billion to $25 billion, compared with a previous estimate of $23.7 billion to $25.1 billion.

• Linde PLC: The world's largest industrial gas company raised its full-year guidance for the second time this year, citing higher pricing and strong volumes across all segments as well as a rebound in its cyclical businesses. The group's second-quarter adjusted earnings per share came in at $2.70, above the $2.54 forecast from analysts polled by Refinitiv, and beating its own guidance of $2.50-$2.55. For the third quarter, Linde expects adjusted diluted earnings per share in the range of $2.60 to $2.70, up 21% to 26% year-on-year, and 34% to 39% above the pre-pandemic second quarter of 2019. Linde had already hiked its 2021 earnings outlook in May, as a strong performance in its healthcare business helped it beat first-quarter forecasts.

• Mizuho Financial Group Inc: The Japanese bank said net profit doubled in the first quarter of its financial year as credit-related costs - the scourge of last year - evaporated. Japan's third-largest lender by assets reported April-June profit of 250.5 billion yen, compared with 122.4 billion yen in the same period a year earlier. For the current financial year through March 2022, Mizuho reiterated a forecast for profit of 510 billion yen. That compared with the 521 billion yen average of nine analyst estimates compiled by Refinitiv. Mizuho's net interest income - mainly derived from its traditional lending business - was 222.8 billion yen in the first quarter, an on-year rise of 3.6%, due in part to a surge in demand for financial services from companies striving to overcome pandemic fallout.

• Natwest Group PLC: The bank accelerated returning cash to shareholders after a return to profit, rounding out a week of vastly improved earnings for British banks as the pandemic-battered economy reopens. The state-backed bank said it would pay an interim dividend of 3 pence per share and carry out a share buyback of 750 million pounds, returning over 1.1 billion pounds in total to shareholders. The bank also raised its target for investor payouts to at least 1 billion pounds a year, up from 800 million pounds previously. NatWest CEO Alison Rose has cut costs, including scaling back the investment bank NatWest Markets, since taking on the role two years ago. Income at NatWest Markets plunged 60% in the period, as it continues to slash its fixed income business, while pandemic-related trading was less frenzied than in the prior year.

• Nomura Holdings Inc: Japan's biggest brokerage and investment bank reported a 66% drop in first-quarter net profit due to a slowdown in the trading business and a previously flagged loss from the Archegos debacle. Trading revenue was weak particularly in fixed-income markets compared with the same period last year, when unprecedented volatility during the early months of the COVID-19 pandemic led clients to reposition portfolios, boosting trading volume. "The fixed income business has normalised from the boom a year ago," Chief Financial Officer Takumi Kitamura said at a briefing. "But we are not so pessimistic about the business outlook," he added, citing possible events ahead that could spark portfolio repositioning, such as the restart of economic activity and potential central-bank tapering.

• Pearson PLC: The global education group launched a new Spotify-style "all-you-can-eat" college app in the United States, the centrepiece of its new digital strategy to build direct ties with learners throughout life. Chief Executive Andy Bird, a former Disney executive who has launched the new strategy, said Pearson+ was designed to offer the same ease of use as the high-end entertainment and media apps that students are used to. "The ambition for Pearson+ is quite large. It has been designed to create what is the beginning of a digital learning ecosystem," Bird told reporters, adding that it could also include sections for assessments and qualifications. Bird said the group was also in advanced talks with several large companies, looking to provide training for employees.

• Pinterest Inc: The company on Thursday said user growth in the United States was decelerating as people who used the platform for crafts and DIY projects during the height of the pandemic are stepping out more as curbs ease. "For the past year, we've highlighted how people came to Pinterest for inspiration to reinvent their lives during such a difficult time. Now as the world opens up, we're seeing the similar effect in the opposite direction," Chief Executive Officer Ben Silbermann said during a call with analysts. Total revenue more than doubled to $613 million in the quarter versus analysts' average estimates of $562.1 million.

• Restaurant Brands International Inc: The Burger King parent beat estimates for quarterly revenue, as more customers ate out after COVID-19 restrictions in Canada and the United States were eased. For Restaurant Brands, same-store sales at Tim Hortons — its biggest revenue maker — jumped 27.6% in the second quarter, while those at Burger King rose 18.2%. Net income attributable to common shareholders rose to $259 million, or 84 cents per share, from $106 million, or 35 cents per share, a year earlier. The company's total revenue increased to $1.44 billion in the second quarter ended June 30, compared with $1.05 billion a year earlier. IBES data from Refinitiv had estimated revenue of $1.37 billion.

• Sumitomo Mitsui Financial Group Inc: The company reported more than doubled net profit in the first quarter due to a sharp decline of credit-related costs as financial conditions improve at pandemic-hit corporate Japan. Profit reached 203.2 billion yen for the three months through June, versus 86.1 billion yen in the same period a year earlier, Japan's second-largest lender by assets said in a filing to the stock exchange. For the full year through March, SMFG reiterated its forecast for profit of 600 billion yen. That compared with the 646.4 billion yen average of 10 analyst estimates compiled by Refinitiv.

• T-Mobile US Inc: The company said on Thursday it added more monthly-bill-paying phone subscribers than expected during the second quarter, helped by higher demand for 5G-related services and devices driven by remote working and learning trends. The wireless carrier's subscriber growth also got a boost from its stores reopening and the customer base from its acquired peer Sprint. T-Mobile expects 2021 postpaid net customer additions between 5 million and 5.3 million, compared with prior forecast of 4.4 million to 4.9 million, it said. Total revenue rose about 13% to $19.95 billion, compared with estimates of $19.34 billion, according to IBES data from Refinitiv.

• Turquoise Hill Resources Ltd: The Canadian miner on Thursday beat estimates for second-quarter profit, bolstered by a strong output from the Oyu Tolgoi mine in Mongolia and higher prices of copper and gold. Turquoise Hill's copper production from Oyu Tolgoi stood at 36,735 tonnes in the quarter, compared with 36,495 ounces last year. Its gold output more than tripled to 113,054 ounces. Turquoise Hill's all-in sustaining costs fell 32% to $1.48 per pound of copper produced in the quarter. Its income attributable to the owners of the company was $96.9 million, or 48 cents per share, for the three months ended June 30, compared with $72.6 million, or 36 cents per share, a year earlier.

Deals Of The Day
• Qualtrics International Inc: The company on Thursday said it would acquire privately held Clarabridge for $1.1 billion in stock. "Customers, employees, they're sharing feedback about companies everywhere. They're doing on social media, they're doing it on support calls, they're doing it on chats, they're doing it in product reviews - everywhere," Qualtrics Chief Executive Zig Serafin told Reuters in an interview. The $1.125 billion acquisition price will be paid via fixed number of Qualtrics' class A shares at $37.33 per share, slightly below Qualtrics closing price of $39.81 per share on Wednesday. Qualtrics said that privately held Clarabridge had about $100 million in annual revenue, with a sales growth rate of about 25%.

Moves
• Procter & Gamble Co: The company on Thursday named Chief Operating Officer and long-time executive Jon Moeller head of the consumer products giant, as it battles rising costs. Moeller will succeed CEO David Taylor, who will take on the role of P&G's executive chairman on Nov. 1. In his 33 years at the company, Moeller has served as chief financial officer and vice chairman among other top roles. Analysts at brokerage Bernstein warned that the cost picture for P&G has continued to deteriorate over the past few months, and the outlook for fiscal year 2022 is "seriously bleak". Shailesh Jejurikar, CEO of P&G's largest business unit named Fabric & Home Care sector, will take over as chief operating officer from Oct. 1, the company said.

In Other News
• Alphabet Inc & Microsoft Corp: Google has asked a judge hearing the Justice Department's antitrust lawsuit against the search and advertising giant to compel Microsoft to turn over documents, saying it has failed to comply with a subpoena, according to a court filing unsealed late Thursday. Google served a subpoena to Microsoft more than three months ago, seeking documents regarding Microsoft's Bing search engine as well as its Internet Explorer and Edge but has not received them, the filing said. "In particular, there are nineteen Microsoft employees who held important positions relating to activities at the core of this case but whose files Microsoft refuses to commit to search at this time," Google said in the filing. Separately, Elon Musk's brain-chip startup, Neuralink, has raised $205 million in a funding round led by Dubai-based venture capital firm Vy Capital, with participation from Alphabet's Google Ventures, the company said on Thursday.

• Apple Inc & Taiwan Semiconductor Manufacturing Co Ltd: Apple's chip supplier said that some of its production lines in southern Taiwan were hit by a contamination of gases used in the chipmaking process. TSMC does not expect the incident to have significant impact on operations, it said in an emailed statement to Reuters. Nikkei, which first reported the news, said the company's most advanced chipmaking facility, Fab 18, was hit. It added that all of the latest processors for the upcoming iPhones and Mac computers were produced there. "To ensure that there will be no issues with production quality, TSMC is currently carrying out stringent follow-up operations," the company added.

• AstraZeneca PLC: Trials mixing a first dose of the Russian-made Sputnik V vaccine with AstraZeneca's shot revealed no serious side effects and no subsequent cases of coronavirus among volunteers, the Russian Direct Investment Fund (RDIF) said. The trial involved 50 people and began in Azerbaijan in February, RDIF, which is responsible for marketing Sputnik V vaccine abroad, said in the statement. Full results of the trial, including data on the immune response produced by the combination vaccine, would be published next month, RDIF said. Meanwhile, Japan approved the administration of AstraZeneca's COVID-19 vaccine after a few months' pause due to fears about potential side effects, local media reported.

• BHP Group Ltd: The global miner said it would build two solar farms and a battery storage system in partnership with Canada's TransAlta Renewables at its nickel project site in Western Australia. BHP said the project will help reduce carbon emissions by 12% compared with 2020 levels at its Mt Keith and Leinster operations, where power is currently being generated through diesel and gas turbines. The proposed solar farms will also help produce sustainable low-carbon nickel used in electric-vehicle batteries, BHP said, for which the company signed a supply agreement with Tesla last week. BHP said the construction of the farms is scheduled to begin in the second quarter of 2022 and would take 12 to 14 months for completion.

• Biogen Inc: The company and partner Eisai on Thursday revealed the design of an upcoming study of their controversial Alzheimer's treatment, Aduhelm. The study, designed to collect real-world, long-term effectiveness and safety data on Aduhelm, will enroll 6,000 patients over fours years in the United States, according to details released during the Alzheimer's Association International Conference. Patients in the trial will be monitored for up to five years. Biogen said the main goal of the current study will be to evaluate how well Aduhelm slows the progress of Alzheimer's in dosed patients.

• Canadian Pacific Railway Ltd, Canadian National Railway Co & Kansas City Southern: Canadian Pacific Railway on Thursday asked Kansas City Southern shareholders to vote against a deal with Canadian National Railway at a meeting next month. Kansas City shareholders should reject Canadian National's $33.6 billion bid as there are regulatory risks involved, Canadian Pacific said in a regulatory filing, adding that the proposed acquisition can be decided later. The terms of Canadian National's deal would bind Kansas City shareholders with the merger agreement until next year, "instead of being free to pursue other opportunities that may be in the best interests of KCS stockholders," Canadian Pacific Railway said.

• Credit Suisse Group AG: The Swiss bank, recently hit by the Archegos and Greensill scandals, has created a new role of chief risk officer for asset management that will be filled by Wolfram Peters, former chief risk officer at Allianz Global Investors, executives of the Swiss bank said in an internal memo seen by Reuters. Peters, who left Allianz in April according to LinkedIn, will begin his new role at Credit Suisse on Sept. 1. He previously spent 16 years in various risk roles at Allianz Global Investors, the asset management arm of German insurer Allianz. "Wolfram brings with him a proven track record of developing high-performing teams and designing and implementing a risk architecture that supported a transforming organization in the implementation of a rapidly developing business strategy," Koerner and interim group risk chief Joachim Oechslin told employees in a joint memo.

• Hilton Worldwide Holdings Inc: A bipartisan U.S. congressional commission has called on Hilton not to allow its name to be associated with a hotel project on the site of a mosque bulldozed by authorities in China's Xinjiang region, where Washington says minority Muslims have been victims of genocide. In a letter on Thursday to Christopher Nassetta, president and CEO of Hilton, Democratic Senator Jeff Merkley and Representative Jim McGovern raised concerns about reports that a Hampton by Hilton hotel was being constructed on the site of the mosque destroyed in 2018 in Xinjiang's Hotan prefecture. The letter, a copy of which was made available to Reuters, said the destruction of Uyghur religious and cultural sites had contributed to the U.S. government's determination that genocide and crimes against humanity were being perpetrated against Muslims in Xinjiang. "Hilton should not allow its name to be used to perpetuate and promote the cultural erasure and repression of the millions of Uyghurs living in the XUAR," it said.

• Liberty Global PLC: French telecoms firm Iliad, which recently bought Polish mobile operator Play, said it had made an indicative offer for the whole of Liberty Global's Polish fixed internet operator UPC. The bid for 100% of UPC Poland's shares gives the company an enterprise value of 7.3 billion zlotys, Iliad said. Iliad said the bid's valuation was based on estimated earnings before interest, tax, depreciation and amortisation (EBITDA) of 782 million zlotys in 2021 for UPC Poland. "In line with our ambition to become a true convergent player in Poland, we're currently looking at different options on our broadband activity," Iliad's chief executive Thomas Reynaud said in a call with investors.

• Microsoft Corp: The company is in advanced talks to invest in Indian hotel chain Oyo at a $9 billion valuation, a source familiar with the matter said on Thursday. The deal could be announced in the coming weeks and would be a prelude to an initial public offering (IPO) by Oyo, the source said. Founder and Chief Executive Officer Ritesh Agarwal said earlier this month that Oyo would consider a potential public offering, but did not provide a timeline. The deal may involve Oyo shifting to use Microsoft's cloud services, TechCrunch reported earlier on Thursday, citing people familiar with the matter.

• Pfizer Inc: Thailand received its first batch of 1.5 million doses of Pfizer COVID-19 vaccines donated by the U.S. government, as the Southeast Asian country battles its biggest COVID-19 outbreak to date. "Our government noticed how quickly the Delta variant has been spreading in this country and the severe conditions that are being faced right now by your health workers," U.S. Charge d'Affaires in Thailand Michael Heath told a news conference. The United States will send another one million doses of COVID-19 vaccine in addition to the batch that was received, he added.

• PG&E Corp: The company said late on Thursday it disagreed with a Northern California prosecutor who said that criminal charges will be filed in last year's Zogg Fire, arguing the California grid operator had already resolved civil claims with the affected county. Shasta County District Attorney Stephanie Bridgett said in a Facebook post that PG&E was "criminally liable" for the fire, Bloomberg News reported, adding that a "filing decision" will be made before the Sept. 27 anniversary of the blaze. In a statement issued in response to plans by Bridgett's office to file criminal charges against the firm, PG&E said: "We do not...agree with the District Attorney's conclusion that criminal charges are warranted given the facts of this case."

• Tesla Inc: The electric automaker has agreed to pay $1.5 million to settle claims a software update temporarily reduced maximum battery voltage in 1,743 Model S sedans, court documents show. Owners of the vehicles will get $625 each, which is "many times the prorated value of the temporarily reduced maximum voltage," according to the proposed settlement documents filed Wednesday in U.S. District Court in San Francisco. Lawyers for the owners who sued said the "voltage limitation was temporary, with a 10% reduction lasting about 3 months, and a smaller 7% reduction lasting another 7 months before the corrective update was released in March 2020." A U.S. judge set a Dec. 9 hearing on the proposed settlement. Separately, a fire broke out in a Tesla Megapack battery unit in Australia during testing of one of the world's biggest energy storage projects, run by France's Neoen, fire authorities said.

• Uber Technologies Inc: The ride hailing company is pushing back its back-to-office date to late October globally, and all employees in the United States will have to be fully vaccinated before returning to office, a spokesperson said on Thursday. The news comes a day after major tech companies including Twitter, Google and Facebook said all U.S. employees must get vaccinated to step into offices, as the highly infectious Delta COVID-19 variant drives a resurgence in cases. In April, Uber said it expected its employees to return to office by Sept. 13.


ANALYSIS
Why TV audiences are tuning out the Tokyo Olympic Games
Broadcasters will not be taking home any gold medals for how many people have watched the Tokyo Olympic Games so far. In several major markets around the world, the TV audience has fallen since 2016, as viewing becomes more fragmented and athletes compete in Japan when audiences are mostly asleep in the United States and Europe.


ANALYSTS' RECOMMENDATION
• Amazon.com Inc: Benchmark cuts target price to $4,200 from $4,400, after the company reported a revenue shortfall vs. consensus for both the current quarter and forward quarter guidance.

• Pinterest Inc: Susquehanna cuts target price to $65 from $75, saying although monetization continues to improve, the engagement headwinds could remain an overhang.

• Yum Brands Inc: JPMorgan raises target price to $128 from $120, following better second-quarter results and raising of development outlook.


ECONOMIC EVENTS (All timings in U.S. Eastern Time)
0830 (approx.) Personal income mm for June: Expected -0.3%; Prior -2.0%
0830 (approx.) Personal consumption real mm for June: Prior -0.4%
0830 (approx.) Consumption, adjusted mm for June: Expected 0.7%; Prior 0.0%
0830 (approx.) Core PCE price index mm for June: Expected 0.6%; Prior 0.5%
0830 (approx.) Core PCE price index yy for June: Expected 3.7%; Prior 3.4%
0830 (approx.) PCE price index mm for June: Prior 0.4%
0830 (approx.) PCE price index yy for June: Prior 3.9%
0830 (approx.) Employment wages QQ for Q2: Prior 1.0%
0830 (approx.) Employment benefits QQ for Q2 : Prior 0.6%
0830 (approx.) Employment costs for Q2: Expected 0.9%; Prior 0.9%
0945 (approx.) Chicago PMI for July: Expected 64.6; Prior 66.1
1000 U Mich Sentiment Final for July: Expected 80.8; Prior 80.8
1000 (approx.) U Mich Conditions Final for July: Prior 84.5
1000 (approx.) U Mich Expectations Final for July: Prior 78.4
1000 (approx.) U Mich 1 year inflation final for July: Prior 4.8%
1000 (approx.) U Mich 5-year inflation final for July: Prior 2.9%
1200 (approx.) Dallas Fed PCE for June: Prior 2.8%


COMPANIES REPORTING RESULTS
Abbvie Inc: Expected Q2 earnings of $3.09 per share
Cabot Oil & Gas Corp: Expected Q2 earnings of 28 cents per share
Cboe Global Markets Inc: Expected Q2 earnings of $1.36 per share
Cerner Corp: Expected Q2 earnings of 76 cents per share
Charter Communications Inc: Expected Q2 earnings of $4.78 per share
Exxon Mobil Corp: Expected Q2 earnings of 99 cents per share
Illinois Tool Works Inc: Expected Q2 earnings of $2.09 per share
LyondellBasell Industries NV: Expected Q2 earnings of $5.57 per share
Newell Brands Inc: Expected Q2 earnings of 45 cents per share
W W Grainger Inc: Expected Q2 earnings of $4.61 per share
Weyerhaeuser Co: Expected Q2 earnings of $1.41 per share


CORPORATE EVENTS (All timings in U.S. Eastern Time)
0730 Avantor Inc: Q2 earnings conference call
0800 Booz Allen Hamilton Holding Corp: Q1 earnings conference call
0830 Aon PLC: Q2 earnings conference call
0830 Cabot Oil & Gas Corp: Q2 earnings conference call
0830 Caterpillar Inc: Q2 earnings conference call
0830 Cboe Global Markets Inc: Q2 earnings conference call
0830 Charter Communications Inc: Q2 earnings conference call
0830 Chemours Co: Q2 earnings conference call
0830 Colgate-Palmolive Co: Q2 earnings conference call
0830 Hill-Rom Holdings Inc: Q3 earnings conference call
0830 IDEXX Laboratories Inc: Q2 earnings conference call
0830 Procter & Gamble Co: Q4 earnings conference call
0830 United States Steel Corp: Q2 earnings conference call
0830 VF Corp: Q1 earnings conference call
0900 Abbvie Inc: Q2 earnings conference call
0900 Aptargroup Inc: Q2 earnings conference call
0900 Cerner Corp: Q2 earnings conference call
0900 Eversource Energy: Q2 earnings conference call
0900 Linde PLC: Q2 earnings conference call
0900 Welltower Inc: Q2 earnings conference call
0930 Exxon Mobil Corp: Q2 earnings conference call
1000 Church & Dwight Co Inc: Q2 earnings conference call
1000 Cousins Properties Inc: Q2 earnings conference call
1000 Erie Indemnity Co: Q2 earnings conference call
1000 Gaming and Leisure Properties Inc: Q2 earnings conference call
1000 Huntsman Corp: Q2 earnings conference call
1000 Illinois Tool Works Inc: Q2 earnings conference call
1000 Plug Power Inc: Annual Shareholders Meeting
1000 Weyerhaeuser Co: Q2 earnings conference call
1000 WP Carey Inc: Q2 earnings conference call
1100 Camden Property Trust: Q2 earnings conference call
1100 Chevron Corp: Q2 earnings conference call
1100 CubeSmart: Q2 earnings conference call
1100 LyondellBasell Industries NV: Q2 earnings conference call
1100 Mohawk Industries Inc: Q2 earnings conference call
1100 Newell Brands Inc: Q2 earnings conference call
1100 Shell Midstream Partners LP: Q2 earnings conference call
1100 W W Grainger Inc: Q2 earnings conference call
1200 Cirrus Logic Inc: Annual Shareholders Meeting


EX-DIVIDENDS
AES Corp: Amount $0.15
Ally Financial Inc: Amount $0.25
Aon PLC: Amount $0.51
Blackstone Group Inc: Amount $0.70
Caseys General Stores Inc: Amount $0.34
Citigroup Inc: Amount $0.51
East West Bancorp Inc: Amount $0.33
Hasbro Inc: Amount $0.68
Kinder Morgan Inc: Amount $0.27
Levi Strauss & Co: Amount $0.08
NRG Energy Inc: Amount $0.32
Omega Healthcare Investors Inc: Amount $0.67
ONEOK Inc: Amount $0.93
Paychex Inc: Amount $0.66
Pinnacle West Capital Corp: Amount $0.83
Realty Income Corp: Amount $0.23
Synchrony Financial: Amount $0.22
Actueel
Verwacht
Vorige
DEU

DEU:

Duitse BBP (Kwartaal) (Q2)
08:00
1,5%
2,0%
-2,1%
Actueel: 1,5% Verwacht: 2,0% Vorige: -2,1%
EUROPA

EUROPA:

CPI (Jaarlijks) (Jul)
11:00
2,2%
2,0%
1,9%
Actueel: 2,2% Verwacht: 2,0% Vorige: 1,9%
Actueel
Verwacht
Vorige
DEU

DEU:

Duitse BBP (Kwartaal) (Q2)
10:00
1,5%
2,0%
-1,8%
Actueel: 1,5% Verwacht: 2,0% Vorige: -1,8%
Om de dag samen te vatten zien we dat de AEX uitbreekt en een nieuw record neerzet terwijl de DAX blijft hangen. Op Wall Street ook hogere koersen maar net geen records bij de Dow Jones en de SP 500. De Nasdaq blijft twijfelen rond de topzone. De cijfers van Amazon waren goed maar analisten hadden er veel meer van verwacht, vooral de vooruitzichten moeten beter. Vanmorgen zien we dat de Nasdaq future fors moet inleveren.
Update 30 juli:
Op Wall Street sluiten we een zeer drukke week met kwartaalcijfers af na dat vooral de TOP 5 in de boeken liet kijken. De meeste bedrijven leveren iets meer dan werd verwacht dus de cijfers zijn over het algemeen goed tot zeer goed en verrassen ook vaak in de positieve zin. Er zijn uitzonderingen en dan wordt de koers meteen afgestraft hetgeen we gisteren nabeurs hebben gezien bij Amazon.
Verder wikt en weegt men nog het verhaal van de FED dat woensdag werd vertelt, de FED liet woensdagavond doorschemeren dat het afbouwen van het opkoop programma in zicht kan komen maar men zet er geen tijdlijn bij. De FED toont geen haast maar aangezien er geen tijd bij staat kan het net zo goed snel komen of nog langer dan verwacht gaan duren.

Verder zien we dat de Amerikaanse economie in het 2e kwartaal met 6,5% is gegroeid, analisten hadden wel gerekend op 8,4% en het cijfer wordt dan ook als teleurstellend gezien.
Dan nog even over Amazon, het bedrijf een hogere omzet dan vorig jaar maar de opbrengsten bleven achter bij de verwachtingen. Vooral door dat er minder online werd geshopt omdat de lockdowns wegvielen hakte erin bij Amazon. Amazon rekende voor het 2e kwartaal op een omzet van 110 tot 116 miljard dollar. De omzet kwam uit op 113,1 miljard dollar, wat een stijging van 27 procent op jaarbasis betekende. Analisten hadden liever meer gezien en dus eerder rond of boven die 116 miljard dollar. Het aandeel Amazon verloor nabeurs 7,5% ofwel 270 dollar.

Hoe presteren de belangrijkste indices?
De Dow Jones won gisteren 153 punten en sluit weer boven de 35.000 punten (35.085), de S&P 500 won 18,5 punten om op 4419 punten de sessie af te sluiten. De tech indices lieten ook een plus zien, de Nasdaq won 15 punten terwijl de Nasdaq 100 met een winst van 30 punten de cijfers van Amazon afwachtte. We zien wel wat voorzichtigheid bij de stevig opgelopen tech indices. Aan de andere kant kende de SOX index een sterke dag, de index won 1,85% gisteren. Verder zien we dat de Dow Transport index 0,8% hoger sluit. Op Wall Street dus een positieve sessie met over de gehele lijn winst, nabeurs kwam daar wel verandering in want na de tegenvallende cijfers van Amazon zien we dat zowel de S&P 500 en de Nasdaq 100 behoorlijk lager staan. Amazon zelf verliest nabeurs 7,5%.
Europa kende een redelijke sessie met vooral de AEX die sterk presteerde, de CAC 40 en de DAX sluiten rond de 0,4% hoger. De AEX deed het nog maar eens veel beter met een winst van 1.4% en dat kwam vooral door de stevige stijging van de aandelen Shell en Mittal die met hele goeie cijfers kwamen. De AEX breekt uit en sluit op 758 punten wat meteen weer een nieuw record is.

Dinsdag wat winst genomen, deze maand sluiten we goed af:
Meedoen met US Markets Trading kan uiteraard door lid te worden, dinsdag heb ik winst genomen op de posities die open stonden zodat het resultaat er goed uitziet voor de maand juli. Ik blijf rustig en hou me aan het plan voor de komende periode, rustig naar kansen zoeken en waar het kan wat posities opnemen. Als u de signalen wilt ontvangen wordt dan vandaag nog lid via de nieuwe aanbieding voor €35 die loopt tot 1 oktober ...
Hieronder ziet u het resultaat voor de maand JULI en dat is nu voor de 8e maand op rij dat we winst behalen via alle signaaldiensten. Bij Guy Trading kijk ik ook naar wat aandelen waar er wat mee kan worden gedaan. Schrijf u dus op tijd in, ik zal snel weer een momentum kiezen om in te stappen met een paar posities op indexen.

De nieuwe aanbieding loopt tot 1 OKTOBER en dat voor €35 (Polleke Trading €45 en COMBI-Trading voor €75). Inschrijven kan via de link https://www.usmarkets.nl/tradershop
Hieronder het resultaat van deze maand (JULI) en dit jaar (2021):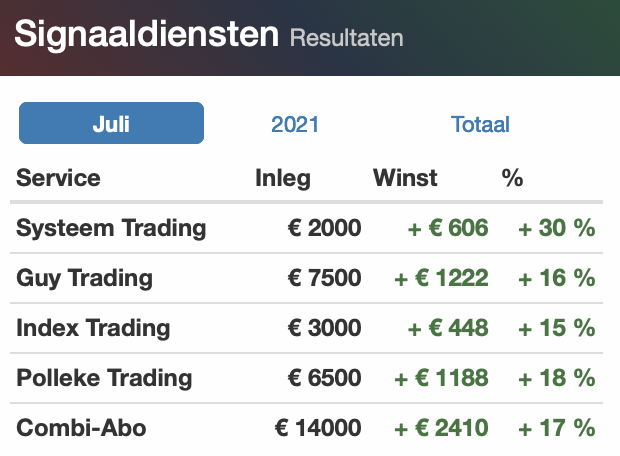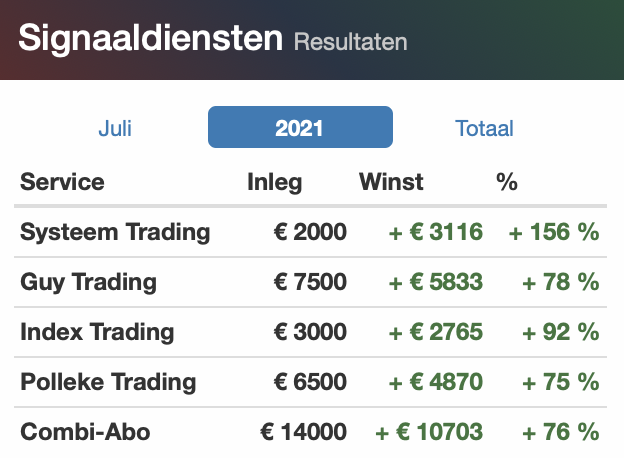 Marktoverzicht:
Technische conditie AEX:
De AEX kende voor de 2e sessie op rij een 10-klapper ofwel een stijging met meer dan 10 punten. De index breekt dan ook uit tot boven de lijn over de toppen wat best sterk is. Donderdag kwam het vooral door Mittal en Shell die een stevige plus lieten zien. Boven de lijn over de toppen zien we een vrije ruimte en kunnen we na de 760 gaan kijken naar de 775 en de 800 punten als weerstand. Moeten we daar nu meteen vanuit gaan? Is moeilijk te zeggen, wel blijft de AEX zeer sterk liggen, ook na een correctie verloopt het herstel snel.
Steun wordt nu eerst de 749 en de 747 punten, later de 736-737 en de 728 punten waar nu ook het 50-daags gemiddelde uitkomt. Dat de index volatiel blijft zien we ook meteen aan het verloop van de afgelopen 2 weken, de index moest terug van net onder de 750 punten tot de 717 punten maar 8 sessies later zien we de index weer 41 punten hoger met een nieuw record. Blijf dus voorzichtig in deze markt.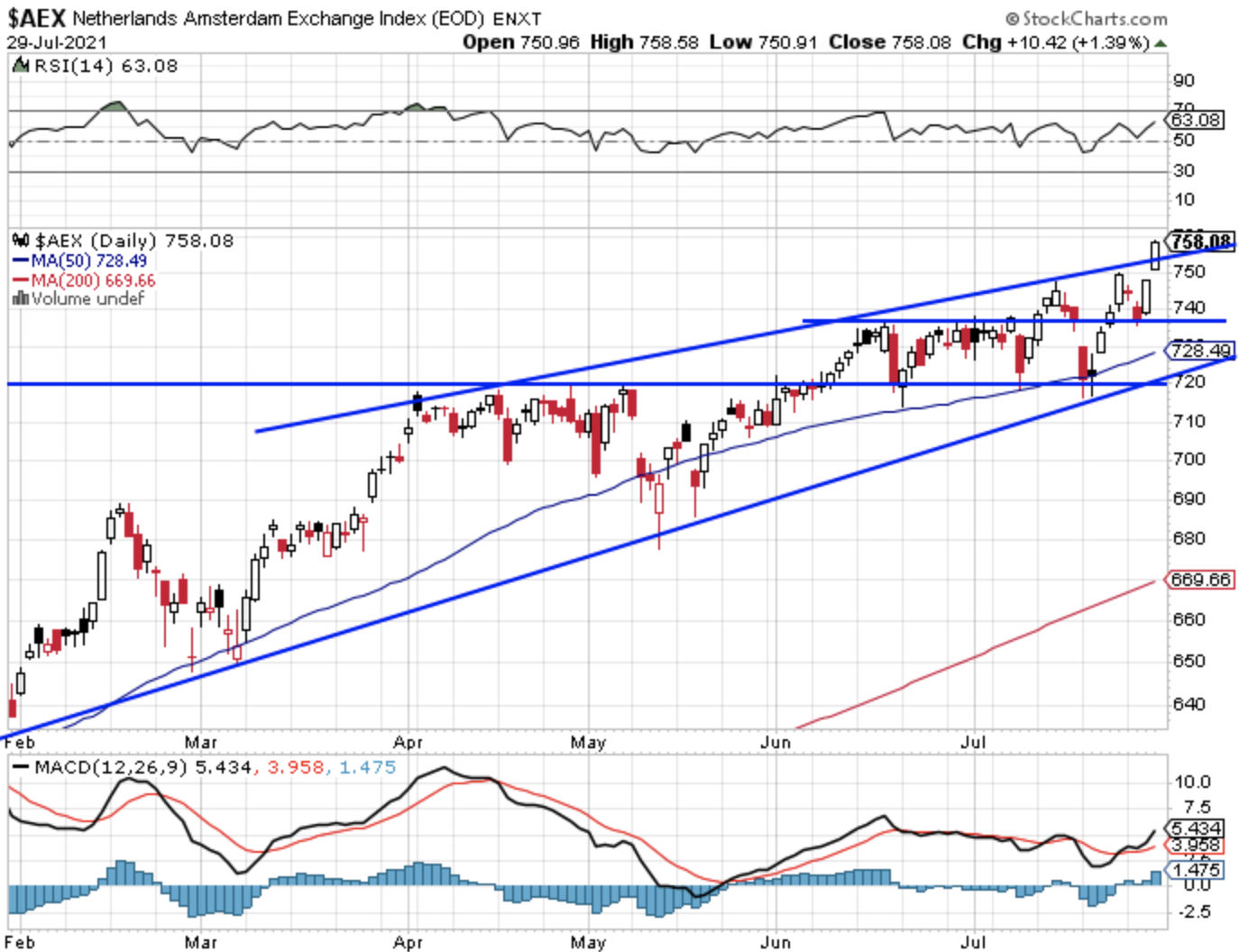 Technische conditie DAX:
De DAX herpakt zich verder maar de index geraakt niet los van de 15.500-15.550 punten zone die als een soort magneet werkt in beide richtingen. Steun blijft de 15.500-15.550 punten, later de 15.400 en de 15.300 punten. Verder zien we nog steun rond de 15.150 en de 15.000 punten. Weerstand wordt nu de 15.650 punten, later de topzone rond de 15.800 punten.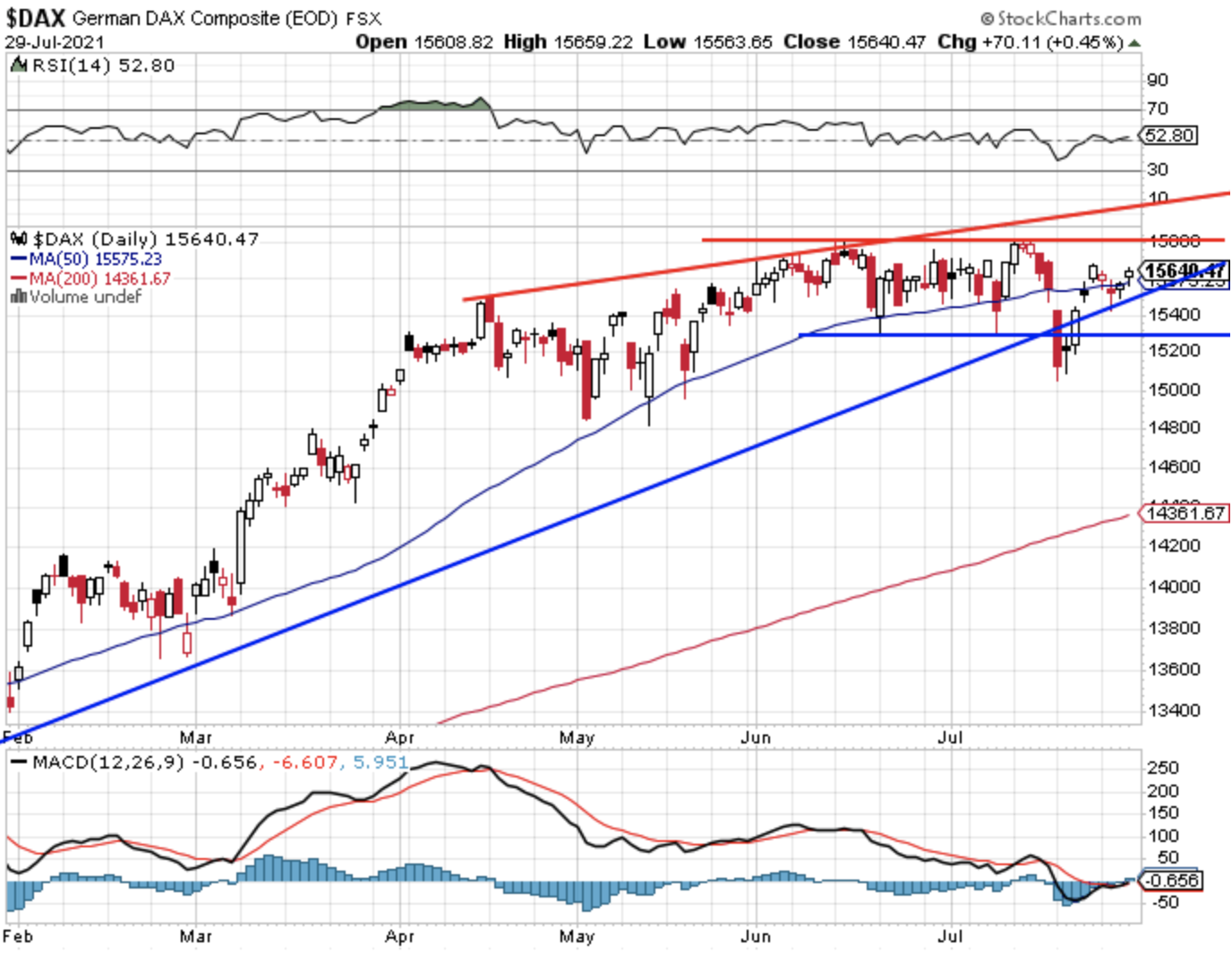 S&P 500 analyse:
De S&P 500 kent een sterke sessie en sluit net onder de hoogste stand ooit, de index moest dinsdag al even terug na het aantikken van de lijn over de toppen waar er een zware weerstand wacht en ik verwacht dat het ook vandaag zo zal zijn gezien het verloop voorbeurs via de futures. De grote 5 technologie reuzen wegen ook behoorlijk door bij deze index.
Steun zien we nu eerst rond de 4400 punten, later de 4355 en de 4325 punten met daar net onder de 4290 punten en het 50-daags gemiddelde dat nu rond de 4278 punten uitkomt. Weerstand zien we rond de topzone die rond de 4420-4425 punten, later komt de 4450 punten als weerstand in beeld maar dan alleen bij een snelle uitbraak tot boven de zware weerstand.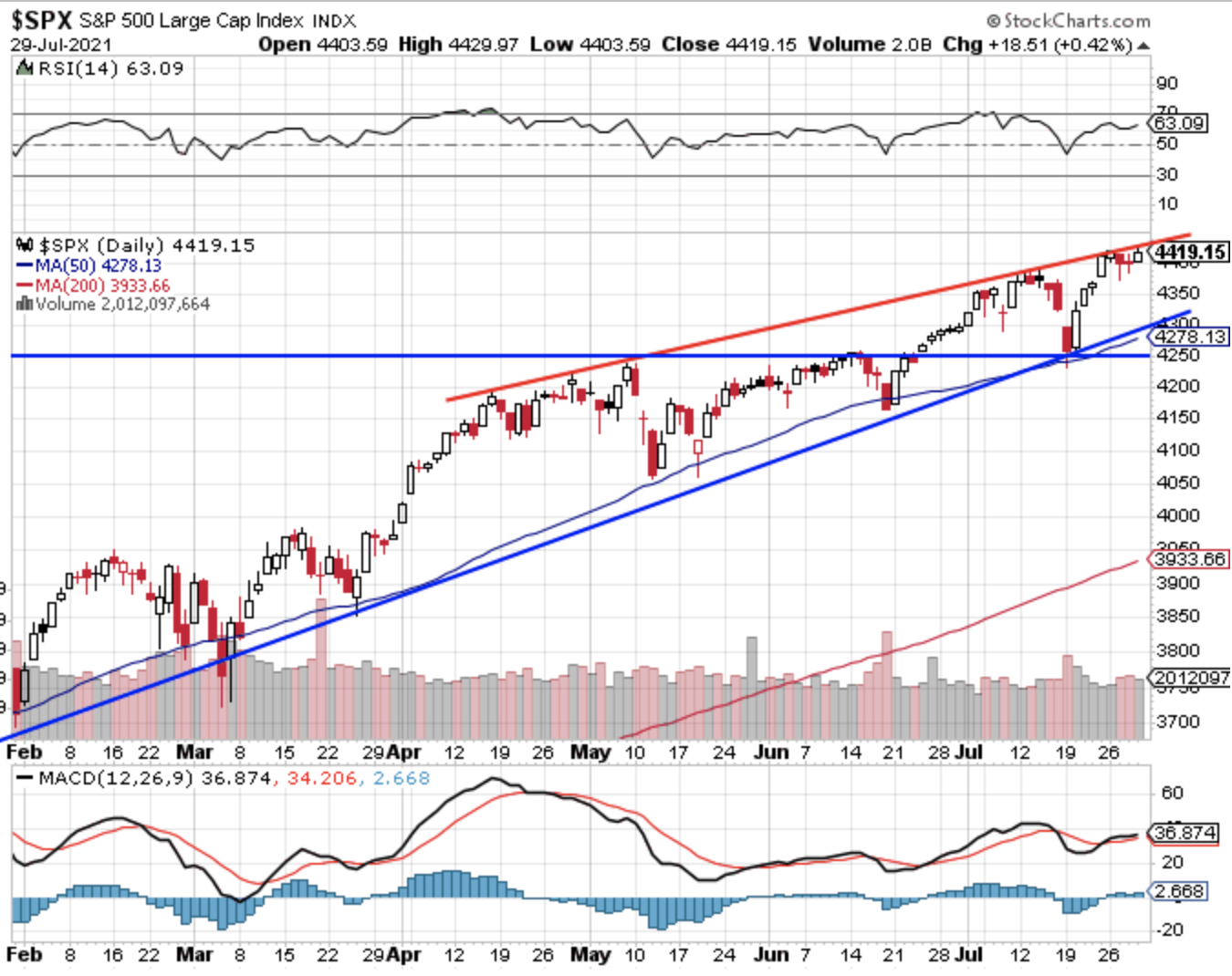 Analyse Nasdaq:
De Nasdaq sluit een fractie hoger en blijft rond de eerste belangrijke weerstand hangen die we rond de 14.770-14.780 punten zien uitkomen. De top wacht nog zo'n 30-35 punten hoger rondom de 14.810 punten. De bodem van dinsdag rond 14.500 punten houden we nu goed in de gaten als eerste steun, later komt de 14.210 punten weer in beeld als een stevige steun door de oude toppen van februari en april. Vanmorgen staat de Nasdaq future behoorlijk wat lager na de slecht ontvangen commentaren van Amazon, maar even goed kijken naar de genoemde steunpunten 14.500 en 14.210 punten de komende sessies.
De Nasdaq blijft volatiel en nu de grote 5 met hun cijfers zijn gekomen deze week moeten we het vervolg de komende weken afwachten. We zien wel duidelijk dat deze 5 aandelen (Apple, Microsoft, Amazon, Alphabet en Facebook).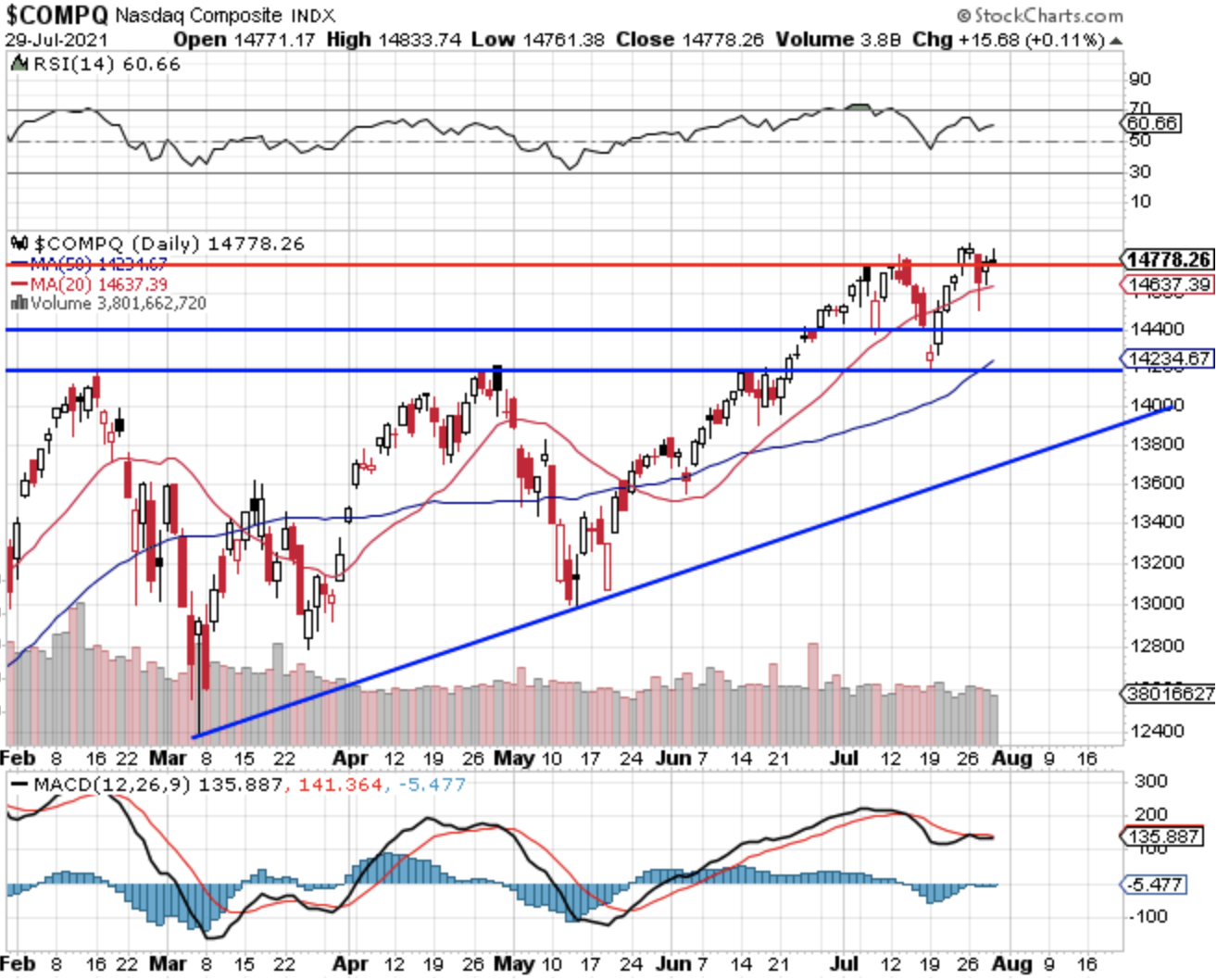 Euro, olie en goud:
De euro zien we nu rond de 1,188 dollar, de prijs van een vat Brent olie komt uit op 74,5 dollar terwijl een troy ounce goud nu op 1827 dollar staat.
De LIVEBLOG en Twitter:
Via de LIVEBLOG en tussendoor ook via mijn Twitter account laat ik gedurende de dag ook wat grafiekjes met korte uitleg voorbij komen over de markt. Op Twitter kunt u mij volgen via @USMarkets dan kunt u deze snelle informatie die ik deel uiteraard ook inzien .... https://twitter.com/USMarkets , ook opvallende beursfeiten komen er vaak langs !

Met vriendelijke groet,
Guy Boscart