Marktresultaten USA
Actueel
Verwacht
Vorige
USA

USA:

Kern CPI (Maandelijks) (Dec)
14:30
0,1%
0,1%
0,2%
Actueel: 0,1% Verwacht: 0,1% Vorige: 0,2%
Liveblog feed
Vrijdag dan toch nog een matige sessie na een sterk begin van de week, we hebben ook deze week nieuwe records kunnen zien, bij de AEX de hoogste stand sinds september 2000. Vrijdag kwam er wel wat positief nieuws maar aan de andere kant zien we ook weer wat angst de markt insluipen rondom de nieuwe varianten van het virus dat volop aan het muteren is. Dat zet de indices vrijdag op verlies, vooral Europa moest een stap terug doen en Wall Street volgde later op de avond richting het slot. De Dow moest 177 punten inleveren terwijl de Nasdaq 114 punten lager afsloot, de SP 500 verloor 27 punten.
Op weekbasis was er dan niet zoveel aan de hand want de Dow Jones verloor 283 punten (-0,9%) terwijl de S&P 500 met 56 punten terug moest (-1,45%). De Nasdaq verloor 203 punten (-1,54%) terwijl de Nasdaq 100 met 301 punten terug moest (-2,3%). Wel was er winst bij de Semi-Conductor index, na een sterke week binnen deze sector zien we een plus van 1,92%, de Dow Transport won 70 punten (+0,55%).
Europa kende een wisselend verloop want de AEX index won 6 punten (+0,95%) terwijl de DAX een verlies moet toestaan van 262 punten (-1,85%) en de afgelopen week geen nieuw record neer wist te zetten. De AEX deed dat dus wel maar dan een nieuwe hoogste stand sinds september 2000. De Franse CAC 40 verloor 95 punten (-1,67%).
We zien per regio dat er indices zijn die de week met winst weten af te sluiten maar aan de andere kant iets meer indices die verlies moeten toestaan. Maandag is Wall Street wel dicht door een feestdag, de MLK dag.
Dat de indices in hun WIG blijven, en de onderkant opzoeken is te zien op de grafieken, de komende week maar eens kijken of die steun het ook nu kan houden. Waar het kan zal ik er nog een positie bij zien te kopen voor de signaaldiensten. Hieronder voor wie het nog niet had gelezen de uitleg van een oplopende WIG waar we nu mee te maken hebben ...
Wat is een WIG?
Zie de grafiek hieronder, in de meeste gevallen valt een prijs na een tijdje uit de WIG en dan in de negatieve richting. Let wel, ik zeg in de meeste gevallen want er zijn natuurlijk ook uitzonderingen maar dan zet ik het procentueel op 25-30% dat het andersom gaat. Wat er ook mogelijk is, de markt gaat gestaag door omhoog en breekt uit om daarna een nieuwe WIG op te bouwen, iets wat we tussen 2010 en 2012 hebben gezien. Maar er komt hoe dan ook een eind aan deze beweging, die is niet eindeloos. Bij vrijwel alle indices zien we een WIG zoals u bij de eerste figuur hieronder ziet. Dat bij de AEX, de DAX, de Dow Jones, de SP 500 en de Nasdaq ...


U kunt mij en dus @USMarkets uiteraard ook volgen via onze Twitter account, ga naar ... https://twitter.com/USMarkets waar ik tussentijds wat charts over de markt en sentiment plaats, ook opvallende beursfeiten komen er vaak langs !
Euro, olie en goud:
De euro zien we nu rond de 1.208 dollar, de prijs van een vat Brent olie komt uit op 54,85 dollar terwijl een troy ounce goud nu op 1828 dollar staat. De Bitcoin herpakt zich na enkele dolle dagen, nu moet je 37.900 dollar neertellen voor 1 Bitcoin ...
Strategische posities:
Zodra u lid wordt ontvangt u de signalen en kunt u meteen de lopende posities inzien via onze Tradershop op de website. Ik probeer in ieder geval zo goed als dat kan om met de markt mee te gaan, wel is het zo dat de markt volatiel blijft voorlopig en die kan zelfs nog wat gaan toenemen. Wat ik moet doen is in ieder geval blijven schakelen tussen long en short.

Maak nu gebruik van de proef aanbieding:
Mis in ieder geval de start van 2021 niet want er komen hoe dan ook hele mooie kansen ... Via deze aanbieding ... €39 tot 1 MAART 2021 ... Polleke €49 tot 1 MAART 2021 !!!
Systeem Trading (€39 tot 1 MAART)
Index Trading (€39 tot 1 MAART)
Polleke Trading (€49 tot 1 MAART)
Aandelen portefeuille (€30 tot 1 MAART)
COMBI TRADING (€79 tot 1 MAART)
Tussenstand deze maand januari 2021: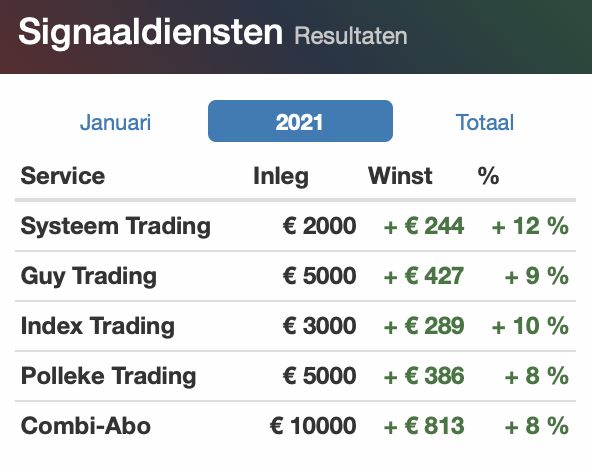 Resultaat afgelopen maand december 2020: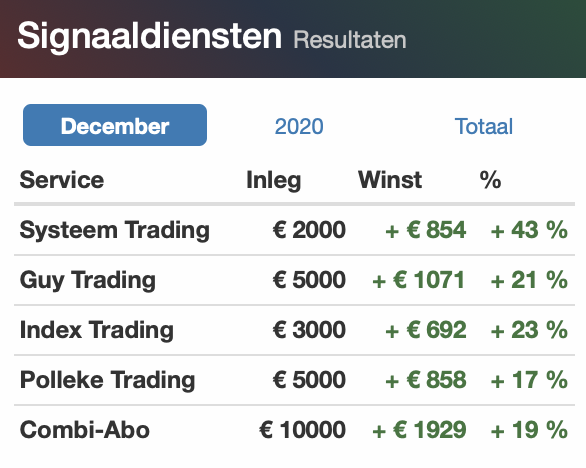 Met vriendelijke groet,
Guy Boscart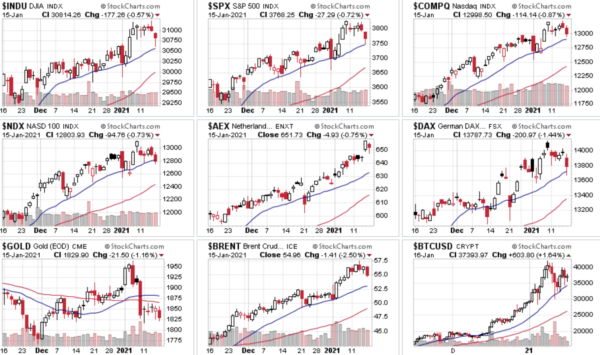 Er zijn weer ver­zoeken inge­di­end voor tech­nis­che analy­ses van nogal wat aan­de­len. Van­daag ga ik daar gedeel­telijk aan vol­doen met beschouwin­gen van Bal­lard Pow­er Sys­tems en Fuel­cell Ener­gy. Daar­naast kijk ik naar de AEX en ik ga door met de uit­ge­brei­de analyse van de Bitcoin.Lezers Petra en reteip…
Lees verder »
TOP NEWS
• JPMorgan profit jumps on trading, investment banking strength
JPMorgan Chase reported a higher fourth-quarter profit, as strength in trading and investment banking offset the drag of low borrowing rates on interest income at the largest U.S. bank's lending business.

• Trump administration takes final swipes at China and its companies
The Trump administration took another swipe at China and its biggest firms on Thursday, imposing sanctions on officials and companies for alleged misdeeds in the South China Sea and imposing an investment ban on nine more firms.

• Germany surpasses 2 million coronavirus cases, death rate up
Germany surpassed 2 million coronavirus infections and the death toll from the pandemic reached almost 45,000, experts said, a day after Chancellor Angela Merkel demanded "very fast action" to curb the deadly virus.

• Eyes on Pelosi as Trump impeachment trial timing up in the air
The timing of President Donald Trump's impeachment trial could come into clearer focus on Friday when House Speaker Nancy Pelosi is expected to take questions about her next steps at a morning news conference at the U.S. Capitol.

FOCUS-Some big U.S. pharmacies will not check ID before administering COVID-19 vaccines
Many U.S. pharmacies, including those inside Kroger supermarkets and the drugstore chain of CVS Health, say they will not be checking IDs before administering COVID-19 vaccines, leaving the door open to those who do not meet states' guidelines to jump the line.


BEFORE THE BELL
U.S. stock futures fell, in line with world equity markets, as stricter lockdowns in France and Germany and a resurgence of COVID-19 cases in China dented hopes of a global economic recovery. Risk aversion bets pushed the dollar higher against a basket of currencies. Oil prices dropped as surging virus cases fuelled demand concerns. Gold prices edged up on dovish policy cues from the U.S. Fed. Retail sales, industrial production, producer prices are among the slew of economic data scheduled for release later in the day.


STOCKS TO WATCH
Results
JPMorgan Chase & Co: The company reported a higher fourth-quarter profit, as strength in trading and investment banking offset the drag of low borrowing rates on interest income at the largest U.S. bank's lending business. Net income rose to $12.1 billion, or $3.79 per share, in the quarter, from $8.5 billion, or $2.57 per share, a year earlier. Revenue rose 3% to $30.2 billion. Analysts on average had expected earnings of $2.62 per share, according to Refinitiv. In the fourth quarter, JPMorgan's profit was boosted by lower loss provisions, while revenue from capital markets and investment banking also propped up its numbers.

IPOs
• Playtika Holding Corp: The mobile gaming company said on Thursday it had sold shares in its U.S. initial public offering above its target range at $27 each, the latest in a string of highly priced IPOs. Playtika had set a target price of between $22 and $24 apiece. The Israel-based company, which is owned by a Chinese investor group, sold around 18.5 million shares, compared to an original plan of 21.7 million shares, and a further 50.98 million shares by existing investors, up from 47.8 million originally. The total offering was worth around $1.88 billion at $27 per share. The IPO, the biggest U.S. listing in 2021 so far, values Playtika at $11.1 billion. Playtika did not immediately respond to a request for comment. The source requested anonymity as the price was not yet public.

Deals Of The Day
• Accolade Inc: The healthcare services provider said on Thursday it would buy telehealth startup 2nd.MD for about $460 million to double its addressable market and tap into growing demand for virtual services. The unrelenting surge in coronavirus cases and social distancing measures implemented to control the pandemic have prompted people to turn to virtual consultation and treatment offerings. The deal, expected to close by the end of February, will consist of $230 million in cash, $130 million in Accolade common stock and up to $100 million of Accolade's common stock payable upon the achievement of defined revenue milestones. The deal will expand Accolade's addressable market by an estimated $22 billion, it said, adding that the transaction will add to its revenue growth in fiscal 2022 at a similar gross margin profile.

In Other News
• Alphabet Inc & Facebook Inc & Twitter Inc: Pension fund managers and religious investors asked top social media companies to step up their content control efforts to reduce the threat of violence ahead of the inauguration of U.S. President-elect Joe Biden next week. The effort is the latest pressure on Facebook, Twitter and Alphabet over extreme rhetoric after the storming of the U.S. Capitol last week by supporters of President Donald Trump. In letters sent on Thursday, the investors - including New York State Comptroller Thomas DiNapoli, the Service Employees International Union and the Unitarian Universalist Association - asked for steps including disabling the coding they said tends to elevate conspiracy theories and radicalizing content, and for the companies to continue to flag content with hashtags like #Stopthesteal.

• Amazon.com Inc: The company was slapped with a class-action lawsuit on Thursday accusing the e-commerce giant of inflating the prices of ebooks in collusion with some publishers. The lawsuit alleges that Amazon and the five largest U.S. publishers, collectively called the 'Big Five', agreed to price restraints that cause consumers to overpay for eBooks purchased from them through a retail platform other than Amazon.com. The lawsuit comes a day after Connecticut said it was investigating Amazon for potential anti-competitive behavior in its business selling digital books. About 90% of eBooks are sold through Amazon, the largest U.S. eBooks seller, the lawsuit claimed.

• AstraZeneca Plc: Nepal granted approval for AstraZeneca's COVISHIELD vaccine against the coronavirus, the government said, following a meeting with neighbouring India, a major manufacturer of the shot. "Conditional permission has been granted for emergency use authorization of COVISHIELD vaccine against COVID-19 in Nepal," the Department of Drug Administration said. The announcement follows a meeting between India's foreign minister S. Jaishankar and his Nepali counterpart Pradeep Kumar Gyawali where "close cooperation" on the pandemic was discussed, according to a statement by India's foreign ministry.​

• Blackrock Inc: The asset manager has sold almost all its stake in China Telecom, a company subject to a new ban on U.S. investment, a stock market filing showed. China Telecom is one of 44 companies subject to a new ban on U.S. investment. BlackRock sold 818 million shares at an average of HK$1.92 each on Tuesday, according to a Hong Kong exchange filing. That is 12% below Tuesday's closing price. The filing gave no reason for the HK$1.6 billion sale, which reduced BlackRock's stake in China Telecom from 6.1% to 0.2%, and BlackRock had no immediate comment.​

• CVR Energy Inc & Delek US Holdings Inc: U.S. refiner CVR Energy, majority owned by billionaire-investor Carl Icahn, said on Thursday it was not interested in buying peer Delek and proposed to replace three Delek board nominees with its own. CVR, which owns about 15% of Delek and is its largest stockholder, said it would instead focus on devoting capital to internal higher-return projects, according to a regulatory filing, which cited a letter to Delek from CVR Energy Chief Executive Officer David Lamp. Lamp cited the dramatic changes in the industry since it started buying shares of Delek as one of the reasons it was not pursuing an acquisition.

• General Electric Co: The company accused a Siemens Energy subsidiary of using stolen trade secrets to rig bids for lucrative contracts supplying gas turbines to public utilities, and cover up improper business gains totaling more than $1 billion, according to a lawsuit filed on Thursday. GE sued the rival company, Siemens Energy, in a U.S. district court in Virginia, alleging the theft traces back to May 2019, when the industrial conglomerates bid to provide gas turbine equipment and servicing to Dominion Energy. Siemens identified the receipt of GE's trade secrets "through its own robust compliance processes," a spokesman said. Following an internal investigation, Siemens "implemented extensive remedial measures in response," the spokesman added, such as "swift and appropriate discipline of the involved employees, including separation from the company."

• Goldman Sachs Group Inc: The company is considering acquisitions to bulk up its consumer banking unit Marcus, after the Wall Street firm slowed loan and deposit growth at its fledgling business last year in the wake of the coronavirus pandemic, three bank sources said. Goldman management has put an "extremely high" bar for any deal to be large and transformational, the sources cautioned. One of the sources said the bank had M&A bankers crunching numbers on "different ideas." Digital banking is one area of interest. The pandemic has strengthened management's belief that online activity will be central to future growth within the industry and branches will continue to have a diminished role, the source said.


ANALYSIS
Biden's $1.9 trillion rescue package offers bridge for hard-hit economy
U.S. President-elect Joe Biden's proposal to pour $1.9 trillion into a hobbled economy could lay the foundation for a surge in jobs and spending that many economists say is needed to avoid long-term damage from a record-breaking pandemic recession.


ANALYSTS' RECOMMENDATION
• 3D Systems Corp: JPMorgan cuts rating to underweight from neutral, citing the skepticism around requirement of a large assortment of printer material combinations for diverse end-markets along with price, quality and speed factors.

• Delta Air Lines Inc: JPMorgan cuts target price to $49 from $51, saying the impact of COVID-19 is more severe than anticipated, jet fuel prices have rapidly escalated and Delta is unable to offset higher input costs with stronger fare.

• Ralph Lauren Corp: RBC raises rating to outperform from sector perform, following enhancing activities including lean inventories, pivoting the brand towards direct and expense management along with pent-up demand for apparel.

• Mosaic Co: RBC raises target price to $35 from $32, noting the company provides strong leverage to the potash and phosphate markets along with acquisition of production and distribution assets in Brazil further enhancing the company's exposure to the fastest-growing agriculture market.


ECONOMIC EVENTS (All timings in U.S. Eastern Time)
0830 NY Fed Manufacturing for Jan: Expected 6.00; Prior 4.90
0830 (approx.) PPI final demand yy for Dec: Expected 0.8%; Prior 0.8%
0830 (approx.) PPI final demand mm for Dec: Expected 0.4%; Prior 0.1%
0830 (approx.) PPI ex food/energy yy for Dec: Expected 1.3%; Prior 1.4%
0830 (approx.) PPI ex food/energy mm for Dec: Expected 0.2%; Prior 0.1%
0830 (approx.) PPI ex food/energy/transport yy for Dec: Prior 0.9%
0830 (approx.) PPI ex food/energy/transport mm for Dec: Prior 0.1%
0830 (approx.) Retail sales ex-autos mm for Dec: Expected -0.1%; Prior -0.9%
0830 (approx.) Retail sales mm for Dec: Expected 0.0%; Prior -1.1%
0830 (approx.) Retail ex gas/autos for Dec: Prior -0.8%
0830 (approx.) Retail control for Dec: Expected 0.1%; Prior -0.5%
0830 (approx.) Retail sales YoY for Dec: Prior 4.10%
0915 (approx.) Industrial production mm for Dec: Expected 0.5%; Prior 0.4%
0915 (approx.) Capacity utilization SA for Dec: Expected 73.6%; Prior 73.3%
0915 (approx.) Manufacturing output mm for Dec: Expected 0.5%; Prior 0.8%
0915 (approx.) Industrial production YoY for Dec: Prior -5.50%
1000 (approx.) Business inventories mm for Nov: Expected 0.5%; Prior 0.7%
1000 (approx.) Retail inventories ex-auto revised for Nov: Prior 0.3%
1000 U Mich Sentiment Preliminary for Jan: Expected 80.0; Prior 80.7
1000 U Mich Conditions Preliminary for Jan: Prior 90.0
1000 U Mich Expectations Preliminary for Jan: Prior 74.6
1000 U Mich 1 year inflation preliminary for Jan: Prior 2.5%
1000 U Mich 5-year inflation preliminary for Jan: Prior 2.5%


COMPANIES REPORTING RESULTS
Citigroup Inc: Expected Q4 earnings of $1.34 per share
Wells Fargo & Co: Expected Q4 earnings of 60 cents per share


CORPORATE EVENTS (All timings in U.S. Eastern Time)
0830 JPMorgan Chase & Co: Q4 earnings conference call
1000 Concho Resources Inc: Shareholders Meeting
1000 Wells Fargo & Co: Q4 earnings conference call
1100 PNC Financial Services Group Inc: Q4 earnings conference call​
1130 Citigroup Inc: Q4 earnings conference call


EX-DIVIDENDS
Alamo Group Inc: Amount $0.14
EMCOR Group Inc: Amount $0.13
Graco Inc: Amount $0.18
Actueel
Verwacht
Vorige
USA

USA:

Kern Detailhandelsverkopen (Maandelijks) (Dec)
14:30
-1,4%
-0,1%
-1,3%
Actueel: -1,4% Verwacht: -0,1% Vorige: -1,3%
USA

USA:

PPI (Maandelijks) (Dec)
14:30
0,3%
0,4%
0,1%
Actueel: 0,3% Verwacht: 0,4% Vorige: 0,1%
USA

USA:

Detailhandelsverkopen (Maandelijks) (Dec)
14:30
-0,7%
-0,2%
-1,4%
Actueel: -0,7% Verwacht: -0,2% Vorige: -1,4%
Loading..
Er is een fout opgetreden