Liveblog Archief dinsdag 7 december 2021
3 liveblog items op dinsdag 7 december 2021.
Ik kan me herin­neren dat er afgelopen zater­dag een stor­ing was en dat ik het stuk­je over BESI moest her­schri­jven. Ik heb niet gemerkt dat AMG totaal was verd­we­nen. Degene die AMG ver­zocht te behan­de­len heeft het ver­zoek opnieuw inge­di­end. Daar­naast kri­jgt u de AEX, ASML, goud, Sig­ni­fy en Natural…
Lees verder »
TOP NEWS
• Rohingya refugees sue Facebook for $150 billion over Myanmar violence
Rohingya refugees from Myanmar are suing Meta Platforms, formerly known as Facebook, for $150 billion over allegations that the social media company did not take action against anti-Rohingya hate speech that contributed to violence.

• New data shows GSK-Vir drug works against all Omicron mutations
British drugmaker GSK said its antibody-based COVID-19 therapy with U.S. partner Vir Biotechnology is effective against all mutations of the new Omicron coronavirus variant, citing new data from early-stage studies.

• Intel plans to take self-driving car unit Mobileye public
Intel said on Monday it plans to take self-driving-car unit Mobileye public in the United States in mid-2022, a deal which could value the Israeli unit at more than $50 billion, a person familiar with the matter told Reuters.

• American Airlines CEO Doug Parker to retire in March
American Airlines Group said Chief Executive Officer Doug Parker will retire on March 31 and president Robert Isom will replace him.

• Oil CEOs clash with U.S. Energy Dept official over energy transition
Top energy executives this week urged a more cautious transition of energy policy away from oil and gas, but a U.S. Energy Department official said the industry has a moral obligation to address climate change and the economic opportunity it represents.


BEFORE THE BELL
U.S. stock index futures rose as technology stocks rebounded with easing concerns about the Omicron COVID-19 variant. World stock markets were higher, driven by waning Omicron variant worries and a timely booster shot of Chinese stimulus. Gold prices steadied as improved risk sentiment and a firmer dollar offset support for bullion. Oil prices extended gains as concerns surrounding Omicron variant's impact on global fuel demand eased and Iran nuclear talks stalled. U.S. trade balance and consumer credit data is due for release later in the day.


STOCKS TO WATCH
• Alphabet Inc: Russia fined Google 9 million roubles, a Moscow court said, in the latest in a string of penalties against the technology giant for failing to delete content the government deems illegal. Moscow's Tagansky District Court said Google had been fined a total of 9 million roubles in three separate administrative cases for not deleting content. The court cited legislation which said this may include posts containing extremist activities, child pornography or the promotion of drug use. Google and Meta Platforms both face court cases this month for repeated violations of Russian legislation on content and could be fined a percentage of their annual revenue in Russia.

• American Airlines Group Inc: The company said Chief Executive Officer Doug Parker will retire on March 31 and president Robert Isom will replace him. Parker will continue as chairman and Isom will join the carrier's board after he takes over as CEO, the airline said in a statement. Parker was named chairman and CEO of the Texas-based airline in 2013.

• Apple Inc & Roblox Corp: U.S. prosecutors are looking for instances in which Apple is unevenly enforcing rules for app developers such as gaming firm Roblox and some others, the Information reported on Monday, citing people familiar with the matter. The Department of Justice (DOJ) is probing key revelations from the antitrust trial between Apple and Epic Games in May, according to the report, in which the "Fortnite" maker had argued that Apple had given a free pass to Roblox, whose app lets people pick from a selection of games to play.

• AT&T Inc & Verizon Communications Inc: The U.S. aviation industry said on Monday new precautionary measures offered by the companies were insufficient to address air safety concerns raised by the planned use of C-Band spectrum for 5G wireless. The Aerospace Industries Association said in a letter to Federal Communications Commission chair Jessica Rosenworcel that the telecom plans "are inadequate and far too narrow to ensure the safety and economic vitality of the aviation industry." The FAA is expected as soon as Tuesday to issue two airworthiness directives highlighting safety issues that may arise from 5G interference.

• General Motors Co: The company's self-driving technology unit Cruise on Monday pushed back on claims from San Francisco authorities that its robotaxis are illegally double-parking, saying they have the right to block traffic for quick stops. Cruise said state law permits commercial vehicles to park away from a curb when reasonably necessary to load or unload passengers. And San Francisco had no special restrictions in the areas cited in SFMTA's complaint about Cruise. The California Public Utilities Commission has ultimate say over whether Cruise gets the permit to begin charging the public for rides.

• GlaxoSmithKline PLC & Vir Biotechnology Inc: British drugmaker GSK said its antibody-based COVID-19 therapy with U.S. partner Vir Biotechnology is effective against all mutations of the new Omicron coronavirus variant, citing new data from early-stage studies. The data, yet to be published in a peer-reviewed medical journal, shows that the companies' treatment, sotrovimab, is effective against all 37 identified mutations to date in the spike protein, GSK said in a statement. "These pre-clinical data demonstrate the potential for our monoclonal antibody to be effective against the latest variant, Omicron, plus all other variants of concern defined to date by the WHO," GSK Chief Scientific Officer Hal Barron said.

• Goldman Sachs Group Inc & KKR & Co Inc: Telecom Italia (TIM) said on Monday it has picked Goldman Sachs and LionTree to advise Italy's biggest telcoms group on the takeover approach by U.S. fund giant KKR. KKR made its non-binding offer for TIM, just before a boardroom row forced group CEO Luigi Gubitosi to step down following a clash with top investor Vivendi after two profit warnings since July. A wide range of banks pitched for an advisory role in what would be Europe's biggest ever private equity deal worth 33 billion euros including debt. TIM said in the statement the advisers would help the company in also assessing any potential "strategic alternatives" to develop the group.

• Intel Corp: The company said on Monday it plans to take self-driving-car unit Mobileye public in the United States in mid-2022, a deal which could value the Israeli unit at more than $50 billion, a person familiar with the matter told Reuters. Intel expects to retain Mobileye's executive team and hold on to a majority ownership in the unit after the initial public offering (IPO) of newly issued Mobileye stock. Intel has no intention to divest or spin off its majority ownership in Mobileye, the company said in a statement, adding that it will continue to provide technical resources to the automaker.

• Meta Platforms Inc: Rohingya refugees from Myanmar are suing the company for $150 billion over allegations that the social media company did not take action against anti-Rohingya hate speech that contributed to violence. A U.S. class-action complaint, filed in California on Monday by law firms Edelson PC and Fields PLLC, argues that the company's failures to police content and its platform's design contributed to real-world violence faced by the Rohingya community. Separately, Instagram said it will be stricter about the types of content it recommends to teens in the photo-sharing app and will nudge them toward different areas if they dwell on one topic for a long time.

• Microsoft Corp & Nuance Communications Inc: EU's antitrust regulator is taking a deeper look into Microsoft's $16 billion deal for transcription technology company Nuance, asking customers and competitors to draw up a list of concerns, according to a questionnaire from last month seen by Reuters. The previously unreported outreach is the most extensive by an antitrust authority since the companies announced the acquisition in April, according to a person familiar with the matter. The questionnaire asks whether Microsoft and Nuance are competitors and whether a tie-up could affect clients and rivals, including whether Microsoft could favor Nuance over competing services.

• Nvidia Corp: The U.S. Federal Trade Commission (FTC) on Monday argued that competition in the nascent markets for chips in self-driving cars and a new category of networking chips could be hurt if Nvidia carries out its $80 billion purchase of Arm. The FTC released a redacted version of its complaint. It said it believes Nvidia's purchase of Arm would hurt competition because hundreds of chip companies that rely on Arm would be hesitant to keep working closely with the British firm for fear of Nvidia gaining access to their product plans. Nvidia declined to comment beyond a statement issued last week saying it plans to "work to demonstrate that this transaction will benefit the industry and promote competition."

• Tesla Inc: The carmaker's CEO Elon Musk said on Monday that the U.S. Congress should not approve the Biden administration's bill to boost subsidies for electric vehicles (EVs), saying the proposal would worsen the country's budget deficit. The billionaire entrepreneur is escalating criticism about the administration and Democrats for a proposal to give union-made, U.S.-built electric vehicles an additional $4,500 tax incentive. Tesla and foreign automakers do not have unions at their U.S. factories. "Honestly, it might be better if the bill doesn't pass," Musk said at the WSJ CEO Council Summit. "I'm literally saying get rid of all subsidies," he said, adding that the government should I think just try to get out of the way and not impede progress."


ANALYSIS
Clear or confused? Central banks' communication skills set for ultimate test
Financial markets, which have struggled this year to decipher central bankers' policy signals, face their biggest challenge yet in December when in the space of 24 hours the Federal Reserve, ECB and Bank of England hold crucial meetings.


ANALYSTS' RECOMMENDATION
• Bumble Inc: JPMorgan raises rating to "overweight" from "neutral", after meetings with management increased analysts' confidence in Bumble app's trajectory & longer-term positioning within the dating/relationship ecosystem.

• Columbus McKinnon Corp: JPMorgan initiates coverage with "overweight" rating and price target of $64, highlighting the combination of below-trend sales and potential structural margin improvement as attractive at a wider-than-normal valuation discount to the sector.

• Commscope Holding Company Inc: Jefferies raises rating to "buy" from "hold" and raises price target to $15 from $11, noting that the company stands to benefit from the improving capital spending environment and an eventual reversion to the mean in supply costs.

• Marriott International Inc: Cowen and Company raises price target to $180 from $170, highlighting the brand's improving overall exposure to food, beverage and other revenue compared to its peers.


ECONOMIC EVENTS (All timings in U.S. Eastern Time)
0830 (approx.) International trade for Oct: Expected -$66.8 bln; Prior -$80.9 bln
0830 (approx.) Goods trade balance (R) for Oct: Prior -$82.89 bln
0830 (approx.) Labor costs revised for Q3: Expected 8.3%; Prior 8.3%
0830 (approx.) Productivity revised for Q3: Expected -4.9%; Prior -5.0%
1500 (approx.) Consumer credit for Oct: Expected $25 bln; Prior $29.91 bln


COMPANIES REPORTING RESULTS
Autozone Inc: Expected Q1 earnings of $20.87 per share


CORPORATE EVENTS (All timings in U.S. Eastern Time)
0830 Core & Main Inc: Q3 earnings conference call
0830 Designer Brands Inc: Q3 earnings conference call
0900 1-800-Flowers.Com Inc: Annual Shareholders Meeting
1000 Autozone Inc: Q1 earnings conference call
1000 John Wiley & Sons Inc: Q2 earnings conference call
1600 Faraday Future Intelligent Electric Inc: Q3 earnings conference call
1630 AeroVironment Inc: Q2 earnings conference call
1630 Avid Bioservices Inc: Q2 earnings conference call
1630 ChargePoint Holdings Inc: Q3 earnings conference call
1630 Stitch Fix Inc: Q1 earnings conference call
1700 Couchbase Inc: Q3 earnings conference call
1700 Dave & Buster's Entertainment Inc: Q3 earnings conference call
1700 PagerDuty Inc: Q3 earnings conference call
1700 Peloton Interactive Inc: Annual Shareholders Meeting
1700 SentinelOne Inc: Q3 earnings conference call
1730 IDT Corp: Q1 earnings conference call
2200 Xpeng Inc: Shareholders Meeting


EX-DIVIDENDS
Ameren Corp: Amount $0.55
AMETEK Inc: Amount $0.20
Electronic Arts Inc: Amount $0.17
First American Financial Corp: Amount $0.51
Guess? Inc: Amount $0.22
Harley-Davidson Inc: Amount $0.15
HP Inc: Amount $0.25
Kohls Corp: Amount $0.25
PJT Partners Inc: Amount $0.05
Texas Pacific Land Corp: Amount $2.75
Texas Roadhouse Inc: Amount $0.40
Goedemorgen,
De markt kende een sterke dag met overal plussen deze keer, na de terugval van afgelopen vrijdag een sterke start van de nieuwe week. Dat de volatiliteit nog altijd het verloop bepaald is duidelijk, ook de plussen waren fors en vooral de traditionele sectoren en indices zetten een sterke reeks neer na de daling van de afgelopen weken.

Update dinsdag 7 december:
De markten lijken zich te herpakken maar het herstel is nog onbetrouwbaar gezien het verloop van de afgelopen weken, we kunnen er niet zo maar vanuit gaan dat de eindejaarsrally op gang is gekomen. Toch moeten we opletten in deze fase, de kopers kunnen zo maar weer op het toneel komen zodat we in een fase terecht komen dat alles makkelijk omhoog zal gaan. We weten ons nog makkelijk te herinneren dat het de afgelopen weken snel wisselt van positief naar negatief en andersom.
Iets om in de gaten te houden blijft de nieuwe omikron variant van het virus, de angst neemt wel wat af nu er steeds meer signalen komen dat het wel eens om een milde variant kan gaan. Aan de andere kant is alles nog te pril om er uitspraken over te doen, dus laten we er zeker nog niet te makkelijk over denken. Verder moeten we deze week ook de inflatiecijfers in de gaten houden, het kan wel eens gaan om één van de sterkste prijsstijgingen in de geschiedenis. Als dat zo is dan komt er weer wat meer druk op de FED te staan om sneller te gaan afbouwen.
Wall Street sloot maandag in ieder geval fors hoger, de Dow Jones won 2,1% terwijl de S&P 500 met 1,5% winst de sessie afsloot. De Nasdaq bleef wat achter met een plus van 1,1% terwijl de SOX index met een klein verlies de sessie afsloot (-0,1%). In Europa sluit de AEX 0,8% hoger, de DAX won 1,4% terwijl de CAC 40 met 1,5% winst de sessie afsluit.
Vanmorgen zien we dat de futures opnieuw een positieve start aangeven en dat de toppen van gisteren al worden doorbroken. Vooral de Dow Jones kent nu een sterke reeks en lijkt door te willen zetten. Let wel op de weerstand die nu in beeld komt bij veel indices op Wall Street. Ook bij de AEX en de DAX zien we dat, de AEX zal rond de 780-782 punten starten terwijl de DAX de 15.500 punten zal opzoeken maar bij beide indices zien we daar weerstand. Om daar short te gaan kan een mogelijkheid zijn maar als de indices uitbreken dan moeten we mogelijk nog even wachten. Long gaan in deze fase lijkt me ook moeilijk omdat we weten dat als de markt draait het ook weer snel omlaag kan, dat hebben we vorige week ook kunnen zien. Ik zal hoe dan ook goed nadenken voor ik wat ga doen, dus nog wat geduld voor dat we een beslissing nemen om een positie op te nemen.
Als ik kansen zie dan kunt u meedoen met de posities die ik kies door lid te worden, het zorgt zoals u merkt voor de nodige rust en er zit ook een plan achter. Verder zorg ik ook voor kennis en knowhow van de markten via mijn ervaring en waar nodig bericht ik de leden wel met een update. Vandaag maar eens kijken hoe de markten het gaan doen, de opening zien we via de futures een wat hogere opening maar dat zegt niks over het verdere verloop vandaag.

Schrijf u nu nog snel in via de mooie aanbieding tot 1 FEBRUARI voor €35. Ga meteen naar onze Tradershop via de link https://www.usmarkets.nl/tradershop
Marktoverzicht:
Wall Street herpakt zich sterk maandag na even een dipje via de techsector, later op de avond wisten de Nasdaq en de SOX index de opgelopen verliezen weg te werken. Op de grafiek zien we dat vooral de SOX index dicht bij de topzone blijft hangen desondanks een grote daling gedurende de sessie van maandag. Op slotbasis amper verandering, ook de Nasdaq en de Nasdaq 100 herpakken zich via een slotrally om positief te sluiten. Opvallend is dat de Dow Jones vanaf de bodem nu al enkele dagen stabiel blijft liggen, afgelopen donderdag en maandag zelfs met een stevige plus. De S&P 500 herpakt zich nu ook duidelijk na een mindere periode.
In Europa een plus voor de AEX index die het vooral zonder ASML moest doen, de andere grote bedrijven deden het wel goed zodat de AEX niet onder het gewicht van ASML moest lijden. De AEX won ruim 6 punten. De DAX kende ook een sterke dag en weet zich makkelijk boven de 15.000-15.100 punten te houden voorlopig, de weg richting de 15.500 punten ligt nu weer helemaal open.

Dow Jones:
De Dow Jones kwam tot de belangrijke steunlijn vorige week maar weet zich sterk te herpakken. Vrijdag kwam de Dow Jones al terug tot de weerstand die we rond de 34.750 punten zien, maandag stoot de index er duidelijk door en geraakt al tot het 50-daags gemiddelde dat rond de 35.300 punten uitkomt nu en de volgende weerstand wordt. Later zien we nog weerstand rond de 35.500 en de 35.750 punten.
Het is nu afwachten wat de index de komende dagen zal gaan doen, breekt de Dow uit boven de 35.500 punten en herpakt de index zicht verder? Of zakken we de komende dagen weer terug tot de zone 33.750-34.000 punten? In deze markt weten we nooit, het beweegt echt alle kanten op. Nu eerst steun rond de 34.750 en de 34.400 punten waar het 200-MA nu uitkomt.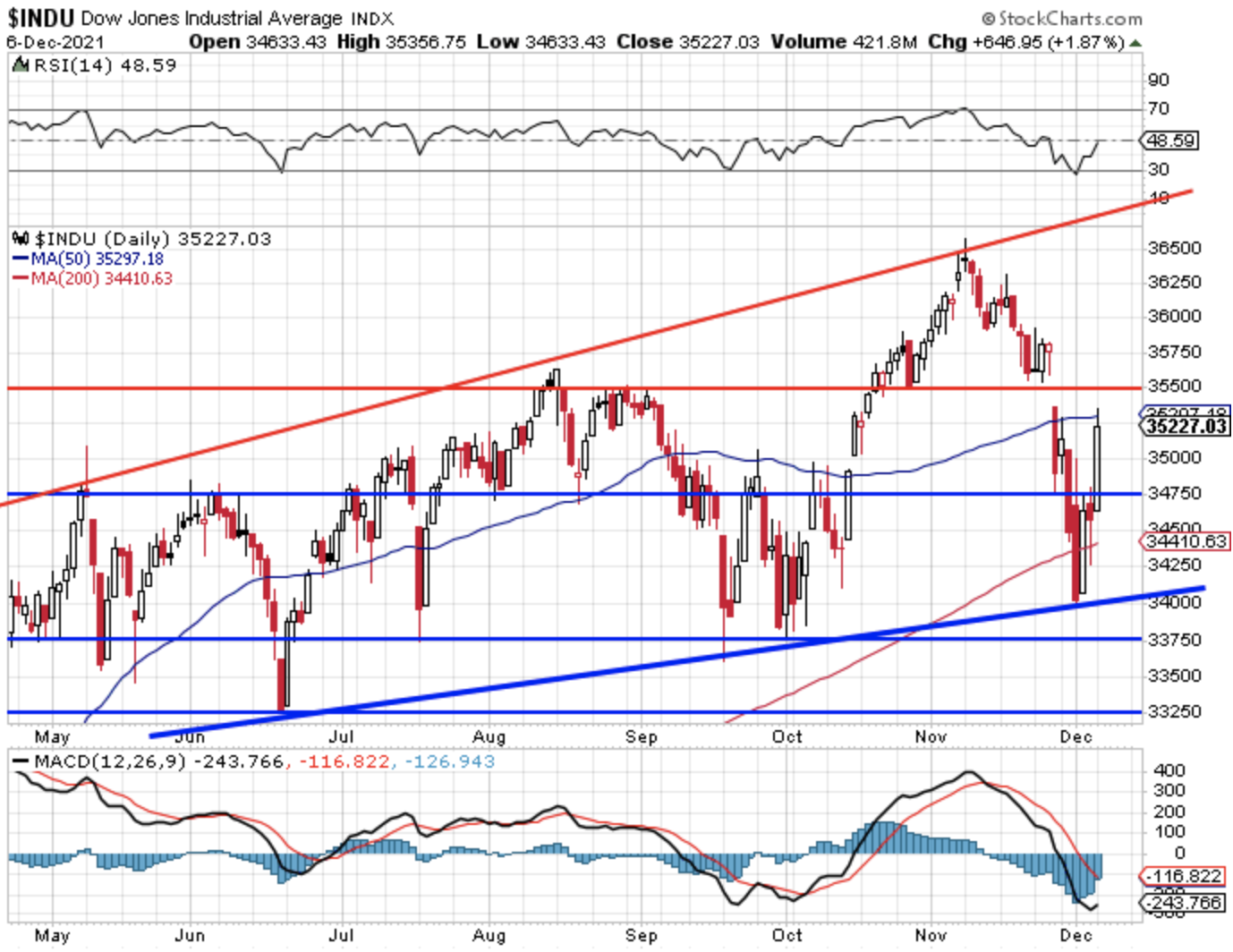 AEX index:
De AEX herpakt zich nu duidelijk maar de index moest maandag opnieuw eerst een stapje terug tot rond de 770 punten. De index sluit nog altijd onder enkele belangrijke steunlijnen die we op de grafiek zien. Nu de AEX zwak blijft moeten we blijven letten op de 760 en de 750 punten als steun, later het 200-daags gemiddelde dat we nu rond de 747 punten zien uitkomen.
De kans is ook redelijk groot dat de AEX de weerstand rond de 780-782 punten gaat opzoeken mocht het herstel nog doorzetten en dat zeker wanneer ASML weer meedoet in de positieve richting. Later weerstand rond de 790 en de 800-802 punten.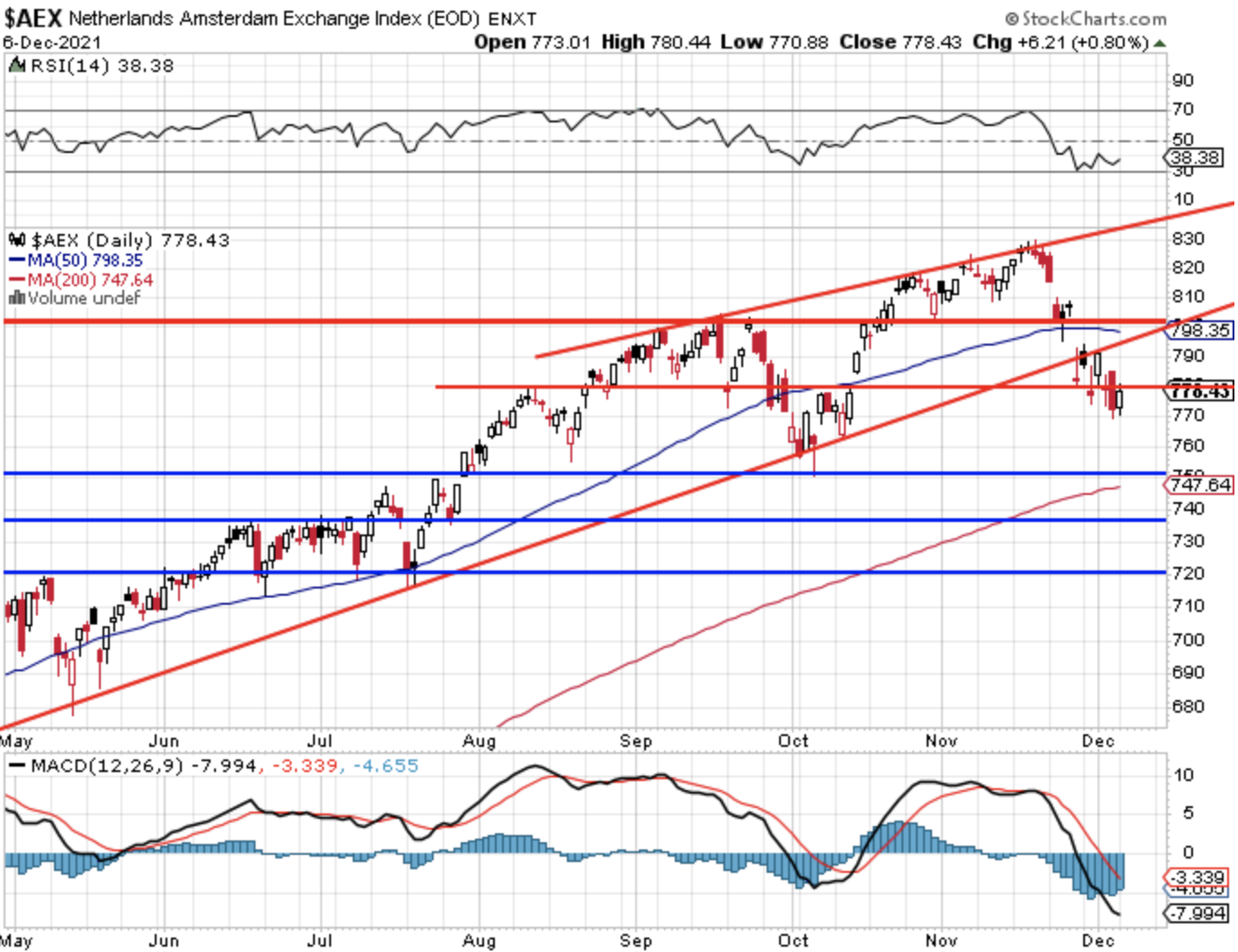 DAX index:
De DAX blijft voorlopig tussen de bodem die rond de 15.000 punten uitkomt en de topzone rond de 15.500 punten bewegen. Wel is het zo dat de onderkant belangrijk blijft want de index kan daar maar beter niet onder terecht komen. Steun nu eerst de 15.100 met later de 15.000 punten. Weerstand nu in eerste instantie de belangrijke 15.500 punten aan de bovenkant. Mocht de index naar boven uitbreken dan zien we weerstand rond de 15.650 punten en daarna de bekende 15.810 punten.
Positieve en negatieve sessies zullen elkaar blijven opvolgen en door de volatiliteit kan het behoorlijk snel gaan in beide richtingen. De voorlopige range zie ik tussen de 15.000 en de 15.500 punten.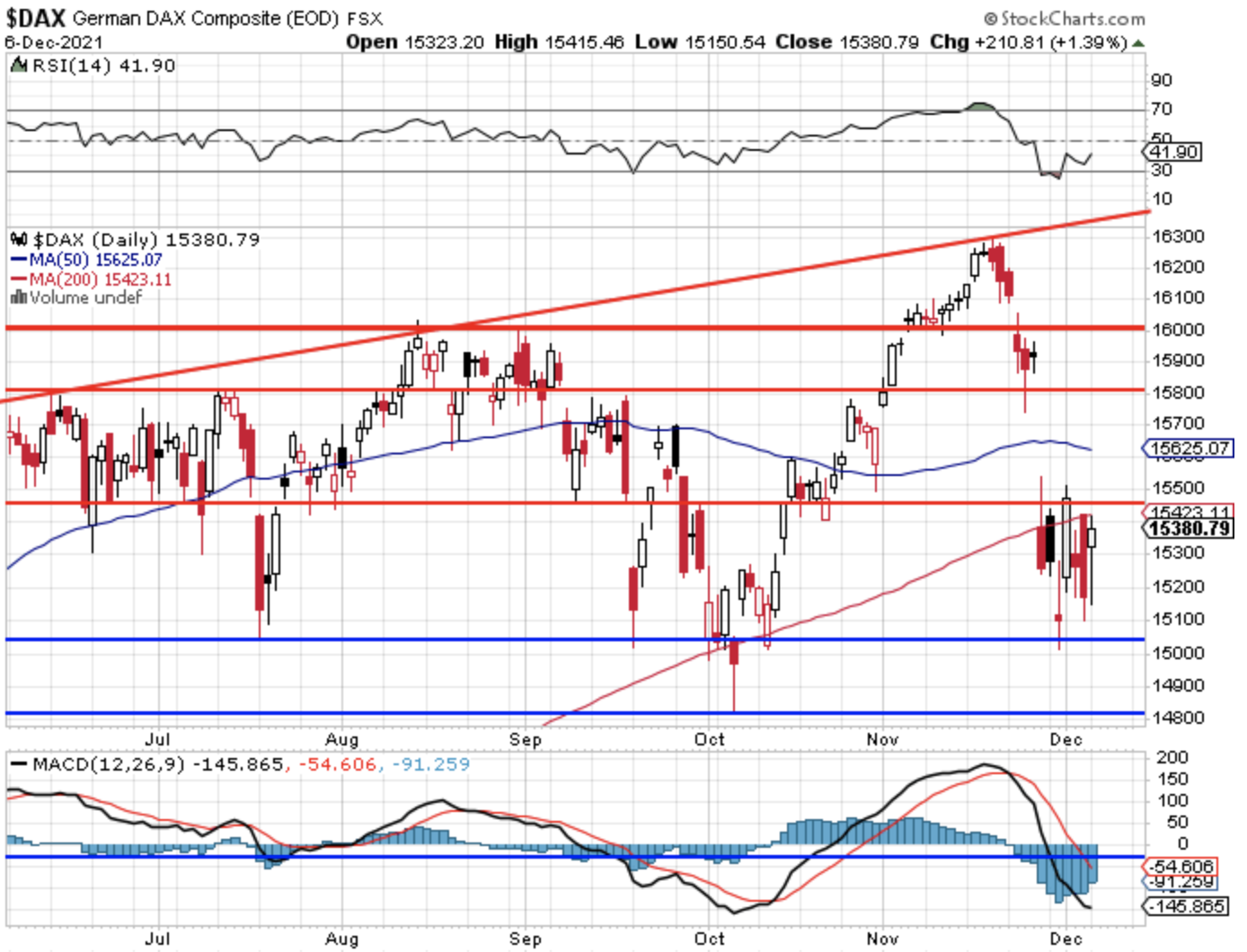 Nasdaq Composite:
De Nasdaq bewoog maandag tussen verlies en winst, dank zei een slotrally sluit de index op winst maar nog altijd onder een belangrijke steunzone. We zien ook een nerveus verloop, het is duidelijk dat de technologie aandelen te hoog gewaardeerd blijven zodat een verdere daling mogelijk blijft. Aan de andere kant weten we ook dat beleggers tijdens een meer rustige markt snel deze sectoren weer koopt.
De volgende steunlijn die we rond de 14.800-14.825 punten zien uitkomen blijft belangrijk voor wat betreft de Nasdaq. Later mocht de index nog lager willen dan pas steun rond de 14.500 en de 14.200 punten, bij die laatste steun herkennen we nog een oude top.
Weerstand nu eerst het 50-daags gemiddelde rond de 15.280 punten, daarboven de 15.400 en de 15.500 punten. We letten vooral op het brede oplopende trendkanaal nu bij de Nasdaq waarvan de onderkant nog niet werd getest.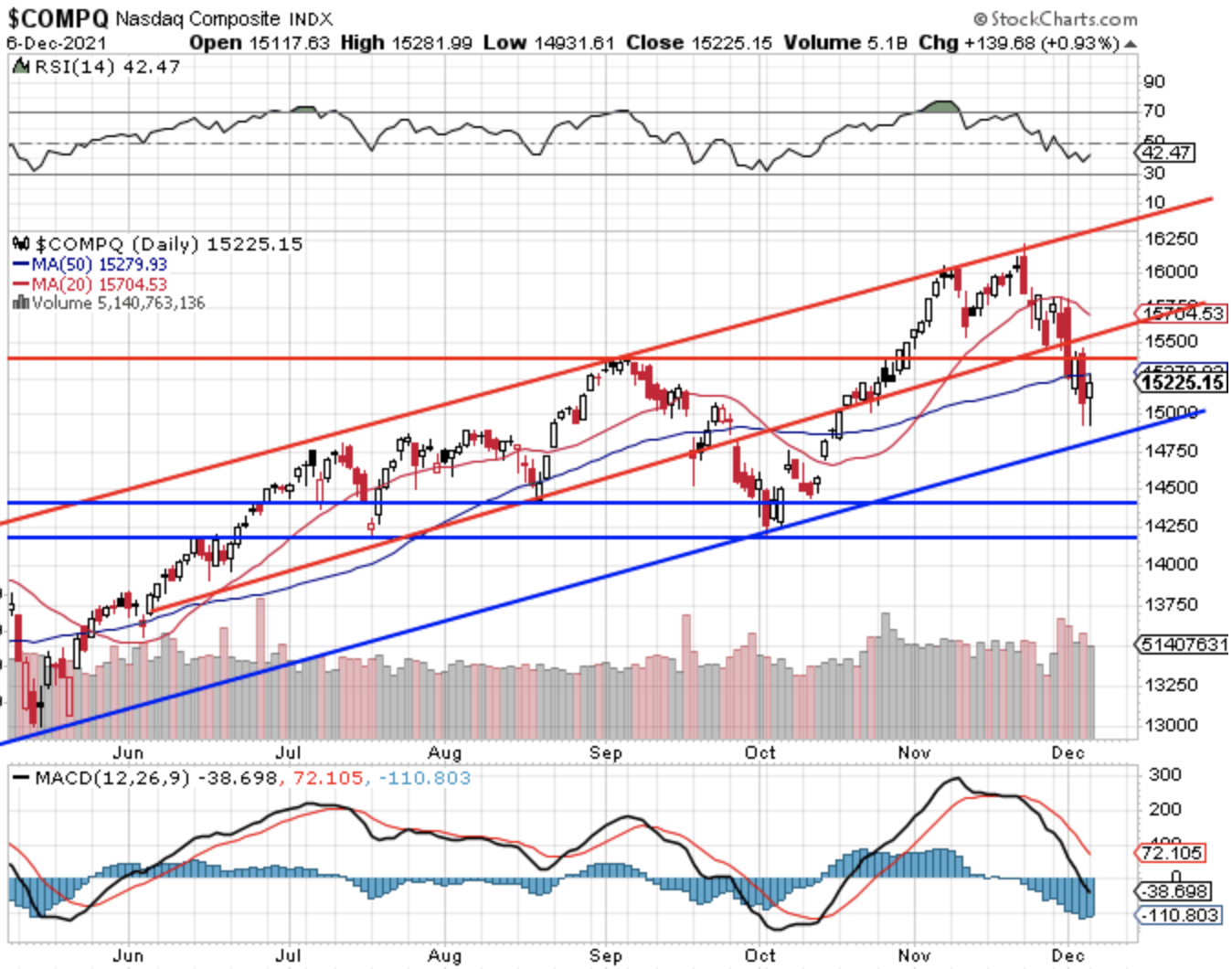 Overzicht resultaat november en dit jaar (2021):
De maand november sluiten we af met winst, beperkt weliswaar maar met de extreme volatiliteit is dat meer dan goed. In zo'n maand kun je veel winnen maar ook veel verliezen. We hebben het rustig aangepakt en in ieder geval geen risico genomen voor de leden. Deze en meteen de laatste maand van het jaar maar eens zien wat we kunnen doen, ik denk dat we alles goed onder controle hebben momenteel, we blijven rustig en houden de risico's beperkt.
Het handelen verloopt al het gehele jaar goed want via de overzichten hieronder ziet u dat we er wat betreft 2021 mooi voorstaan. We hebben nog enkele weken te gaan dit jaar en er komen zeker nog genoeg kansen zoals ik de markt nu inschat. Ik zoek in ieder geval voorzichtig naar nieuwe mogelijkheden.

Om mee te doen kan dat nu via het proefabonnement tot 1 FEBRUARI voor €35. Schrijf u nu in via de nieuwe aanbieding en ga meteen naar onze tradershop via de link https://www.usmarkets.nl/trade...
Overzicht resultaten maand november en dit jaar (2021)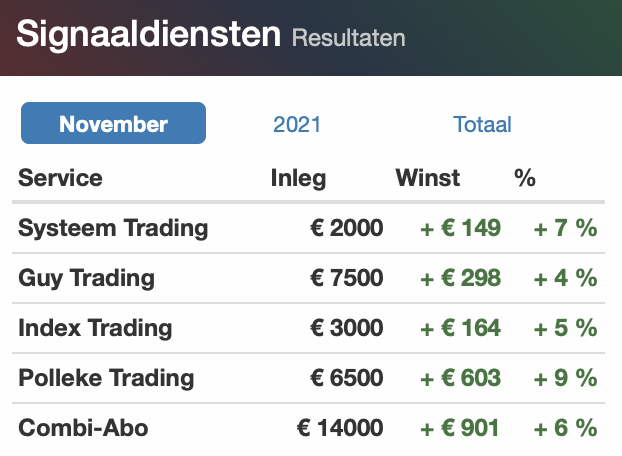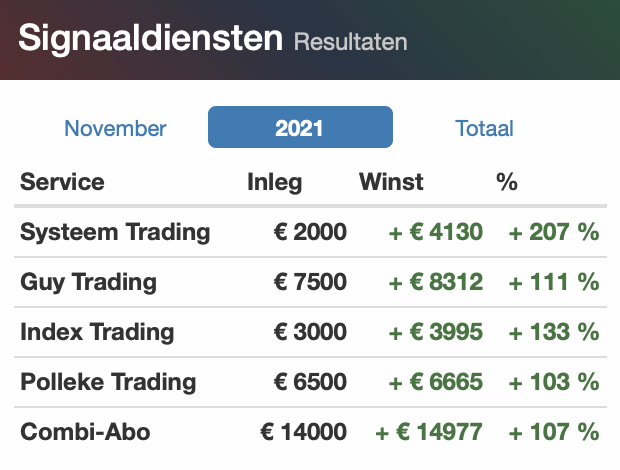 Met vriendelijke groet,
Guy Boscart