Liveblog Archief woensdag 7 april 2021
6 liveblog items op woensdag 7 april 2021.
PERCENT OF S&P 500 STOCKS ABOVE THEIR MOVING AVERAGES LOOKS STRETCHED% OF S&P 500 STOCKS ABOVE 50-DAY AVERAGE IS HIGH.....
Deze inhoud is alleen beschikbaar voor betalende leden.
Beste leden,Via de liveblog even een leden update tussendoor want u merkt dat ik kalm blijf en wacht, er lopen...
Deze inhoud is alleen beschikbaar voor betalende leden.
👍
pvdillen en Pluis en 1 andere.
Actueel
Verwacht
Vorige
USA

USA:

Ruwe Olievoorraden
16:30
-3,522M
-1,436M
-0,876M
Actueel: -3,522M Verwacht: -1,436M Vorige: -0,876M
TOP NEWS
U.S. jobs progress still far short of Fed's 'substantial' tripwire
The U.S. job market may have picked up steam in March, but the improvement was only a small step towards the Federal Reserve's threshold for considering reining in its massive support for the economy.

• G20 agree to boost IMF war chest by $650 billion amid pandemic -draft
The world's financial leaders will agree to boost the resources of the International Monetary Fund by $650 billion so it can better help vulnerable countries deal with the effects of the COVID-19 pandemic, a draft communique showed.

• UK launches rollout of Moderna COVID vaccine as daily shots slow
Britain began using Moderna's COVID-19 vaccine in Wales just as its rollout of other shots fell to their lowest level this year due to a supply crunch caused by manufacturing problems at AstraZeneca.

• Tesla tells China car cameras not activated outside North America
Cameras in Tesla cars are not activated outside of North America, the U.S. automaker said on its Chinese social media page, seeking to assuage security concerns in the world's biggest car market.

• ​Samsung Electronics says Q1 profit likely rose 44%, matching expectations
Samsung Electronics said first-quarter profit likely rose 44%, with analysts attributing the surge to brisk sales of smartphones and TVs, albeit tempered by a likely fall in chip earnings after a storm halted U.S. output.


BEFORE THE BELL
U.S. stock futures were slightly higher and European shares hovered around record highs as a strong global growth forecast from the International Monetary Fund boosted demand for riskier assets. Oil prices edged higher. Asian shares pulled back from a three-week high, dragged lower by Chinese stocks. Hopes of swift economic recovery pulled gold prices lower, while the dollar was little changed. Trade deficit data for February is scheduled for release later during the day.


STOCKS TO WATCH
IPOs
• AppLovin Corp: The mobile app and gaming company, which is backed by private equity giant KKR, said it was targeting a valuation of more than $30 billion in its U.S. initial public offering. The company said it was looking to raise as much as $2.13 billion in its IPO by selling 25 million shares at a price range of $75 to $85 per share.

• ​Vaccitech: The Biotech startup which owns the technology behind the COVID-19 vaccine developed by Oxford and AstraZeneca, has confidentially filed for an initial public offering in the United States, the Financial Times reported. The startup could price its offering as early as this month, the report said, citing people familiar with the matter.

In Other News
• Amazon.com Inc: The company supports a hike in the U.S. corporate tax rate as part of an infrastructure overhaul, Jeff Bezos, chief executive of the largest U.S. retailer, said on Tuesday after facing withering criticism from the White House, Congress and on social media. "We support the Biden Administration's focus on making bold investments in American infrastructure," Bezos said in a blog post. "We recognize this investment will require concessions from all sides — both on the specifics of what's included as well as how it gets paid for (we're supportive of a rise in the corporate tax rate)."

• Citigroup Inc: Citibank N.A. has lodged an application with Australia's Supreme Court of New South Wales to wind up two businesses run by Indian-British steel magnate Sanjeev Gupta as part of insolvency measures. The London branch of Citibank lodged an application on Tuesday to wind up OneSteel Manufacturing, which includes the Whyalla steel plant in South Australia, and Tahmoor Coal, which includes a coal mine in New South Wales, according to the court. A directions hearing is listed for May 6.

• Curevac NV. Global supply chains for making COVID-19 vaccines have been disrupted by U.S. restrictions, creating headaches for companies seeking to build production in Europe, according to one of the founders of Germany's Curevac. Florian von der Muelbe said in a newspaper interview that he was hopeful Curevac's vaccine candidate would win emergency European approval this quarter and confirmed a forecast that it would produce 300 million doses this year.

• Fox Corp: Betting group Flutter Entertainment, the owner of Paddy Power, Betfair and PokerStars, said it will "vigorously defend its position" after Fox filed a suit against the company related to its option to buy a 18.6% stake in U.S. sports betting firm FanDuel Group. Fox wants to acquire the stake in FanDuel for the same price Flutter paid for the interest in December last year. Flutter argues the parties had agreed the exchange should take place at a fair market value.

• Genworth Financial Inc: The company has terminated a $2.7 billion buyout agreement with investment firm China Oceanwide Holdings Group Co, the U.S. insurer said on Tuesday. Originally proposed in October 2016, the merger was stalled for years over concerns about Chinese access to sensitive data of U.S. citizens. "Greater clarity about Genworth's future is needed now in order for the company to execute its plans to maximize shareholder value," Genworth's non-executive chairman James Riepe said, explaining the rationale behind the move. Genworth said its revised plans include a potential partial IPO of its U.S. mortgage insurance business.

• KKR & Co Inc: T-Mobile Netherlands said it will invest at least 700 million euros to build and offer fibre optic networks in Dutch cities together with Open Dutch Fibre, a joint venture between KKR Infrastructure and Deutsche Telecom Capital Partners. The project aims to reach 1 million households within five years, it said.

• Moderna Inc: Deliveries of Moderna's COVID-19 vaccine are on track to meet the number of doses it promised to the European Union, a spokesperson for the company said, following a report of delays in Germany. Separately, Britain began using Moderna's COVID-19 vaccine on Wednesday in Wales just as its rollout of other shots fell to their lowest level this year due to a supply crunch caused by manufacturing problems at AstraZeneca.

• Nokia Oyj: The company has settled a multi-year patent fight with China's Lenovo, the world's biggest PC maker, resolving all pending litigation across all jurisdictions, the companies said. While terms of the cross-license agreement remain confidential, Lenovo will make a net balancing payment to Nokia, the Finnish telecom equipment maker said. A Nokia spokesman declined to disclose the financial details.

• Occidental Petroleum Corp: Chief Executive Vicki Hollub said she opposes a carbon tax, an idea that has gained the backing of large rival oil companies and some trade groups. "A carbon tax would be bad for a lot of the industry, a carbon tax would be bad for the consumers and especially for those consumers who are more disadvantaged from an economic standpoint," Hollub told the virtual summit of the Texas Independent Producers and Royalty Owners Association.

• Pfizer Inc: Canada's health regulator said it was launching a probe into the company's arthritis drug, Xeljanz, after a trial by the company identified increased risk of serious heart-related issues and cancer in the participants. The trial investigated the long-term safety of Xeljanz at two doses in patients with rheumatoid arthritis, who are at least 50 years old and have at least one cardiovascular risk factor, the regulator said.

• Royal Dutch Shell PLC: The company expects its fuel sales to fall or at best be broadly steady for the first quarter, the world's biggest fuel retailer said, indicating fuel demand recovery has remained slow amid coronavirus restrictions. In a trading update, Shell said it saw refined oil product sales at 3.7-4.7 million barrels per day (bpd) for the first quarter compared with just under 4.8 million bpd in the last quarter of 2020. It had previously forecast sales of 4-5 million bpd.

• Ryanair PLC: The European Union's slow COVID-19 vaccine rollout will damage Ryanair's prospects in the coming year, Europe's biggest low-cost airline said, as it flagged a smaller than expected loss for its financial year just ended. The Irish company said it now expected passenger traffic in the year to March 31, 2022, to be towards the lower end of its previously estimate of 80-120 million people.

• Tesla Inc: Cameras in Tesla cars are not activated outside of North America, the U.S. automaker said on its Chinese social media page, seeking to assuage security concerns in the world's biggest car market. "Even in the United States, car owners can freely choose whether to turn on its (the camera system's) use. Tesla is equipped with a network security system with world-leading security levels to ensure user privacy protection," the electric carmaker wrote on Weibo, China's Twitter-like social media site.


INSIGHT
CEO Mary Barra bets GM can grow beyond cars and trucks
Pam Fletcher wants to change the way General Motors makes money. The veteran GM engineer's Global Innovation team is looking for new enterprises to expand the automaker's sources of revenue well beyond vehicle sales and is incubating ventures from commercial delivery services to vehicle insurance, to address future markets worth an estimated $1.3 trillion. That doesn't include flying cars, a market sector that alone could be worth $1.3 trillion, Fletcher told Reuters.


ANALYSTS' RECOMMENDATION
• Applied Materials Inc: Cowen and Company raises price target to $160 from $140, to reflect on the company's diverse product portfolio, AI driven learning & integrated approach to solve high-value customer problems.

• Bank of America Corp: Barclays raises price target to $45 from $40, believing that in the near term, a lower than previously expected loan loss provision should drive the company's EPS higher, while a better than anticipated interest rate environment should help looking out.

• Howmet Aerospace Inc: JPMorgan raises price target to $35 from $32, to factor in the company's recently announced debt pay down plans and higher margins beyond 2021.


ECONOMIC EVENTS (All timings in U.S. Eastern Time)
0830 (approx.) International trade for Feb: Expected -$70.5 bln; Prior -$68.2 bln
0830 (approx.) Goods trade balance (R) for Feb: Prior -$86.72 bln
1500 Consumer credit for Feb: Expected $5.00 bln; Prior -$1.31 bln


COMPANIES REPORTING RESULTS
Carnival Corp : Expected Q1 loss of $1.54 per share
Lamb Weston Holdings Inc : Expected Q3 earnings of 51 cents per share


CORPORATE EVENTS (All timings in U.S. Eastern Time)
0830 MSC Industrial Direct Co Inc: Q2 earnings conference call
0830 Simply Good Foods Co: Q2 earnings conference call
0900 Schlumberger NV: Annual Shareholders Meeting
1000 Carnival Corp: Q1 earnings conference call
1000 Lamb Weston Holdings Inc: Q3 earnings conference call
1000 RPM International Inc: Q3 earnings conference call
1100 Lennar Corp : Annual Shareholders Meeting
1130 Schnitzer Steel Industries Inc: Q2 earnings conference call
1230 Advanced Micro Devices Inc: Shareholders Meeting
1230 Xilinx Inc: Shareholders Meeting


EXDIVIDENDS
Campbell Soup Co: Amount $0.37
Ingles Markets Inc: Amount $0.16
Oracle Corp: Amount $0.32
Trinseo SA: Amount $0.08
Wabash National Corp: Amount $0.08
Goedemorgen
Alle indices op Wall Street leveren iets in, niet veel want alle indices blijven dicht bij hun recordstand van maandag. De Dow verloor 0,25% terwijl de SP 500 met 0,05% amper verloor. De Dow Transport index sloot 0,35% lager terwijl de SOX index 1,2% verloor. De tech aandelen sluiten ook lager maar de schade bleef beperkt tot 0,05% bij Nasdaq en 0,15% bij de Nasdaq 100. Na de sterke start van de week maandag even een pas op de plaats zo te zien. Europa dat gisteren pas open ging na het lange weekend liet wel winst zien, de AEX en de DAX sluiten beiden 0,7% hoger met op slotbasis een nieuw record voor beide indices.
Indicatie markt vandaag:
De AEX en de DAX kunnen iets lager starten maar veel zal afhangen van wat er vanmiddag op Wall Street gaat gebeuren. De AEX kan rond die 710 punten draaien, de DAX rond de 15.200-15.300 punten waar de index gisteren al even boven wist te geraken. Let wel, zowel de AEX als de DAX blijven dicht bij hun record standen, een nieuw record kan er ook vandaag in zitten als de markt zich nog een keer kan opmaken voor hogere niveaus. Wel is het zo dat hoe verder we doorstijgen des te gevaarlijker het wordt. Steun voor de AEX ligt ook niet zo ver weg, de 702-703 punten wordt dan zeer belangrijk omdat daar de oude top uitkomt. De DAX heeft op zich veel meer ruimte omlaag tot er een belangrijke steun komt, dan zie ik de 14.700 punten als steun (20-MA).
Ook Wall Street doet via de futures nog niet zoveel maar records zijn niet ver weg. Aan de ene kant dus opletten voor verval maar het kan ook snel weer richting nieuwe records oplopen. We gaan het zien, het lijkt typisch zo'n dag waar het beide kanten op kan.
Resultaat dit jaar 2021 verloopt naar wens:
De maand maart werd in ieder geval positief afgerond en met december erbij komen we nu uit op 4 maanden na elkaar dat er winst werd behaald via de signalen die we naar de leden versturen. Deze manier van werken wil ik hoe dan ook proberen aan te houden, de markt krijg ik in ieder geval steeds beter onder controle en ik probeer met kleine posities zo als goed mogelijk te werken voor de leden, we doen dat in beide richtingen als dat kan. Voor deze maand zie ik in ieder geval weer genoeg mogelijkheden om op te handelen. We starten de maand april vanaf vandaag en ik heb wel een bepaalde visie waar we iets moois mee kunnen doen !!
Onderaan deze update ziet u nog een overzicht met hoe de maand maart werd afgerond en hoe we er dit jaar voor staan wat betreft het resultaat via de signalen die we naar onze leden versturen. Verder ziet u nog de speciale PAAS weekend aanbieding om mee te doen met onze signalen tot 1 JUNI. Via de site en dan de Tradershop kunt u als lid de lopende posities met alle details altijd inzien via https://www.usmarkets.nl/tradershop
Technische conditie Wall Street:
Wat betreft Wall Street zien we dat de Dow Jones en de S&P 500 nog altijd in de buurt van hun record blijven hangen wat wil zeggen dat het er technisch nog altijd goed en sterk uitziet tot er een definitieve top komt te staan. Pas als de indices daarna 2 tot 3% inleveren moeten we ons zorgen beginnen te maken voor het vervolg op de korte termijn. De Dow Jones en de S&P 500 blijven in ieder geval ook nog ruim boven hun 20-MA en 50-MA (MA = daags gemiddelde) en staan nu al een hele lange periode boven hun 200-MA.
De technologie indices (de Nasdaq, de Nasdaq 100 en de SOX index) herpakken zich de afgelopen dagen ook sterk maar moeten iets inleveren gisteren. Het zijn nu vooral die TOP-8 aandelen waar ik het altijd over heb die een sterke reeks wisten neer te zetten. Na een paar sterke dagen staan zowel de Nasdaq als de Nasdaq 100 weer boven hun 20- en 50-MA, nu maar eens zien of ze die stijging door kunnen zetten de komende sessies richting hun recordstand ...
Technische conditie AEX en DAX:
AEX index:
We zien zowel op de korte als op de langere termijn een uitbraak sinds vorige week bij de AEX index, het wachten tussen de pakweg 675 en 687 punten duurde blijkbaar al lang genoeg want de index bleef daar geruime tijd hangen. De top van midden februari rond de 688-690 punten doemde daar steeds op als zware hindernis. Vorige week zijn we er eindelijk boven geraakt en deze uitbraak was meteen behoorlijk krachtig. Je kon er ook al op wachten omdat dan de weg naar de top van 2000 open lag, de index breekt dus door de oude top en bereikt nu al de zone 710-715 punten.
Bij een verder positief verloop verwacht ik de index nu richting de 725 punten maar dat kan zeker ook via een terugtest van de 702-703 punten. Onder die oude top ofwel onder de 700 punten ziet het er slecht uit maar dat volgen we de komende dagen wel. Let op de 718, de 725 en de 735 als weerstand. Steun nu de 703, de 690 en de 675 punten.

DAX index:
De DAX doet het ook nog altijd goed en blijft op slotbasis nieuwe records neerzetten, de uptrend bij de DAX blijft duidelijk, het doel rond die 15.000 punten werd behaald. De volgende richtpunten zijn nu eerst de 15.300 en de 15.450 punten mocht de index verder oplopen. Aan de andere kant zijn vrijwel alle indices, dus ook de DAX, rijp voor een grotere correctie. Steun nu rond het 20-MA dat nu rond de 14.700 punten uitkomt, later de 14.450 punten (recente bodems) en de 14.250 punten waar we het 50-MA nu zien uitkomen als steun.
Er is zoals u merkt meer dan genoeg ruimte omlaag voor wat betreft de DAX voor dat de index in de problemen komt. Even een terugval lijkt me nu logisch, daarna kan er mogelijk nog een nieuwe stijging op gang komen met weer nieuwe records.

Euro, olie en goud:
De euro zien we nu rond de 1.1875 dollar, de prijs van een vat Brent olie komt uit op 62,8 dollar terwijl een troy ounce goud nu op 1738 dollar staat.
Resultaat dit jaar 2021 verloopt naar wens:
Onderaan deze update ziet u nog een overzicht wat betreft Trading met een mooie aanbieding om mee te doen met onze signalen tot 1 JUNI voor €39. Via de site en dan de Tradershop kunt u de posities met details zien staan. https://www.usmarkets.nl/tradershop

De LIVEBLOG en Twitter:
Via de LIVEBLOG en tussendoor ook via mijn Twitter account laat ik gedurende de dag ook wat grafiekjes met korte uitleg voorbij komen over de markt. Op Twitter kunt u mij volgen via @USMarkets dan kunt u deze snelle informatie die ik deel uiteraard ook inzien .... https://twitter.com/USMarkets , ook opvallende beursfeiten komen er vaak langs !

Inter Market overzicht op slotbasis ...

Nu lid worden tot 1 JUNI voor €39?
Blijven schakelen tussen long en short blijft belangrijk de komende weken. Ook deze maand (maart) krijgen we genoeg kansen. Doe nu in ieder geval mee met de proef aanbieding voor nieuwe leden, die loopt tot 1 JUNI en dat met een mooie korting !! ... Nu €39 tot 1 JUNI 2021 ... voor Polleke €49 tot 1 JUNI 2021 !!! Om u in te schrijven ga naar onze Tradershop https://www.usmarkets.nl/tradershop
Schrijf u in voor Systeem Trading (€29 tot 1 JUNI)
Schrijf u in voor Index Trading (€29 tot 1 JUNI)
Schrijf u in voor Guy Trading (€29 tot 1 JUNI)
Schrijf u in voor Polleke Trading (€39 tot 1 JUNI)
Schrijf u in voor de Aandelen portefeuille (€30 tot 1 JUNI)
Schrijf u in voor COMBI TRADING (€50 tot 1 JUNI)

Hieronder de resultaten deze maand en dit jaar (2021) ...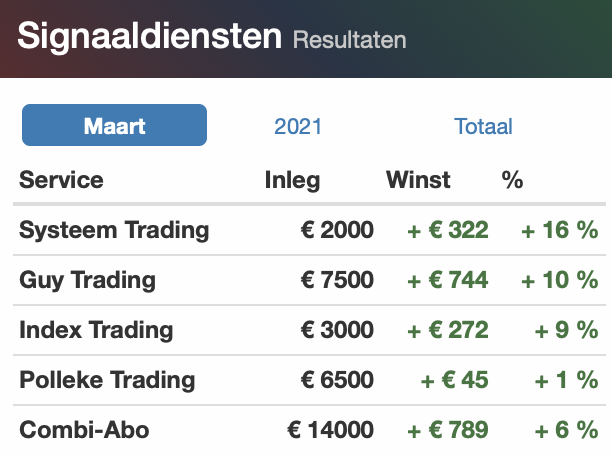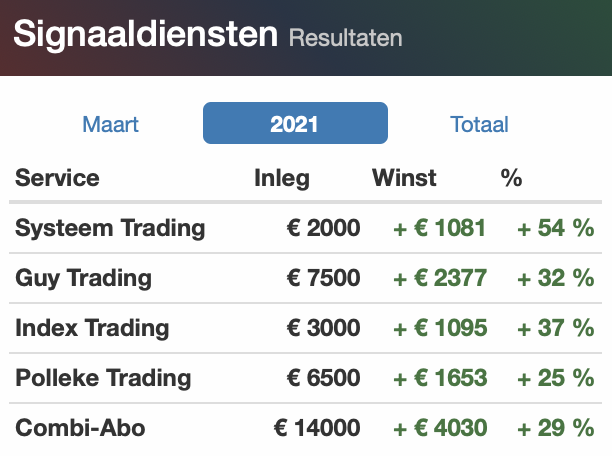 Met vriendelijke groet,
Guy Boscart
GLOBAL TOP NEWS
The International Monetary Fund said on Tuesday unprecedented public spending to fight the COVID-19 pandemic, primarily by the United States, would push global growth to 6% this year, a rate unseen since the 1970s.

Toshiba is considering a $20 billion offer from private equity firm CVC Capital Partners to take it private, a person familiar with the matter said, as the Japanese industrial conglomerate faces pressure from activist shareholders to improve governance.

Iran and world powers held what they described as "constructive" talks on Tuesday and agreed to form working groups to discuss the sanctions Washington might lift and the nuclear curbs Tehran might observe as they try to revive the 2015 nuclear deal.


EUROPEAN COMPANY NEWS
Australia said it will ask the European Union to release more than 3 million doses of AstraZeneca's COVID-19 vaccine, testing Brussels claim it is not blocking shipments, as the country struggles to vaccinate its population.

Citibank has lodged an application with Australia's Supreme Court of New South Wales to wind up two businesses run by Indian-British steel magnate Sanjeev Gupta as part of insolvency measures.

France will contribute to a 4 billion-euro recapitalisation of Air France-KLM and more than double its stake to nearly 30%, under plans announced on Tuesday with European Union approval.


TODAY'S COMPANY ANNOUNCEMENTS
Clariant AG Annual Shareholders Meeting
Esprinet SpA Annual Shareholders Meeting
Law Debenture Corporation PLC Annual Shareholders Meeting
Natuzzi SpA Q4 2020 Earnings Call
Palfinger AG Annual Shareholders Meeting
Rockwool International A/S Annual Shareholders Meeting
Saga PLC FY 2021 Earnings Release
SBM Offshore NV Annual Shareholders Meeting
Spar Nord Bank A/S Annual Shareholders Meeting
Stockmann Oyj Abp Annual Shareholders Meeting
Verde Agritech Q4 2020 PLC Earnings Call
Zurich Insurance Group AG Annual Shareholders Meeting


ECONOMIC EVENTS (All times GMT)
0600 (approx.) United Kingdom Reserve Assets Total for Mar: Prior 178,804.91 mln USD
0700 (approx.) Austria Trade Balance for Jan: Prior -304.0 mln EUR
0700 (approx.) Austria Wholesale Prices NSA mm for Mar: Prior 1.5%
0700 (approx.) Austria Wholesale Prices NSA yy for Mar: Prior 2.2%
0715 Spain Services PMI for Mar: Expected 46.0; Prior 43.1
0745 Italy Markit/IHS Services PMI for Mar: Expected 49.0; Prior 48.8
0745 Italy Composite PMI for Mar: Prior 51.4
0750 France Markit Services PMI for Mar: Expected 47.8; Prior 47.8
0750 France Markit Comp PMI for Mar: Expected 49.5; Prior 49.5
0755 Germany Markit Services PMI for Mar: Expected 50.8; Prior 50.8
0755 Germany Markit Comp Final PMI for Mar: Expected 56.8; Prior 56.8
0800 Euro Zone Markit Services Final PMI for Mar: Expected 48.8; Prior 48.8
0800 Euro Zone Markit Comp Final PMI for Mar: Expected 52.5; Prior 52.5
0830 United Kingdom Markit/CIPS Services PMI Final for Mar: Expected 56.8; Prior 56.8
0830 United Kingdom Composite PMI Final for Mar: Expected 56.6; Prior 56.6