Liveblog Archief dinsdag 6 april 2021
6 liveblog items op dinsdag 6 april 2021.
Actueel
Verwacht
Vorige
USA

USA:

JOLTs Vacatures (Feb)
16:00
7,367M
6,995M
7,099M
Actueel: 7,367M Verwacht: 6,995M Vorige: 7,099M
TOP NEWS
• Credit Suisse overhauls management as it takes $4.7 billion hit on Archegos
Credit Suisse said it will take a 4.4 billion Swiss franc hit from dealings with Archegos Capital Management, prompting it to overhaul the leadership of its investment bank and risk divisions.

• U.S. auto industry calls for govt help as it warns of impact of chip shortage
A U.S. auto industry group on Monday urged the government to help as it warned the global semiconductor shortage could result in 1.28 million fewer vehicles built this year and disrupt production for another six months.

• KKR raises $15 billion in Asia's biggest fund as buyout-backed deals rise
Private equity powerhouse KKR said it has raised $15 billion for its fourth Asia-Pacific focused fund, marking the region's biggest private equity fund at a time when buyout-backed deals are on the rise.

• Brookfield, BlackRock no longer in race for over $10 billion Aramco pipeline stake - sources
U.S. asset manager BlackRock and Canada's Brookfield Asset Management are no longer in the race to buy a stake in Saudi oil giant Aramco's pipeline business, two sources familiar with the deal said.

• Bezos, Musk top Forbes' record-setting billionaire list
Forbes' annual world's billionaires list includes a record-breaking 2,755 billionaires, with Amazon founder Jeff Bezos topping it for the fourth consecutive year, the media company said.


BEFORE THE BELLU.S. stock index futures fell as investors locked in some gains after the S&P 500 and the Dowended at record high in the previous session. European stocks rose on hopes of global economic recovery and increasing vaccination programs. Japan's Nikkei ended lower with worries over the fourth-wave of the pandemic hitting the nation. Gold prices rose, while the dollar slipped. Oil prices rose on strong economic data from China and United States. Data for job openings by JOLTS, is scheduled for release later during the day.

STOCKS TO WATCH
• Apollo Global Management Inc & Blackrock Inc: BlackRock and Brookfield Asset Management are no longer in the race to buy a stake in Saudi oil giant Aramco's pipeline business, two sources familiar with the deal said. Apollo Global Management and New York-based Global Infrastructure Partners are among the bidders still in the race for the deal, which could fetch Aramco over $10 billion, they said. China Investment Corp, the country's sovereign wealth fund, was also weighing a bid for the assets, a third source told Reuters. Aramco, Apollo and Brookfield declined to comment.

• AstraZeneca PLC: The European Union has blocked shipments of 3.1 million doses of AstraZeneca's COVID-19 vaccine to Australia and the country has little hope of getting the remaining 400,000 doses it has been pledged on time, a government source said. The export curb underscores massive shortfalls of the AstraZeneca shot across the EU bloc and complicates Australia's inoculation campaign, which is already 83% behind its original schedule.

• Blackstone Group Inc: Billionaire James Packer's Consolidated Press Holdings said it was open to considering Blackstone A$8.02 billion proposal to buy Australian casino operator Crown Resorts. Packer is expected to receive about A$2.9 billion from the Blackstone deal. CPH also said it has hired Moelis Australia to advise it on its nearly 37% stake, adding that it will engage with relevant stakeholders including regulatory authorities for the proposal.

• Boeing Co: Vietnam has allowed Boeing 737 Max planes to transit in the country after they were suspended in 2019 over safety concerns, state media reported, citing the Ministry of Transport. The ministry has approved a proposal from the aviation authority following reports on safety and the resumption of the operations of the aircraft elsewhere in the world, Tuoi Tre newspaper reported.

• BP PLC: The energy group said it expects to have hit its $35 billion net debt target in the first quarter of this year, sooner than expected and paving the way for it to deliver on its promise of buying back shares. "This is a result of earlier than anticipated delivery of disposal proceeds combined with very strong business performance during the first quarter," Chief Executive Bernard Looney said.

• Catalent Inc & Moderna Inc: Catalent has signed an agreement that will nearly double the U.S. production of Moderna's COVID-19 vaccine, the Wall Street Journal reported, citing people familiar with the matter. The agreement will nearly double the vaccine output at Catalent's Bloomington, Indiana, plant this month to about 400 vials a minute, WSJ reported.

• Credit Suisse Group AG: The bank said it will take a 4.4 billion Swiss franc hit from dealings with Archegos Capital Management, prompting it to overhaul the leadership of its investment bank and risk divisions. The bank now expects to post a loss for the first quarter of around 900 million Swiss francs. It is also suspending its share buyback plans and cutting its dividend by two thirds. The bank, which has dumped over $2 billion worth of stock to end exposure to the New York investment fund run by former Tiger Asia manager Bill Hwang, said Chief Risk and Compliance Officer Lara Warner and investment banking head Brian Chin were stepping down following the losses.

• Exxon Mobil Corp & Energy Transfer LP: Exxon's Energy shale unit filed a breach of contract lawsuit against Energy Transfer over disputed payments for the Dakota Access Pipeline, according to a Texas state court filing. The suit alleges the pipeline operator hit XTO with deficiency charges and revoked other credits after the oil producer shifted some oil to other outlets last August. Exxon took the actions after a U.S. court ordered Dakota Access Pipeline (DAPL) shut, it said.

• KKR & Co: KKR said it has raised $15 billion for its fourth Asia-Pacific focused fund, marking the region's biggest private equity fund at a time when buyout-backed deals are on the rise. KKR said the fund exceeded its target size to reach its hard cap for fund investors' commitments and received strong support from new and existing global investors, including significant representation from Asia Pacific-based investors.

• Novavax Inc: The company said participants in its ongoing COVID-19 vaccine trials in South Africa and the UK can now receive additional shots, ensuring those who received a placebo can also get the active vaccine. Allowing volunteers to crossover to the active vaccine offers them an incentive to continue in the trials even when other authorized vaccines are available. The company said it planned to cross over participants in its ongoing large, late-stage study in the United States and Mexico, for which the company plans to read out initial clinical data during the second quarter.

• Phillips 66: The U.S. refiner predicted that its first-quarter loss would be larger than expected, citing the severe winter cold snap that battered its U.S. Gulf Coast petrochemical operations. Phillip 66's adjusted net loss will reach between $550 million and $700 million for the quarter ended March 31 due to lost production and higher costs from the outages, it said.


INSIGHTWhat happens when women run the economy? We're about to find out
Women now hold many of the jobs controlling the world's largest economy - and they're trying to fix it. Treasury Secretary Janet Yellen, Commerce Secretary Gina Raimondo and trade czar Katherine Tai hold top jobs in U.S. President Joe Biden administration and many of his economic advisers also are women, as are nearly 48% of his confirmed cabinet-level officials.

ANALYSTS' RECOMMENDATION
• Acadia Pharmaceuticals Inc: Jefferies cuts rating to hold from buy, saying that FDA has found the company's data unsupportive regarding subgroup analyses in dementia-related psychosis.

• Booking Holdings Inc: Evercore ISI assumes coverage with in line rating, supported by an attractive business model and an unusually strong management team.

• Snap Inc: Atlantic Equities raises rating to overweight, saying that the company has grown into a broader and monetizable content platform from a messaging-centric app.


ECONOMIC EVENTS (All timings in U.S. Eastern Time)
1000 (approx.) JOLTS job openings for Feb : Expected 6.995 mln; Prior 6.917 mln


COMPANIES REPORTING RESULTS
Paychex Inc : Expected Q3 earnings of 92 cents per share


CORPORATE EVENTS (All timings in U.S. Eastern Time)
0930 Paychex Inc : Q3 earnings conference call
1100 Greenbrier Companies Inc : Q2 earnings conference call
1100 Lindsay Corp : Q2 earnings conference call
1600 Alaska Air Group Inc : Annual Shareholders Meeting
1630 Smart Global Holdings Inc : Q2 earnings conference call
1800 Maxeon Solar Technologies Ltd : Q4 earnings conference call


EX-DIVIDENDS
Comcast Corp : Amount $0.25
Gap Inc : Amount $0.24
Marsh & McLennan Companies Inc : Amount $0.46
New York Times Co : Amount $0.07
Preferred Bank : Amount $0.38
Progressive Corp : Amount $0.10
Quest Diagnostics Inc : Amount $0.62
Goedemorgen
Na een lang weekend kunnen we weer op volle toeren naar de markten kijken, het lange Paasweekend is hier in Europa normaal gezien het langste weekend van het jaar waar de beurzen dicht blijven. Wall Street was wel open gisteren en we zien daar een knalstart van de nieuwe week. Daar waar we al op recordhoogte stonden kwam er nog wat bij op Paasmaandag.
De Dow won 1,2% en zet een nieuw record neer, ook de SP 500 (+1,5%) en de Dow Transport index (+1%) zetten ook nieuwe records neer. De tech aandelen deden het ook heel goed, de Nasdaq won 1,7%, de Nasdaq 100 ging er met 2% op vooruit net als de SOX index die een nieuw record neerzet na de 2% winst. Een sterke start van de nieuwe week op Wall Street in ieder geval.
Indicatie markt vandaag:
De AEX en de DAX gaan wat hoger aan de week beginnen zo te zien via de futures, de AEX kan met een plus van ongeveer 7 punten oplopen tot rond de 715 punten, ook de DAX wint 100 punten voorbeurs en bereikt de 15.300 punten via de DAX future. De futures op Wall Street doen nog niet veel, die blijven ongeveer hangen rond de slotstanden van gisteren. Zowel de AEX, de DAX, de Dow Jones, de S&P 500, de Dow Transport en de SOX index zullen ook vandaag proberen de records aan te scherpen, of het gaat lukken zien we later op de dag wel want de markten kunnen snel een echte top die langer blijft staan neerzetten nu. De vraag is nu hoe de markten gaan sluiten vandaag.
Resultaat dit jaar 2021 verloopt naar wens:
De maand maart werd in ieder geval positief afgerond en met december erbij komen we nu uit op 4 maanden na elkaar dat er winst werd behaald via de signalen die we naar de leden versturen. Deze manier van werken wil ik hoe dan ook proberen aan te houden, de markt krijg ik in ieder geval steeds beter onder controle en ik probeer met kleine posities zo als goed mogelijk te werken voor de leden, we doen dat in beide richtingen als dat kan. Voor deze maand zie ik in ieder geval weer genoeg mogelijkheden om op te handelen. We starten de maand april vanaf vandaag en ik heb wel een bepaalde visie waar we iets moois mee kunnen doen !!
Onderaan deze update ziet u nog een overzicht met hoe de maand maart werd afgerond en hoe we er dit jaar voor staan wat betreft het resultaat via de signalen die we naar onze leden versturen. Verder ziet u nog de speciale PAAS weekend aanbieding om mee te doen met onze signalen tot 1 JUNI. Via de site en dan de Tradershop kunt u als lid de lopende posities met alle details altijd inzien via https://www.usmarkets.nl/tradershop
Technische conditie Wall Street:
Wat betreft Wall Street zien we dat de Dow Jones en de S&P 500 nog altijd records blijven neerzetten wat wil zeggen dat het er technisch nog altijd goed en. sterk uitziet tot er een. definitieve top staat. Pas als de indices daarna 2 tot 3% inleveren moeten we ons zorgen beginnen te maken voor het vervolg op de korte termijn. De Dow Jones en de S&P 500 blijven in ieder geval ook nog ruim boven hun 20-MA en 50-MA (MA = daags gemiddelde) en staan nu al een hele lange periode boven hun 200-MA.
De technologie indices (de Nasdaq, de Nasdaq 100 en de SOX index) herpakken zich nu ook heel sterk, de SOX zet al een nieuw record neer terwijl de Nasdaq en de Nasdaq 100 door hun eerste hindernissen breken en onderweg zijn naar hun top ofwel hoogste stand ooit. Het zijn nu vooral die TOP-8 aandelen waar ik het altijd over heb die een sterke reeks neerzetten en de tech indices vooruit helpen. Na een paar sterke dagen staan de Nasdaq en de Nasdaq 100 weer ver boven hun 20- en 50-MA, nu maar eens zien of ze die stijging door kunnen zetten de komende sessies en hun top kunnen halen ...
Technische conditie AEX en DAX:
AEX index:
We zien zowel op de korte als op de langere termijn een uitbraak sinds vorige week bij de AEX index, het wachten tussen de pakweg 675 en 687 punten duurde blijkbaar al lang genoeg want de index bleef daar geruime tijd hangen. De top van midden februari rond de 688-690 punten doemde daar steeds op als zware hindernis. Vorige week zijn we er eindelijk boven geraakt en deze uitbraak was meteen behoorlijk krachtig. Je kon er ook al op wachten omdat dan de weg naar de top van 2000 open lag, de index brak ook door deze oude top en bereikt nu al de zone 710-715 punten.
Bij een verder positief verloop verwacht ik de index nu richting de 725 punten maar dat kan zeker ook via een terugtest van de 702-703 punten. Onder die oude top ofwel onder de 700 punten ziet het er slecht uit maar dat volgen we de komende dagen wel. Let op de 718, de 725 en de 735 als weerstand. Steun nu de 703, de 690 en de 675 punten.

DAX index:
De DAX doet het ook nog altijd goed en blijft op slotbasis nieuwe records neerzetten, de uptrend bij de DAX blijft duidelijk, het doel rond die 15.000 punten werd behaald. De volgende richtpunten zijn nu eerst de 15.300 en de 15.450 punten mocht de index verder oplopen. Aan de andere kant zijn vrijwel alle indices, dus ook de DAX, rijp voor een grotere correctie. Steun nu rond het 20-MA dat nu rond de 14.625 punten uitkomt, later de 14.450 punten (recente bodems) en de 14.225 punten waar we het 50-MA nu zien uitkomen als steun.
Er is zoals u merkt meer dan genoeg ruimte omlaag voor wat betreft de DAX voor dat de index in de problemen komt. Even een terugval lijkt me nu logisch, daarna kan er mogelijk nog een nieuwe stijging op gang komen met weer nieuwe records.


Euro, olie en goud:
De euro zien we nu rond de 1.181 dollar, de prijs van een vat Brent olie komt uit op 62,7 dollar terwijl een troy ounce goud nu op 1738 dollar staat.
Resultaat dit jaar 2021 verloopt naar wens:
Onderaan deze update ziet u nog een overzicht wat betreft Trading met een mooie aanbieding om mee te doen met onze signalen tot 1 JUNI voor €39. Via de site en dan de Tradershop kunt u de posities met details zien staan. https://www.usmarkets.nl/tradershop

De LIVEBLOG en Twitter:
Via de LIVEBLOG en tussendoor ook via mijn Twitter account laat ik gedurende de dag ook wat grafiekjes met korte uitleg voorbij komen over de markt. Op Twitter kunt u mij volgen via @USMarkets dan kunt u deze snelle informatie die ik deel uiteraard ook inzien .... https://twitter.com/USMarkets , ook opvallende beursfeiten komen er vaak langs !

Inter Market overzicht op slotbasis ...


Nu lid worden tot 1 JUNI voor €39?
Blijven schakelen tussen long en short blijft belangrijk de komende weken. Ook deze maand (maart) krijgen we genoeg kansen. Doe nu in ieder geval mee met de proef aanbieding voor nieuwe leden, die loopt tot 1 JUNI en dat met een mooie korting !! ... Nu €39 tot 1 JUNI 2021 ... voor Polleke €49 tot 1 JUNI 2021 !!! Om u in te schrijven ga naar onze Tradershop https://www.usmarkets.nl/tradershop
Schrijf u in voor Systeem Trading (€29 tot 1 JUNI)
Schrijf u in voor Index Trading (€29 tot 1 JUNI)
Schrijf u in voor Guy Trading (€29 tot 1 JUNI)
Schrijf u in voor Polleke Trading (€39 tot 1 JUNI)
Schrijf u in voor de Aandelen portefeuille (€30 tot 1 JUNI)
Schrijf u in voor COMBI TRADING (€50 tot 1 JUNI)

Hieronder de resultaten deze maand en dit jaar (2021) ...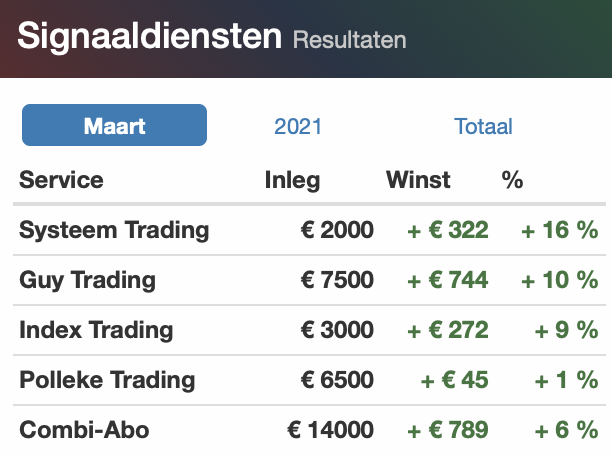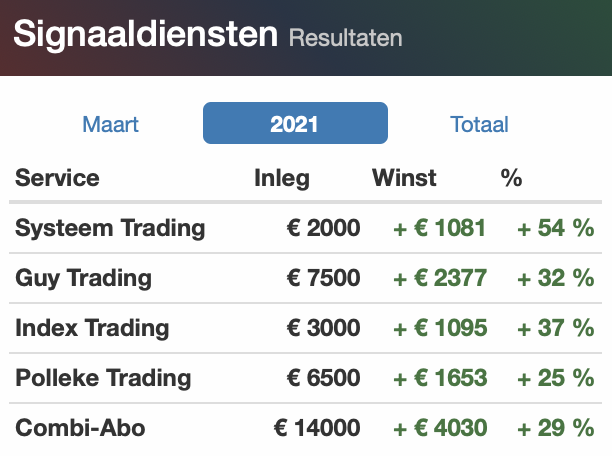 Met vriendelijke groet,
Guy Boscart
Nog een klein kwartiert­je en ook 2e Paas­dag 2021 is voor­bij. Hopelijk heeft u ervan kun­nen geni­eten. Hier ken­nen ze maar 1 Paas­dag en dat was zondag.Ik ga met u langs veel indices lopen, om niet te zeggen heel veel indices. In de vorige col­umn stopte ik een mys­tery grafiek en we gaan kijken welke…
Lees verder »
Bit­coin Het is u waarschi­jn­lijk niet ont­gaan, Bit­coin is bezig met een flinke bull run. Op de boven­staande chart heb ik de lijn langs het niveau waar de voor­gaande Bit­coin ​'bub­ble' uiteenspat­te door­getrokken. Op het moment van schri­jven zit de koers al bij­na 40K USD boven dit niveau. Is…
Lees verder »
GLOBAL TOP NEWS
A recovery in China's services sector picked up speed in March as firms hired more workers and business optimism surged, although inflationary pressures remained, a private sector survey showed.

U.S. Treasury Secretary Janet Yellen said on Monday that she is working with G20 countries to agree on a global corporate minimum tax rate and pledged that restoring U.S. multilateral leadership would strengthen the global economy and advance U.S. interests.

The U.S. Supreme Court handed Alphabet's Google a major victory on Monday, ruling that its use of Oracle's software code to build the Android operating system that runs most of the world's smartphones did not violate federal copyright law.


EUROPEAN COMPANY NEWS
Credit Suisse Group will detail losses from its relationship with Archegos Capital Management after dumping over $2 billion worth of stock to end exposure to the troubled investor, two sources familiar with the matter said.

Australia said it had not yet received more than 3 million doses of previously promised AstraZeneca COVID-19 vaccine doses amid export curbs by the European Union, leaving a major hole in its early nationwide inoculation drive.

SoftBank Group has agreed to buy a 40% stake in AutoStore for $2.8 billion, the Norway-based robotics firm said on Monday, in yet another big investment by the conglomerate in warehouse automation technology that optimizes e-commerce operations.


TODAY'S COMPANY ANNOUNCEMENTS
Banca Monte dei Paschi di Siena SpA Annual Shareholders Meeting
Bosjo Fastigheter AB Annual Shareholders Meeting
CPI Property Group SA FY 2020 Earnings Call
Nanoform Finland Plc Annual Shareholders Meeting
Thermador Groupe SA Annual Shareholders Meeting


ECONOMIC EVENTS (All times GMT)
0630 (approx.) Sweden PMI Services for Mar: Prior 62.7
0800 (approx.) United Kingdom New Passenger Cars Registration for Mar: Prior 51,312
0800 Italy Unemployment Rate for Feb: Expected 9.0%; Prior 9.0%
0830 (approx.) Euro Zone Sentix Index for Apr: Expected 7.5; Prior 5.0
0900 Euro Zone Unemployment Rate for Feb: Expected 8.1%; Prior 8.1%


DEBT AUCTIONS
Belgium - Reopening of 3-month government debt auction.
France - Reopening of 3-month, 5-month and 1-year government debt auctions.
Germany - Reopening of 4-month, and 10-month government debt auctions.
Netherlands - Reopening of 4-month and 6-month government debt auctions.
Switzerland - Reopening of 3-month government debt auction.