3,426.92
-56.89
(-1.63% )
Sluit:

3,483.81

/ Min:

3,419.93

/ Max:

3,502.42
---
Charts S&P 500
Intraday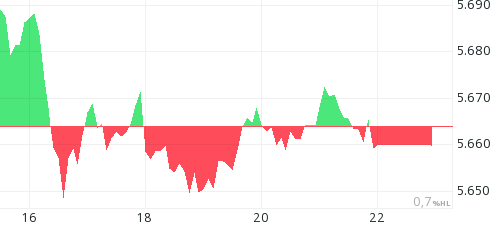 10 dagen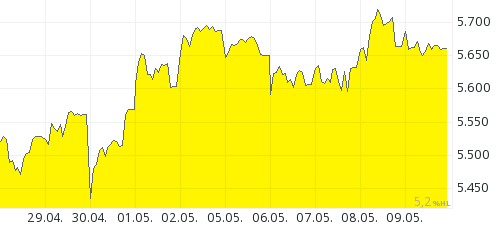 6 maanden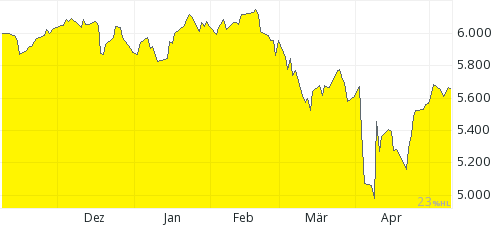 5 jaar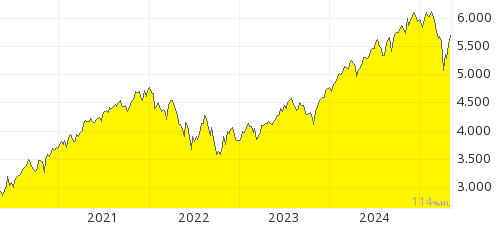 Aandelen S&P 500
| | | | |
| --- | --- | --- | --- |
| Principal Financial | 40.87 | -0.33 | -0.80% |
| Arthur J Gallagher | 107.06 | -1.71 | -1.57% |
| Smith AO | 63.35 | +0.37 | +0.59% |
| Synopsys Inc | 83.24 | +0.94 | +1.14% |
| Norwegian Cruise Lines | 16.45 | +0.25 | +1.54% |
| Hilton Worldwide | 87.55 | -1.95 | -2.18% |
| IHS Markit Ltd | 81.05 | -0.27 | -0.33% |
| Brighthouse Financial | 32.00 | +0.26 | +0.82% |
| Booking Holdings | 2,019.49 | +17.99 | +0.90% |
| Walmart | 142.95 | -1.76 | -1.22% |
| Discovery A | 20.20 | -0.76 | -3.63% |
| IPG Photonics | 186.50 | +3.19 | +1.74% |
| Gartner | 124.34 | -5.73 | -4.41% |
| SBA Communications | 307.78 | -2.47 | -0.80% |
| Aptiv | 99.40 | +1.20 | +1.22% |
| AMD | 82.00 | -1.17 | -1.41% |
| Apartment Invest | 33.05 | -1.34 | -3.90% |
| Align | 326.84 | -9.68 | -2.88% |
| ANSYS | 336.25 | -13.47 | -3.85% |
| Federal Realty | 73.41 | -0.96 | -1.29% |
| Raymond James Financial | 78.55 | -1.17 | -1.47% |
| Everest | 197.29 | -3.51 | -1.75% |
| Duke | 38.40 | -0.46 | -1.18% |
| Lennar B | 41.58 | -0.45 | -1.07% |
| ResMed | 179.41 | -1.38 | -0.76% |
| Alexandria RE | 158.54 | -3.52 | -2.17% |
| CBRE A | 47.58 | -1.03 | -2.12% |
| Synopsys | 224.37 | -2.11 | -0.93% |
| Alphabet C | 1,534.61 | -38.40 | -2.44% |
| Capri Holdings | 21.52 | +0.19 | +0.89% |
| Carnival Corp | 14.15 | +0.07 | +0.50% |
| Charles Schwab | 38.89 | -0.40 | -1.02% |
| Cognizant A | 72.20 | -1.16 | -1.58% |
| Kohls Corp | 19.37 | -0.84 | -4.16% |
| L3Harris Technologies | 171.43 | -2.94 | -1.69% |
| Laboratory America | 199.91 | +0.82 | +0.41% |
| Newmont Goldcorp | 61.71 | -0.96 | -1.53% |
| Nielsen | 13.61 | -0.33 | -2.37% |
| O'Reilly Automotive | 463.75 | -3.26 | -0.70% |
| Visa A | 196.97 | -3.29 | -1.64% |
| KKR & Co | 36.80 | -0.14 | -0.38% |
| Brookfield Property A | 16.31 | -0.32 | -1.92% |
| Anthem | 292.21 | -4.66 | -1.57% |
| AO Smith | 54.96 | -0.41 | -0.74% |
| Constellation Brands A | 180.64 | -0.84 | -0.46% |
| Jefferies Financial | 19.82 | -0.59 | -2.89% |
| Keurig Dr Pepper | 29.20 | -0.56 | -1.88% |
| Lam Research | 363.57 | -1.39 | -0.38% |
| Molson Coors Brewing B | 34.72 | -0.68 | -1.92% |
| Packaging America | 117.26 | -2.33 | -1.95% |
| Pinnacle West | 81.81 | +0.74 | +0.91% |
| Ralph Lauren A | 74.36 | -0.43 | -0.57% |
| Vertex | 220.51 | +2.43 | +1.11% |
| Welltower | 52.58 | -1.70 | -3.13% |
| United Airlines Holdings | 35.50 | +1.34 | +3.92% |
| Air Products | 294.16 | -3.98 | -1.33% |
| Cboe Global | 82.12 | -1.78 | -2.12% |
| 3M | 169.55 | -1.42 | -0.83% |
| Packaging of America | 117.31 | +1.18 | +1.02% |
| Booking | 1,653.00 | -14.80 | -0.89% |
| Baker Hughes A | 13.11 | -0.03 | -0.23% |
| Frontier Communications | 11.51 | -0.06 | -0.52% |
| Andeavor | 153.50 | | |
| Cadence Design | 113.56 | -2.13 | -1.84% |
| MGM | 20.80 | -0.44 | -2.07% |
| IPG | 17.74 | -0.52 | -2.85% |
| Tapestry | 20.06 | +0.53 | +2.71% |
| IFF | 113.55 | -2.72 | -2.34% |
| DXC Technology | 19.89 | -0.70 | -3.40% |
| ADP | 145.05 | -3.37 | -2.27% |
| AIG | 30.09 | -0.20 | -0.66% |
| AT&T | 26.88 | -0.45 | -1.65% |
| AbbVie | 84.31 | -1.96 | -2.27% |
| Abbott Labs | 108.04 | -1.63 | -1.49% |
| Accenture | 226.24 | -3.81 | -1.66% |
| Activision Blizzard | 80.08 | -0.54 | -0.67% |
| Acuity Brands | 93.54 | -0.72 | -0.76% |
| Adobe | 495.20 | -7.62 | -1.52% |
| Advance Auto Parts | 153.25 | -1.74 | -1.12% |
| Aetna | 212.70 | | |
| Affiliated Managers | 77.48 | -0.84 | -1.07% |
| Aflac | 36.48 | -0.73 | -1.96% |
| Agilent Technologies | 105.49 | -1.21 | -1.13% |
| Air Products&Chemicals | 153.60 | -0.62 | -0.40% |
| Akamai | 109.41 | -1.30 | -1.17% |
| Alaska Air | 39.58 | +0.23 | +0.58% |
| Albemarle | 92.57 | -0.85 | -0.91% |
| Alexion | 121.76 | -2.37 | -1.91% |
| Allegion PLC | 103.93 | -1.06 | -1.01% |
| Allergan | 193.02 | | |
| Alliance Data Systems | 54.23 | -0.77 | -1.40% |
| Alliant Energy | 54.72 | -0.17 | -0.31% |
| Allstate | 91.42 | -1.16 | -1.25% |
| Alphabet A | 1,529.95 | -37.75 | -2.41% |
| Alphabet Inc C | 1,140.17 | +15.90 | +1.41% |
| Altaba | 66.75 | -0.76 | -1.13% |
| Altria | 39.18 | -0.35 | -0.89% |
| Amazon.com | 3,207.21 | -65.50 | -2.00% |
| Ameren | 81.64 | -0.75 | -0.91% |
| American Airlines | 12.56 | +0.10 | +0.80% |
| American Electric Power | 91.28 | -0.24 | -0.26% |
| American Express | 102.47 | -2.44 | -2.33% |
| American Tower | 239.60 | -3.12 | -1.29% |
| American Water Works | 154.52 | -1.20 | -0.77% |
| Ameriprise Financial | 169.04 | -0.91 | -0.54% |
| AmerisourceBergen | 97.80 | -1.72 | -1.73% |
| Ametek | 107.55 | -2.30 | -2.09% |
| Amgen | 230.71 | -5.01 | -2.13% |
| Amphenol | 113.10 | -2.06 | -1.79% |
| Anadarko Petroleum | 72.82 | | |
| Analog | 122.61 | -1.03 | -0.83% |
| Anthem Inc | 280.24 | +0.66 | +0.24% |
| Aon | 209.19 | -3.69 | -1.73% |
| Apache | 9.06 | -0.31 | -3.31% |
| Apartment Inv. & Manag. | 44.11 | +0.04 | +0.09% |
| Apple | 115.98 | -3.04 | -2.55% |
| Applied Mat. | 62.05 | -0.95 | -1.51% |
| Archer-Daniels-Midland | 50.31 | +0.52 | +1.04% |
| Arconic Inc | 22.10 | -0.03 | -0.14% |
| Arthur J Gallagher&Co | 62.96 | +0.04 | +0.06% |
| Assurant | 121.79 | -1.68 | -1.36% |
| AutoNation | 45.56 | +0.06 | +0.13% |
| AutoZone | 1,176.42 | -16.96 | -1.42% |
| Autodesk | 259.94 | -0.03 | -0.01% |
| AvalonBay | 145.41 | -3.53 | -2.37% |
| Avery Dennison | 133.74 | -0.28 | -0.21% |
| BB&T | 54.24 | +0.75 | +1.40% |
| Ball | 91.18 | -0.24 | -0.26% |
| Bank of America | 23.72 | -0.52 | -2.15% |
| Bank of NY Mellon | 36.96 | -1.06 | -2.79% |
| Baxter | 81.19 | -0.63 | -0.77% |
| Becton Dickinson | 237.38 | +0.39 | +0.16% |
| Bed Bath&Beyond | 21.39 | -0.08 | -0.37% |
| Berkshire Hathaway B | 208.99 | -2.92 | -1.38% |
| Best Buy | 120.83 | +1.48 | +1.24% |
| Biogen | 268.77 | -11.24 | -4.01% |
| BlackRock | 634.89 | -22.49 | -3.42% |
| Boeing | 167.11 | -0.24 | -0.14% |
| BorgWarner | 38.66 | -0.03 | -0.08% |
| Boston Properties | 76.00 | -1.67 | -2.15% |
| Boston Scientific | 37.77 | -0.67 | -1.74% |
| Bristol-Myers Squibb | 60.77 | -0.47 | -0.77% |
| Broadcom | 375.77 | -2.88 | -0.76% |
| Brown Forman | 74.34 | -1.61 | -2.12% |
| CA | 44.44 | | |
| CBOE Holdings | 104.81 | +0.61 | +0.59% |
| CBRE | 47.35 | +0.04 | +0.09% |
| CBS | 40.77 | | |
| CF Industries | 28.88 | -0.40 | -1.37% |
| CH Robins. | 100.00 | -0.23 | -0.23% |
| CME Group | 163.34 | -4.65 | -2.77% |
| CMS Energy | 64.75 | -0.53 | -0.81% |
| CR Bard | 331.24 | | |
| CSRA Inc | 41.24 | | |
| CSX | 79.05 | -1.06 | -1.32% |
| CVS Health Corp | 58.78 | -0.81 | -1.36% |
| Cabot Oil&Gas | 19.08 | -0.02 | -0.10% |
| Campbell Soup | 48.63 | -0.31 | -0.63% |
| Capital One Financial | 77.12 | -2.10 | -2.65% |
| CarMax | 92.04 | -1.70 | -1.81% |
| Cardinal Health | 47.90 | -0.89 | -1.82% |
| Carnival | 957.40 | +10.20 | +1.08% |
| Caterpillar | 167.53 | -1.22 | -0.72% |
| Celgene | 108.24 | | |
| Centene | 65.73 | -0.48 | -0.72% |
| CenterPoint Energy | 20.80 | -0.05 | -0.24% |
| CenturyLink | 9.61 | -0.25 | -2.54% |
| Cerner | 72.36 | -2.27 | -3.04% |
| Charter | 617.66 | -16.26 | -2.56% |
| Chesapeake Energy | 11.85 | | |
| Chevron | 71.28 | -1.61 | -2.21% |
| Chipotle Mexican Grill | 1,335.59 | -4.09 | -0.31% |
| Chubb | 116.92 | -2.34 | -1.96% |
| Church&Dwight | 92.34 | -0.85 | -0.91% |
| Cigna | 171.66 | -6.24 | -3.51% |
| Cimarex Energy | 24.90 | -0.65 | -2.54% |
| Cincinnati Financial | 77.67 | -0.91 | -1.16% |
| Cintas | 341.32 | -7.08 | -2.03% |
| Cisco | 39.30 | -0.86 | -2.14% |
| Citigroup | 42.90 | -0.29 | -0.67% |
| Citizens Financial Group Inc | 26.64 | +0.03 | +0.11% |
| Citrix | 134.84 | -3.42 | -2.47% |
| Clorox | 212.50 | -2.49 | -1.16% |
| Coach | 40.59 | +0.69 | +1.73% |
| CocaCola | 49.62 | -0.41 | -0.82% |
| Cognizant | 72.55 | +1.08 | +1.51% |
| Colgate-Palmolive | 79.21 | -1.10 | -1.37% |
| Comcast | 44.33 | -1.23 | -2.70% |
| Comerica | 41.22 | -0.47 | -1.13% |
| ConAgra Foods | 37.47 | -0.44 | -1.16% |
| Concho Resources | 47.26 | -1.34 | -2.76% |
| ConocoPhillips | 32.70 | -1.07 | -3.17% |
| Consolidated Edison | 80.79 | -0.91 | -1.11% |
| Constellation Brands | 216.81 | -0.15 | -0.07% |
| Cooper | 348.42 | -5.28 | -1.49% |
| Corning | 34.60 | -0.58 | -1.65% |
| Costco | 375.56 | -5.98 | -1.57% |
| Coty Inc | 3.21 | -0.05 | -1.53% |
| Crown Castle | 164.32 | -2.58 | -1.55% |
| Cummins | 221.15 | -1.65 | -0.74% |
| DENTSPLY | 44.60 | -1.08 | -2.36% |
| DISH | 26.56 | -1.10 | -3.98% |
| DR Horton | 75.79 | -1.30 | -1.69% |
| DTE Energy | 118.17 | -1.13 | -0.95% |
| DaVita | 89.56 | -1.22 | -1.34% |
| Danaher | 223.83 | -3.62 | -1.59% |
| Darden Restaurants | 96.61 | -2.33 | -2.35% |
| Deere&Company | 238.17 | -1.89 | -0.79% |
| Delphi Automotive | 56.50 | +5.68 | +11.18% |
| Delta Air Lines | 31.50 | +0.03 | +0.10% |
| Devon Energy | 8.86 | -0.09 | -1.01% |
| Digital | 155.18 | -2.52 | -1.60% |
| Discover | 63.56 | -1.92 | -2.93% |
| Discovery | 23.93 | -0.49 | -1.99% |
| Discovery Communications C | 18.27 | -0.71 | -3.74% |
| Disney | 124.23 | -2.58 | -2.03% |
| Dollar General | 218.07 | -3.64 | -1.64% |
| Dollar Tree | 95.00 | -0.56 | -0.59% |
| Dominion Resources | 82.82 | +0.40 | +0.49% |
| Dover | 112.77 | -1.30 | -1.14% |
| Dow Chemical | 66.65 | | |
| Dr Pepper Snapple | 123.66 | | |
| DuPont | 58.44 | -0.73 | -1.23% |
| Duke Energy | 92.07 | -0.30 | -0.32% |
| Dun&Bradstreet | 117.57 | -0.56 | -0.47% |
| E-TRADE | 49.26 | | |
| EA | 129.87 | -2.05 | -1.55% |
| EOG Resources | 36.19 | -1.23 | -3.29% |
| EQT | 14.66 | -0.05 | -0.34% |
| Eastman Chemical | 85.78 | -0.71 | -0.82% |
| Eaton | 107.89 | -1.37 | -1.25% |
| Ecolab | 201.79 | -2.74 | -1.34% |
| Edison | 58.26 | +0.15 | +0.26% |
| Edwards Lifesciences | 84.00 | -1.33 | -1.56% |
| Eli Lilly | 142.80 | -3.32 | -2.27% |
| Emerson | 69.96 | -0.32 | -0.46% |
| Entergy | 105.34 | -1.33 | -1.25% |
| Envision Healthcare | 45.99 | | |
| Equifax | 158.58 | -4.76 | -2.91% |
| Equinix | 810.00 | -7.69 | -0.94% |
| Equity Residential | 50.71 | -1.14 | -2.20% |
| Essex Property | 199.06 | -2.98 | -1.48% |
| Estee Lauder | 222.34 | -1.79 | -0.80% |
| Eversource Energy | 91.08 | -0.34 | -0.37% |
| Exelon | 41.86 | -0.23 | -0.55% |
| Expedia | 92.14 | +1.43 | +1.58% |
| Expeditors | 92.56 | -0.73 | -0.78% |
| Express | 92.33 | | |
| Extra Space Storage | 113.73 | -0.90 | -0.79% |
| Exxon | 33.42 | -0.68 | -1.99% |
| F5 Networks | 132.28 | -0.42 | -0.32% |
| FLIR Systems | 37.01 | -0.17 | -0.46% |
| FMC | 107.87 | -1.04 | -0.95% |
| Facebook | 261.40 | -4.53 | -1.70% |
| Fastenal | 44.43 | -0.83 | -1.83% |
| FedEx | 281.97 | -1.90 | -0.67% |
| Federal Realty Investment | 129.64 | +0.83 | +0.64% |
| Fidelity National Info | 139.78 | -4.10 | -2.85% |
| Fifth Third | 23.05 | -0.21 | -0.92% |
| First Solar | 49.09 | +1.36 | +2.85% |
| FirstEnergy | 31.73 | +0.04 | +0.13% |
| Fiserv | 98.74 | -2.48 | -2.45% |
| Flowserve | 28.83 | -0.03 | -0.10% |
| Fluor | 11.39 | +0.49 | +4.50% |
| Foot Locker | 37.86 | -0.23 | -0.60% |
| Ford Motor | 7.59 | -0.08 | -1.04% |
| Fortive | 65.77 | -1.37 | -2.04% |
| Fortune Brands | 86.92 | -3.34 | -3.70% |
| Fox | 39.43 | -1.44 | -3.52% |
| Franklin Resources | 23.20 | -0.29 | -1.23% |
| Freeport-McMoran | 17.14 | -0.01 | -0.06% |
| GE | 7.29 | | |
| GGP | 20.68 | -0.33 | -1.55% |
| Gap | 19.10 | -0.22 | -1.14% |
| Garmin | 97.72 | -1.40 | -1.41% |
| General Dynamics | 138.68 | -3.56 | -2.50% |
| General Mills | 61.29 | -1.08 | -1.73% |
| General Motors | 33.35 | -0.10 | -0.30% |
| Genuine Parts | 100.61 | -0.31 | -0.31% |
| Gilead | 60.57 | -1.43 | -2.31% |
| Global Payments | 171.97 | -5.09 | -2.87% |
| Goldm. Sachs | 205.69 | -0.52 | -0.25% |
| H&R Block | 17.67 | +0.23 | +1.32% |
| HCA | 134.33 | -0.79 | -0.58% |
| HCP | 35.78 | | |
| HP Inc | 19.36 | -0.24 | -1.22% |
| Halliburton | 12.17 | -0.08 | -0.65% |
| Hanesbrands | 16.73 | -0.47 | -2.73% |
| Harley-Davidson | 28.20 | -0.37 | -1.30% |
| Harris | 195.72 | +1.27 | +0.65% |
| Hartford | 37.19 | -0.51 | -1.35% |
| Hasbro | 86.55 | -1.05 | -1.20% |
| Helmerich&Payne | 14.37 | +0.02 | +0.14% |
| Henry Schein | 61.87 | -0.47 | -0.75% |
| Hershey | 147.50 | -2.42 | -1.61% |
| Hess | 36.60 | -1.46 | -3.84% |
| Hewlett Packard Enterprise Co | 9.35 | -0.13 | -1.37% |
| Hologic | 67.01 | +0.11 | +0.16% |
| Home Depot | 283.73 | -3.93 | -1.37% |
| Honeywell | 171.59 | -3.27 | -1.87% |
| Hormel Foods | 49.02 | -0.52 | -1.05% |
| Host Hotels Resorts | 10.67 | -0.28 | -2.56% |
| Humana | 433.08 | -4.64 | -1.06% |
| Huntington Bancshares | 9.52 | -0.15 | -1.55% |
| IBM | 125.52 | -0.41 | -0.33% |
| ICE | 98.45 | -2.85 | -2.81% |
| IDEXX Labs | 419.27 | -4.48 | -1.06% |
| Illinois Tool Works | 202.42 | -4.22 | -2.04% |
| Illumina | 321.26 | -5.05 | -1.55% |
| Incyte | 87.76 | -2.87 | -3.17% |
| Ingersoll-Rand | 36.60 | -0.62 | -1.67% |
| Int Flavors & Fragrances | 150.16 | -0.20 | -0.13% |
| Int. Surg. | 736.12 | -16.56 | -2.20% |
| Intel | 54.58 | +0.42 | +0.78% |
| International Paper | 46.69 | +0.15 | +0.32% |
| Interpublic of Companies | 20.63 | -0.25 | -1.20% |
| Intuit | 335.27 | -5.88 | -1.72% |
| Invesco | 13.91 | -0.13 | -0.93% |
| Iron Mountain | 27.33 | -0.18 | -0.65% |
| J&J | 144.32 | -3.78 | -2.55% |
| JB Hunt | 123.94 | -4.10 | -3.20% |
| JM Smucker | 115.21 | -2.67 | -2.27% |
| JPMorgan | 99.80 | -1.71 | -1.68% |
| Jacobs Engineering | 97.73 | -1.60 | -1.61% |
| Johnson Controls | 42.42 | -0.60 | -1.39% |
| Juniper | 22.07 | -0.36 | -1.60% |
| KLA Tencor | 206.81 | -1.59 | -0.76% |
| Kansas City Southern | 179.59 | +0.58 | +0.32% |
| Kellogg | 66.69 | -0.41 | -0.61% |
| KeyCorp | 12.78 | -0.15 | -1.16% |
| Kimberly-Clark | 150.81 | -2.52 | -1.64% |
| Kimco | 10.93 | -0.09 | -0.82% |
| Kinder Morgan | 12.71 | -0.15 | -1.17% |
| Kohl's | 66.82 | -1.31 | -1.92% |
| Kraft Heinz | 31.75 | -0.41 | -1.27% |
| Kroger | 33.88 | -0.19 | -0.56% |
| L Brands | 33.13 | -0.17 | -0.51% |
| L3 Tech | 245.01 | | |
| LKQ | 31.47 | -0.42 | -1.32% |
| Laboratory of America | 154.85 | +3.52 | +2.33% |
| Lam Research Corp | 178.23 | -3.09 | -1.70% |
| Leggett&Platt | 44.16 | -1.34 | -2.95% |
| Lennar | 82.54 | -2.14 | -2.53% |
| Leucadia National | 23.18 | -0.29 | -1.24% |
| Level 3 Communications | 53.63 | | |
| Lincoln National | 33.72 | -0.06 | -0.18% |
| Lockheed Martin | 383.71 | -2.79 | -0.72% |
| Loews | 34.94 | -0.80 | -2.24% |
| Lowe's | 175.13 | -2.57 | -1.45% |
| LyondellBasell Industries | 77.05 | +0.04 | +0.05% |
| M&T Bank | 97.96 | -2.15 | -2.15% |
| Macerich | 7.26 | -0.01 | -0.14% |
| Macy's Inc | 6.10 | -0.06 | -0.97% |
| Mallinckrodt | 31.68 | -0.74 | -2.28% |
| Marathon Oil | 3.98 | -0.09 | -2.21% |
| Marathon Petroleum | 28.25 | -1.12 | -3.81% |
| Marriott Int | 93.94 | -3.82 | -3.91% |
| Marsh&McLennan | 113.03 | -1.91 | -1.66% |
| Martin Marietta Materials | 256.70 | -2.27 | -0.88% |
| Masco | 55.87 | -1.59 | -2.77% |
| Mastercard | 331.67 | -7.73 | -2.28% |
| Mattel | 12.53 | -0.07 | -0.60% |
| McCormick&Co | 197.53 | -1.86 | -0.93% |
| McDonald's | 226.00 | -3.37 | -1.47% |
| McKesson | 152.42 | -4.25 | -2.71% |
| Medtronic | 108.48 | -1.65 | -1.50% |
| Merckco | 78.67 | -1.16 | -1.45% |
| MetLife | 39.07 | -0.21 | -0.53% |
| Mettler-Toledo | 1,018.70 | -11.07 | -1.07% |
| Michael Kors | 37.92 | +0.74 | +1.99% |
| Microchip | 111.66 | +0.85 | +0.77% |
| Micron | 52.63 | +1.02 | +1.98% |
| Microsoft | 214.22 | -5.44 | -2.48% |
| Mid-America Apartment | 117.68 | -1.76 | -1.47% |
| Mohawk Industries | 101.58 | -3.80 | -3.61% |
| Molson Coors Brewing | 61.65 | -0.70 | -1.12% |
| Mondelez | 57.17 | -0.80 | -1.38% |
| Monsanto | 127.95 | | |
| Monster Bev. | 80.01 | -0.75 | -0.93% |
| Moodys | 284.53 | -4.53 | -1.57% |
| Morgan Stanley | 50.95 | -0.90 | -1.74% |
| Mosaic | 19.07 | -0.07 | -0.37% |
| Motorola | 170.16 | -0.75 | -0.44% |
| Murphy Oil | 25.65 | -0.08 | -0.31% |
| Mylan | 15.42 | -0.29 | -1.85% |
| NRG | 33.40 | -0.29 | -0.86% |
| NVIDIA | 539.91 | -12.55 | -2.27% |
| Nasdaq Inc | 127.48 | -1.39 | -1.08% |
| National Oilwell Varco | 8.70 | +0.10 | +1.16% |
| Navient | 9.74 | -0.05 | -0.51% |
| NetApp | 48.00 | +0.85 | +1.80% |
| Netflix | 530.72 | -0.07 | -0.01% |
| Newell Brands | 17.59 | -0.43 | -2.39% |
| Newfield Exploration | 17.07 | | |
| Newmont Mining | 31.06 | +0.30 | +0.98% |
| News Corp | 13.68 | -0.26 | -1.87% |
| News Corp A | 13.77 | -0.29 | -2.06% |
| NextEra Energy | 299.55 | -6.05 | -1.98% |
| NiSource | 23.47 | -0.03 | -0.13% |
| Nielsen Holdings | 26.80 | -0.28 | -1.03% |
| Nike | 127.43 | -0.57 | -0.45% |
| Noble Energy | 8.46 | | |
| Nordstrom | 12.17 | -0.76 | -5.88% |
| Norfolk Southern | 213.67 | -5.08 | -2.32% |
| Northern Trust | 85.41 | -1.97 | -2.25% |
| Northrop Grumman | 311.33 | -4.91 | -1.55% |
| Nucor | 48.97 | -0.36 | -0.73% |
| ONEOK | 28.29 | -0.61 | -2.11% |
| Occidental | 9.82 | -0.27 | -2.68% |
| Omnicom | 50.84 | -1.64 | -3.12% |
| Oracle | 59.62 | -0.67 | -1.11% |
| Oreilly | 368.62 | +5.98 | +1.65% |
| PACCAR | 91.06 | +1.12 | +1.25% |
| PNC Financial | 109.99 | -1.49 | -1.34% |
| PPG Industries | 134.32 | -2.84 | -2.07% |
| PPL | 27.77 | -0.82 | -2.87% |
| PVH | 62.05 | -0.11 | -0.18% |
| Pacific Gas&Electric | 10.82 | +0.29 | +2.75% |
| Parker-Hannifin | 221.57 | -1.29 | -0.58% |
| Patterson | 26.60 | -0.87 | -3.17% |
| PayPal Holdings Inc | 200.06 | -4.39 | -2.15% |
| Paychex | 81.93 | -1.80 | -2.15% |
| Pentair | 49.26 | -0.64 | -1.28% |
| People's United | 10.37 | -0.21 | -1.98% |
| PepsiCo | 139.68 | -2.05 | -1.45% |
| PerkinElmer | 122.30 | -1.72 | -1.39% |
| Perrigo | 45.66 | -1.72 | -3.63% |
| Pfizer | 37.80 | -0.15 | -0.40% |
| Philip Morris | 77.84 | -1.43 | -1.80% |
| Phillips 66 | 48.95 | -1.63 | -3.22% |
| Pinnacle West Capital | 78.02 | +0.52 | +0.67% |
| Pioneer Natural Resources | 87.05 | -3.21 | -3.56% |
| Praxair | 164.50 | | |
| Priceline | 1,905.64 | | |
| Principal | 70.37 | +0.48 | +0.69% |
| ProLogis | 103.02 | -1.24 | -1.19% |
| Procter&Gamble | 141.91 | -2.48 | -1.72% |
| Progressive | 95.78 | -0.74 | -0.77% |
| Prudential Financial | 65.60 | -0.67 | -1.01% |
| Public Service Enterprise | 59.50 | | |
| Public Storage | 231.19 | -1.81 | -0.78% |
| PulteGroup | 46.42 | -1.33 | -2.79% |
| Qorvo Inc | 134.54 | -0.22 | -0.16% |
| Qualcomm | 128.42 | -0.61 | -0.47% |
| Quanta Services | 61.89 | -0.09 | -0.15% |
| Quest Diagnostics | 120.83 | +0.63 | +0.52% |
| Ralph Lauren | 124.59 | -1.23 | -0.98% |
| Range Resources | 8.35 | +0.08 | +0.97% |
| Raytheon | 116.96 | | |
| Realty Income | 58.75 | -1.78 | -2.94% |
| Red Hat | 187.70 | | |
| Regency Centers | 37.00 | -0.54 | -1.44% |
| Regeneron | 583.14 | -16.60 | -2.77% |
| Regions Financial | 12.34 | -0.13 | -1.04% |
| Republic Services | 92.10 | -1.47 | -1.57% |
| Robert Half | 55.43 | -1.23 | -2.17% |
| Rockwell Automation | 244.46 | -4.57 | -1.84% |
| Rockwell Collins | 141.04 | | |
| Roper Technologies | 424.90 | -8.99 | -2.07% |
| Ross | 90.96 | -4.16 | -4.37% |
| Royal Caribbean Cruises | 59.71 | +0.88 | +1.50% |
| Ryder System | 74.72 | +0.55 | +0.74% |
| S&P Global | 341.15 | -7.02 | -2.02% |
| SL Green | 45.61 | -1.69 | -3.57% |
| Salesforce.com | 255.01 | -3.54 | -1.37% |
| Scana | 47.78 | | |
| Schlumberger | 15.01 | +0.04 | +0.27% |
| Scripps Networks | 90.04 | | |
| Seagate | 52.15 | +0.71 | +1.38% |
| Sealed Air | 41.38 | -0.26 | -0.62% |
| Sempra Energy | 127.97 | -0.14 | -0.11% |
| Sherwin-Williams | 681.83 | -13.49 | -1.94% |
| Signet Jewelers | 23.07 | +0.28 | +1.23% |
| Simon Property | 63.91 | -0.91 | -1.40% |
| Skyworks | 151.14 | -2.01 | -1.31% |
| Snap-On | 155.96 | -3.20 | -2.01% |
| Southern | 58.04 | -0.31 | -0.53% |
| Southwest Airlines | 39.85 | +0.17 | +0.43% |
| Southwestern Energy | 5.34 | -0.04 | -0.74% |
| Stanley Black&Decker | 173.59 | -2.79 | -1.58% |
| Staples | 10.25 | | |
| Starbucks | 87.60 | -0.92 | -1.04% |
| State Street | 64.35 | -2.23 | -3.35% |
| Stericycle | 66.29 | +0.05 | +0.08% |
| Stryker | 220.89 | -3.16 | -1.41% |
| SunTrust Banks | 70.13 | | |
| Symantec | 23.88 | +0.12 | +0.51% |
| Synchrony Financial | 29.08 | -0.30 | -1.02% |
| Sysco | 64.34 | -1.44 | -2.19% |
| T Rowe | 144.27 | -2.76 | -1.88% |
| TE Connectivity | 105.43 | -2.33 | -2.16% |
| TI | 150.76 | -2.36 | -1.54% |
| TJX | 55.13 | -1.52 | -2.68% |
| Target | 164.05 | -0.87 | -0.53% |
| TechnipFMC | 6.96 | +0.08 | +1.16% |
| Tegna Inc | 12.76 | -0.18 | -1.39% |
| Teradata | 32.21 | -0.33 | -1.01% |
| Textron | 35.49 | -0.78 | -2.15% |
| The AES | 19.90 | | |
| The Charles Schwab | 46.45 | +1.10 | +2.43% |
| The Goodyear Tire&Rubber | 9.72 | -0.05 | -0.51% |
| Thermo Fisher Scientific | 461.29 | -7.30 | -1.56% |
| Tiffany&Co | 122.19 | -0.53 | -0.43% |
| Time Warner | 98.77 | | |
| Torchmark | 72.32 | +2.13 | +3.03% |
| Total System Services | 133.27 | | |
| Tractor | 150.98 | -2.11 | -1.38% |
| Transdigm | 484.16 | -7.83 | -1.59% |
| Transocean | 9.94 | -0.01 | -0.10% |
| Travelers | 111.84 | -1.48 | -1.31% |
| TripAdvisor | 19.15 | -0.36 | -1.85% |
| Twenty-First Century Fox A | 51.10 | -0.25 | -0.49% |
| Tyson Foods | 58.31 | -1.40 | -2.34% |
| US Bancorp | 38.97 | -0.17 | -0.43% |
| Ulta Beauty | 235.45 | -6.55 | -2.71% |
| Under Armour A | 13.26 | +0.26 | +2.00% |
| Under Armour C | 11.56 | +0.26 | +2.30% |
| Union Pacific | 205.66 | -4.19 | -2.00% |
| United Continental | 95.11 | +0.18 | +0.19% |
| United Dominion | 32.14 | -0.87 | -2.64% |
| United Parcel Service | 172.10 | -2.34 | -1.34% |
| United Rentals | 187.44 | -5.50 | -2.85% |
| UnitedTech | 55.74 | +5.87 | +11.77% |
| Unitedhealth | 324.22 | -5.68 | -1.72% |
| Universal Health Services | 110.35 | -2.54 | -2.25% |
| Unum | 18.45 | -0.20 | -1.07% |
| Urban Outfitters | 25.02 | +0.39 | +1.58% |
| VF | 72.54 | -3.28 | -4.33% |
| Valero Energy | 39.29 | -0.93 | -2.31% |
| Varian | 171.51 | -0.45 | -0.26% |
| Ventas | 41.27 | -1.43 | -3.35% |
| VeriSign | 203.17 | -4.17 | -2.01% |
| Verisk | 188.50 | -3.97 | -2.06% |
| Verizon | 57.30 | -0.75 | -1.29% |
| Vertex Pharmaceuticals | 157.50 | +0.53 | +0.34% |
| Viacom | 24.22 | | |
| Visa | 160.16 | -0.28 | -0.17% |
| Vornado | 32.59 | -1.42 | -4.18% |
| Vulcan Materials | 145.62 | -0.80 | -0.55% |
| WEC Energy | 100.40 | -1.16 | -1.14% |
| WW Grainger | 374.74 | -8.80 | -2.29% |
| Wal-Mart Stores | 93.12 | +0.23 | +0.25% |
| Walgreens | 36.97 | -0.44 | -1.18% |
| Waste Management | 113.70 | -2.17 | -1.87% |
| Waters | 209.87 | -1.23 | -0.58% |
| Wells Fargo&Co | 22.54 | -0.32 | -1.40% |
| Welltower Inc | 61.70 | -0.11 | -0.18% |
| WestRock Co | 41.08 | +0.10 | +0.24% |
| Western D. | 40.92 | +2.98 | +7.85% |
| Western Union | 21.70 | -0.37 | -1.68% |
| Weyerhaeuser | 29.30 | -0.23 | -0.78% |
| Whirlpool | 198.88 | -2.69 | -1.33% |
| Whole Foods | 41.99 | | |
| Williams | 19.29 | +0.02 | +0.10% |
| Willis Towers Watson | 212.71 | -4.05 | -1.87% |
| Wyndham | 32.63 | +0.01 | +0.03% |
| Wynn | 69.67 | -1.45 | -2.04% |
| XL Group | 57.59 | | |
| Xcel Energy | 71.69 | -1.44 | -1.97% |
| Xerox | 19.72 | -0.36 | -1.79% |
| Xilinx | 116.38 | -1.64 | -1.39% |
| Xylem | 90.42 | -1.10 | -1.20% |
| Yum! Brands | 97.25 | -1.28 | -1.30% |
| Zimmer Biomet | 142.00 | -4.93 | -3.36% |
| Zions | 30.22 | -0.92 | -2.95% |
| Zoetis Inc | 159.99 | -3.56 | -2.18% |
| eBay | 54.32 | -1.51 | -2.70% |
Achtergrond SP500
De S&P 500-index opgesteld door het S&P Index Committee (S&P-Index Commissie). Daarin zetelen economen en analisten van Standard & Poor's. De Commissie is gebonden aan het Index Committee Policy (Index Commissie Beleid) dat ervoor moet zorgen dat de index op een onafhankelijke en objectieve manier tot stand komt.

In de index worden louter Amerikaanse bedrijven opgenomen die op de New York Stock Exchange (NYSE), de American Stock Exchange (AMEX) of de NASDAQ genoteerd zijn. De AMEX werd per 1 oktober 2008 overgenomen door de NYSE en is hierin opgegaan. De opname in de index vindt plaats op basis van marktkapitalisatie, de verhandelbaarheid of het hebben van een belangrijke positie in een sector.

De S&P-index is een marktwaardegewogen index, waarbij sinds 2005 rekening wordt gehouden met de free float, dat wil zeggen het percentage aandelen dat daadwerkelijk verhandelbaar is op de beurs. In de praktijk hebben veel van de 500 beursfondsen slechts een beperkte invloed op het verloop van de index. De tien grootste beursfondsen in de S&P 500 hadden een totaal gewicht van zo'n 17% in de index per eind juli 2015.

De criteria voor opname in de S&P 500 index zijn:

- Het moet een Amerikaans beursfonds zijn
- Een minimum beurswaarde (marktkapitalisatie, ofwel market capitalization) van $ 5,2 miljard
- Minimaal 50% van de aandelen moeten vrij verhandelbaar zijn (free float)
- Financieel gezond. Bedrijven moeten een winst hebben gerapporteerd over het laatste kwartaal en de som van de resultaten over de laatste vier kwartalen moet ook positief zijn
- Liquiditeit en normale koers. De verhouding jaarlijkse handelsomzet / marktkapitalisatie moet minimaal 0,30 zijn en het aandeel mag in absolute zin niet te laag noteren.
- Het beursfonds moet bijdragen aan een evenwichtige verhouding van de sectoren binnen de index.
- Alleen beursfondsen met een "normale" bedrijfsactiviteit worden opgenomen.
-Beleggingsfondsen en aparte holdings komen niet in aanmerking.

Indien een beursfonds niet langer aan bovenstaande eisen voldoet, zal dit niet onmiddellijk tot verwijdering leiden. De commissie streeft ernaar om het aantal grote verschuivingen zo gering mogelijk te maken.
Beursbox SP500
Voer actuele discussies over S&P 500 in ons forum.
Er wordt over S&P 500 gediscussieerd in de volgende boxen: Tradersbox , Technische Analyse Box .
00:27 Wall Street sluit lager maandag 19 oktober 2020 22:13 (ABM FN-Dow Jones) Wall Street is maandag lager gesloten. De S&P 500 sloot 1,6 procent lager op een slot van 3.426,92 punten en de Dow Jones index daalde 1,4 procent op 28.195,42 punten. De...

19:04 Ga ik wel vanuit. Samen met de Spx 3400 Dow 26750/28000 Herhaling dat wel. Dax 12000 natuurlijk wel stapje verder. Samen met de eurostoxx 50 richting 3000 Waar usa dan staat? 26000 voor de Dow

10:28 De vorderingen van afgelopen week: - De basis voor integratie met realtime data van Binck is gelegd. - Eerste prototype van een desktop met Realtime data en signalen module (= botje) is operationeel - Ik ben nu terug bij het hart van het botje;...

09:26 Weekgrafiek. We hebben een tech indices groep. AEX, ndx, spx b.v. Die geven dit beeld. Na een uitstekende week toch wel beweging. Hoger maar ook lager. Slot is ongeveer aan de bovenzijde van de candel van vorige week. AEX week

18:49 Fake De expiratie is altijd fake. Puur belangen en 💰. Daarom noem ik het fake. Even samenvatting. Spx test 3400 Dow test 27750/28000 Dax, AEX blijven rare indices. Dax doet weer ineens 300 punten omhoog. Oké

18:41 Spx dag Kijk naar de dagcandle. Kijk naar de oude top 3200 Volledig gekke augustus en hebben we net geen gekke stijging gezien. Het is de beurs. Gaat iets hoger dan mijn verwachting. Dus eigenlijk normaal.

17:04 OK, nu nog even een status update voordat ik even uitlog en sociaal wordt in de fysieke wereld. Status Jerry: nog niet gearresteerd. Inmiddels 2 diervriendelijke vallen actief. Een met spek/kaas en de ander met rijstwafel met pindakaas. Status...

12:07 Spx uur 4 Interessante grafiek 3240 is het geworden Nu geheel binnen de lijnen. Voorstander van test oude top 3200 echter. Toekomst

18:47 Kortom. Voldoende te zien en te bespreken. Toekomst is echter toekomst. Wat had ik genoemd 12800 dax 27750/28000 dow 3420/30 spx ..... aeniks ( doe ik niet aan ) Afwachten maar.

14:58 De futs van de dow, s&p, en de russel proberen in ieder geval de toon te zetten.